Sign of the Times: E-Book Recall/'Reprint'
An announcement, in its entirety, made yesterday by Little, Brown: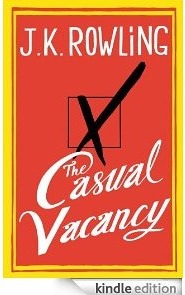 "Yesterday the eBook file for The Casual Vacancy by J.K. Rowling was released to all U.S. eBook retailers. There were issues with that file, including the adjustability of font color and size and adjustability of margins. As soon as Hachette was made aware of these issues, a replacement file was uploaded to all eBook retailers. Hachette has requested that each retailer contact their customers directly about reloading their eBook. Any consumer who purchased the eBook on Thursday, September 27, before approximately 3:00pm ET, who has not heard from their retailer, should contact them and request that their eBook be reloaded. No consumer should have to repurchase the eBook."