Shelf Awareness for Wednesday, April 6, 2011

News
Image of the Day: Ladybug Girls & Bumblebee Boys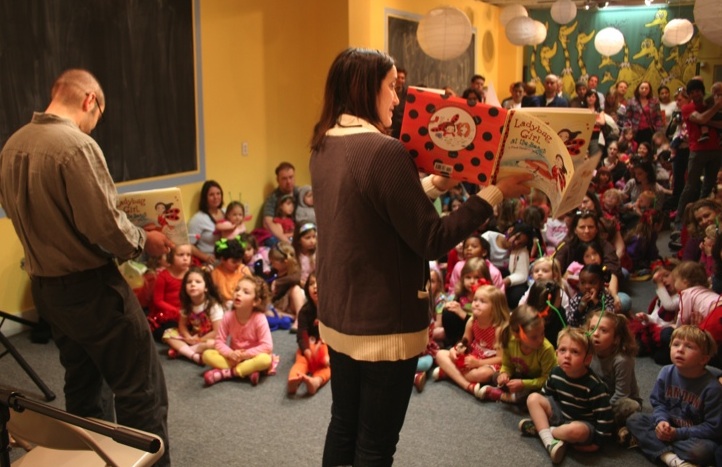 Last Saturday at the Little Shop of Stories, Decatur, Ga., Jacky Davis and David Soman, the husband and wife behind the Ladybug Girl series (Dial), visited the store and met many rapt Ladybug Girls and a few Bumblebee Boys. Here they read from Ladybug Girl at the Beach.
Photo: Rob Herrema


Notes: Borders Leaving Ann Arbor for Greener Pastures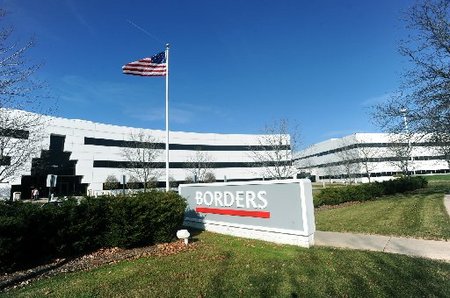 Borders Group plans to move its headquarters from its hometown of Ann Arbor, Mich., to cheaper digs in "the greater Detroit metro area" and has made major costs savings, "including more than $30 million in rent reductions" with store landlords, according to the Wall Street Journal. The company has closed about 50 superstores and should close a total of 226 by the end of May. A few more stores may close, depending on rent reduction negotiations with landlords.

The company is presenting an 80-page business plan to the unsecured creditors' committee apparently today and is projecting "relatively flat total revenue growth in 2011 and 2012, although it does expect to show significant growth in digital books and online," the Journal wrote. The plan assumes that e-books will account for 38% of book sales worldwide by 2015. CEO Mike Edwards told the paper: "We see growth in 2013 and beyond."

Borders plans to file a reorganization plan this summer in hopes of emerging from Chapter 11 in the fall. Borders wants as soon as possible to normalize trade terms with publishers, who are now shipping new titles on a cash-only basis. If creditors are not impressed with Borders's plan for the future, it will consider other options, including a sale of the company.
---
The bankruptcy administrator for REDGroup Retail is closing 16 Borders stores in Australia, leaving just nine in the country, according to Bookseller and Publisher Online. The company has already closed one Borders store, which it announced shortly after filing for bankruptcy in February. (The Borders in Australia are no longer a part of Borders Group in the U.S.)

In related news, REDGroup Retail has sold 10 Whitcoulls airport stores in New Zealand to LS Travel Retail Pacific, formerly known as Lagardere Services Asia Pacific. The stores will be rebranded Relay. The other Whitcoulls stores were unaffected by the sale.
And in yet more related news, 25 franchisees of Angus & Robertson have terminated their franchise agreements and are going independent, the Australian reported. The immediate cause of the action was the parent company's decision not to allow the stores to redeem customers' gift vouchers.

"Customers have viewed this as an act of bad faith that has caused considerable damage to the Angus & Robertson brand in which every franchisee has made a substantial investment," Marie Fitzpatrick, a now-former A&R franchise operator from Bowral, New South Wales, told the paper.
---

Closing Borders store photo of the day: Buzzfeed couldn't decide whether the rearranged department letters in this California Borders are "funny or really, really creepy."
---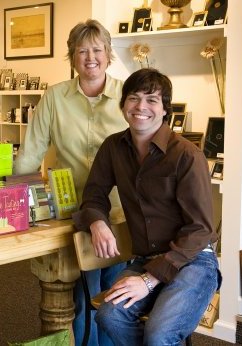 In response to the closing of two Borders and a Davis-Kidd in the area, the Beveled Edge, West Nashville, Tenn., a framing and gift shop, is "expanding its book selection and making space for author signing events," the Nashville Business Journal reported.
The store's first author event is tonight, featuring Richard Courtney and George Cassidy, authors of Come Together: The Business Wisdom of the Beatles (Turner Publishing).
"We are excited to offer a new home for Nashville's rich literary scene," said Susan Taylor, who owns the store with William Smithson. "Many talented authors contribute significantly to Nashville's artistic community, and with the loss of beloved area booksellers, we want to ensure their books still have a local venue to get the exposure they deserve."
---
Authors trailer of the day: the debut of the Mass Market Murderers, a dozen sort of musical mystery authors, at Left Coast Crime 2011. Includes a "support your local bookstore" cheer at the end.

---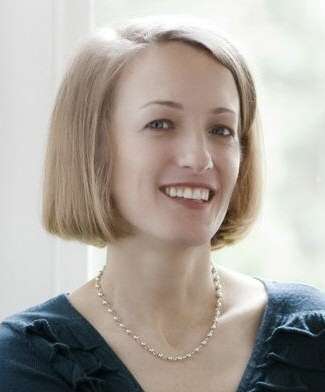 The first contributor to Actin' Up with Books's new "love my indie" series, featuring a writer on his or her favorite bookstore, is Ellen F. Brown. The co-author of Margaret Mitchell's Gone With the Wind: A Bestseller's Odyssey from Atlanta to Hollywood (Taylor Trade), Brown wrote that she has "a special place in my heart" for Fountain Bookstore, Richmond, Va.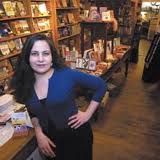 The store is "in a beautiful old building and is the kind of place that makes me feel lucky to live in this city. As a writer, I especially appreciate all that Fountain's owner, Kelly Justice, does to support the literary arts in our community. She hosts tons of in-store author events and goes the extra mile to support events at local libraries and other venues. At monthly meetings of the James River Writers, our local writing group, Fountain is at the back of the room offering a host of interesting titles about writing and books by local authors. And, when my first book was released a few months ago, Kelly was my biggest cheerleader. In addition to supporting the book in her store, she has given me terrific advice on how the publishing world works.

"I also admire Kelly's fighting spirit. Despite all the doom and gloom news about the bookselling business, Fountain is working to keep ahead of the curve. Kelly recently hosted an open forum asking customers to tell her what she can do to keep them coming back. It's no surprise to me that she is currently president of the Southern Independent Booksellers Alliance."
---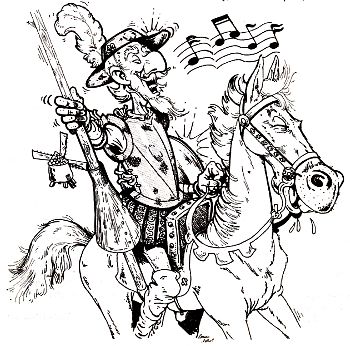 This week Flavorwire crafted a literary mixtape for Don Quixote, whose "intentions are forever honorable, though they never seem to come to any good, as he is too often waylaid by his own foolishness. There's some contention that Quixote knows more than he lets on--that his insanity is an act of sorts, but we interpret him in the middle ground: not totally bonkers, but not self-aware enough to be sly about it either. Here's what we think he would fight windmills, make declarations, and uphold the code of the knight-errant to."




B&N Recommends Okay for Now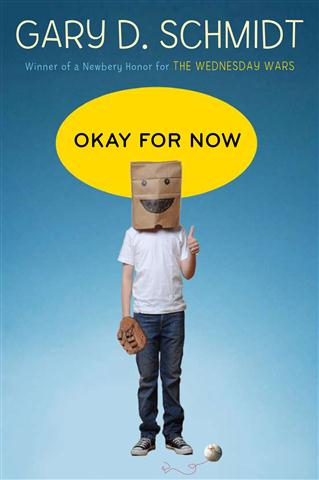 For the latest Barnes & Noble Recommends, the company has picked Okay for Now by Gary D. Schmidt (Clarion/Houghton Mifflin Harcourt), the first children's book chosen in the four-year history of the program.

Okay for Now, a companion volume to the author's Newbery Honor winner, The Wednesday Wars, "weaves together many different elements--Audubon prints, Jane Eyre, the New York Yankees, the Apollo moon landing--to tell the story of a deeply unhappy boy who finds friendship and a sense of belonging where he least expects it," B&N said.

The company added, "Out of the thousands of books considered for Recommends, Okay for Now was chosen because it is a stirring novel with an artistic touch that transcends age." Mary Amicucci, v-p of children's books at B&N compared it to The Outsiders and The Giver, noting, "This is a powerful story that will stay with the reader. It's about people learning how to care for each other by seeing beyond what's on the surface."
Okay for Now has been rated more than okay by others: it's a top 10 Kids' Indie Next pick and an Amazon Best Book of the Month.


The E-Future at NCIBA Spring Meeting

Typically the Northern California Independent Booksellers Association's Spring Gathering and Author Reception draws about 50-60 attendees, but at this past Sunday's meeting, attendance doubled. "The weather really cooperated," said NCIBA executive director Hut Landon, but e-book programming was the biggest draw.
This year NCIBA streamlined the educational programs to focus on a handful of topics: events, Facebook and IndieCommerce. And it split IndieCommerce into two sessions: a basic 101 (what is it and how to get started), followed by a 201 session that functioned much like a users' group.
At the American Booksellers Association Open Forum, e-books were on everyone's mind. "Like you are with books, you can be the source of information about this for our customers," said Oren Teicher, ABA's CEO.
High on the list of topics at the open forum were lackluster bookstore sales in recent months. "We're in a business where change is rampant," said Teicher. "In 20 years I cannot remotely think of a time when things were changing so quickly." With change, however, comes opportunity, he said.
Now that Random House has joined the other major publishers in using the agency model for e-books, Teicher said, this is the first time independent booksellers can offer products for the exact same price as their online and big box competitors.
With the recent kerfuffle over the on-sale date for David Foster Wallace's The Pale King, several booksellers questioned publisher support of independent bookstores. "I think the publishing industry does acknowledge that the bricks-and-mortar showroom has an impact," said Teicher. He believes publishers understand and value the concept of bookstore showrooms more today then they did just a year or two ago.
By being smart, creative and innovative, Teicher said, booksellers can be part of a conversation taking place about adjusting the book business model that has been in place since the 1970s. "I think the doors are open to try and figure out if there is a better way," said Teicher.
Booksellers who wanted to discover a better way to do Facebook got some practical hands-on tips from NCIBA president Michael Barnard, owner of Rakestraw Books in Danville; Jake Hallman from A Great Good Place for Books in Oakland; and Rich Ciccotelli from the Books Inc. location in San Francisco's Marina neighborhood. Hallman said her favorite thing to do is to get friends and fans involved with conversation starters, like asking about favorite children's books. This way, she said, customers interact on FB and get their friends to friend the store.
Many booksellers fear FB will become, frankly, a time-suck. Hallman suggested that more than one bookseller post for the store and said that she checks FB just once in the morning and once later in the day for the store.
Ciccotelli recommended that posts cover a range of material. "If you're always posting, 'buy this and buy that' and 'look at our event,' people will glaze over it," he said. Be silly, link to photos, give people something to repost and build up your fan base, he said.
Barnard described how he put together a simple Facebook ad for an event with Daniel Vosovic (of Project Runway fame) for his book Fashion Inside Out. For less than $20, his targeted message reached thousands of Facebook people interested in Vosovic and fashion (and other keywords). The process took him just a couple of minutes. The ad ran for two days, an eternity online. "People are on Facebook every day," said Barnard. "They do not plan their lives four weeks in advance."
Among the 15 authors at the closing author reception was NCIBA board member Kate Levinson, co-owner of Point Reyes Books, Point Reyes, Calif., whose first book, Emotional Currency: A Woman's Guide to Building a Healthy Relationship with Money, is being published by Ten Speed on April 12.
"It's a topic that is timely," said Random House's Jenn Ramage, who wrapped up her rep pick session earlier in the day with a pitch for Levinson's Emotional Currency. "If we can't support our own...."--Bridget Kinsella


Media and Movies
Media Heat: Poet/On Poetry/For National Poetry Month
Today NPR's Talk of the Nation talks with former Poet Laureate Billy Collins about "the art and business of poetry."
---
Tomorrow morning on the Today Show: Mary Higgins Clark, author of I'll Walk Alone: A Novel (Simon & Schuster, $25.99, 9781439180969).

Also on Today: Wayne Pacelle, author of The Bond: Our Kinship with Animals, Our Call to Defend Them (Morrow, $26.99, 9780061969782).

---

Tomorrow on NPR's Diane Rehm Show: Rachel Lloyd, author of Girls Like Us: Fighting for a World Where Girls Are Not for Sale, an Activist Finds Her Calling and Heals Herself (Harper, $24.99, 9780061582059).

---

Tomorrow on OWN's Gayle King Show: Caroline Kennedy, author of She Walks in Beauty: A Woman's Journey Through Poems (Voice, $24.99, 9781401341459).

---

Tomorrow on the View: Mike Huckabee, author of A Simple Government: Twelve Things We Really Need from Washington (and a Trillion That We Don't!) (Sentinel, $26.95, 9781595230737).

---

Tomorrow on KCRW's Bookworm: Michelle Latiolais, author of Widow: Stories (Bellevue Literary Press, $14.95, 9781934137307). As the show put it: "Michelle Latiolais wrote some of these stories before the death of her husband, some later. Her emotional register changed markedly after his death. We discuss the new and unpredictable sensitivity that she experienced and how this sensitivity has affected--and continues to affect--her work."

---

Tomorrow night on Nightline: Anthony Bourdain, author of Medium Raw: A Bloody Valentine to the World of Food and the People Who Cook (Ecco, $15.99, 9780061718953).

---

Tomorrow night on the Colbert Report: Jeff Greenfield, author of Then Everything Changed: Stunning Alternate Histories of American Politics: JFK, RFK, Carter, Ford, Reagan (Putnam, $26.95, 9780399157066).


Harry Potter: The Exhibition Opens
Harry Potter: The Exhibition opened yesterday at the Discovery Times Square building in New York City. Featuring props, costumes and sets from all eight movies, the exhibit "replicates Hogwarts, whereby attendees will get to walk through Hogwarts, including the Gryffindor common room and classrooms; get to throw a quaffle on a Quidditch pitch; see Hagrid's Hut; and confront Voldemort and the Death Eaters in the Forbidden Forest," the Hollywood Reporter wrote.


"When we first met with the filmmakers, we wanted to make sure everything was as authentic as possible," said Eddie Newquist. "We decided to create an experience where you felt like you were going into Hogwarts. We also wanted to create an experience where you could get very close to a lot of the special costumes and things that maybe go by very quickly in the films but really have a lot of significant meaning."

In attendance at the grand opening Monday night were producers David Heyman and David Baron, as well as a range of cast members Michael Gambon (Albus Dumbledore), Robbie Coltrane (Hagrid), Bonnie Wright (Ginny Weasley), James and Oliver Phelps (the Weasley twins) and Evanna Lynch (Luna Lovegood).


Books & Authors
Awards: NCIBA Books of the Year; Griffin Poetry Prize
The winners of the 2011 Northern California Independent Booksellers Association Book of the Year Awards, all for books written by authors living in the region, include four honorable mentions for books that had strong second place finishes:

Fiction: Gold Boy, Emerald Girl by Yiyun Li (Random House)

Nonfiction: Packing for Mars by Mary Roach (Norton)
Nonfiction honorable mention: Autobiography of Mark Twain, Vol. 1 (University of California)

Poetry: Come on All You Ghosts by Matthew Zapruder (Copper Canyon)

Food Writing: My Calabria by Rosetta Costantino with Janet Fletcher (Norton)

Children's Picture Book: The Quiet Book by Deborah Underwood (Houghton Mifflin Harcourt)
Children's Picture Book honorable mention: Zero by Kathryn Otoshi (KO Kids Books)

Teen Lit: The Sky Is Forever by Jandy Nelson (Dial)
Teen Lit honorable mention: The Mockingbirds by Daisy Whitney (Little Brown Books for Young Readers)

Regional Title: Infinite City: A San Francisco Atlas by Rebecca Solnit (University of California)
Regional Title honorable mention: State of Change: Forgotten Landscapes of California by Laura Cunningham (Heyday)
---
The international and Canadian shortlists for the 2011 Griffin Poetry Prize have been announced. Judges Tim Lilburn, Colm Toíbín and Chase Twichell read 450 collections, including 20 translations, by poets in 37 countries to narrow their selections to seven finalists, who will be awarded $10,000 each. The winners of the $65,000 international and Canadian Griffin Poetry prizes will be named June 1.

International shortlist
Human Chain by Seamus Heaney (FSG)
Adonis: Selected Poems by Adonis, translated from the Arabic by Khaled Mattawa (Yale University Press)
The Book of the Snow by François Jacqmin, translated from the French by Philip Mosley (Arc Publications)
Heavenly Questions by Gjertrud Schnackenberg (FSG)

Canadian shortlist
Ossuaries by Dionne Brand (McClelland & Stewart)
The Irrationalist by Suzanne Buffam (House of Anansi Press)
Lookout by John Steffler (McClelland & Stewart)


A Moonlit Path to Ladder to the Moon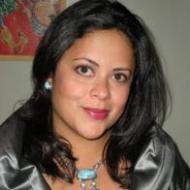 When Maya Soetoro-Ng was on the presidential campaign trail with her brother, Barack Obama, she noticed some things that troubled her. She saw families who had no children congregating separately from families with children; she noticed the elder members of society separated from the younger ones. At the same time, she was also thinking about how her daughters never got to know their Grandma Annie Dunham, mother to Maya Soetoro-Ng and Barack Obama, who died of cancer 10 years before Maya's older daughter, Suhaila, was born. Her book Ladder to the Moon, illustrated by Yuyi Morales (Candlewick, April 12, 2011), aims to serve as a means of connecting these isolated parts of our complex community and of thinking about family in a larger sense.
We caught up with Soetoro-Ng on a recent trip to New York. She exudes warmth and talks as eagerly about her days teaching on Manhattan's Lower East Side in the mid-1990s as she does her globetrotting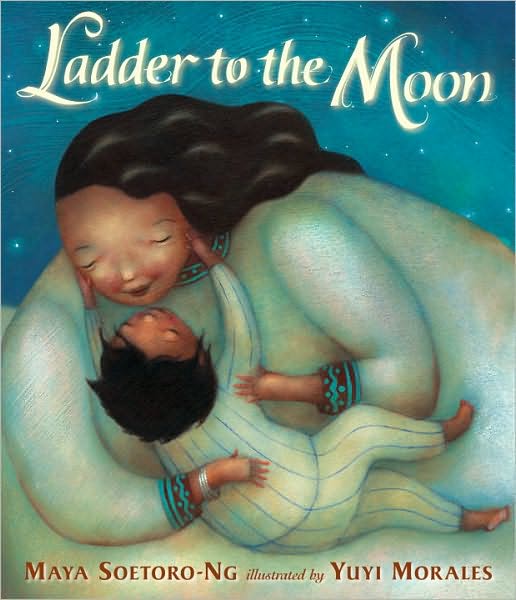 childhood. "One of the great things about New York is there's forced integration simply because of the subway system and a lack of space," she observed. She felt one of the most important lessons she could teach her students was to move beyond their neighborhoods, and to think of the museums and Central Park as theirs, too. "A big part of education is helping kids understand that those invisible boundaries can be torn down," she said. In Ladder to the Moon, young Suhaila (named for the author's older daughter) takes readers with her on an adventure into a larger universe. One night, her Grandma Annie appears at Suhaila's window and takes her up the rungs of a golden ladder to the moon. Together they provide a safe harbor for those in danger by extending their ladder to the earth and lifting them out of harm's way.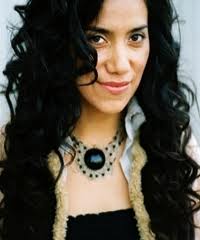 The book opens an entry point to topics that are often too difficult to explain to a child-- the tsunami in Japan, or the events of 9/11, or images of unrest in the Middle East. When artist Yuyi Morales first read the manuscript, she said she knew she had to illustrate it. But the challenge was to make these abstract concepts understandable to children. "How do I show what justice means, or being reborn?" she asked herself. "I feel like I found my answers in one of the most ancient writings, the folk stories."
One of the most uplifting images in the book depicts a baby being born in the center of a corn stalk, a legend common to many South American countries, including Morales's native Mexico. In the painting, "a frail great-grandmother" helps the baby take his first steps. And, for the first time in the story, Suhaila is the one to reach down from the ladder and pull someone--the great-grandmother--up to the haven on the moon. The knowledge that Grandma Annie imparted to Suhaila guides her as she escorts the frail woman to safety. In the artwork, Morales does not leave the child of the corn alone, however. She gives the boy a dog as his guide. "It's a story from the Aztecs that their best companions were their dogs," she explains. "He's not just a dog; he's a spirit, a protector." In other scenes, the dog keeps watch as a constellation in the sky.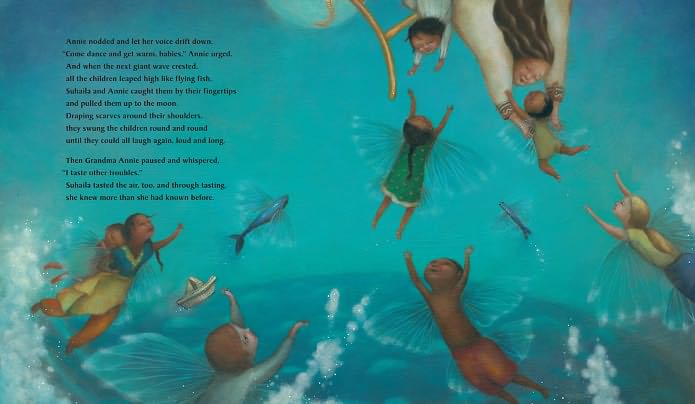 On the other hand, one of the most potentially disturbing spreads describes "a fifty-foot wave... sweeping from the ocean to the land." But the author makes sure the children in the painting can hear Grandma Annie's voice encouraging them, and Annie and Suhaila quickly form a plan to bring them to the moon. The crest of the wave helps the children leap "high like flying fish," into Annie and Suhaila's arms. Morales depicts the children with transparent wings, as if they truly are flying fish. The fantastical image works because the text and the art connect the mystical and the real. Before Annie and Suhaila come to their rescue, the children float on chairs and sit in the high branches of a tree. Morales came across that tree while doing research about a tsunami that occurred several years ago. It hit an island of people who had very little contact with the outside world. "A couple of adults saw a tsunami coming, and they realized there was no time to run away or to go to a higher place," she said. "One of the elders chose a tree and put all of the children up there. He had learned [about this tree] from the generations before. This is the only tree that stood up after the tsunami came. He saved everybody."
This idea of the elders as keepers of the wisdom, and with the ability to keep their communities safe, acts as a rhythmic and visual refrain. For Soetoro-Ng, the image of the great-grandmother helping the baby to be born in the corn is also about land stewardship. Just as she made New York City her students' classroom, today her students see all of Hawaii (where she lives with her husband and two daughters) as their laboratory. She began Our Public School, a nonprofit organization, as a way to "foster community engagement, regardless of whether or not [residents] send their children to public schools or have children." She also joined in the reforestation efforts of residents in the Kalihi Valley that encourage elders and children to work in collaboration. "They have things to impart that children need to learn," she said.
The response to the book has come as somewhat of a surprise to Soetoro-Ng. "I was moved by this idea of societies healing after a natural disaster or religious strife or genocide. But people are moved, it seems uniformly, by the more personal part of the narrative." When Soetoro-Ng speaks of her mother, she describes the importance of their own moonlight conversations. Her mother often awakened a teenage Maya from sleep in the wee hours. "She loved the moon in part because everywhere it was the same. People she cared about in Indonesia and Chicago and Hawaii and anywhere in the world where she had taken in new layers--they were seeing the same moon, maybe not at the same time, but on the same day, that same moon. It was a connecting image."--Jennifer M. Brown
Maya Soetoro-Ng will be making appearances in the New York area this month:
Tuesday, April 12, 7 p.m., Barnes & Noble Union Square: interview with Norah O'Donnell, NBC News; reading, q&a and autographing session.
Wednesday, April 13, 4-5 p.m., New York Public Library "KidsLive" event (part of a children's author series): South Court Auditorium, Stephen A. Schwarzman Building, Fifth Ave & 42nd St.


Book Brahmin: Jeffrey Greene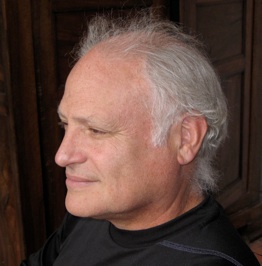 Jeffrey Greene's latest book is The Golden-Bristled Boar: The Last Ferocious Beast of the Forest (University of Virginia Press, April 2011). He is also the author of the memoir French Spirits and Water from Stone, about land restoration, the protection of endangered species and environmental education. He has published four collections of poems, most recently Beautiful Monsters (2010). He has won the Randall Jarrell Prize and the Morse Poetry Prize, and his work has been supported by the National Endowment for the Arts. He teaches at the American University of Paris.
On your nightstand now:
Graham Robb's Parisians: An Adventure History of Paris and Alan Riding's And the Show Went On. On my "Shuffle," I have Henry Miller's Tropic of Cancer and Anaïs Nin's A Journal of Love. I never read them before, and I am teaching a course called "Writing Paris: A Cross-Genre Workshop."
Favorite book when you were a child:
My mother read a wonderful, eclectic range of books to my brother and me, including A.A. Milne, Greek myths and the Odyssey. But I loved Thurber's My Life and Hard Times.
Your top five authors:
Shakespeare, Dostoyevsky, Tolstoy, Dickinson and Whitman. I know, I know, not very original, but those are they.
Book you've faked reading:
Well, I faked about a million while taking my comprehensive examinations in graduate school. But I'd have to say David Copperfield. No excuse, because it's a wonderful book. I promise to finish it!
Book you're an evangelist for:
The Four Quartets by T.S. Eliot. I would go to the library and play the old record of Eliot reading. Incredible.
Book you've bought for the cover:
I buy books for their covers all the time, but there is almost always something about the subject matter or author that draws me. Most recently I bought The Judgment of Paris: The Revolutionary Decade that Gave the World Impressionism by Ross King. I just thought the title sounded interesting. We'll see.
Book that changed your life:
The first novel I read was Steinbeck's Of Mice and Men. It was that book that made me understand the visceral power of writing to create a world, fill it with characters, and make the reader care deeply.
Favorite line from a book:
Can I cheat??? Can it be my favorite sentence instead of "line"? By Keats:
This living hand, now warm and capable
Of earnest grasping, would, if it were cold
And in the icy silence of the tomb,
So haunt thy days and chill thy dreaming nights
That thou wouldst wish thine own heart dry of blood
So in my veins red life might stream again,
And thou be conscience-calmed--see here it is--
I hold it towards you.
Favorite quotation:
Oscar Wilde on his deathbed. "Either this wallpaper goes or I do!"
Book you most want to read again for the first time:
I know people will roll their eyes, but I have to say War and Peace. I even loved the historical digressions. Don Quixote is right there, too.


Book Review
Children's Review: Between Shades of Gray
Between Shades of Gray by Ruta Sepetys (Philomel Books, $17.99 Hardcover, 9780399254123, March 2011)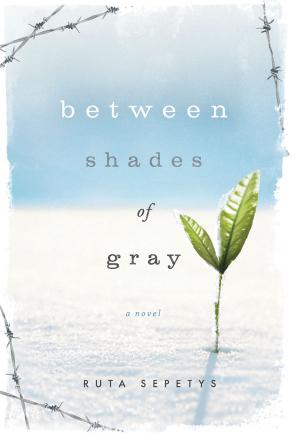 Ruta Sepetys's stunning debut novel begins on June 14, 1941, as the NKVD (the Soviet secret police) pound on the door of the Vilkas family's home. Fifteen-year-old Lina Vilkas, who narrates, and her 11-year-old brother, Jonas, race around the house when their mother tells them to fill just one suitcase. Their professor father is missing. "Davai!" ("Hurry!") commands an NKVD officer, a refrain that will torment them through the years ahead. Lina, Jonas and their mother begin a journey by truck, cattle car and barge to work camps across Russia--a journey that ultimately takes them all the way to Trofimovsk at the North Pole. A map in the front of the book charts their route.
Sepetys tells a parallel story to Esther Hautzig's memoir, The Endless Steppe (1968), which also begins in June 1941. The daughter of Lithuanian refugees, Sepetys bases her fiction on research and follows one family to tell of Stalin's ethnic cleansing of the Lithuanians, Latvians and Estonians just before Hitler's invasion of Russia. Through flashbacks, Lina recalls meetings that her father held at their house with likeminded men who were concerned about Stalin's rise and Hitler's actions in Europe. The author makes palpable the stench and crowding in the cattle cars on the first long leg of their journey, with only one opening in the side of the car for urination and defecation--and the sole source for air. She gives each of the travelers a clear personality. And although each gets a name, Lina more frequently refers to them by a specific trait--the man who constantly winds his watch, Mr. Lukas, for instance, and Mr. Salas, the gloom-and-doom "bald man," as Lina refers to him. Lina's artwork keeps her spirits up during this time--she draws on anything she can find, and her admiration of Edvard Munch gives her insights into her horrific circumstances (she recalls his words, "Paint it as you see it. Even if it's a sunny day but you see darkness and shadows"). At one stop, Lina, Jonas and a gutsy 17-year-old boy named Andrius Arvydas risk their lives to search for their fathers on another stopped train, rumored to be filled with men. Lina does find her father, who hints at a way that Lina can stay in touch with him. Papa tells Lina, "You can help me find you.... I'll know it's you... just like you know Munch." So Lina begins to pass along messages through her artwork to people she meets during transport, hoping to get word back to her father.
The author does not shy away from the atrocities the Vilkas family witnesses as the officers round up Lithuanians on their "list" and treat them like "pigs." They stop at a hospital and take a woman and her baby, born just moments before. Neither of them survives. Mothers sacrifice their food and their dignity to keep their children alive. The author explores the consequences of diverse personalities forced into close quarters and attempting to survive. Still, there is hope: Lina's family is stronger for their ability to work together, and Lina's mother emerges as a leader, one of the few who knows Russian and shows compassion to even the most trying people in their midst. And Lina, seeing the world through an artist's eyes, experiences moments of contentment in the feel of the sun and the smell of new grass. She also finds love: "How did I get here? How did I end up in the arms of a boy I barely knew, but knew I didn't want to lose?" Sepetys shares a seldom-told story of the more than 20 million people who died during Stalin's reign of terror, a secret kept for nearly 50 years under penalty of imprisonment or repeat deportation. By personalizing the experience of these millions through the eyes of a few, Sepetys demonstrates how courage and hope can keep people going under the worst of circumstances.--Jennifer M. Brown


The Bestsellers
Top-Selling Titles in Florida Last Week
The following were the bestselling books at independent bookstores in Florida during the week ended Sunday, April 3:

1. The Paris Wife by Paula McLain
2. Major Pettigrew's Last Stand by Helen Simonson
3. The Imperfectionists by Tom Rachman
4. Swamplandia! by Karen Russell
5. The Social Animal by David Brooks
6. Just Kids by Patti Smith
7. Bringing Adam Home by Les Standiford and Joe Matthews
8. The Girl Who Fell from the Sky by Heidi W. Durrow
9. The Tiger's Wife by Tea Obreht
10. The Solitude of Prime Numbers by Paolo Giordano

The reporting bookstores and their handselling favorites:

Inkwood Books, Tampa: The Fifth Witness by Michael Connelly
Vero Beach Book Center: The Informationist by Taylor Stevens.
Book Mark, Neptune Beach: The Solitude of Prime Numbers by Paolo Giordano
Books & Books, Miami Beach and Bal Harbour: Delirium by Lauren Oliver

[Many thanks to the booksellers and Carl Lennertz!]