Shelf Awareness for Monday, May 16, 2011

Quotation of the Day
The Complications of Sales Online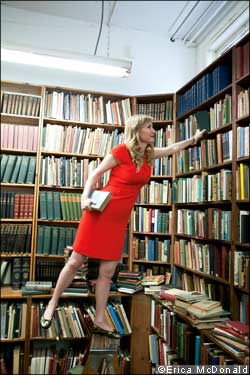 "We have bent with the technology and 25% of our sales are online. Of course, with that came complications. We have a 15,000-sq.-ft. warehouse upstairs and another the same size in Brooklyn, and dealing with that inventory is a challenge. If we have 15 versions of Huckleberry Finn, we have to figure out how to get the right one to the customer. On the other hand, we've expanded our brand internationally. Busloads of Japanese tourists come to buy our tote bags."
--Nancy Bass Wyden, co-ower of the Strand Book Store, New York City, in a "first person" piece in
FT Magazine
.


News
Image of the Day: A Moment in New Orleans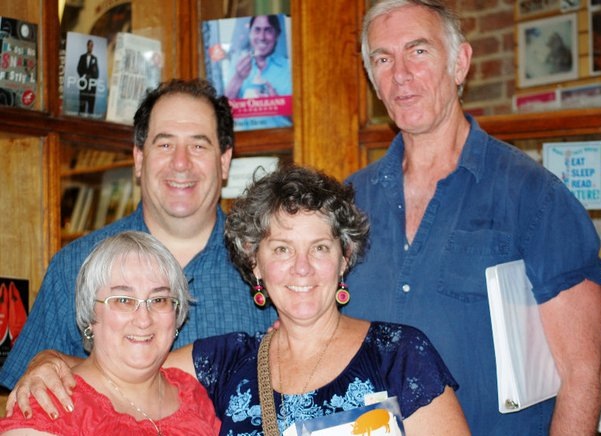 Last Wednesday, author/filmmaker John Sayles visited Octavia Books in New Orleans, La., and gave what co-owner Tom Lowenburg called "an amazing read" from A Moment in the Sun, his new novel from McSweeney's. Here (in front) Judith Lafitte, Octavia co-owner, and Maggie Renzi, Sayles's personal and professional partner, with (in rear) Lowenburg and Sayles.


Notes: Borders in Pieces?; New and Expanding Stores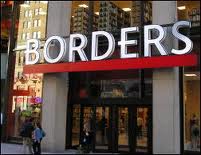 Seeking to sell itself, Borders Group has not received any offers for the whole company but has received several offers for parts of the company, Bloomberg reported.

Barnes & Noble expressed interest in buying some 10 stores, and other groups have made offers. According to the Wall Street Journal, B&N also wanted to buy Borders's website and customer lists.

One offer that has stood out is for more than 200 stores. The Journal said that the entity behind the bid would continue to operate the company and is interested in "the large retail outlets that garner the bulk of the company's revenues."

Borders had set a deadline of May 6 for bids that would keep the company operating.
---
Arcadia Books will open this coming Friday in downtown Spring Green, Wis., about 20 miles west of Madison, and will carry a selection of literature, drama, poetry, history, cookbooks, children's books and current bestsellers. The store will also house the Kitchen at Arcadia Books, which will offer coffee and espresso, beer and wine, sandwiches, salads and other snacks.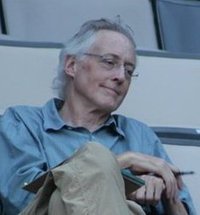 The store is owned by James Bohnen, a frequent director at the American Players Theatre, the classic theater in Spring Green, who said, "I've long dreamed of owning a bookstore in the right place. Through my association with APT over the years, I have come to love this community and I am excited to be able to contribute to it by offering good books, good talk and terrific food."

Arcadia Books will host book clubs, children's story hours, local and national author appearances and signings. The grand opening event will be held Friday, June 10, at 6 p.m. and feature local writer Dean Bakopoulos, whose new novel, My American Unhappiness, is being published by Houghton Mifflin Harcourt in June.

John Christensen is Arcadia Books' manager. Jacki Singleton, a local caterer, is in charge of the café. The store will be open seven days a week and is located at 102 E. Jefferson St., Spring Green, Wis. 53588; 608-588-7638.
---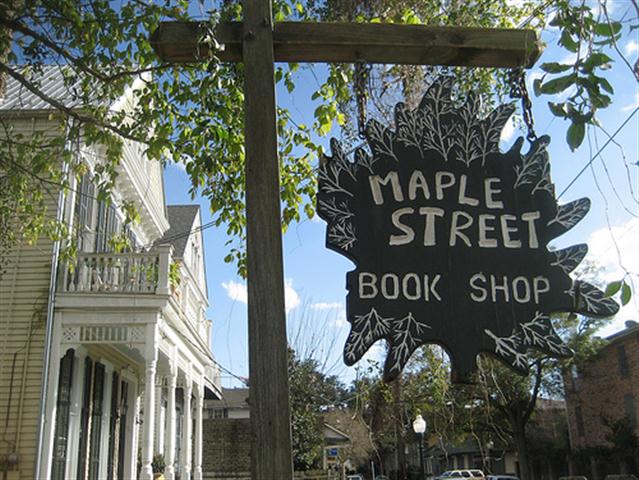 Maple Street Book Shop, New Orleans, La., is planning an expansion into a pair of additional city neighborhoods. The Faubourg Marigny shop will be located within the New Orleans Healing Center at 2732 St. Claude Avenue and will open for business in late June. The Faubourg St. John location, at 3141 Ponce de Leon #1, is scheduled to open later in the summer.

In a message posted on the bookstore's blog Fighting the Stupids, owner Donna Allen cited a variety of reasons for the decision, "none the least of which is that the rate of illiteracy in New Orleans is unacceptable. It's nearly twice the national average. How can this be in our wonderful city? Literacy is vital to the growth and well-being of any community, whether that community is a well established one located near universities or one having to rebuild itself from the ground up after a massive disaster. Maple Street Book Shop has always been a neighborhood book shop and as New Orleans continues to rebuild its neighborhoods, we want to be there to offer the residents a source for quality literature, a source for affordable reading materials, a source for reading materials in all formats, and a place for literary events."

---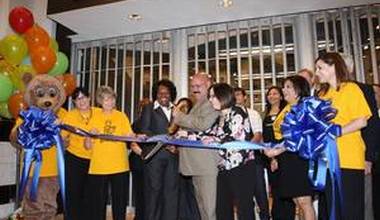 "At the end of the day, the bottom line is dollars and cents--that's what we needed to convey for them," Xochitl Mora, a city of Laredo spokesperson, told the Morning Times regarding last Friday's opening of the new Books-A-Million store (Shelf Awareness, May 12, 2011) . "We needed to convey not just the passion for literacy, but the fact that they would be successful financially. For them to decide to come here during this time shows that they have faith in our community. They know they're going to make money because people read."

---
Congratulations to Boulevard Books & Café, Brooklyn, N.Y., which is celebrating its first anniversary this coming Saturday. Events include storytime and dancing with Yo Gabba Gabba!, game time with Bingo, Brain Quest and Bananagrams as well as an evening cocktail party with readings and signings by Suzanne Corso, author of Brooklyn Story, Alison Espach, author of The Adults, and Jane Borden, author of I Totally Meant to Do That.
---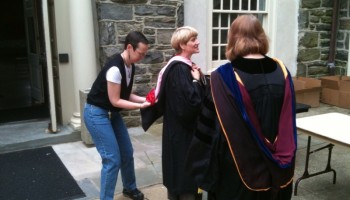 Women's Voices for Change profiled Julie Summerfield, "the clever and personable woman who has managed the Haverford College Bookstore for the past 28 years"--and one of our favorite booksellers ever.

While the store, in Haverford, Pa., sells all the kinds of supplies and tchatchkes like sweatshirts and snacks, "it's still about the books," Roz Warren wrote. "Not about formulaic bestsellers, or titles a publisher has paid the store to feature, or inventory that a distant corporate office has decreed should fill the shelves. Books that somebody (Julie) has taken the care to select. Books that I may not have heard of before I stopped in, but that I'll enjoy reading when I get home."

She described a visit this way: "When you enter the store--you're greeted personally, often by name. Bookstore staff recognize the regulars and make an effort to get to know the newbies. 'Did you finish that paper?' Frank asks a student. Another is congratulated about a recent sports victory. I was asked about my son's upcoming wedding. It's clear that many students drop by just to enjoy browsing and kibbitzing with bookstore staff. And its not just students who feel at home here. Professors (and their kids), visiting parents, alums, and friends of the store like myself are all made to feel welcome.

"It's like Cheers, but with books instead of beer."
---
Salon presented a Trazzler slide show of "the world's most inspiring bookstores," which includes some old favorites--even if we've seen a few only in pictures: Powell's Books, Portland, Ore.; City Lights, San Francisco, Calif.; Daunt Books, London; the Selexyz store in an old church in Maastricht, Netherlands; and El Ateneo Grand Splendid, in an ornate former theater in Buenos Aires, Argentina; as well as some striking lesser-known stores, like King Books, Detroit, Mich., and the Montague Bookmill in Montague, Mass.
---
A slide show depicting the creation of a colorful "wall of books" outside Rainy Day Paperback Exchange, Bethel, Conn., was featured by the Bethel Patch.

---

In a Guardian video, Eoin Colfer read from his first Artemis Fowl book and answered questions from young readers.

---

The witch is dead... and a bookmark. The Daily What's "Wicked Bookmark of the Day" was made by Kira Nichols, who "created this lovely Ruby Slippers/Wicked Witch of the East polymer clay bookmark after becoming inspired while reading Wicked."


Cool Idea of the Day: Booksellers Read About Bookselling
Cool idea of the day: Fleeting Pages, the pop-up bookstore in Pittsburgh, Pa., that is operating in a recently closed Borders only until June 3 (Shelf Awareness, March 28, 2011), held an event last Thursday with the theme "bookstore clerks who write about it." ("It" being bookselling.) Readers were Kristofer Collins, Caliban Books, Pittsburgh; Nancy Krygowski, formerly of Maelstrom Books, San Francisco; Karen Lillis, formerly of St. Mark's Bookshop, New York City; Tommy Mac, formerly of Powell's Books, Chicago; and Bob Ziller of Awesome Books, Pittsburgh. They read their own works, which included fiction, nonfiction and poetry, as well as pieces by Ron Kolm of Posman Books, New York City; Corey Mesler of Burke's Book Store, Memphis, Tenn.; and Kevin Sampsell of Powell's Books, Portland, Ore. For more on the author-booksellers and their work, see Karen Lillis's blog--and enjoy her picture of the event cake!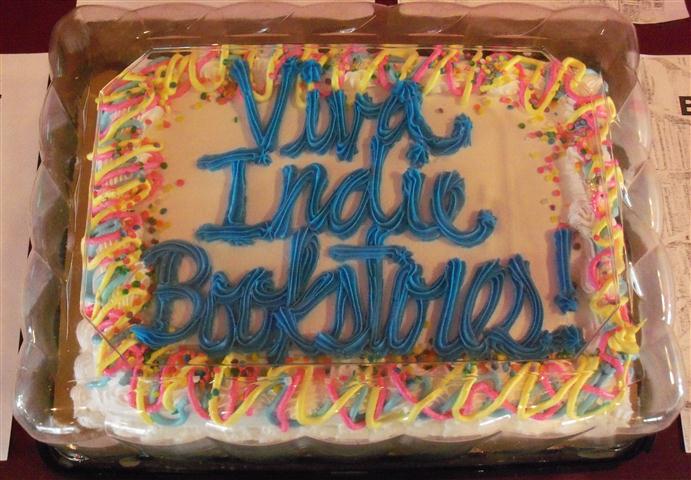 BEA Previews: IBPA's Pub U; Free Speech Art Auction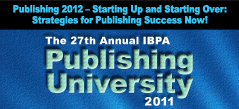 The Independent Book Publishers Association's Publishing University begins on Sunday, May 22, at noon at the Javits Center with a Great Debate over the proposition that authors and readers are all that matter, and publishers will soon be irrelevant. Debaters will be Rudy Shur, publisher of Square One Publishers; Richard Nash, former head of Soft Skull Press, founder of Cursor; Daphne Kis, publisher of SheWrites.com and new media adviser; and Mark Coker, founder and CEO of Smashwords. The Great Debate made its debut at the London Book Fair last month, was created by Susan Danziger, CEO of DailyLit and organizer of the Publishing Point, and will be moderated by Michael Healy, executive director of the Google Book Rights Registry.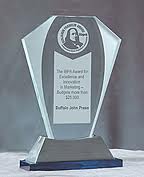 Pub U continues with afternoon sessions and the opening night reception. Monday includes more sessions, a keynote luncheon speech by Ingram Content Group president and CEO Skip Prichard on Unlocking the Future and, in the evening, the Benjamin Franklin Awards. In between there are many opportunities for networking.
---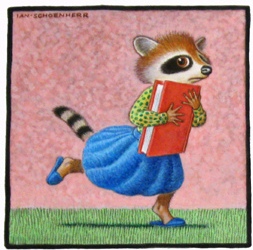 The children's art auction and reception that used to benefit the Association of Booksellers for Children has now become a fundraiser for the new American Booksellers Foundation for Free Expression Fund for Free Speech in Children's Books. The event will be held on Wednesday, May 25, in the Javits Center, 5-7:30 p.m.

This year's auction is chaired by author Laurie Halse Anderson, whose novel Speak has been challenged in schools by people who object to its exploration of sexual assault. More than 100 artists have donated work to the auction. A preview of the artwork will be held in the Crystal Pavilion on Tuesday, May 24, 9 a.m.-5 p.m. For an online preview, click here.

Tickets for the auction and reception are $69 for bookseller members of the ABC Children's Group and $89 for all others and may be purchased here. If the event is not sold out, tickets may be purchased at the preview for $79 for ABC members and $99 for nonmembers.




Media and Movies
Television: The Firm; Bitches Convert to Belles
Deadline.com's Nellie Andreeva reported that NBC "has been eyeing another new series on tap for next season that has larger order than any of the newly picked-up shows--The Firm. I hear the deal for a 22-episode straight-to-series order to the project based on John Grisham's bestseller is now done and the network has taped a clip with Grisham for its Monday upfront presentation." The series "is being readied for a September launch though it is unclear if NBC will commit to it being on the fall schedule before casting has been done."

---

An intriguing title change was mentioned in Deadline.com's piece announcing that Gretchen Berg and Aaron Harberts will serve as executive producers/showrunners on the newly picked up ABC dramedy based on Kim Gatlin's book Good Christian Bitches. The show is now titled Good Christian Belles and stars Kristin Chenoweth.


Media Heat: James Frey on Oprah Again, for Real
Today on NPR's All Things Considered: Michael Levatino, author of The Joy of Hobby Farming: Grow Food, Raise Animals, and Enjoy a Sustainable Life (Skyhorse, $14.95, 9781616082284).

---

Today on CBS' The Talk: Chaz Bono, author of Transition: The Story of How I Became a Man (Dutton, $25.95, 9780525952145). Bono is also appearing on the Gayle King Show.

---

Today on Oprah: James Frey, author infamously of A Million Little Pieces and more recently The Final Testament of the Holy Bible (Gagosian Gallery, $50, 9781935263265) and co-author under the pseudonym Pittacus Lore of The Power of Six (I Am Number Four) (HarperCollins, $17.99, 9780061974557).

---

Today on the View: Suze Orman, author of The Money Class: Learn to Create Your New American Dream (Spiegel & Grau, $26, 9781400069736).

---

Today on NPR's On Point: Gregory Boyle, author of Tattoos on the Heart: The Power of Boundless Compassion (Free Press, $14, 9781439153154).

---

Tonight on Nightline: Annie Jacobsen, author of Area 51: An Uncensored History of America's Top Secret Military Base (Little, Brown, $27.99, 9780316132947). She is also on the Daily Show tomorrow night.

---

Tonight on the Daily Show: Jon Ronson, author of The Psychopath Test: A Journey Through the Madness Industry (Riverhead, $25.95, 9781594488016).

---

Tomorrow morning on the Today Show: Rita Cosby, author of Quiet Hero: Secrets from My Father's Past (Threshold, $16, 9781439165515).
Also on Today: Lisa Ann Walter, author of The Best Thing About My Ass Is That It's Behind Me (HarperOne, $25.99, 9780062025746).
---

Tomorrow on NPR's Diane Rehm Show: Eli Pariser, author of The Filter Bubble: What the Internet Is Hiding from You (Penguin Press, $25.95, 9781594203008).

---

Tomorrow on CBS' The Talk: Paul Reiser, author of Familyhood (Hyperion, $25.99, 9781401324322).

---

Tomorrow on the View: Andrew Morton, author of William & Catherine: Their Story (St. Martin's Press, $29.99, 9780312643409). He will also appear on Good Morning America.

---

Tomorrow on the Late Late Show with Craig Ferguson: Betty White, author of If You Ask Me: (And of Course You Won't) (Putnam, $25.95, 9780399157530).

Also on the Late Late Show: Patton Oswalt, author of Zombie Spaceship Wasteland (Scribner, $24, 9781439149089).


Books & Authors
Awards: Pannell and Ezra Jack Keats Book Award Winners
The winners of the Pannell Award, sponsored by the Women's National Book Association and given to two bookstores that "excel in contributing to their communities in ways that bring books and young people together," are:

General bookstore: Queen Anne Books, Seattle, Wash.
Children's store: Fairytales Bookstore & More, Nashville, Tenn.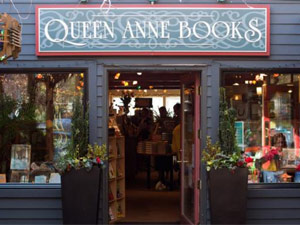 The judges praised Queen Anne for its "clear understanding of the needs of young readers at different ages and stages," for "its creative ways to reach them (in store, in schools, in libraries, in the community)," and for "not overlooking the oft-forgotten secret weapon, the parents." Queen Anne was also cited for reaching out "to children in foster homes and give discounts for parent-child book groups [and] the Bookworms Little League team."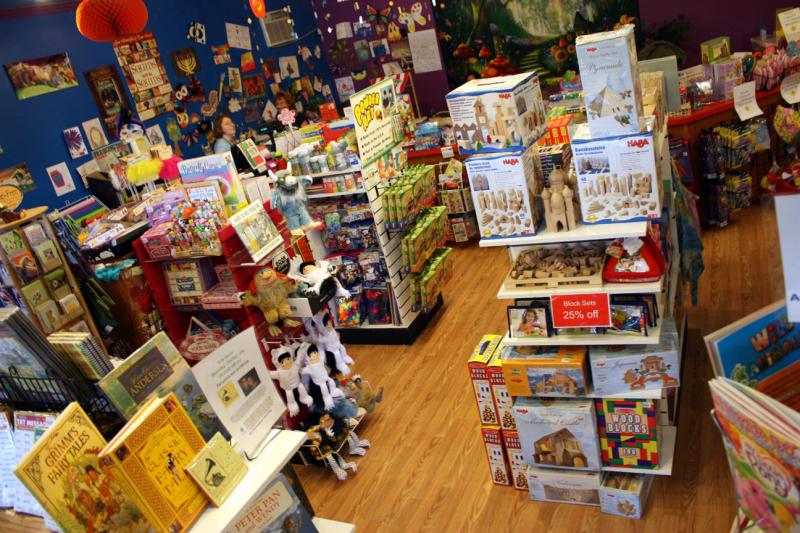 The judges lauded Fairytales Bookstore & More for "the comprehensive approach it takes to involving kids in reading, from creative play and storytelling, to music, and visual arts" as well for its daily story time that offers "many ways for kids to engage with reading and books." It also was praised for its attention to parents and their need to "relax and rejuvenate" in the store.

Each winner receives $1,000 and an original artwork by a children's book illustrator. The awards, underwritten by the Penguin Young Readers Group, will be presented at the children's book & author breakfast at BEA on Mary 24.
---
The Ezra Jack Keats Book Award, which aim to "recognize and encourage authors and illustrators new to the field of children's books," have gone to:

New Writer: Laurel Croza for I Know Here, illustrated by Matt James (Groundwood Books)
New Artist: Tao Nyeu for Bunny Days, which she also wrote (Dial/Penguin)

The winners receive a silver medal and an honorarium of $1,000. The awards are presented by the New York Public Library and the Ezra Jack Keats Foundation.


IndieBound: Other Indie Favorites
From last week's Indie bestseller lists, available at IndieBound.org, here are the recommended titles, which are also Indie Next Great Reads:

Hardcover

You Believers by Jane Bradley (Unbridled, $25.95, 9781609530464). "Multiple voices are employed to stunning effect in this novel of those who are lost and those who find. Bradley's powerful writing catapults the story of a missing young woman into an engrossing character study that examines in meaningful and unexpectedly moving ways the actions of all the players in the story: those who love her; those who search for her with their own versions of hope; and those who are responsible for her being lost. The voice of Shelby Waters, the dedicated 'finder,' is particularly strong and resonates with equal parts of compassion, hope, and world-weariness."--Eleanor Lucas, Capitol Books and News Company, Montgomery, Ala.

This Life Is in Your Hands: One Dream, Sixty Acres, and a Family Undone by Melissa Coleman (Harper, $25.99, 9780061958328). "This is an honest and superbly written account of an idyllic reality gone awry. Coleman's hippie parents became disciples of Helen and Scott Nearing, a 'back to the earth' couple carving out a self-sufficient life in remote coastal Maine, where they dig into the sandy earth to create an organic lifestyle in the 1970s while raising a family. Macrobiotic diets, naked farmhands harvesting in summer fecundity, and the accidental drowning of a younger sister threaten the idyllic, simple life that Eliot and Sue Coleman are striving for. Coleman digs up her complicated past in elegant and enthralling prose."--Annie Philbrick, Bank Square Books, Mystic, Conn.

Paperback

The Sojourn by Andrew Krivak (Bellevue Literary Press, $14.95, 9781934137345). "As a sharpshooter in the declining Austro-Hungarian army, Jozef is entrenched in the tragedy of World War I in this exquisite first novel. Jozef had been a shepherd in the mountains before joining the army, and after the war, on his way home to his father, he encounters a mysterious Gypsy girl in the forest. The two travel onward together, struggling to make it to their destination. In a novel full of violence and beauty, Krivak shares a unique story about a boy becoming a man during a tragic period in world history."--Sherri Gallentine, Vroman's Bookstore, Pasadena, Calif.

For Ages 4 to 8

Cloudette by Tom Lichtenheld (Holt Books for Young Readers, $16.95, 9780805087765). "This is a funny and inspirational tale about a little cloud looking to make a big difference. Lichtenheld's humor is as enjoyable as ever, and his illustrations never disappoint. It will surely be a storytime hit!"--Angela K. Sherrill, 57th Street Books, Chicago, Ill.

[Many thanks to IndieBound and the ABA!]


Book Brahmin: John Sandford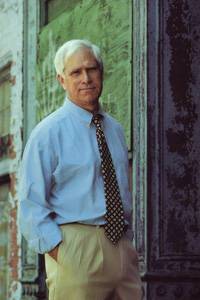 John Sandford is the pseudonym of journalist John Camp. In 1980, he was named a finalist for the Pulitzer Prize for an article he wrote on the Native American communities in Minnesota and North Dakota and their modern-day social problems. In 1986, Camp won the Pulitzer for feature writing for a series of articles on the farm crisis in the Midwest.
Camp has written 21 books in the Prey series. He has also written four books in the Kidd series; four in the series starring Virgil Flowers; and two nonseries novels, The Night Crew and Dead Watch. Sandford has been hailed as a "born storyteller" (San Diego Tribune), and his work as "the kind of trimmed-to-the-bone thriller you can't put down" (Chicago Tribune). His latest in the Lucas Davenport Prey series is Buried Prey (Putnam, May 10, 2011) and shifts between the present and Davenport's early days as a cop with an unsurprising reputation for recklessness.
On your nightstand now:
Wild Trout, a 1998 book edited by Nick Lyons that my girlfriend found in a used book store and is terrific; Gerhard Richter, a Life in Painting by Dietmar Elger (translated by Elizabeth Solaro); and Alice Neel: Painted Truths, from the Houston Museum of Fine Arts. I'm not so much reading the Neel book as looking at it. I'm also slogging through a book on how to use the Numbers spreadsheet, and it is profoundly awful--so awful that I may try to learn Excel instead. Did you know that the name Excel is apparently a pun?
Favorite book when you were a child:
Grimms' Fairy Tales. My father had a full-color illustrated version, which scared the hell out of me from the time I was probably three years old, way back before TV. The very first letters I ever tried to form are written in the back of the book, in crayon.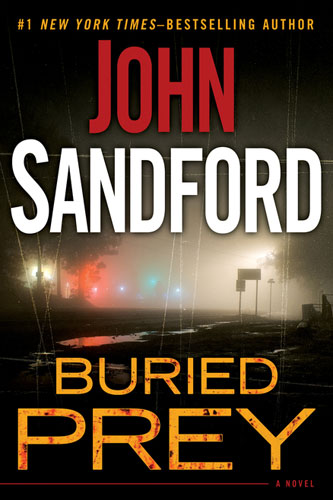 Your top five authors:
I don't really think this way, but there are several authors whose books I buy immediately upon publication, or whenever I happen to find them: George MacDonald Fraser, who died a couple years ago; Alan Furst, who writes the best atmosphere since Casablanca; Stephen King, who often makes me laugh and always holds my interest, and who has written some extremely interesting nonfiction; Martha Grimes, who writes great villains, and who also wrote probably the only known verse thriller in Send Bygraves; and Garrison Keillor, whose books I don't always like, but never leave unfinished. He may also be the best compiler of poetry who ever walked the earth.
Book you've faked reading:
The Canterbury Tales:
When that April is, with his showers swoot,
The drought of March hath pierced to the root,
And bathed every vein in such licour,
At that time you can kiss my large white ass....

Book you're an evangelist for:
The Queen's Gambit by Walter Tevis. Should be a book read by every intelligent young woman. Or young man. Maybe.
Book you've bought for the cover:
Never happened. I'm a browser, and I always look inside first. Oh, wait: I think I bought the spreadsheet book by the cover.
Book that changed your life:
The Pine Barrens by John McPhee. Taught me how to report and then write what I'd seen.
Favorite line from a book:
Opening lines from the King James Version of the Bible:
"In the beginning God created the heaven and the earth. And the earth was without form, and void; and darkness was upon the face of the deep. And the Spirit of God moved upon the face of the waters. And God said, Let there be light: and there was light."
Book you want to read again for the first time:
The Three Musketeers by Alexandre Dumas.


Book Review
Book Review: The Shadow-Boxing Woman
The Shadow-Boxing Woman by Inka Parei, trans. by Katy Derbyshire (Seagull Books/University of Chicago Press, $21 hardcover, 9781906497958, May 15, 2011)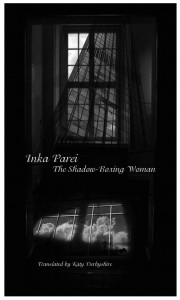 Post-Wall East Berlin, before the city got its bearings and turned into a boomtown, provides the perfect eerie setting for Inka Parei's dystopian novel of threat and survival. Hell lives in a mostly deserted apartment house that is about to be demolished; her one neighbor, Dunkel, has disappeared without warning, and Hell is worried that something bad has happened to her. Though she's tempted to do nothing and avoid complications, Hell sets out to solve the mystery of Dunkel's disappearance and perhaps rescue her.
Wandering through a Berlin rife with gangs roaming derelict and dangerous streets, Hell uses her wits and martial arts skills in pursuit of leads while she fends off all manner of assaults from every direction. Her determination is reinforced by holding on to the philosophy that "Growth is nothing but walking on, dividing time from stone to stone and from leaf to leaf." In the lawless landscape that Parei captures so well, there are more than a few tense moments when Hell knows that "Running away is not only legitimate, it is also the best means of all in hopeless situations."
Reminiscent of the work of Samuel Beckett and Gunter Grass, Parei invests desolation with beauty, attacks nasty physical confrontations without fear of showing blood and lovingly describes budding romance fraught with anxiety. Fragmenting the tale of Hell's quest into short intense chapters, she sketches a disrupted Berlin. The once-imperial city has been physically damaged; its residents, including Hell, Dunkel and millions of others, have been damaged both physically and psychically. Living among the ruins, yet not giving in--that is what Inka Parei addresses unblinkingly in this ambitious novel.
Whether describing an abandoned amusement park with echoes of Graham Greene's The Third Man or a subway ride edged with mounting Hitchcockian desperation, Parei draws precise and vivid pictures of every place Hell goes in her crumbling town. A depopulated train station looms large: "The cool smoothness of the floor, made of stone rather like black pudding, sprinkled with brown flecks and polished matte, provides the perfect camouflage for vomit and pools of beer." Camouflage is a necessary adaptation in this unforgiving landscape, even in romance. As we find out, Hell's brief encounter with a disaffected bank robber (or is that all he is?) is emblematic of all the promises for a livable future that have had to be put on hold until the fighting ceases and the work of reconstruction can begin. --John McFarland
Shelf Talker: A sharp and striking novel of bleak and challenging life in Berlin right after the Wall came down but before boom conditions gave hope for change.


The Bestsellers
Top-Selling Titles in St. Louis
The following were the bestselling books at independent bookstores in and around St. Louis, Mo. During the week ended Sunday, May 8:

Adult

1. The Heart and the Fist: The Education of a Humanitarian, the Making of a Navy SEAL by Eric Greitens
2. The Help by Kathryn Stockett
3. Bossypants by Tina Fey
4. Iron Butterfly: Memoir of a Martial Arts Master: The True Story of a Mermaid's Daughter by Choon-Ok Jade Harmon
5. Water for Elephants by Sara Gruen
6. A Visit From the Goon Squad by Jennifer Egan
7. Caleb's Crossing by Geraldine Brooks
8. Two Kisses for Maddie by Matt Logelin
9. Tangled Webs by James Stewart
10. Mom: A Celebration of Mothers from StoryCorps by Dave Isay

Kids

1. You Are My Little Cupcake by Amy Sklansky
2. Throne of Fire: The Kane Chronicles: Book 2 by Rick Riordan
3. My Daddy and Me by Amy Sklansky
4. The Book Thief by Marcus Zusack
5. The Secret History of Mermaids and Creatures of the Deep by Ari Professor Berk
6. Oh The Places You'll Go by Dr. Seuss
7. Mayflower and the Pilgrims' New World by Nathaniel Philbrick
8. Dormia: Book 2 Jake Halpern
9. Hold Me Closer, Necromancer by Lish McBride
10. Happy Birthday to You! by Dr. Seuss


Reporting bookstores, all of which are members of the St. Louis Independent Bookstore Alliance: Left Bank Books, Main Street Books, Pudd'nhead Books, Subterranean Books, Sue's News.

[Many thanks to the booksellers!]