Shelf Awareness for Tuesday, September 27, 2011

News
Judge Approves Borders IP Sale to B&N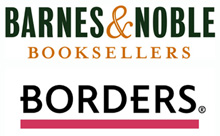 Yesterday, Judge Martin Glenn approved the $13.9 million deal for Borders Group to sell intellectual property, including customer information, to Barnes & Noble "after both sides addressed concerns about customer privacy," Reuters reported. The deal had been delayed Thursday because the bankruptcy judge said he needed more time to consider the issue when B&N objected to several recommendations made by an ombudsman. B&N will gain control of Borders's database with information on 48 million customers.

At the hearing, Borders lawyer Andrew Glenn noted the approved deal "gives customers 15 days to opt out of the transfer by responding to an e-mail that will be sent when the deal closes." The ombudsman had wanted longtime customers to have to opt in to a transfer deal. Glenn added that a closing date is still uncertain, but the "parties are working to close as quickly as possible." An ad will run in USA Today providing customers with information about opting out.

Barnes & Noble, "whose own privacy policy will govern the information once it is transferred, has agreed to purge any information it deems unnecessary," Reuters wrote.



Kindle Fire & the 'Real Secret' to Amazon's E-Reader Success
In anticipation of Amazon's press conference Wednesday, during which the company may or may not unveil its new tablet (which may or may not be called the Kindle Fire), Fast Company's Adrian Slywotzky chose to look back a few years at the initial rivalry between Amazon and Sony for control of the e-reader frontier.

Slywotzky suggested the "true explanation" for Kindle's success is in "the behind-the-screen elements that make up a product's backstory. Kindle got those elements right; Sony didn't. Although backstory elements are easy to overlook, the same pattern pops up in one demand story after another: It's what you don't see that counts....

"Look at the Kindle, and you don't see the wireless connection, the relationships between Amazon and the publishers, the vast online bookstore, or the personalized book recommendations. But all these backstory elements dramatically enhance the e-reader experience, making Kindle magnetic in a way [Sony's] Librie never was. The first production run of Kindles sold out within five-and-a-half hours.

"Amazon moved outside its comfort zone to design a hardware device, which was Sony's forte. But Amazon leveraged its comfort zone to build a complete solution for the user. As a result, Kindle's sales outstrip Sony's readers by three to one. E Ink made the e-reader a reality. Behind-the-screen deals--the backstory--made Kindle a winner."

---

Yesterday Amazon announced a deal with Fox to that will add 2,000 movies and TV shows later this fall to its unlimited instant streaming service for Prime members. "Clearly Amazon chief Jeff Bezos just couldn't wait for Wednesday to tell the world about the company's new streaming deal," Engadget noted, adding: "Man, that content would sure look great on an Amazon tablet, wouldn't it?"



U.K. Book Biz: 'Power 100' List; Booker Bestsellers
"Seismic shifts in the publishing world, transforming the way we buy and read books," have landed Amazon's CEO Jeff Bezos at the top of the Guardian and Observer's Books Power 100 list, which charts the most influential people in the U.K.'s book trade.

"Amazon has given readers a limitless choice of books in a way that no bookseller or publisher has ever done before," said Lisa Allardice, editor of Guardian Review. "It has dealt the high-street bookshop a near-fatal battering, completely changing not only the way we buy books, but also the way we read them, as the huge success of the Kindle shows."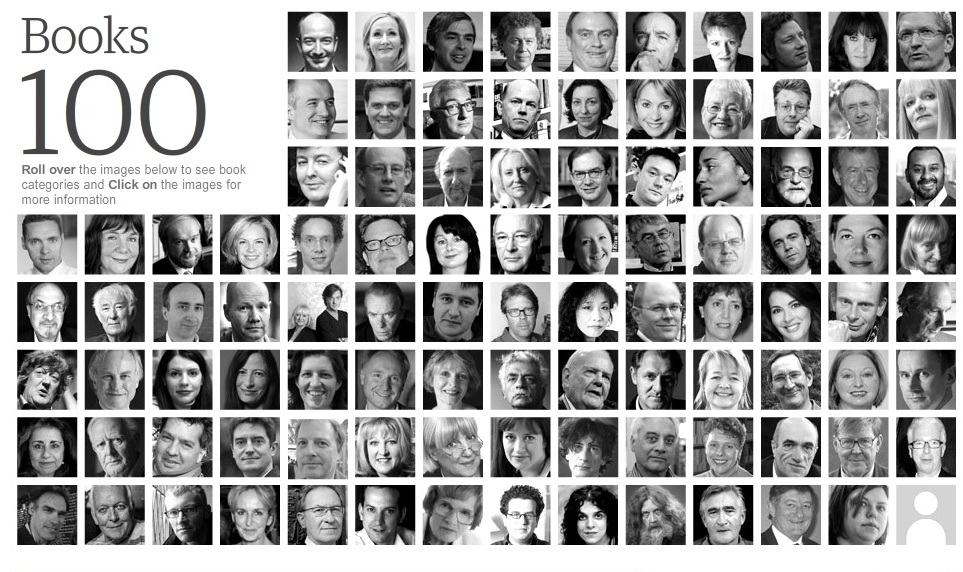 J.K. Rowling ranks second, but the Guardian reported this "is thanks not so much to the still-healthy sales of her Harry Potter books as to the forthcoming launch of the interactive website Pottermore--where, significantly, e-book versions of her titles will be sold exclusively."

The Guardian also noted the strong presence of women, "at least by the standards of industry power lists... Thirty-six women appear, including three in the top 10: aside from Rowling, they are Kate Swann (seven), the no-nonsense CEO of W.H. Smith, and Gail Rebuck (nine), chief executive of the publishing giant Random House, who is strengthening the company's digital strategy."

There is no name at #100, which "is devoted to the anonymous reader, blogger, commenter and tweeter--recognizing the unprecedented power of the consumers of books in all their changing forms. 'Never,' state the compilers of the list, 'have public conversations about books been wider or more intense.' "

---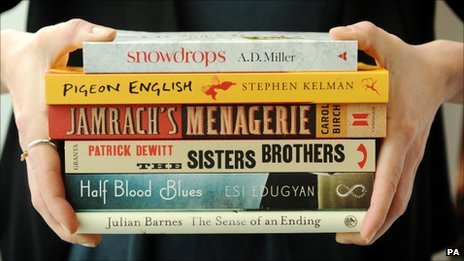 The shortlisted books for this year's Man Booker Prize have "enjoyed the best sales boost since the announcement of the six contenders," BBC News reported, noting that approximately 37,500 copies, "more than double the previous record set in 2009," have been sold in the U.K. since the shortlist was unveiled September 6. The winner will be named October 18.

A.D. Miller's Snowdrops heads the list (11,800 more sales since the announcement), followed by Jamrach's Menagerie by Carol Birch, The Sense of an Ending by Julian Barnes, Stephen Kelman's Pigeon English, The Sisters Brothers by Patrick deWitt and Esi Edugyan's Half Blood Blues (2,800 copies). Miller received a boost after being featured by Richard and Judy's W.H. Smith book club picks.

Pricing is also believed to be "a contributing factor in the current sales boost with the shortlisted titles available for less than £8 each, most in paperback," BBC News wrote.

Betting odds do not mirror current sales trends, however. The latest Ladbrokes numbers show Barnes as the prohibitive favorite at 13/8, followed by Birch (7/2), Miller (7/2), Kelman (9/2), Edugyan (13/2) and deWitt (8/1).

A dissenting opinion regarding the Booker sales spike was voiced in the Guardian by Sarah Crown, who wrote: "There's no question that this list is a very different beast from the ones we've seen in previous years, and the uplift in sales could easily be translated as job-done. But here's a question: might it not in fact be the case that the reading public, clearly keen on the books on offer, would have bought and read them anyway, without the judges' intercession? Might it not have been a more worthwhile enterprise to bring to the public's attention books that they would otherwise have missed? In a cash-strapped publishing industry, which is culling more and more resources from their highbrow, midlist, low-selling authors--the Booker's traditional constituency--would it not be better to highlight the work of some of those authors, in order to save them from oblivion?"



Espresso Book Machine Now Served on Google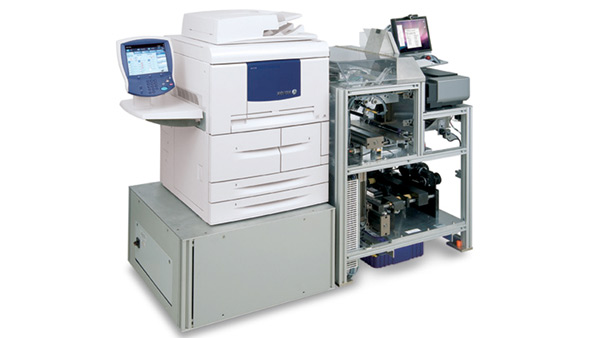 On Demand Books, owner of the Espresso Book Machines, is now making its full catalogue of more than seven million titles available on Google Books through Google Merchant Center and other Google e-commerce sites. These include its in-copyright and publisher titles. Some two million public domain titles on the Espresso Book Machine network had been available through Google.

Dane Neller, CEO of On Demand, said that now "the billions of consumers who use Google every day can now connect to an EBM retailer's e-commerce site via a direct online link from Google and Google Books. It is a natural fit with the Espresso Book Machine model: global search capability with local print fulfillment."




Booklovers Rally for St. Mark's Bookshop
More than 36,000 people have signed an online petition to save St. Mark's Bookshop in New York City's East Village, according to a "rent issue update" on the store's Facebook page. "It's very heartwarming to have so many people concerned about the fate of our business," co-owner Bob Contant told Shelf Awareness.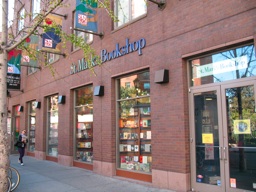 Last year, with sales decreasing in the wake of the 2008 economic downturn, Contant and fellow proprietor Terry McCoy asked their landlord, the arts engineering college Cooper Union, for a reduction in the store's $20,000 a month rent but were turned down.
A groundswell of support for St. Mark's began over the summer after an article in a local publication, The Villager, highlighted the store's plight. The piece came about after a reporter spotted signs around the store emblazoned with the slogan, "Find it here. Buy it here. Keep us here." Contant used the catchy line with the blessing of Carole Horne of the Harvard Book Store in Cambridge, Mass., which coined the phrase, after the two had a discussion about customers browsing and then using smart phones to buy books from an online retailer.
In addition to the online petition, which was started at the suggestion of longtime St. Mark's customer, activist and literary agent Frances Goldin and Cooper Square Committee chairwoman Joyce Ravitz, backing has come from high-profile community figures. District council member Rosie Mendez, Manhattan borough president Scott Stringer, and Andrew Berman, executive director of the Greenwich Village Society for Historic Preservation have all written letters to Cooper Union on behalf of St. Mark's.
A decision on the rent reduction of $5,000 a month was expected last week by the Cooper Union Board of Directors, but St. Mark's will have to wait a bit longer to learn its financial fate. The request is to be addressed by the school's Finance and Business Affairs Committee, with a report expected by the end of October. If the reduction is granted, there is "no question" the 34-year-old store will stay in business, noted Contant. If not, its future is uncertain.
Meanwhile, consumers are helping to make a difference. "That has been the most gratifying aspect of all this," said Contant. "People who are signing the petition are also buying books. For the last 10 days, business has been booming. Everyone is coming in and asking what they can do. We tell them, 'buy a book.' " --Shannon McKenna Schmidt


More Power to Mighty Be Our Powers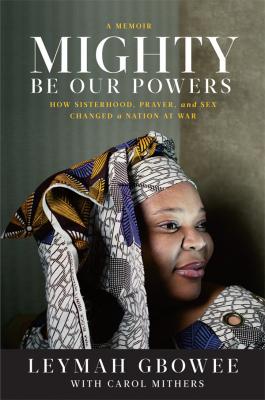 Last week, we noted that
Barnes & Noble chairman Len Riggio is paying for an eight-city book tour
for Leymah Gbowee, author of
Mighty Be Our Powers
, published by Beast Books (a collaboration between the Newsweek Daily Beast and Perseus Books Group). Riggio was impressed by Gbowee, who helped form and then head the Liberian Mass Action for Peace and who is leading advocate for women around the world to take control of their political destiny.
This week the book's publishers are making an extra, powerful effort on behalf of Gbowee: they have made it easy for readers and fans to contribute to Gbowee's foundation,
Women Peace and Security Network-Africa
, also known as WIPSEN.
There is now a donate button on the
book's website
and the
author's website
, and Perseus president and CEO David Steinberger said that when the book is reprinted, it will include information about WIPSEN and how to donate to it. The donate buttons direct donors to the
New York Charities site
.


Lonely Planet Partners with UN's OCHA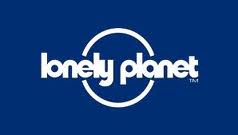 Lonely Planet will partner with the United Nations Office for the Coordination of Humanitarian Affairs (OCHA) to provide information vital for responders in humanitarian emergencies. Under the new partnership, staff from a variety of UN agencies and government and non-governmental organizations providing humanitarian aid will have access to Lonely Planet's information to help familiarize themselves with a country's essential basic information before traveling.

"Lonely Planet's expert content makes it easier for humanitarian workers to hit the ground running in unfamiliar environments," said Gwi-Yeop Son, director of corporate programs at OCHA. "We value Lonely Planet's commitment to provide accurate and up-to-the-minute information for our teams on the ground."



Notes
Image of the Day: Cheesehead

At the Midwest Booksellers Association meeting last week in Minneapolis, Minn., Nina Revoyr celebrated winning the adult fiction Midwest Booksellers Choice Award for her novel Wingshooters (Akashic Books). Here, wearing a cheesehead in honor of her Wisconsin roots: Revoyr with (from l.), Julie Schaper, president and COO of Consortium (Akashic's distributor); Jim Nichols, Consortium v-p of sales; Ruth Berger, sales manager at Consortium; Steve Horwitz, Consortium Midwest sales rep; and John Mesjak, a sales rep at Abraham Associates.


Cool Idea of the Day: On the Road with Libros Schmibros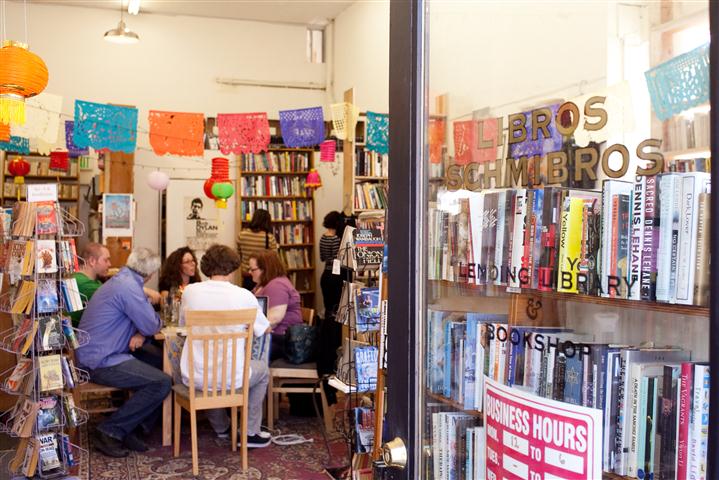 Libros Schmibros Lending Library & Bookshop, Los Angeles, Calif., is operating a pop-up bookstore at the Hammer Museum in Westwood until October 9. This Thursday, that store will host a marathon reading of Jack Kerouac's On the Road.

The genesis of the reading project--as well as the pop-up store--is the exhibition Ed Ruscha: On the Road, a collection of recent works by the artist "connected to Kerouac's novel. There are drawings and word paintings with distant mountaintops dwarfed by phrases from the book," Jacket Copy's Carolyn Kellogg wrote.

"The paintings do stand on their own, of course," she observed. "But for me as a viewer, Ed Rucha's artist edition of On the Road is even more compelling. It was published by Gagosian Gallery and Steidl in 2009, in an edition of 350, signed and leather-bound--lovely to look at, but not something I can take home anytime soon.

"Luckily, the pop-up Libros Schmibros store downstairs has a few used copies still in stock. It generally sells its books for half the cover price, although it is also known to give a neighborhood discount in Boyle Heights."



Putting a Price on ARCs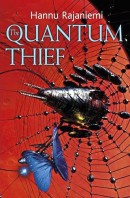 How can ARCs be valued at 50 times the finished version? After posing this question, the Guardian noted that "book collectors are a funny lot. Unlike readers, who are concerned with what's inside the book, the true delight of any volume for a collector lies in the nuts and bolts of the book's production. First editions, signed copies, limited releases... these are valued above rubies by the book collector. But there's also a shadowy gray market in book collecting--that of dealing in proofs."

The used book market "is currently convulsed by one of its periodic kerfuffles" because an uncorrected proof copy of Hannu Rajaniemi's science fiction debut The Quantum Thief is listed for sale at £275 (US$432). Among the puzzled onlookers is Jon Weir, senior publicity manager at Orion imprint Gollancz. He told the Guardian that the book was being sold "with my press release in. I mean, it was a good press release, but not worth £275!!"



Book Trailer of the Day: Hometown Girl
Hometown Girl: The Chesapeake Diaries by Mariah Stewart (Ballantine).


Colvin to Join Andrews McMeel
Effective October 17, Andrea Colvin is joining Andrews McMeel Publishing as v-p, content, and executive producer, book division, and will oversee the publisher's creative team and direct both digital and print content development.
Colvin was formerly director of publishing operations at Open Road Integrated Media and before that was an executive managing editor at Abrams, production editor for the Penguin Group and freelance writer and copyeditor with the San Francisco Chronicle, Peachpit Press and Adobe magazine, among others. She has also held editorial and writing positions with Publish, Macweek and Macworld.


Media and Movies
Media Heat: John Lithgow on the Colbert Report
Tomorrow morning on MSNBC's Morning Joe: Nicolle Wallace, author of It's Classified (Atria, $25, 9781451610963). She will also appear on CNN's John King USA and Fox's Hannity.

Also on Morning Joe: Ariel Dorfman, author of Feeding on Dreams: Confessions of an Unrepentant Exile (Houghton Mifflin Harcourt, $27.99, 9780547549460).

---

Tomorrow on NPR's Diane Rehm Show, readers review The Jungle by Upton Sinclair.

---

Tomorrow night on the Daily Show: Bill O'Reilly, co-author of Killing Lincoln: The Shocking Assassination that Changed America Forever (Henry Holt, $28, 9780805093070). He will also appear on the View tomorrow and Imus in the Morning today.

---

Tomorrow night on the Colbert Report: John Lithgow, author of Drama: An Actor's Education (Harper, $26.99, 9780061734977).

---

Tomorrow night on ABC's Nightline: John Paul Stevens, author of Five Chiefs: A Supreme Court Memoir (Little, Brown, $24.99, 9780316199803).




Movie Trailer: One for the Money
Lionsgate released the first official trailer for One for the Money, the film adaptation of Janet Evanovich's Stephanie Plum mystery series, the Hollywood Reporter noted. The movie, which hits theaters January 27, is directed by Julie Anne Robinson and stars Katherine Heigl as Plum, with Jason O'Mara (Terra Nova) as Joe Morelli, Daniel Sunjata (Rescue Me) as Ranger and Debbie Reynolds as Plum's Grandma Mazur.



Movie Futures: More le Carré Projects on Tap
With the big screen remake of Tinker Tailor Soldier Spy currently hitting theaters in the U.K., John le Carré's sons, Stephen and Simon Cornwell, are looking to film more of their father's works through their production company, the Ink Factory, which launched last year, Variety reported.

"We didn't set off with the intention of getting involved in my father's stuff, but he found out about it when he was writing his last book, and he suggested we take it on," said Simon. Plans call for film versions of Our Kind of Traitor, A Most Wanted Man and The Mission Song, in partnership with Gail Egan of Potboiler Films, who produced The Constant Gardener.

"Tinker Tailor has clearly re-established John le Carré in people's minds," said Simon. "It's also a really good, interesting and brave film, so from my point of view it sets the bar very high, but also shows just how good a movie you can make if you really commit."

Le Carré is credited as an executive producer on Tinker Tailor Soldier Spy, and is "deeply involved" with Ink Factory's projects, too. "Financially we're all in it together," Simon noted. "He likes to be available as a resource to the scriptwriters, but he also hands people the flexibility to do it their way. He says don't make a film of the book, make a film of the film."



Books & Authors
Awards: Dayton Literary Peace Prize
Winners of this year's $10,000 Dayton Literary Peace Prize, which honors writers whose work uses the power of literature to foster peace, social justice, and global understanding, are The Surrendered by Chang-Rae Lee (fiction) and In The Place Of Justice: A Story of Punishment and Deliverance by Wilbert Rideau (nonfiction).

Last year's winners, Dave Eggers (Zeitoun) and Marlon James (The Book of Night Women), will present the awards to this year's honorees during a ceremony November 13 in Dayton, Ohio. As previously announced, Barbara Kingsolver will receive the Richard C. Holbrooke Distinguished Achievement Award.

"While this year's winners demonstrate how much individual lives are at the mercy of larger political currents around them, they also remind us that we each have the opportunity--and responsibility--to shape a better world," said Sharon Rab, chair of the Dayton Literary Peace Prize Foundation. "Sometimes one voice can be the catalyst for improving an entire state's prison system, and one person can potentially provide the kind of support and comfort that could ease the personal trauma of war. We are honored to celebrate these remarkable books and authors."



IndieBound: Other Indie Favorites
From last week's Indie bestseller lists, available at IndieBound.org, here are the recommended titles, which are also Indie Next Great Reads:

Hardcover

Salvage the Bones: A Novel by Jesmyn Ward (Bloomsbury, $24, 9781608195220). "Ward writes with a power and depth of feeling that is both rare and exhilarating. Her novel about 12 days in the life of a poor black family living on the Mississippi coast as a hurricane gathers in the gulf displays the gifts of a writer with exceptional skill and no fear. The characters seem almost to claw their way off the pages, so vividly has Jesmyn Ward created them. This is a novel of flesh and blood, heart and soul, dreams and terrors that I will not soon forget." --Stan Hynds, Northshire Bookstore, Manchester Center, Vt.

The Winters in Bloom: A Novel by Lisa Tucker (Atria, $25, 9781416575405). "Tucker's latest novel is not just 'women's fiction,' it is literary fiction with characters that subtly emerge until they have become as real as your own family. The story is ostensibly about overprotective parents Kyra and David Winter, whose son Michael has disappeared from the backyard, but it is also about time and memory and how the past makes us who we are. Tucker's talent for storytelling is evident as subplots are seamlessly woven into twists and turns that continually take the reader by surprise. This is one of those rare books that you can't stop thinking about and that makes you reevaluate everything you thought you knew about your own family and your own life. I loved it!" --Rob Dougherty, Clinton Book Shop, Clinton, N.J.

Paperback

You Deserve Nothing by Alexander Maksik (Europa Editions, $15, 9781609450489). "This is a brilliant first novel about a teacher at an international high school in Paris and his relationships with, and influence on, his students and colleagues. The story is told by several narrators whose distinct voices contribute to the depth of the conflict between idealism and reality, each vividly presented in these seductive pages. I couldn't put it down." --Lanetta Parks, the Compleat Bookseller, Chestertown, Md.

For Teen Readers

Welcome to Bordertown, edited by Holly Black and Ellen Kushner (Random House Books for Young Readers, $19.99, 9780375867057). "Imagine if someone lured all our best-known urban fantasy writers to one place and wouldn't let them go until they had collectively crafted interconnected stories of a wild, magical city on the borders of the real world and the realm of magic. That's exactly what Black and Kushner did, and the result is a madcap, rushing fantasy adventure with lost maidens, cursed shapeshifters, impossibly beautiful and cruel princesses, and a heavy dose of rock 'n' roll. If urban fantasy is your thing, you'll find your next great fix here!" --Jocelyn Koehler, Boswell Book Company, Milwaukee, Wis.

[Many thanks to IndieBound and the ABA!]




Book Review
Review: When She Woke
When She Woke by Hillary Jordan (Algonquin, $24.95 hardcover, 9781565126299, October 4, 2011)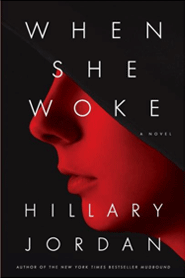 In this new dystopian novel by Hillary Jordan (winner of the 2006 Bellwether Prize for Mudbound), a disease that causes sterility in women has swept across the country and a political party lead by evangelical megachurches has come to power. Meanwhile, the government has introduced a new kind of punishment. Taking a page from The Scarlet Letter, Jordan has created a world in which a person's guilt is physically manifested. By the process of "chroming," a virus is injected into the condemned person, changing skin pigment to correspond to the severity of the crime, with red reserved for the most violent. After relatively brief incarcerations, the newly chromed are released with the color of their crime emblazoned on their skin.
Caught up in this dystopian landscape is Hannah Payne, a young woman raised in a megachurch. Against her religious upbringing, she has an abortion, a procedure prohibited by the government. At her trial, she refuses to reveal the name of the man who impregnated her (whom she still loves) or the name of the person who performed the abortion, at the risk of adding years to her sentence. She is convicted and chromed red, changing her overnight from insider to outcast. Unbeknownst to Hannah, her silence at the trial also starts in motion the events that end up shaping her post-chroming life. The only option for most "chromes" is to try to get by in one of the violent slums until the end of their sentences. Through her connections, Hannah is able to gain entry to one of the few rehab centers. Unfortunately, the center isn't what it appears to be, but it does contain Kayla, also a red chrome, who becomes a much-needed friend and companion in facing the extreme danger of the outside world.
Jordan's elegant prose and thrilling plot make for an engrossing read, while her well-structured examination of our Schadenfreude-hungry culture and the precarious position of women's rights within it make for a thought-provoking one. It is fascinating to follow how Hannah's cultural and moral views shift as she is shunned for her actions--and later hunted. --Melissa Solberg
Shelf Talker: Owing much to Nathaniel Hawthorne's The Scarlet Letter and Margaret Atwood's The Handmaid's Tale, When She Woke lives up to its influences.