Shelf Awareness for Friday, March 2, 2012

News
General Retail Sales: Holidays & Weather Make February 'Solid'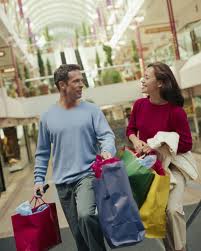 February's unseasonably warm weather "brought out shoppers for spring wear and clearance sales," using money "they didn't spend on apparel for a frigid winter that didn't come," the Wall Street Journal reported. Thomson Reuters said sales at stores it tracks rose 6.4%, substantially better than the 4.8% gain analysts had predicted.

Presidents Day weekend and Valentine's Day were significant contributors. According to the National Retail Federation, the average person spent $126.03 on Valentine's Day, up 8.5% from last year's $116.21--which was affected by severe weather--and the highest total in the survey's 10-year history. Total spending for Valentine's Day this year "was expected to reach $17.6 billion, compared with $15.7 billion last year," the Journal noted.

"The retailers that had a tailwind going into the February season continued to drive sales increases," said Joel Bines of AlixPartners. "It's a fight for market share among retailers rather than a rising tide, and those with momentum are winning out."

The New York Times cited "signs that the American consumer is feeling more secure" as a contributor to the results, noting that Conference Board findings released earlier this week indicated consumer confidence during the month was the highest level in a year.

"Folks are willing to spend a little bit of money on their home, and on accessorizing their outfits with additional nice pieces," said Keith Jelinek of AlixPartners. He sounded a cautionary note, however, about rising gas prices: "Most of the price increases didn't happen until the end of February, and I don't think they've really taken a toll yet. If you put it into dollars and cents, it will impact the consumer by $7 to $10 a fill-up."

While consumer confidence may be growing, Jelinek added that "the consumer's eye is still on where they stand in their own personal situation, and I think the majority of consumers haven't felt the impact yet" of an improving economy.



Sales Tax Fairness: Utah House Passes Legislation
The Utah House of Representatives passed legislation yesterday by a 69-0 vote "that would require remote retailers with nexus in Utah via distribution centers or subsidiaries to collect and remit sales tax for purchases made by state residents," Bookselling This Week reported. The bill now moves to the Senate.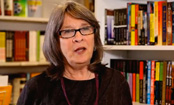 Testifying in support of the bill before the House Public Utilities and Technology Interim Committee last week, Betsy Burton, co-owner of the King's English Bookshop, Salt Lake City, said, "We cannot compete with a 10% disadvantage. We're all going to go away if somebody doesn't address this problem.... It isn't fair for government to take one piece of retail and give it an advantage over the rest of the retail sector. It also is very destructive to our economy and community, that's both local and across our state. I would urge you to give us a level playing field. We are tough--we can compete but not if we don't have a level playing field."




ABA's ABC Children's Institute at BookExpo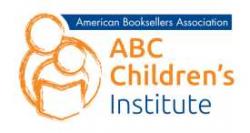 On Wednesday, June 6, the first American Booksellers Association ABC Children's Institute will be held during BookExpo America. The one-day program, which focuses on children's bookselling, will feature educational sessions, roundtables and special events and is open exclusively to booksellers at ABA member stores. Bookselling This Week reported that the admission price also "includes table seating at the BEA Children's Breakfast, the Speed Dating with Children's Authors Lunch, the ABA/CBC Authors and Illustrators Tea and a ticket for the Annual Children's Art Auction and Reception." Registration opens March 7--online only--at kids.bookweb.org.

"I can't wait, and I hope as many of you as possible can come for a full day of great education, favorite authors, bookseller networking, and best practices," said ABA president Becky Anderson of Anderson's Bookshops, Naperville, Ill., adding: "So come out and play with us, and make children's books, independent bookselling, authors and readers the focus for a BEA you've never experienced before."



Slate Book Review Debuts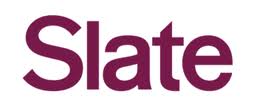 Slate is introducing a monthly book review, "the latest expansion of literary criticism online as stand-alone book review sections in newspapers have dwindled," the New York Times reported. Slate Book Review will be published on the first Saturday of each month, will use both staff writers and freelancers to produce reviews, author interviews, essays and multimedia pieces.

Dan Kois, a senior editor in the culture department who will oversee the new section, observed that even with the decline of newspaper book, "it didn't seem to me that there was less of an appetite for good writing about books. Maybe the mode of doing it in print wasn't appealing to editors or bean-counters.... So to my mind, I wanted to bring to Slate this idea of a concentrated, intense focus on books over the course of one weekend, where books essentially take the site over."



Eventful Changes for Twin Cities Bookstores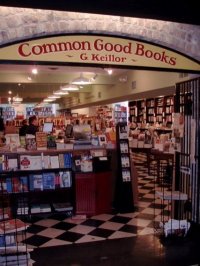 David Enyeart has joined Common Good Books, St. Paul, Minn., where he will be in charge of events as well as assistant manager. Enyeart had been the events coordinator at Magers & Quinn Booksellers, Minneapolis, where he will be replaced by Ethan Rutherford, a writer and former marketing/publicity manager at Milkweed Editions, the Star Tribune reported.

"We'll have two strong venues for events now," said Enyeart. "I think the more the merrier."

Common Good Books is currently preparing for its upcoming move from Cathedral Hill to a new, more spacious location on the corner of Snelling and Grand. A soft opening is anticipated in early April: "As soon as we have books on the shelves--well, as soon as we have shelves, and books on them," said manager Martin Schmutterer. The grand opening is planned for May 1.



Obituary Note: David Ishii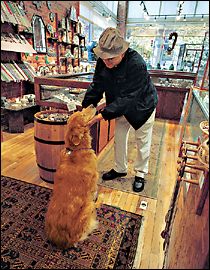 Longtime Seattle bookseller David Ishii, "whose secondhand bookstore was a fixture of the Pioneer Square neighborhood from 1972 to 2005," died yesterday, the Seattle Times reported. He was 76.

"He had a lot of interests he was very passionate about," said his nephew, Ray Ishii. "But I think what he really enjoyed was being around people: telling stories, chatting with them, helping them. He just seemed to collect friends. He had many special friends."
photo: Barry Wong, Pacific Northwest magazine


Notes
Image of the Day: Omnivores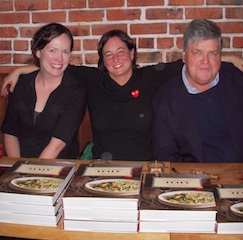 The restaurant Camino in Oakland, Calif., recently hosted a dinner in honor of Colman Andrews, author of The Country Cooking of Italy (Chronicle) and editorial director of the Daily Meal. Here with Colman are (l.) Kate King and Celia Sack of Omnivore Books, San Francisco, who were on hand to sell books--and devour some delicious food.


On Stage: Bel Canto Opera; Matilda: The Musical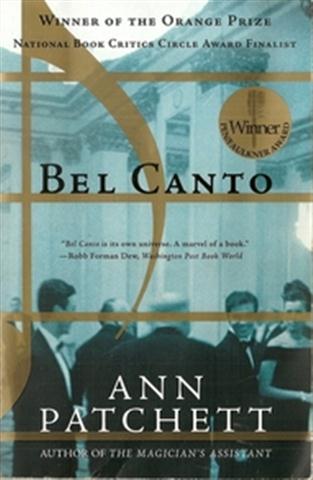 Lyric Opera of Chicago has commissioned an opera based on Ann Patchett's Bel Canto, with a score by "up-and-coming young Peruvian-born composer Jimmy Lopez, and a libretto by the Pulitzer Prize-winning playwright Nilo Cruz," the Chicago Tribune reported. Andrew Davis, the Lyric's music director, will conduct and soprano Danielle de Niese will sing the leading role of Roxanne Coss. The opera's world premiere is expected for the 2015-16 season.

Legendary soprano Renee Fleming, the Lyric's first creative consultant and a member of the board of directors, said she selected her friend's novel because she was moved by it and found it "opera-worthy," noting: "It's about terrorism, on one level, but it's also about what happens when people are forced to live together for a long time, and how art can raise their level of humanity as a group."

Patchett added that there have been at least three previous attempts to adapt the novel as a musical or opera, but they fell through: "Bringing Bel Canto to the stage has been like herding cats. But if anybody can get the job done, it's Renee and Lyric Opera."

---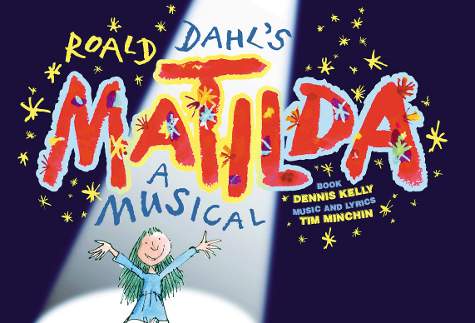 The Royal Shakespeare Company will bring Matilda: The Musical--which opened at the RSC's Courtyard Theatre in Stratford-upon-Avon in 2010--to Broadway next year. The production, based on Roald Dahl's novel Matilda, is directed by Matthew Warchus (The Norman Conquests), written by Dennis Kelly and features songs "by wild-haired, usually barefooted Australian-British comedian Tim Minchin--making it already very different from the Broadway revival of kids' musical Annie that also opens next season. It's too early to say, but I might be Team Matilda," Entertainment Weekly reported.


Even More of the World's Most Beautiful Bookstores
Noting that a recent feature on irresistible bookshops garnered enthusiastic response, Flavorwire offered "Readers' Choice: 20 More Beautiful Bookstores from Around the World."



Book Trailer of the Day: Soldier Dogs
Soldier Dogs: The Untold Story of America's Canine Heroes by Maria Goodavage (Dutton).


Media and Movies
Visuals: The Raven TV Trailer; Jackson's Latest Hobbit Vlog
The first TV trailer has been released for The Raven, starring John Cusack as Edgar Allan Poe "during the final days of his life as he pursues a serial killer," Word & Film reported, adding: "And here we always thought Poe was the creepy one."

---

Peter Jackson's latest video blog from the set of The Hobbit allows you to "go on tour of the many actual locations for being used for the film. Along the way you'll bump into Jed Brophy, Aidan Turner and some of the other dwarves in costume, as well as Andy Serkis directing some second unit work. And if you don't feel like booking a ticket to New Zealand for a vacation after watching this, we don't know what to tell you." The Hobbit: An Unexpected Journey will be released December 14.



Movie Projects: The Book Thief
Fox 2000 has hired Brian Percival (Downton Abbey) to direct the film version of Marcus Zusak's novel The Book Thief, from a script by Michael Petroni, Deadline.com reported. Karen Rosenfelt (Twilight Saga) is producing and a summer production start is planned.



Books & Authors
Awards: Golden Kite; Blue Peter
The winners of the 2012 Golden Kite Awards, presented to children's book authors and artists by their peers and sponsored by the Society of Children's Book Writers and Illustrators, are:

Fiction: Between Shades of Gray by Ruta Sepetys (Philomel/Penguin)
Nonfiction: Amelia Lost: The Life and Disappearance of Amelia Earhart by Candace Fleming (Schwartz & Wade/Random House)
Picture book text: Over and Under Snow by Kate Messner, illustrated by Christopher Silas Neal (Chronicle)
Picture book illustration: Balloons Over Broadway by Melissa Sweet (Houghton Mifflin Books for Children)

Honor Books:
Fiction: Words in the Dust by Trent Reedy (Arthur A. Levine Books/Scholastic)
Nonfiction: Mysterious Bones: The Story of Kennewick Man by Katherine Kirkpatrick, illustrated by Emma Stevenson (Holiday House)
Picture book text: These Hands by Margaret H. Mason, illustrated by Floyd Cooper (Houghton Mifflin Books for Children)
Picture book illustration: Follow Me by Tricia Tusa (Harcourt Children's Books)

Sid Fleischman Award for Humor: The Fourth Stall by Chris Rylander (HarperCollins)

The awards will be presented August 5 at the Golden Kite Luncheon during SCBWI's 41st Annual Conference on Writing and Illustrating for Children, which takes place in Los Angeles August 3-6.

---

Schoolchildren across the U.K. voted Gareth P. Jones the winner of the 2012 Blue Peter Book of the Year prize for his novel The Considine Curse, the Guardian reported.

British kids also selected Jeff Kinney's Diary of a Wimpy Kid as Blue Peter's Best Children's Book of the Last 10 Years, besting J.K. Rowling's Harry Potter and the Order of the Phoenix, along with eight other shortlisted bestsellers for ages 5–11.




Faith of Cranes Takes Flight at Hearthside Books
Since the publication of Hank Lentfer's Faith of Cranes: Finding Hope and Family in Alaska (Mountaineers Books, $16.95, 9781594856396) last fall, sales have soared at Hearthside Books & Toys in Juneau. The store has sold some 400 copies of Lentfer's debut memoir, and co-owner Deb Reifenstein expects the upswing to continue.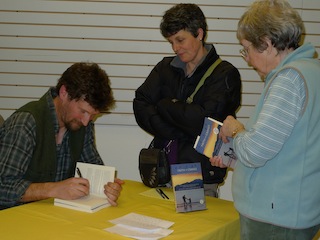 Hearthside Books, which hosted the author in December, is selling copies of Faith of Cranes at Lentfer's talk and signing tonight at the Mendenhall Glacier Visitor Center, part of the venue's "Fireside Lectures" series.
Reifenstein first read Faith of Cranes after receiving an advance copy from a Mountaineers sales rep and "absolutely loved the book." Along with making it her staff selection on the store's website, she and other employees have been avidly handselling it. "Hank's incredible writing skills are responsible for our huge sales," said Reifenstein. "The book is a deeply moving memoir, the kind you read and feel like you know the author intimately and want to pursue a lifelong friendship."
In Faith of Cranes, Lentfer, a former wildlife biologist and longtime conservationist, weaves together three parallel narratives: the plight and beauty of sandhill cranes, flocks of which migrate past his Alaska home each fall; his efforts to find hope amid destructive climate change; and his impending fatherhood.
Many customers who bought Faith of Cranes last fall ended up returning to the store to purchase additional copies for family members and friends. "Being a local book, many of us have connections to Hank and his family as well as other people he writes about," notes Reifenstein. "The fact that the book is an affordable paperback also has much to do with our sales."
Faith of Cranes can be found "front and center" at Hearthside Books, featured in the Alaska section, in window displays and at the checkout counter. In addition to promoting the book online and in flyers, the store touted it in newspaper and radio ads. Many reading groups have chosen Faith of Cranes for discussion, and the book has inspired at least one new membership to the Nature Conservancy. Reifenstein anticipates the memoir being a hit with the many visitors from the cruise ship that dock in Juneau this summer.
"The flock poured in from the northwest and passed so close that the whistle of wind through feathers mixed with their throaty calls," writes Lentfer in Faith of Cranes. "Every year since, without fail, when the cottonwood leaves color and curl, those ancient birds flood the sky over our home." What does a sandhill crane's throaty call actually sound like? Visit hanklentfer.com to find out. --Shannon McKenna Schmidt
photo: Susan Hickey


Book Brahmin: James Renner
James Renner is the author of two books of nonfiction that detail his adventures in investigative journalism: Amy: My Search for Her Killer and The Serial Killer's Apprentice. His work has been featured in Best American Crime Reporting and Best Creative Nonfiction. His new novel is The Man from Primrose Lane (Sarah Crichton Books, February 28, 2012). He lives in Ohio.
On your nightstand now:
Koko by Peter Straub. I picked this one up at a used bookstore in Akron for a buck--and it's a hardcover, first edition! It's also the first in Straub's classic Blue Rose trilogy, which is about a serial killer whose trademark is a playing card with the word "KOKO" scrawled on it. When I opened it up, a playing card fell out. True story.
Favorite book when you were a child:
The Encyclopedia Brown series. A great introduction to the structure of thrillers and mysteries for beginning writers. I've never forgotten the solutions after all these years.
Your top five authors:
Stephen King, John Irving, Mark Winegardner, Dan Chaon and Richard Harris. I like great big meaty books with fully realized characters and a smidge of rambling.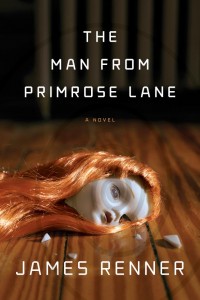 Book you've faked reading:
The Things They Carried by Tim O'Brien. I was assigned this book five separate times in the writing program at Kent State and failed to finish it every single time. Read the synopsis online. Now I'm haunted by the ghosts of dead veterans.
Book you're an evangelist for:
The Devil All the Time by Donald Ray Pollock. My favorite book of 2011. Gritty, sparse, bleak but graceful. Ohio claims its own Cormac McCarthy.
Book you've bought for the cover:
The Girl with the Dragon Tattoo by Stieg Larsson. And I wasn't the only one. I think the cover had more to do with the success of the book than the story or the writing. The cover is gripping. The words, not so much.
Book that changed your life:
The Gunslinger by Stephen King. It wasn't even my Christmas present in 1990. My grandmother bought it for my cousin but as soon as I saw the strange man with the crisscrossed bullet belts on the cover I knew I had to find out what it was all about. The book opened my eyes to the large and wonderful world of fantasy/sci-fi.
Favorite line from a book:
"It was a pleasure to burn."--from Ray Bradbury's Fahrenheit 451. We're too close to this becoming real.
Book you most want to read again for the first time:
The Hobbit. My mother read this one to me when I was little. I read the trilogy my senior year in high school. I'm planning to read The Hobbit to my son very soon. Can't wait to rediscover Middle Earth together.
Book you wish you had written:
Weaveworld by Clive Barker. Residents of a pocket universe decide to hide from an evil force by weaving their world into a large and elaborate carpet. What a fantastic idea. Also, there's time travel, a magic jacket and a fallen angel who has forgotten who it is. Wonderful story.
photo by Danny Vega


Book Review
Review: Hide Me Among the Graves
Hide Me Among the Graves by Tim Powers (Morrow, $25.99 hardcover, 9780061231544, March 13, 2012)
In Hide Me Among the Graves, Tim Powers returns to the fantasy-infused 19th-century England of his 1989 novel The Stress of Her Regard. In that novel, he filled in gaps in the historical record to transform Byron and Shelley into vampire hunters; this time around, he turns to the Victorian era and the famous Rossetti siblings, Christina (the title comes from one of her poems) and Dante Gabriel. There are, though, some key callbacks to the first book; chief among them is protagonist John Crawford, who was born in the final pages of The Stress of Her Regard and is now a London veterinarian, mourning the recent loss of his wife and children.
As the book opens, Christina Rossetti and her sister, Maria, bury a family heirloom, a strange "little black stone figure" that seems to have dark, magical powers, including artistically inspirational ones. Then, Crawford is walking along the Thames at night when a woman approaches, and suddenly something rushes "at the two of them out of the charcoal sky, something alive and churning and savage." The woman is Adelaide McKee; years earlier, as a prostitute, she had a liaison with Crawford that led to the birth of their daughter, Johanna. No sooner has Crawford discovered the existence of this child than Adelaide informs him informs him that Johanna has been pledged to the ghost of John Polidori--the former physician to Lord Byron, and the uncle of the Rossettis--and he must help save her.
Powers unwinds the elaborate narrative that follows beautifully, as the Rossettis join with Crawford and McKee to defeat Polidori, who is plotting with ancient vampiric forces, the Nephilim, to destroy the families involved. When Polidori brings Dante's wife back from the dead, all bets are off; the artistic inspiration Polidori and his little figure once provided the Rosettis is now rejected. Powers brings us along as he explores the sophisticated, literary salons of London as well as the darkest recesses of its catacombs.
Even though Powers's prose is contemporary rather than Victorian pastiche, the novel is steeped in period detail and foggy Victorian London atmosphere. Hide Me Among the Graves can appeal to a wide range of readers, and fans of Sheridan LeFanu's Carmilla or John Polidori's The Vampyre in particular will find themselves in heaven (or maybe hell?). The story may seem a bit too long for some, but one can't help but savor the lush and dark fictional world Powers creates. --Tom Lavoie
Shelf Talker: Those who enjoy big Victorian gothic thrillers with a heavy dose of ghosts and vampires will find this a lot of fun.


Deeper Understanding
Robert Gray: Where Have All the Signed Books Gone?
You may have heard the tale: George Bernard Shaw finds a copy of one of his works in a used bookshop and quickly notices it is signed: "To ___, with esteem, G.B. Shaw." Buying the volume, he subsequently returns it to the original owner with an additional inscription: "With renewed esteem, G.B. Shaw."

Could be apocryphal, but that doesn't matter. I love the story anyway and think of it every time I cull my book collection and decide to part with a signed or, more reluctantly, a personally inscribed book. It's usually a space decision, prompted by the business I'm in; I've received (acquired is too ambitious a word for the way in which my books accumulate) many signed editions over the years. Some mean a great deal to me; others not so much. I guess that's a confession. Sometimes, forgive me, I abandon signed books.

Not yours, though.

Obviously I'm no collector. There are, however, many books on my shelves that I'd never part with for reasons that can be emotional as well as intellectual--an attachment to the memory of a great author event, for example.

But where have all those exiled signed books gone? This question, along with the Shaw anecdote, occurred to me recently when Janet Geddis, owner of Avid Bookshop, Athens, Ga., shared the story of a visit to her shop by poet and noted Rumi translator Coleman Barks, who lives in the city.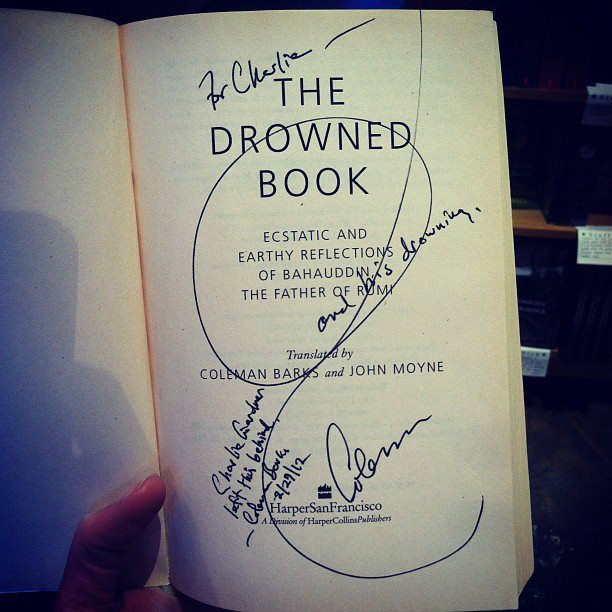 "He asked me where the local shelf was so that he could sign any copies of his books we had in stock," Janet recalled. "He reached over for a used copy of The Drowned Book and, when he opened it to sign, saw that he had already signed it years ago to a friend named Charlie. I was embarrassed for a minute, hoping he wouldn't be upset that Charlie had passed the book along to Avid. 'Well, you could sign it again,' I said with a laugh. I walked away to ring up another customer and forgot about the book. An hour later when it came time to close up, I remembered the book and opened it to the title page. Coleman had signed it twice after all. Today's autograph reads, 'Charlie Gardner left this book, Coleman Barks.' "

Geddis noted that she is also not "a big collector of signed copies or celebrity autographs. I'd rather have a cool interaction with someone and not have any documentation than simply have their name scrawled on a book for me. Of course I'm also in a rather spoiled position now: I get to go to book events several times a year and, as a bookseller, have a great excuse chat with well-known authors. It's for business, after all."

And the business of signing can be rewarding, in many ways. During the four months that Avid has been open, internationally known chef Hugh Acheson (Top Chef) "has signed hundreds of copies of his book A New Turn in the South for us," said Geddis. "It's been really fun and rewarding to have Hugh personally inscribe books for people all over the country--even the world--before we ship them off. He's pretty game when it comes to signing, too, stopping by every month or so to inscribe big stacks of cookbooks."

Acheson also fields personal requests. Geddis said an Avid customer "called in an order for her husband before Christmas and asked if we could have Hugh personalize it. 'My husband has such a man-crush on Hugh,' she said, and then decided what the perfect inscription would be. Hugh saw the request, laughed, and signed as instructed: 'Dear So&So: I love how much you love me. Eat well! Hugh Acheson.' That story still brings a smile to my face."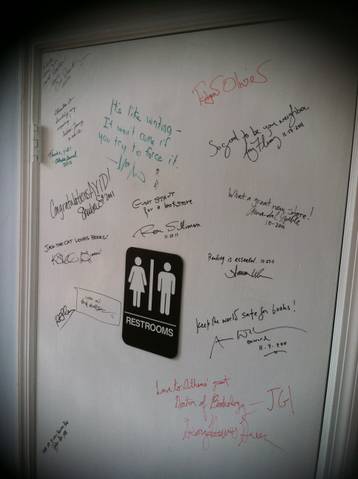 In addition to traditional book-signings, Geddis asks visiting authors and illustrators to sign Avid's bathroom Door O' Fame: "It's pretty cool to look over the people who have been in our store in the last few months of business--I'm pretty sure we're going to fill up all the available space and have to start having authors sign the opposite side of the door within a year or so."

Those are nice autograph stories, but what does fate hold in store for my abandoned inscribed books, now buried on dusty shelves in used bookstores nationwide? Suddenly I remember the terrible floor planks in Edgar Allan Poe's "Tell-Tale Heart." Even if I can invoke plausible deniability for the "To Bob" editions out there, I fear the "To Bob Gray" copies may yet return and haunt me.--Robert Gray, contributing editor (column archives available at Fresh Eyes Now)