Shelf Awareness for Tuesday, March 20, 2012

News
B&N's Tablet Customer: Marketing to 'Julie'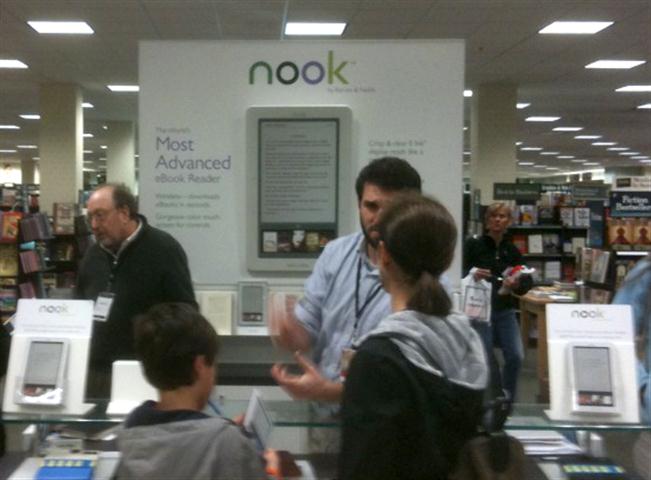 More than 70% of Nook tablet buyers are women between the ages of 25 and 45, live within 15 minutes of a Barnes & Noble store and many of them are parents, a group so focused that B&N likes to call its general tablet customer "Julie."

"We know what Julie would like to buy and how to approach her," said B&N director of developer relations Claudia Romanini, who spoke at a B&N event for app developers yesterday in London, as reported by seekingalpha.com.

Romanini added that the company focuses, too, on Julie's family. "When you go in, you can see kids running around loose in the store," she said. (The stores have special, short tables for children to try out apps.)

Julie does not like to use apps on phones because she is "a bit afraid of data consumption" and prefers them on the Nook tablet in part because B&N makes them free "when she is in the store to try them out," Romanini said.

Most Nook tablet apps are "anything that would interest a woman," Romanini continued, with apps divided equally in thirds between children's and education; games; and lifestyle, including fashion, food, health, fitness and travel.

According to seekingalpha.com, Romanini did not confirm long-standing rumors that Waterstones will sell the Nook in the U.K., although she did say that B&N will not open stores there--a denial it has made consistently for almost two decades.
Photo: www.thebookdesigner.com


Amazon Buying Robot Company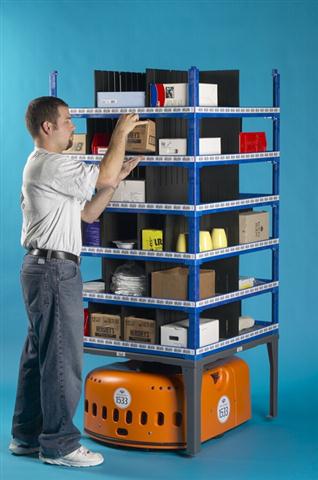 "Julie" meet "Kiva."

Amazon is buying Kiva Systems, a company that makes robots used in warehouses, for $775 million. Amazon has been expanding its network of warehouses around the country and expanded its work force (of humans) as a result.

According to the Wall Street Journal, "to complete an order, Kiva's squat orange robots fetch tall movable shelves, or pods, that have the items needed, bringing them to the human 'picker.' A laser pointer tells the human which item needs to be picked from each shelf. The worker, who stays in one place, scans a bar code to confirm it is the right item. It's placed in the order box, which sits on another one of the mobile pods. New pods arrive steadily with additional items as needed. Items are grouped together to fulfill the orders. Pods filled with completed orders are taken by the robots to the shipping door, where a human tapes them closed in preparation for final transport."

Kiva robots are already used in warehouses operated by two Amazon subsidiaries, Zappos.com and Diapers.com.

Kiva says that "a packer working with its robots can fulfill three to four times as many orders per hour."




Citigroup Report: Kindle Fire Owners Read E-Books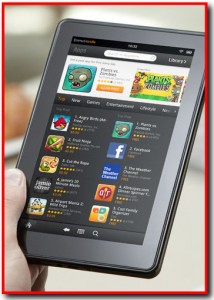 A survey of more than 1,100 "U.S. Internet consumers" regarding Amazon Kindle usage and Prime membership by Citigroup analyst Mark Mahaney found that Kindle Fire owners "are most likely to use their device to read e-books (35%), browse the Internet (18%) and play games (18%)," paidContent reported.

Some 23% of respondents own a Kindle e-reader, with 6% owning a Kindle Fire. "We see Amazon's e-reader revenue contribution as actually materially greater than its tablet revenue contribution for the foreseeable future," Mahaney noted. "E-reader owners purchase about 2.4 books per month.... this survey finding is higher than our prior assumption of about 1.5 books purchased per month by Kindle owners."

In addition, 24% of respondents had purchased five or more e-books during the past 30 days. Citi estimates that "30 million Kindle e-readers will be sold in 2012, compared to 12 million Kindle Fires. And Citi estimates Amazon's e-book sales at $6.2 million this year, up 176% from 2011," paidContent wrote.




Sales, Earnings Drops at Hastings Lead to Format Changes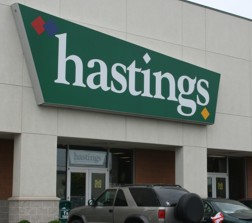 In the three months ended January 31, total revenues at Hastings Entertainment fell 4.6%, to $153.1 million, and the net loss was $8.4 million compared to net earnings of $3.8 million in the same period a year earlier. For the full year, total revenues fell 4.7%, to $496.4 million, and the net loss was $17.6 million, compared to net earnings of $1.7 million in previous year.

Wall Street didn't like the news. Yesterday Hastings stock closed at $2.15 a share, down 10.4% on twice the normal trading volume.
During the quarter, sales at stores open at least a year fell 5.5% (rentals plummeted 16.7%) and for the year fell 5.3% (with rentals down 12.4%). During the year, Hastings closed four of its 147 stores.
Book sales increased during the quarter, largely because of the sale of the company's Nextbook Premium 7 e-reader tablet and related accessories. Sales of trade paperbacks rose but were partially offset by a drop in sales of new mass markets books and used hardcovers. The company launched an e-book initiative in November.

CEO and chairman John H. Marmaduke blamed fourth quarter results on "a continuation of comparable weak slates for movies" and the continuing effect of "the shift toward the digital delivery of entertainment, along with the increasing growth of rental kiosks and subscription-based services in movie rentals." Moreover, the weak economy last year led to reduced discretionary spending.

As a result of changes in the economy and consumer tastes, Hastings is changing its store model to emphasize lifestyle products and deemphasize entertainment products. In particular, it will reduce space devoted to rental movies and add such products as skate boards, disc golf and "tablet expansions for reading, watching movies and playing games and phone app products to be used with your smart phone for fun, health and fitness." The change in format will take place in about 55 stores this year and cost about $3 million.




Neil Young Has BEA Gig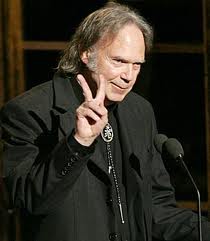 Rocker Neil Young will appear on Wednesday, June 6, during BookExpo America in New York City to discuss his memoir, Waging Heavy Peace, which Blue Rider Press/Penguin will publish in the fall. The noon program in the special events hall called "A Conversation with Neil Young" will have an interview format. Attendance is free and on a first-come, first-served basis.


Notes
Image of the Day: Saved by the ARCs
Martin Rooney, former member of the U.S. Olympic bobsled team, is pumped about his new book, Warrior Cardio: The Revolutionary Metabolic Training System for Burning Fat, Building Muscle, and Getting Fit, which Morrow is publishing April 10. The book offers "an easy-to-follow 12 week training program with workout and diet plans useful to anyone wanting to build muscle and shed unwanted pounds"--and, apparently, shed clothing.


Song of the Day: "B*tches in Bookshops"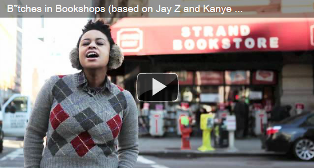 By way of the Huffington Post, here's the best video you'll see today: Annabelle Quezada and La Shea Delaney's "B*tches in Bookshops," a parody of Kanye and Jay-Z's "N*ggas in Paris." (Our favorite line: "I read so hard, I'm JK Rowling.")


B&N Recommends Imagine
The latest Barnes & Noble Recommends is Imagine: How Creativity Works by Jonah Lehrer (Houghton Mifflin Harcourt), the first nonfiction title to be recognized in the program.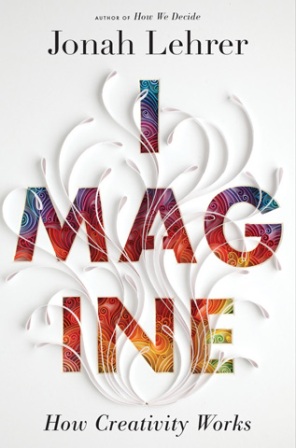 B&N called Imagine "a sparkling and revelatory look at the new science of creativity. Shattering the myth of muses, higher powers, even creative 'types,' Jonah Lehrer demonstrates that creativity is not a single gift possessed by the lucky few. It's a variety of distinct thought processes that we can all learn to use more effectively. Lehrer reveals the importance of embracing the rut, thinking like a child, daydreaming productively, and adopting an outsider's perspective. He unveils the optimal mix of old and new partners in any creative collaboration and explains why criticism is essential to the process. Then, he zooms out to show how we can make our neighborhoods more vibrant, our companies more productive, and our schools more effective."


GBO Picks Isle of the Dead
The German Book Office's pick of the month for March is Isle of the Dead by Gerhard Meier, translated by Burton Pike (Dalkey Archive, $17.95, 9781564786852).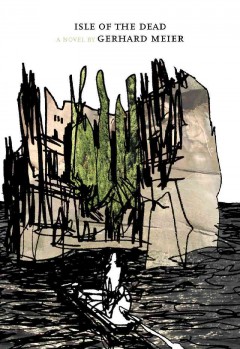 GBO described the book this way: "Baur and Bindschädler, two old men, friends from their days in the army, share a habitual walk to the edge of a town, Baur speaking incessantly--circling between past and present, inconsequential observations and profound insights--while Bindschädler, equally unmoored, listens, observes, and reflects. A meandering meditation on mortality, and a gentle complement to the work of contemporaries Samuel Beckett and Thomas Bernhard--not to mention Gerhard Meier's countryman Robert Walser--Isle of the Dead elevates a simple ramble along a riverside to the status of a metaphysical inquest, with Baur and Bindschädler's words and thoughts looping and colliding until it is nearly impossible to tell one man from the other."

Meier, who died in 2008 at age 91, wrote many works of poetry and fiction. Pike is professor emeritus of comparative literature and German at CUNY and has co-translated Robert Musil's The Man Without Qualities and Rainer Maria Rilke's The Notebooks of Malte Laurids Brigge.




Fact: S&S to Distribute World Almanac Again
Beginning with 2013 trade editions, Simon & Schuster will handle sales and distribution of World Almanac trade book products. S&S had distributed World Almanac from 2006 through 2009.


Craig Young Returns to HarperCollins
Effective March 28, Craig Young is becoming v-p, associate publisher, of Ecco and Amistad, returning to HarperCollins, where he began his publishing career in 1990 in the international sales department. For the last 12 years, he has worked in sales at Hachette, most recently as v-p, sales director of Little, Brown and earlier as director of national accounts.


Book Trailer of the Day: The Enlightened Cyclist
The Enlightened Cyclist: Commuter Angst, Dangerous Drivers, and Other Obstacles on the Path to Two-Wheeled Transcendence by Eben Weiss, aka BikeSnobNYC (Chronicle).


Media and Movies
Media Heat: Tough Sh*t from Kevin Smith
Tomorrow on NPR's Diane Rehm Show, readers review Angela's Ashes by Frank McCourt (Scribner, $16, 9780684842677).
---
Tomorrow night on CNN's Piers Morgan Tonight: Kevin Smith, author of Tough Sh*t: Life Advice from a Fat, Lazy Slob Who Did Good (Gotham, $25, 9781592406890).
---
Tomorrow night on a repeat of the Colbert Report: Katherine Boo, author of Behind the Beautiful Forevers (Random House, $27, 9781400067558).


'Howl' Potter?: Daniel Radcliffe as Allen Ginsberg
A photo from the set of Kill Your Darlings shows Daniel Radcliffe playing "a collegiate-age [Allen] Ginsberg just as he's meeting influential fellow Beat Generation founders Jack Kerouac (Jack Huston) and Lucien Carr (Dane DeHaan)," Entertainment Weekly reported.

The cast also includes Elizabeth Olsen (as Kerouac's first wife, Edie Parker), Ben Foster (as William Burroughs), Michael C. Hall, Jennifer Jason Leigh, David Cross and Kyra Sedgwick.



Books & Authors
Awards: Hans Christian Andersen Winners
María Teresa Andruetto from Argentina has won the 2012 Hans Christian Andersen Author Award, and Peter Sís from the Czech Republic--but whom we Americans claim as our own--has won the 2012 Hans Christian Andersen Illustrator Award. The awards were announced by the International Board on Books for Young People yesterday at the Bologna Book Fair.

The jury recognized Peter Sís, who was chosen from among 30 illustrators, for "his extraordinary originality and deep creative power to relate highly complex stories that can be interpreted on many different levels. The jury particularly appreciates his use of different design and artistic techniques, as well as his innovative approach using a subtle balance to depict well-documented and historical events and fantastic elements."

Sís received a 2008 Caldecott Honor and the 2008 Sibert Medal for his book The Wall: Growing Up Behind the Iron Curtain (FSG/Foster); a 1999 Caldecott Honor for Tibet: Through the Red Box (FSG/Foster); and a 1997 Caldecott Honor for Starry Messenger (FSG/Foster). In 2003, Sís was named a MacArthur Fellow in the Visual Arts.

The jury said it recognized María Teresa Andruetto, chosen from among 27 authors, for "her mastery in writing important and original works that are strongly focused on aesthetics…. [and] relate to a great variety of topics, such as migration, inner worlds, injustice, love, poverty, violence or political affairs."

The winners will be honored at the international IBBY congress in London on August 25.


IndieBound: Other Indie Favorites
From last week's Indie bestseller lists, available at IndieBound.org, here are the recommended titles, which are also Indie Next Great Reads:

Hardcover

Pure by Julianna Baggot (Grand Central Publishing, $25.99, 9781455503063). "I can say, without a doubt, that this is one of the best books I've read in the past year, and I read a lot of books! A gritty, dystopian tale of the world after a nuclear holocaust, this first part of a trilogy has something for everyone: mystery and intrigue, violence, romance, and rumblings of a sinister conspiracy. This unsettling but beautiful book is sure to be a huge crossover hit, sophisticated enough to appeal to adults, and perfect for YA readers. I'm counting down the days until the next installment is released!" --Lauren Peugh, Mrs. Nelson's Toy & Book Shop, La Verne, Calif.

Gypsy Boy: My Life in the Secret World of the Romany Gypsies by Mikey Walsh (Thomas Dunne Books, $24.99, 9780312622084). "Growing up, I envied and romanticized the culture of freedom and adventure amid a free spirited gypsy life. Gypsy Boy both dispels and confirms some of the myths that surround this world. We are given a rave view into the hostile, secretive, and protective bonds that have allowed the gypsies to continue their way of life, one of persecution and lawlessness, in the modern world. While Walsh endures a harsh life filled with abuse, at the same time he experiences enduring love and protection from his mother and sister, even after his decision to leave the tribe. Difficult to read, but even more difficult to put down, Mikey's transformation and ultimate happiness with his life will have you cheering." --Susan Schlesinger, Books on the Square, Providence, R.I.

Paperback

Until the Next Time: A Novel by Kevin Fox (Algonquin, $15.95, 9781565129931). "Sean Corrigan has lived an ordinary life until his twenty-first birthday when his father gives him a journal written by his Uncle Michael, a relative previously unknown to Sean. The journal sets Sean on a course he never could have imagined. From the United States to Ireland, this is a story of family, murder, ancient myth, and a love that goes on through time. I was captured from the first page by this unique blend of mystery, suspense, and romance." --Sue Richardson, Maine Coast Book Shop, Damariscotta, Maine

For Teen Readers

Everneath by Brodi Ashton (Balzer & Bray, $17.99, 9780062071132). "This is Twilight for mythology lovers, with elements of the stories of both Persephone and Orpheus and Eurydice. Seventeen-year-old Nikki Beckett, who's just returned from a century--equivalent to six months of Earth time--in the underworld of Everneath, finds out she has a mere six more months before being taken back to the underworld--this time for good. A captivating story of love, loss, and immortality." --Melissa Oates, Fiction Addiction, Greenville, S.C.

[Many thanks to IndieBound and the ABA!]




Book Review
Review: The Crisis of Zionism
The Crisis of Zionism by Peter Beinart (Times Books, $26 hardcover, 9780805094121, March 27, 2012)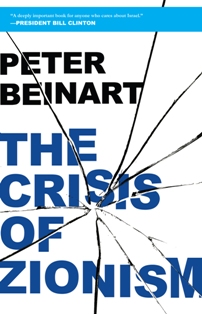 It will be surprising if The Crisis of Zionisim, Peter Beinart's jeremiad against the policies of the Israeli government in the territories occupied after the Six-Day War--and the unwavering support Israel receives from influential segments of the American Jewish community--doesn't spark a firestorm of controversy. And one suspects Beinart will be happy if it does.
Unlike some Jewish commentators who are highly critical of Israel's policies toward Palestinians in the West Bank (the late Tony Judt among the most notable and controversial), Beinart, a senior fellow at the New America Foundation, is a committed Zionist. Nearly 45 years after the occupation of the West Bank began, he contends, its continuation endangers the liberal Zionist vision that animated the formation of the Jewish state. For him, "Israel's legitimacy is bound up with its democratic character," a perspective antithetical to those who harbor a "dream in which Jewish ethics no longer hinder Jewish power."
Beinart likewise argues that the American Jewish establishment, by clinging to a narrative of Jewish endangerment and powerlessness rooted in the Holocaust, has lost touch with the majority of American Jews. Yet the continued influence of that establishment, epitomized by organizations like AIPAC, was demonstrated again last May, when President Obama abruptly reversed himself on the future course of the peace process and the issue of settlements.
Beinart makes a persuasive case that Zionism's future is at risk from two segments of American Jewry: Orthodox Jews tolerant of aspects of Israel's policies he considers antidemocratic, and other Jews whose connection to their heritage is so tenuous as to lead them to indifference. He urges "American Jews most committed to democratic values [to] remain Jews and pass Judaism on to their children." To that end, he argues for increased enrollment in Jewish parochial schools, even proposing support for something resembling tuition vouchers. That view is unlikely to garner much support among his liberal cohort, and his suggestion that those who want to ratchet up the pressure of the BDS (boycott, divest from and sanction) movement to reform Israel's policies refuse to purchase goods and services produced in the territories (which he prefers to call "nondemocratic Israel") is also bound to provoke harsh criticism.
Beinart's argument is passionate, but his tone is sorrowful, not belligerent. His perspective, he believes, offers the last, best hope for the preservation of a liberal democratic Israel that most American Jews can eagerly support. A critic as intelligent and thoughtful as this deserves a serious audience for his perspective. --Harvey Freedenberg
Shelf Talker: A journalist and political scientist makes a passionate argument to restore a liberal democratic Israel.