Shelf Awareness for Monday, April 2, 2012

News
Reuters: Agency Pricing Settlement Progressing
Talks between the Justice Department and Apple and five publishers are progressing and could lead within weeks to the end of "Apple's so-called 'most favored nation' status, which had prevented the publishers from selling lower-priced e-books through rival retailers such as Amazon.com or Barnes & Noble," Reuters reported, citing "two people close to the negotiation."

The move, of course, would lead to the effective end of agency pricing, under which publishers set the price of e-books. Amazon and other e-tailers would then be able to discount titles as much as they want.

The Justice Department does not consider agency pricing illegal but is concerned instead that publishers and Apple "colluded" to introduce the approach.




Seattle Times on Amazon: Ouch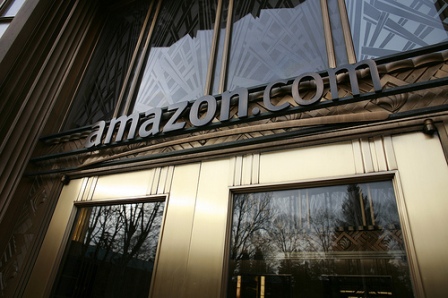 In separate articles over the past several days, the Seattle Times has painted local company powerhouse Amazon in largely negative light.

One story, entitled "Amazon.com trying to wring deep discounts from publishers," outlines the company's apparent effort "to rewrite the rules of publishing." A main example: McFarland & Co., which received an e-mail from Amazon late last year stating that as of the beginning of 2012, the company would buy the publisher's books at a 45% discount, "roughly double its current price break." (McFarland is traditionally a library-oriented publisher with lower discounts than many trade houses.)

Although Amazon represented nearly 70% of McFarland's retail sales and 15% of overall business, the publisher held its ground because, as Karl-Heinz Roseman, director of sales and marketing, said, a change in terms would have been both a money-losing proposition and would have gone against the company's tradition of having the same terms for all accounts. Discussions between the two companies have been solely by e-mail; Roseman does not even know the name or title of the person he is negotiating with.

And Berkshire Publishing Group, which sold at 40%, received a December e-mail demanding a larger discount. The company declined the demand, and Amazon, which represented 10% of its business, stopped ordering from it.

The Times noted that some publishers "say they're speaking out against Amazon partly because they're offended by its tactics. They describe Amazon's demands--made in e-mail, with no personal-contact information provided--as overly aggressive and leaving almost no room for discussion."

Concerning Amazon's expansion of its publishing program, the Times quoted Mike Shatzkin, CEO of the Idea Logical Company: "There's never been anything like the potential for domination by a single company in the U.S. book business like what we see now with Amazon."

By contrast, Jeff Belle, v-p of Amazon Publishing, recently told BloombergBusinessWeek: "What we're building is more like an in-house laboratory where authors and editors and marketers can test new ideas. Success to us means working with authors who want to find new ways to connect with more readers."
---
In the other story, called "Amazon a virtual no-show in hometown philanthropy," the Seattle Times outlines the company's somewhat meager participation in civic life in the city where its headquarters are, a major contrast to other large corporations in the area such as Microsoft. For example, Amazon, the paper said, contributed nothing last year to the United Way of King County and is "not a major donor" to various other important local charities or civic groups.

The paper noted that the company's below-the-radar approach extends even to its offices: there is no indication of who is housed in the company's "sprawling new campus on South Lake Union," and three years ago founder and CEO Jeff Bezos skipped the groundbreaking ceremony for those new buildings, an event attended by the mayor of Seattle and Governor of Washington.

The Times said that since 2009, Amazon has contributed to "some 80 writers groups in the U.S., including 19 in the Puget Sound region, with grants of about $25,000, and it gave the University of Washington $51,000 over a three-year period. But critics note that Amazon's support of writers groups coincides with the growth of its publishing business."

Still, Amazon has recently been "taking some steps toward greater involvement in its hometown," the paper said: earlier this year it pledged to establish two $1 million endowed professorship at the University of Washington in the computer science department and has made "small, often unsolicited, cash contributions" and offered volunteer help and in-kind donations to more than 30 local nonprofits.

For his part, Amazon's Bezos has questioned the value of traditional philanthropy. In 2010, he told Charlie Rose: "I'm convinced that in many cases, for-profit models improve the world more than philanthropy models, if they can be made to work." And last year he told the Times: "Our core business activities are probably the most important thing we do to contribute, as well as our employment in the area."




Kentucky Approves Biz Incentives for Amazon
The Kentucky Economic Development Finance Authority approved a proposal last week that would give $10.25 million in business incentives to an Amazon subsidiary, AMZN.wacs Inc., "should it choose to open a $20-million customer support center in Winchester," the Sun reported. The agency also approved a $250,000 economic development grant agreement for the project.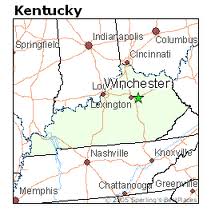 Todd Denham, executive director of the Winchester-Clark County Industrial Authority, said that to receive the full tax credit, AMZN.wacs Inc. must create 550 full-time jobs and 600 part-time and seasonal jobs that would pay an average hourly wage of $20.33 with benefits.

The 70,000-square-foot center would be built on a seven-acre site to be determined, according to Denham, who has been working with local leaders on the project since October. "Because the City of Winchester entered into a confidentiality agreement with AMZN, the project was dubbed Project Rock until the company name could be released," the Sun wrote.

"We are still working with the client to continue this process, and we hope to continue to move forward to have this project come to fruition very soon," Denham added. "This is going to have such an impact on our community, our region, the state, and we're very excited, and there's a whole lot of people that have worked very hard to get us this far, so... we hope to have an announcement on this sometime in the near future."



Striking Toronto Library Workers Reach Settlement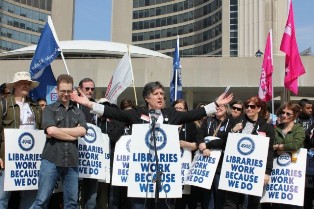 The 11-day strike by library workers in Toronto has ended and branches reopened Friday. Under a four-year collective agreement approved by what the union called a "very strong majority," the 2,300 workers "will get a raise, though their wages will not keep up with the current rate of inflation," the Star reported, adding that "full-time and part-time workers will be protected from layoffs after they earn 11 years of seniority."

"We're very happy to be returning to work," said union president Maureen O'Reilly (center, in photo), though she expressed concern about the employment security provisions that leave part-time workers more vulnerable to layoffs.

And library patrons should take note: "Borrowers have two weeks to return books that were supposed to be due during the strike," the Globe & Mail wrote.
Photo: TPLWU Local 4948


Ohio's Book Nook Closes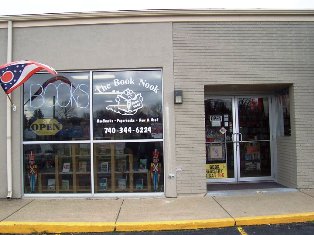 The Book Nook, Newark, Ohio, closed yesterday after 40 years in business. On the shop's Facebook page, owner Pat Luckeydoo posted the following message Saturday: "Well friends tomorrow is the last day of selling books. To say that I am sad is an understatement. But in all things, we can look to the future with happiness, and roll on with the changes. I hope to stay in contact with the people that made running it a joy."

Luckeydoo told the Advocate she is ready to retire, but could not find a buyer: "We didn't want to close it. But it was something we had to do.... We will definitely miss the customers. I'd like them to know they were very special to us.... I'm really sad it has to close."



Notes
Image of the Day: It's a Brad Brad Booksigning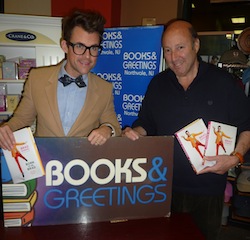 Recently Books & Greetings, Northvale, N.J., hosted an event for Brad Goreski of the Bravo show It's a Brad Brad World and author of Born to Be Brad: My Life and Style, So Far (It Books). Here is Groeski (l.) with Books & Greetings owner Kenny Sarfin.


Most Influential?: Ann Patchett
One of the nominees for Time Magazine's 100 Most Influential People of 2012 is Ann Patchett, author and co-owner of the new Parnassus Books, Nashville, Tenn. Time is allowing people to vote for one of the 100; its editors will pick the rest. To see more (and vote), click here. Polls close April 6.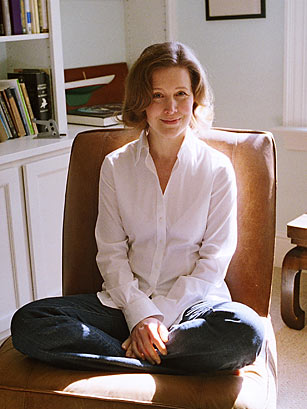 The nomination reads in full:

"With books like 2001's PEN/Faulkner winner Bel Canto and the new State of Wonder, Patchett has demonstrated a singular ability to write smart literary novels that are also big best sellers. And when it comes to literature and books in general, she's put her money where her mouth is: in 2011 she opened Parnassus Books in her hometown of Nashville, placing herself on the front lines of several ongoing battles for the fate of the printed word."


Turning the Page: A 200th Booksigning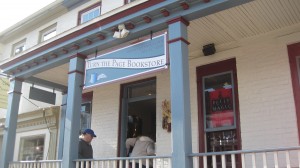 Speaking of author-booksellers, congratulations to Nora Roberts and Turn the Page Bookstore, Boonsboro, Md. On April 14, the store, owned and operated by Roberts's husband, Bruce Wilder, is hosting a signing to launch Roberts's 200th book, The Witness (Putnam). Other authors signing include J.D. Robb (no mystery there), Sophia Nash, Sarah Pekkanen, R.C. Ryan/Ruth Langan, Carolyn Turgeon and two local authors. The store hosts some seven signings a year featuring Roberts/Robb and at least five other authors.


Bookmobiles Going Off the Road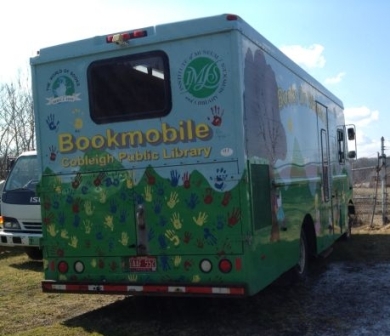 Bookmobiles, "those rolling reading rooms," are an endangered species, according to NPR's Weekend Edition, which cited as an example the Cobleigh Public Library in Lyndonville, Vt., which "had managed to keep its van rolling until about a month ago, when it died."

"We miss the bookmobile," said a child at the Stay and Play daycare center. Without it, librarians have been hauling books in their cars for story hour, but daycare provider Anneka Bickford told NPR it's just not the same: "It's getting the children involved with what a library is, how to check out books [and] how to return books. They would do programs with the children; singing, dancing, themes--so it's the excitement of the library that we can't give to the children."

Vermont's bookmobile fleet has dwindled substantially over the years, as outmoded vehicles were not replaced. "The first bookmobile was out of the dump, it was a plumber's van out of the dump," said Cindy Karasin, Lyndonville's head librarian. Since new ones can cost as much as $90,000, "that seems not the way we are going to go," she added.



'Beloved Bookseller' Pops Up in Cleveland
A pop-up bookstore will be opened in Cleveland's Shaker Square by longtime bookseller Richard Gildenmeister, "who first began selling books at Higbees in 1955, opened Richard Gildenmeister at Shaker Square in the 1970s and worked at Joseph-Beth Booksellers until two years ago," Fresh Water reported, adding that he plans to sell off his private collection in the vacant storefront.

"We all have dreams and nightmares," said Gildenmeister, who turns 80 this year. "Well, one night I had a dream with all these books moving around in my brain. I woke up and thought, 'Maybe this is a message. I've lived in this apartment 42 years and haven't thrown a scrap away. It's time to get moving.' "

He also told Fresh Water he thinks this is a new era in which smaller, independent bookstores will thrive: "The city had a lot of independent bookstores in 1955, and one by one they were knocked off, and then came the big guys. Now they're getting knocked off. I believe many more independent stores will open in niche markets."



Book Trailer of the Day: The Deep Zone
The Deep Zone by James M. Tabor (Ballantine).


Media and Movies
Media Heat: Gov. Nikki Haley Launches Book Campaign
This morning on the Today Show: Haley Kilpatrick, author of The Drama Years: Real Girls Talk About Surviving Middle School--Bullies, Brands, Body Image, and More (Free Press, $16, 9781451627916).

---

This morning on Imus in the Morning: Dr. Martha Herbert, co-author of The Autism Revolution: Whole-Body Strategies for Making Life All It Can Be (Ballantine, $26, 9780345527196).

---

This morning on MSNBC's Morning Joe: Carl Hiaasen, author of Chomp (Knopf Books for Young Readers, $16.99, 9780375868429).

---

This morning on CBS's This Morning: Rachel Dratch, author of Girl Walks into a Bar...: Comedy Calamities, Dating Disasters, and a Midlife Miracle (Gotham, $26, 9781592407118). She will also appear on the View and Late Night with Jimmy Fallon.

---

This morning on Good Morning America: South Carolina Governor Nikki Haley, author of Can't Is Not an Option: My American Story (Sentinel, $27.95, 9781595230850). Tomorrow she appears on the View, Hannity and the Colbert Report.

---

Today on NPR's Talk of the Nation: David Crystal, author of The Story of English in 100 Words (St. Martin's, $22.99, 9781250003461).

---

Today on MSNBC's Now with Alex Wagner: Peter Popham, author of The Lady and the Peacock: The Life of Aung San Suu Kyi (The Experiment, $27.50, 9781615190645).
---

Tomorrow morning on Good Morning America: Karen Le Billon, author of French Kids Eat Everything: How Our Family Moved to France, Cured Picky Eating, Banned Snacking, and Discovered 10 Simple Rules for Raising Happy, Healthy Eaters (Morrow, $24.99, 9780062103291).

---

Tomorrow morning on the Today Show: Mary Higgins Clark, author of The Lost Years (Simon & Schuster, $26.99, 9781451668865), and Carol Higgins Clark, author of Gypped (Scribner, $25, 9781439170311).

---

Tomorrow morning on NPR's Morning Edition: Robert Shiller, author of Finance and the Good Society (Princeton University Press, $24.95, 9780691154886).

---

Tomorrow on Access Hollywood: Tori Spelling, author of celebraTORI: Unleashing Your Inner Party Planner to Entertain Friends and Family (Gallery, $25.99, 9781451627909). She will also appear on the Today Show, the View and Bravo's Watch What Happens Live.




PBS American Masters Tonight: Margaret Mitchell and Harper Lee
The new season of PBS's American Masters biography series continues tonight with back-to-back shows on Margaret Mitchell, author of Gone with the Wind, and Harper Lee, author of To Kill a Mockingbird.

As PBS noted, both writers are Southern white women, won the Pulitzer for their debut novels, had their books made into movies that have become classics and "were ahead of their time, challenging the social order and making a cultural impact with their books that still resonates today."


The film about Mitchell, American Masters Margaret Mitchell: American Rebel, includes segments with Tom Brokaw, Rosanne Cash, Pearl Cleage, Pat Conroy, Molly Haskell, Anna Quindlen, Scott Turow and Oprah Winfrey.

The film about Lee is called American Masters Harper Lee: Hey, Boo.




Books & Authors
Awards: Dilys Winner; Diagram Oddest Book Title
Ghost Hero by S.J. Rozan (Minotaur) has won the 2012 Dily Award, recognizing the mystery title of the year that members of the Independent Mystery Booksellers Association most enjoyed selling. The award is named for Dilys Winn, founder of the first mystery bookstore in the U.S. Rozan was presented the prize at the Left Coast Crime 2012 conference in Sacramento, Calif.
---
Juvenile humor reigns supreme, even after April Fool's Day. Saiyuud Diwong's Cooking with Poo, a recipe book that derives its title from the chef/author's nickname (which is Thai for crab), won the Diagram prize for the oddest book title of the year.

The Guardian reported that Diwong "lives in Bangkok's Klong Toey slum, where she runs a community cookery school." Her book bested a shortlist that included Mr. Andoh's Pennine Diary: Memoirs of a Japanese Chicken Sexer in 1935 Hebden Bridge; The Great Singapore Penis Panic and the Future of American Mass Hysteria; and Estonian Sock Patterns All Around the World.

There is no cash prize for the dubious honor, but previous winner Michael Young, author of Managing a Dental Practice the Genghis Khan Way, said: "Since the award of the prize, I am pleased to say that my writing career is once again flourishing. Editors are keen to publish my words. Being the winner of the Diagram prize has, I feel, given both the book and me a great deal of credibility, which perhaps without the epithet 'prize-winning' we would never have achieved."



Book Review
Review: Welcome to Paradise
Welcome to Paradise by Mahi Binebine, trans. by Lulu Norman (Tin House Books, $14.95 paperback, 9781935639275, April 10, 2012)
As Mahi Binebine's Welcome to Paradise begins, Aziz and his shivering cousin are seated in a café waiting to cross the Strait of Gibraltar. The cousin, suffering from a dreadful stomachache, has soiled himself in a fit of nerves, and the outraged waiter has just thrown them both out. They join other would-be illegal immigrants gathered in Tangier, now hiding on the beach, where dogs or police can spell disaster, where a crying baby can destroy them all. Tonight is the night.
They've been waiting for a month at the little Café France, entertained by Momo the trafficker, a crook with an unusual gift for friendship who has learned to take no chances after spending three years in a French prison. We meet the people who have paid him for passage one by one: Aziz, the young scholar from the School on the Hill who has failed his exam; Reda, his cousin, whose brother has had both his hands amputated, whose mother threw herself down a well; Nuara, clutching a baby who will not stop bawling, searching for a husband who has not returned; Kacem Judi, an Algerian teacher who has survived the butchery of his people; patiently determined Pafadnam and Yarce, who have come from Mali with their life savings; and Yussef from Marrakesh, whose two mothers and four siblings are all dead.
As they huddle on the beach, we learn their back stories and meet the families they've left behind. The two wives of Yussef's father, for instance, got along in perfect harmony, never quarreled, shared money, went shopping hand in hand, always sat side by side. But when his father stole a sack of corn, not realizing it contained rat poison, he accidentally killed both of them and all his children except Yussef.
Binebine tells all these stories through Aziz; through his eyes, in a spare, straightforward style, Binebine creates a compelling, all-too-human cast of characters ready to risk everything to get across the Strait. By the time they reach the last hours and prepare to attempt the dangerous crossing, the reader has been drawn into intense identification with their hopes and loves and fears.
The book's final stretches are agonizingly suspenseful, with a painfully believable ending that stays true to Binebine's heartbreaking commitment to his characters and his determinedly humanistic, profoundly touching vision. --Nick DiMartino
Shelf Talker: A group of desperate immigrants in Tangier await a new life of freedom--or arrest and possible death.