Shelf Awareness for Thursday, May 17, 2012

Quotation of the Day
Phoenix Books: 'A Little Less Amazon Is All We're Asking'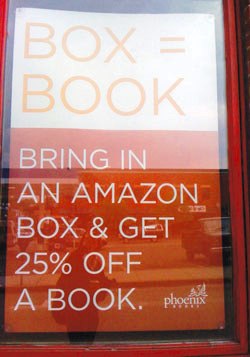 "What we're trying to do is make people aware of the choices that they make. We're not asking people to stop buying from Amazon. We're asking them to buy a little less from Amazon so we can all enjoy the benefits of a community bookstore."
--Renée Reiner, co-owner of
Phoenix Books
, which has a new downtown location in Burlington, Vt. She was talking to
Seven Days about signs
in the bookshop's window that say: "A Little Less Amazon Is All We're Asking" and "Bring in an Amazon Box & Get 25% Off a Book."


News
Amazon's 'Torrid Hiring Pace'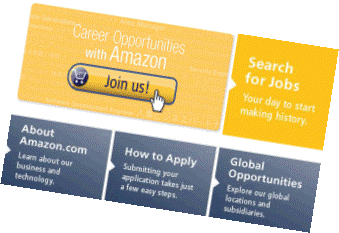 Amazon "has set a torrid hiring pace in recent months, accelerating a rate of employee acquisitions that was already well ahead of most large corporations," the Wall Street Journal reported, noting that the company said it had added "28,000 new employees in the past year or so, a 73% increase that brought its total head count to 65,600 as of the end of March. That annual increase is the largest the Seattle-based company has reported stretching back more than a decade."

"Amazon without question has been getting a pass in terms of some of their costs and some of their investments, at least to date," said analyst Dan Geiman of McAdams Wright Ragen.

"I can see the glass half full, or half empty," observed Stifel Nicolaus analyst Jordan Rohan, who suggested the hiring pace "could be seen as an encouraging sign of confidence--though investors won't necessarily forgive much more erosion of margins," the Journal wrote.

While a substantial amount of new hires have occurred in Amazon's ever-expanding fulfillment centers (17 new warehouses opened last year), the company "is also moving into a dizzying array of businesses ranging from original TV programs to high-fashion retail, with more uncertain futures than its core business of selling and shipping goods," the Journal noted.

"They're obviously just moving in every direction," said Geiman.

To emphasize this report, Amazon announced yesterday it is hiring hundreds of employees in South Carolina for its West Columbia warehouse as well as a planned facility in Spartanburg. Businessweek noted that the company "promises to bring 2,000 jobs to South Carolina by the end of 2013."



NAIBA's Sales Rep of the Year: Nicole DuFort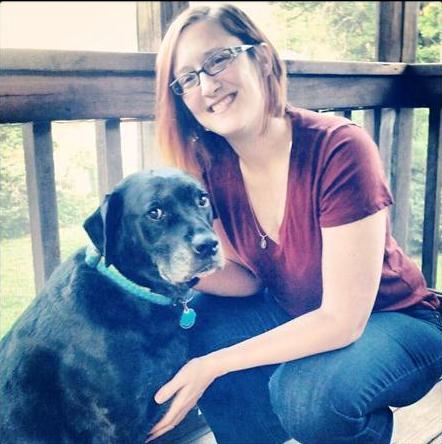 Congratulations to Random House rep Nicole DuFort, who was selected as the Helmuth Sales Rep of the Year by members of the New Atlantic Independent Booksellers Association. She will be honored September 29 during NAIBA's fall conference in Arlington, Va.

"What an honor! I can't thank the NAIBA members enough for all of the support they have given me over the past four years," she said.

Mary Alice Garber, children's and teens buyer at Politics & Prose bookstore, Washington, D.C., praised her as "a great reader, always on target, and I have great confidence in her opinion. I can always count on Nicole to come through when there is a special request. I am delighted that she is being recognized for her hard work and wish her the very best."

Christine Onorati, owner of WORD, Brooklyn, N.Y., called DuFort "hands-on and genuinely invested in our children's business. She offers herself for educator nights and other educational visits that are above and beyond her duties as a sales rep. She has been a crucial partner for us in our school book fair and author visit business. I feel completely taken care of with Nicole; she's a professional and smart rep who is very generous with her time."

DuFort said her early training as a bookseller "taught me that one passionate bookseller can move mountains of books, you just have to find the right book for the right bookseller. So in the grand scheme of things, my job isn't that much different from yours. We all want to try new things to sell more books and we all want the books to find loving passionate readers."



Rabelais Bookstore Relocates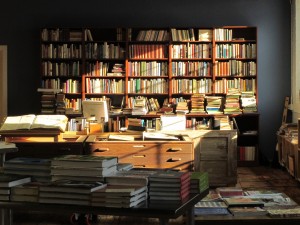 Rabelais bookstore reopened last Saturday at its new North Dam Mill building location in Biddeford, Maine. The Sun Chronicle reported that the shop, which "relocated from its Portland storefront, sells cookbooks that date from the 16th century, as well as modern works that cover recipes from around the world and across the country."

Co-owner Don Lindgren said that the move to Biddeford occurred "because they needed more room to work on their collection... and the mill space fit their needs. Since arriving, Lindgren said they've been pleased to meet 'a community of entrepreneurs... and artists, craftsmen and businessmen,' " the Sun Chronicle wrote.



New Ohio Indie Bookstore in the Works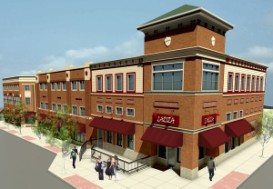 Kent, Ohio, will get a new independent bookstore by the end of the year. The Record-Courier reported that the shop will be located in the basement of the old Kent Hotel when that refurbished building reopens as Acorn Corner.

Developer Ron Burbick made the announcement Tuesday at the Kent Planning Commission meeting, where he was updating the board on the project's progress. While hinting that the building could be open by mid-November, he "declined to give further details about the bookstore."



Notes
Image of the Day: Cat Daddy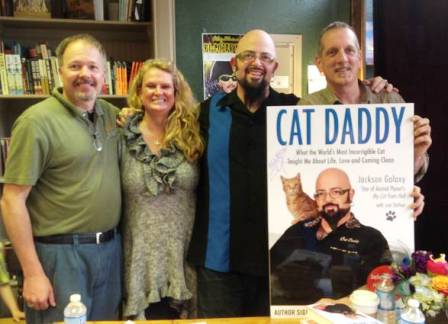 Last Tuesday, more than 100 cat lovers came to hear Jackson Galaxy at the Clinton Book Shop, Clinton, N.J., where Galaxy talked about his new book, Cat Daddy: What the World's Most Incorrigible Cat Taught Me About Life, Love and Coming Clean (Tarcher/Penguin). Pictured (from l.): Harvey Finkel, owner of the Clinton Book Shop, bookseller Cindy DeTommaso, Jackson Galaxy and Rob Dougherty, manager.




Cool Idea of the Day: Blast from the Past Reading Series
The Regulator Bookshop, Durham, N.C., will host the second meeting of its "Blast from the Past Reading Series" on June 21. Algonquin Books editor Kathy Pories is leading a discussion of Graham Greene's novel The End of the Affair.

The new series features "local literary luminaries," who lead discussions of books they have chosen, according to the Regulator's e-newsletter, which noted that the "guidelines for the series are simple: books that have been published in the 20th Century or before that a reasonably well read person will have at least heard of."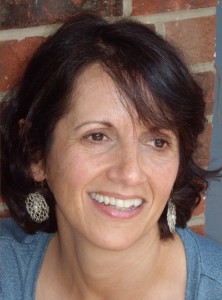 "I have a list of five books that I consider to be my flat out favorites, books that manage to do so much in both the plot and the way that they're told," Pories observed. "These are books that, regardless of length, reach a kind of perfection. The End of the Affair by Graham Greene was a favorite before I'd even made the choice to become an editor and had to think of every novel in terms of whether it successfully does its job; it was just a book that I loved. But since then, I've found it to be an emblematic example of a story told with tremendous passion and yet brevity, and yet even more strikingly, a novel that succeeds in the trickiest of ways: Bendrix is probably one of the most unlikeable narrators you are likely to find, and yet, you can't help but sympathize with him as you read this. Add to that this novel has so much to say about what constitutes love, what constitutes hate, and what constitutes faith, that even after many years, it is still to me a novel of perfection. Or, as William Faulkner said, 'For me one of the most true and moving novels of my time, in anybody's language.' "



Toying Around Books: Vt. Library Winds Up for Summer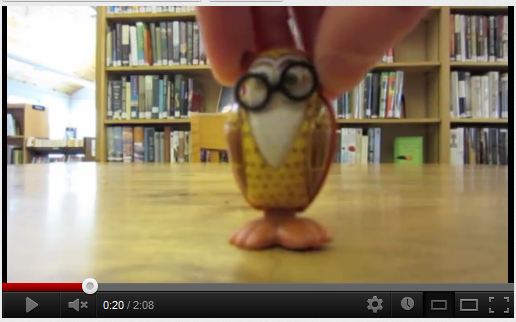 Visitors to the town library in Lincoln, Vt., may hear--behind a closed door--the faint sounds of "dancing gorillas, chattering teeth, jumping owls, rolling hamburgers, a climbing panda and a Mickey Mouse that strolls." The Addison Independent reported that more than 200 wind-up toys, some dating back to the early 1900s, are on exhibit during May and June. You can watch some of them in action here.

"In an era where digital games, like Angry Birds and Diner Dash, dominate the minds of many children, the Lincoln Library is paying homage to the centuries-old wind-up toy," the Independent wrote.



For Sale: House at Pooh Corner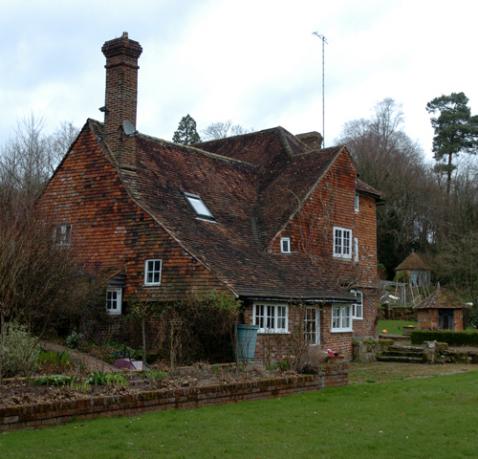 The house where Christopher Robin Milne, son of Winnie the Pooh creator A.A. Milne, grew up has been put on the market for the first time in four decades. Curbed National reported that the estate, known as Cotchford Farm, "spans 9.5 acres of lawns, forest, and streams. The six-bedroom main house, the quintessential English country house if there ever was one, is listed for $3.22 million. There's more to the Milne house than just Pooh, as it was also later owned by Brian Jones of the Rolling Stones, who reportedly died on the property."



Book Trailer of the Day: Oh, Baby!
Oh, Baby! Pregnancy Tales and Advice from One Hot Mama to Another by Tia Mowry (Avery).


Media and Movies
Media Heat: Teresa Giudice on Fox & Friends
This morning on Fox & Friends: New Jersey Real Housewife Teresa Giudice, author of Fabulicious!: Fast & Fit (Running Press, $18.95, 9780762445448). She will also be on Wendy Williams and HLN's Dr. Drew today.

---

Today on HLN's Issues with Jane Velez-Mitchell: Lisa Bloom, author of Swagger: 10 Urgent Rules for Raising Boys in an Era of Failing Schools, Mass Joblessness, and Thug Culture (A Think Book/Vantage Point, $26.99, 9781936467693).

---

Tomorrow night on HBO's Real Time with Bill Maher: Bill Bradley, author of We Can All Do Better (Vanguard, $24.99, 9781593157296).




TV Projects: The Ladies' Paradise
PBS Masterpiece fans take note for possible future viewing: BBC One has greenlighted The Ladies' Paradise, an eight-episode series loosely based on Emile Zola's novel Au Bonheur Des Dames. Deadline.com reported that the show is set in England's first department store and "tells the rags-to-riches story of Denise Lovett (Joanna Vanderham, Above Suspicion), a young girl who works in the store and gets caught up in the charms of the modern world." Bill Gallagher (Lark Rise) is writing the script and Marc Jobst (Upstairs Downstairs, Case Histories) will direct.



This Weekend on Book TV: Gaithersburg Book Festival
Book TV airs on C-Span 2 this week from 8 a.m. Saturday to 8 a.m. Monday and focuses on political and historical books as well as the book industry. The following are highlights for this coming weekend. For more information, go to Book TV's website.

Saturday, May 19

9:15 a.m. Political analyst and former U.S. Treasurer Bay Buchanan talks about her book Bay and Her Boys: Unexpected Lessons I Learned as a (Single) Mom (Da Capo Lifelong Books, $25, 9780738215136). (Re-airs Sunday at 7 p.m. and May 26 at 11 a.m.)

10:20 a.m. Book TV offers live coverage of the Gaithersburg, Md., Book Festival, including a panel titled "The Future of the Book and Bookstore." (Re-airs Sunday at 12 a.m.)

5:15 p.m. At an event hosted by Politics & Prose Bookstore, Washington, D.C., Jeff Himmelman discusses his book Yours in Truth: A Personal Portrait of Ben Bradlee (Random House, $27, 9781400068470). (Re-airs May 26 at 5:15 p.m.)

7 p.m. Hugh Brewster presents his book Gilded Lives, Fatal Voyages: The Titanic's First Class Passengers and Their World (Crown, $26, 9780307984708). (Re-airs Monday at 4 a.m.).

8:45 p.m. Lilly Ledbetter, author of Grace and Grit: My Fight For Equal Pay and Fairness at Goodyear and Beyond (Crown Archetype, $25, 9780307887924), recounts her decision to file a sex discrimination suit. (Re-airs Sunday at 2 p.m. and May 27 at 1:15 a.m.)

10 p.m. After Words. Wall Street Journal international editor Matt Murphy interviews Jay Nordlinger, author of Peace, They Say: A History of the Nobel Peace Prize, the Most Famous and Controversial Prize in the World (Encounter Books, $27.99, 9781594035982). (Re-airs Sunday at 9 p.m., Monday at 12 a.m. & 3 a.m., and May 27 at 12 p.m.)

11 p.m. Michael Klare discusses his book The Race for What's Left: The Global Scramble for the World's Last Resources (Metropolitan Books, $27, 9780805091267).

Sunday, May 20

7 a.m. At an event hosted by Penn State Bookstore, Happy Valley, Pa., Michael Mann presents his book The Hockey Stick and the Climate Wars: Dispatches from the Front Lines (Columbia University Press, $28.95, 9780231152549). (Re-airs Sunday at 10 p.m.)

9 a.m. Hal Weitzman talks about his book Latin Lessons: How South America Stopped Listening to the United States and Started Prospering (Wiley, $25.95, 9780470481912). (Re-airs May 26 at 12 p.m.)

10:15 a.m. Maggie Koerth-Baker discusses her book Before the Lights Go Out: Conquering the Energy Crisis Before It Conquers Us (Wiley, $27.95, 9780470876251). (Re-airs Sunday at 5:15 p.m. and May 27 at 7:15 a.m.)

8 p.m. At an event hosted by Busboys & Poets in Washington, D.C., Lisa Delpit talks about her book Multiplication Is for White People: Raising Expectations for Other People's Children (New Press, $26.95, 9781595580467). (Re-airs May 26 at 8 a.m.)

11 p.m. Amy Gutmann and Dennis Thompson present their book The Spirit of Compromise: Why Governing Demands It and Campaigning Undermines It (Princeton University Press, $24.95, 9780691153919). (Re-airs May 26 at 1:30 p.m.)



Books & Authors
Awards: James Tait Black Shortlists
Finalists for the University of Edinburgh's £10,000 (US$15,985) James Tait Black Prizes have been named. Winners will be announced August 25 during the Edinburgh International Book Festival. This year's shortlisted titles are:

Biography
Malcolm X: A Life of Reinvention by Manning Marable
Ben Jonson: A Life by Ian Donaldson
The Last Pre-Raphaelite: Edward Burne-Jones and the Victorian Imagination by Fiona MacCarthy
Nikolaus Pevsner: The Life by Susie Harries

Fiction
Snowdrops by A.D. Miller
Solace by Belinda McKeon
You and I by Padgett Powell
There But For The by Ali Smith



Book Review
Review: The Art of Robert Frost
The Art of Robert Frost by Tim Kendall (Yale University Press, $35 hardcover, 9780300118131, May 29, 2012)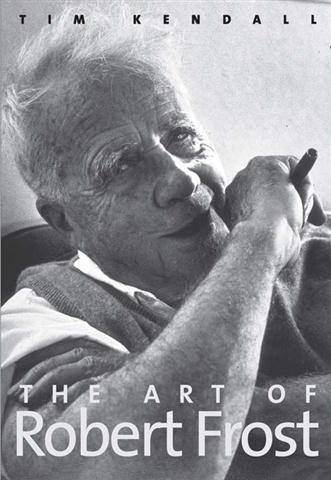 Robert Frost ranks 25th on the Modern Language Association list of top American authors based on the number of scholarly papers addressing their work. With more than 650 articles or books about his poetry, he may be one of the best known, most studied American poets in our history; however, as several biographers have suggested, he may also be one of our least understood. At the risk of getting lost in this jungle of scholarship, Tim Kendall, British poet, editor and professor, has married criticism to anthology with his new addition to the Frost critical canon. The result is a useful collection of a significant portion of Frost's work with short critiques following each poem.
Kendall not only brings his own close reading to the poems, but also quotes generously from other critics and biographers to provide context and even opposing opinions. With a poet as well-known and well-mined as Frost, it is difficult to bring something new to the party, but Kendall sprinkles many fresh insights among the familiar poems. For example, in the much-anthologized "Birches," Kendall notes, "Frost's fully realized account of the boy's swinging is produced 'with the same pains you use to fill a cup / Up to the brim, and even above the brim.' That moment of fine excess describes the boy's careful climbing, but it also serves as Frost's own modus operandi in a poem which celebrates a sense of liberation via poise and endeavor." It is a simple thing to see the meniscus of the full cup as metaphor for the boy's almost reaching beyond his grasp, but it is a more interesting observation to see this also as a metaphor for the ambitions of Frost's poetry. When his poems really work, he stops the fill just before he overfills.
Kendall will even take a contrarian long shot as he does with the poem "The Wood-Pile," where he comments: "At the risk of making an almost unremittingly bleak poem sound uplifting, it may be worth acknowledging that the woodpile... exemplifies a lingering (if meager) human warmth amid the natural world's desolate expanses." While he occasionally slips into professor-speak ("...the spartan trimester, the subject-verb-object structure, the monosyllabic masculine rhymes, the use of anaphora..."), for the most part Kendall speaks with a common tongue that Frost would have appreciated. As Frost said about his poem "The Cow in Apple Time," it is really just "about a cow that runs amok in an orchard." With a poet as complex and deceptively simple as Frost, it is always worthwhile to have a fresh set of eyes and ears take a new look. --Bruce Jacobs
Shelf Talker: Despite the plethora of existing critical studies of Robert Frost, British poet and editor Tim Kendall brings a fresh look to Frost's poems in this combination of anthology and critical study.


Deeper Understanding
In Memoriam: Jean Craighead George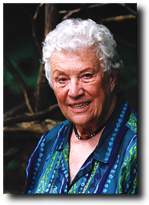 Beloved author Jean Craighead George (July 2, 1919–May 15, 2012) wrote more than 100 books for young adults, including the Newbery Medal-winning Julie of the Wolves, the Newbery Honor book My Side of the Mountain and its sequel, On the Far Side of the Mountain.


You were perhaps 65
when you went whitewater rafting
With your 103-year-old mother.
You may not have made it quite as long as she
But you drank life to the lees.
You cared about the environment
Long before it was fashionable.
But then, you never much cared
What other people thought.
You wanted children to care
So they would take care of
The animals and trees and rivers you loved.
Through your eyes,
The falcon was not so fierce on
My Side of the Mountain
And Amaroq and his pack
Were gentlemen in
Julie of the Wolves.
Your ecological mysteries
Taught us about the delicate balance
In threatened ecosystems.
And your how-to books taught us
The language of cats and dogs.
You even endeared the three-toed sloth
To us.
Your books are your Valentines
to the earth and its inhabitants.
Through them we fall in love
Again and again and again.
--Jennifer M. Brown