Shelf Awareness for Wednesday, May 30, 2012

Editors' Note
BEA: It's Sooner Than You Think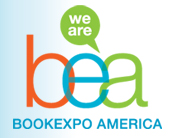 Some of the many events related to BookExpo America begin this weekend, and the full show takes place next week, starting with educational programming on Monday. In these last few days before the show, beginning today with a young readers focus in "Deeper Understanding" below, we are highlighting books at the show that booksellers are buzzing about. Look for discussions of hot upcoming adult books tomorrow and Friday.
See you at the Javits Center!


Quotation of the Day
Mary Pope Osborne: 'Reading Should Be a Family Affair'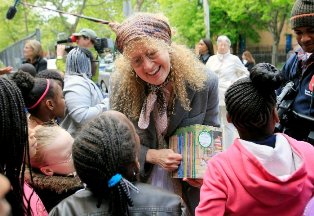 "Having books at home is just as important as having them in school. Reading should be a family affair--something that's done for pleasure and not treated simply as an assignment.... I believe everyone can help the children in their communities learn--and love--to read.... Reading is the basic springboard for learning. And books provide the lift-off. They are the great equalizer, opening up new worlds to everyone. What could be more important than helping a third-grader learn and love to read--before it's too late?


News
Sony Reader: 500,000 Units Sold in Europe Since October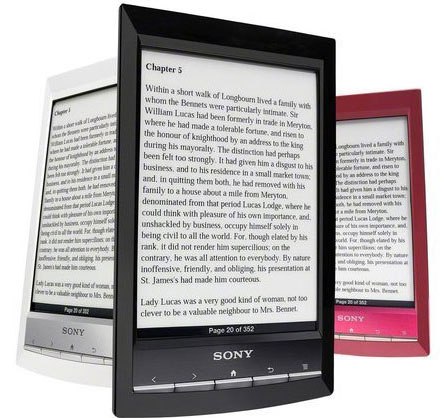 The Sony Reader Wi-Fi (PRS-T1) has "sold close to 500,000 units in the U.K., France, Spain, Germany and other major markets" since its European release last October, according to Good E-Reader, which cited a report in ActuaLitté that also said Sony now controls approximately 35% of the e-reader market in Europe.

Compatibility with Pottermore and Harry Potter books is "one of the allures about Sony right now. The Pottermore store actually is powered by Sony and has their logos all over their website," Good E-Reader noted.



Tale of Two Surveys: Kids & Parents Not on Same E-Page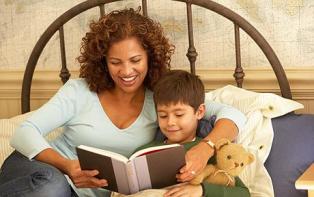 A pair of recent surveys by the Joan Ganz Cooney Center at Sesame Workshop indicate that when it comes to e-books, parents and children are not always on the same e-page. Digital Book World reported preliminary results from a recent study by the center showed that "parents prefer reading print books with their children over digital options and they believe that their children prefer being read to in print, too." But DBW noted the finding "contradicts other Joan Ganz Cooney studies" suggesting children prefer e-books to print books. The complete report on the survey will be published by the end of the summer.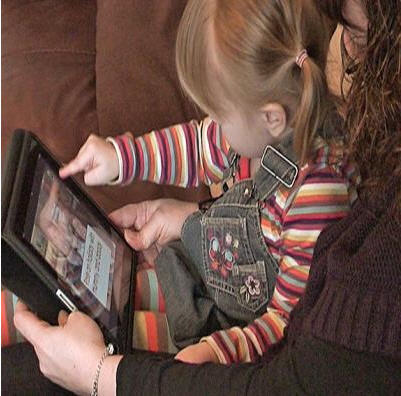 "We were interested in questions raised by parents around digital reading," said Lori Takeuchi, director of research at the Joan Ganz Cooney Center. "The name of the survey was 'reading books with your child' so any parents who read books with their kids could take the survey.... We realize this is just a snapshot in time. Everything is in transition right now. IPads have only been around for a few years and these things will definitely shift."

Final results have also been released from the Joan Ganz Cooney Center's research on digital reading comprehension and retention in children, which found that "reading comprehension and reader engagement for children between print books and e-books was similar. However, between print books and enhanced e-books, it was a different story.

"While children engaged more actively with enhanced e-books versus print books, their reading comprehension went down. The study found that when enhanced e-books featured interactivity that wasn't directly tied to the narrative or the text, it distracted both the children and parents from the story and thereby affected comprehension and retention."



Obituary Notes: Ellen Levine; Leo Dillon
Ellen Levine, an author "whose historical accounts of struggling immigrants and persecuted minorities illuminated complex social issues for children and young adults in clear and concise prose," died May 26, the Washington Post reported. She was 73. In 2008, her book Henry's Freedom Box was a finalist for the Caldecott Medal.

---

Illustrator Leo Dillon, who, with his wife and life-long collaborator Diane Dillon "created a remarkable array children's books and book covers," died May 26, Tor.com reported. He was 79. Among their many honors, the Dillons won Caldecott Medals, Coretta Scott King Awards and Society of Illustrators medals. Tor.com noted that they also "put a face to the New Wave of sf/f fiction in the 60s and 70s."



BEA: 10 Literary Bars in Manhattan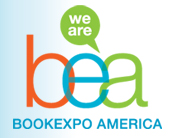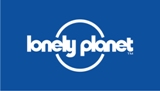 Booze and books have a natural affinity: both look great on a wooden shelf, both are designed to be consumed, and, for better or worse, writers have tended to gravitate toward certain booze dens through the years. Here are 10 of New York City's best bars with a literary past and present, ranging from dive bars to darkened Bohemian writers' dens to some where only bestselling authors could afford more than a drink, presented with the help of Lonely Planet and its U.S. digital editor Andy Murdock.

Blue Bar at the Algonquin (Midtown)
In the 1920s, the Algonquin Hotel was the meeting place of the Algonquin Round Table. The regulars met almost daily at the bar and included the likes of Dorothy Parker, George S. Kauffman, Robert Benchley, Heywood Broun and New Yorker magazine founder Harold Ross. The Blue Bar recently underwent extensive renovations and is once again open to the public, beckoning thirsty literary historians in for a tipple.
Old Town Bar (Flatiron)
Old Town Bar lives up to its name. In fact, it's old enough to have celebrated the 100th anniversary of the urinals in the men's bathroom in 2010, and how many New York bars can say that? But unlike some of the others on this list, Old Town Bar boasts a modern list of literary heavies as its customersm including Frank McCourt, Seamus Heaney, Nick Hornby and Billy Collins. Madonna fans might remember her relishing a cigarette in her Bad Girl video (1992) lit by a helpful Old Town Bar barkeep (also featuring Christopher Walken in his second best scene involving a pocket watch).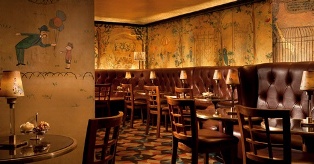 Bemelmans Bar at the Carlyle Hotel (Upper East Side)
Named after the author and illustrator of the Madeline children's books, this bar features Ludwig Bemelmans's only publicly displayed art, the mural Central Park, which rings the Art Deco cocktail lounge. Look for Woody Allen, who brings his jazz band to the Carlyle on occasion.
Oak Bar at the Plaza Hotel (Midtown)
At the Plaza, you can relive the Thompson & Knight Eloise stories. And for a more adult experience, scoot into the hotel's classic Oak Bar at the Oak Room, a favorite of F. Scott Fitzgerald (a scene from The Great Gatsby is set in the hotel's Palm Court). Fun fun fun, but pricey pricey pricey.
White Horse Tavern (West Village)
Famed as the bar where Dylan Thomas drank right before he died, the White Horse Tavern was also patronized by another Dylan (the one named Bob), not to mention Anais Nin, Norman Mailer, Hunter S. Thompson and Jack Kerouac. Kerouac got tossed out of the bar on several occasions, and wrote that he once found "Go home Kerouac" written over the urinals (in some versions of the story it's "Jack Go Home" or "Go Home Jack." People still write variations on the wall).
Sardi's (Theater District)
Known as the restaurant and bar plastered with celebrity caricatures (and occasionally plastered celebrities themselves), Sardi's also holds some interest for those with a bookish bent. Heywood Broun, of Algonquin Roundtable fame, also was a member of Sardi's "Cheese Club," a group of journalists, critics and agents including Walter Winchell, Ward Morehouse and Ring Lardner that met frequently at Sardi's.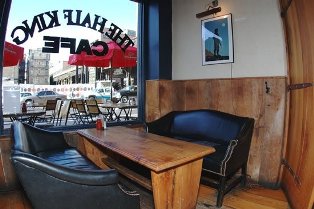 The Half King (Chelsea)
A bar and restaurant owned by writers might sound like a tragic recipe for failure (particularly considering that one of the writers wrote The Perfect Storm), but the Half King steadfastly defies such easy ironies. Owned by Sebastian Junger, Nanette Burstein and Scott Anderson, the Half King has created a successful hybrid between a comfy pub and candlelit writer's hideaway. Weekly readings feature some of today's foremost writers.
Chumley's (West Village)
One of several theories on the origin of the verb "eighty-six"--to throw out, remove, or refuse service to a customer--comes from the back door address of the classic literary watering hole Chumley's. If the police raided the bar, patrons--perhaps even the famed literary ones including Steinbeck, Faulkner, Hemingway and Fitzgerald--were told to eighty-six it out the garden door. Chumley's itself was eighty-sixed after the chimney collapsed in 2007, and is still working on reopening, but unfortunately for BEA attendees, that probably won't happen until later this year.
Kettle of Fish (West Village)
Kettle of Fish has moved several times since it opened in 1950 above the legendary Gaslight Cafe, and it picked up some interesting clientele (Dylan, Kerouac and Hunter S. Thompson among others). Today it's a dive bar, sports bar, gay bar, boho literary bar all in one cozy cellar.
McSorley's Old Ale House (Lower East Side)
McSorley's has been serving ale since about 1854, but only began to allow women through the door in 1970. It's still y-chromosome-heavy (and tourist-heavy)--little has changed through multiple waves of hipness, unhipness, and so-unhip-that-it's-hip-ness. No matter what you want to order you get two mugs of ale. Notable patrons such as Joseph Mitchell, e.e. cummings and Brendan Behan, not to mention two presidents (Lincoln and Teddy Roosevelt), also got two mugs of ale (at the very least, Abe could put it away).


Notes
Stephanie Anderson Leaving WORD for Darien Public Library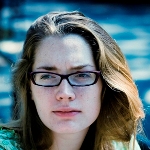 Stephanie Anderson, aka bookavore, manager of WORD, Brooklyn, N.Y., is leaving at the end of June to become head of readers' advisory at the Darien Public Library in Darien, Conn. Before joining WORD, she was a bookseller at the Moravian Book Shop, Bethlehem, Pa. She has also been a contributor to Shelf Awareness--and we hope she continues to do so!
WORD owner Christine Onorati said, "Stephanie has been crucial to the growth of our business these last three years. While I'm sad to move forward without her, I'm so grateful for the immense dedication and hard work she's given this store. Knowing how excited she is to take on this new opportunity makes us all very excited for her and we wish her only the best in her new role."
WORD is seeking a new manager with recent bookstore experience and preferably management experience. Send a résumé to info@wordbrooklyn.com.


Great Moments in Self-Publishing: Henry David Thoreau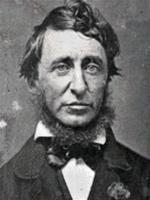 On The Writer's Almanac today, Garrison Keillor noted that on May 30, 1849, Henry David Thoreau self-published his first book, A Week on the Concord and Merrimack Rivers: "Since A Week was initially rejected, Thoreau was only able to publish it by paying for its printing from its sales. Four years later, after paying off the printing debt, Thoreau wrote in his journal that his publisher had delivered the remaining unsold copies to his home. He wrote, 'I have now a library of nearly nine hundred volumes, over seven hundred of which I wrote myself.' "



Happy Anniversary: Malaprop's Bookstore Turning 30!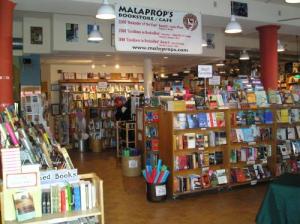 Congratulations to Malaprop's Bookstore/Café, Asheville, N.C., which will celebrate its 30th anniversary next month. A party on June 30 will feature an official proclamation to owner Emoke B'Racz, read by Asheville City Council member Cecil Bothwell.

As part of the celebration, Malaprop's Burning Bush Press published Naked Came the Leaf Peeper, a serial collaborative novel featuring 12 local authors who built upon a story arc imagined in the first chapter by Brian Lee Knopp and finished by Tony Earley. Other anniversary highlights will include letterpress broadsides of two of B'Racz's poems, a storewide sale June 1, as well as Twitter and Facebook specials during the month.

On the shop's website, B'Racz observed that "thirty years after the birth of Malaprop's, our goals are the same as the ones we committed to in 1982":
To be the best little bookstore in the land.
To enjoy what we do while we're doing it.
To be aware and supportive of financial needs and ensure that bookselling is a fine and noble profession.


Kara Watson Promoted at Scribner
Kara Watson has been promoted to senior marketing manager for Scribner. She was most recently imprint marketing manager and has edited several books, including The Dirty Life by Kristin Kimball, An Everlasting Meal by Tamar Adler and Birds of a Lesser Paradise by Megan Mayhew Bergman. She joined Scribner in 2005.


Book Trailer of the Day: Man of War
Man of War: My Adventures in the World of Historical Reenactment by Charlie Schroeder (Hudson Street Press/Penguin).


Media and Movies
Media Heat: Peter Carey on NPR's Diane Rehm Show
Today on NPR's All Things Considered: Margi Preus, author of Heart of a Samurai (Amulet, $7.95, 9781419702006), the next Back Seat Book Club selection.

---

Tomorrow morning on the Today Show: Cynthia Sass, author of S.A.S.S. Yourself Slim: Conquer Cravings, Drop Pounds, and Lose Inches (HarperOne, $15.99, 9780061974656). She will also appear on Dateline.

---

Tomorrow on NPR's Diane Rehm Show: Peter Carey, author of The Chemistry of Tears (Knopf, $26, 9780307592712).

---

Tomorrow on KCRW's Bookworm: Susan Orlean, author of Rin Tin Tin: The Life and the Legend (Simon and Schuster, $26.99, 9781439190135). As the show put it: "New Yorker staff writer Susan Orlean spends years researching a subject. Then she sits down to write a story that makes sense of what she's learned from immersing herself in her material. Here, she starts with dog-breeding in 19th Century Europe. A German Shepherd puppy born on a World War I battlefield becomes Rin Tin Tin, an international star. She writes with tenderness about the dreamers and grifters she discovers on the dog's journey."

---

Tomorrow night on the Colbert Report: Jack Hitt, author of Bunch of Amateurs: A Search for the American Character (Crown, $26, 9780307393753).




TV: Character List for Game of Thrones, Season 3
For those of you keeping score at home, Entertainment Weekly featured a list of new characters who will appear on the third season of HBO's Game of Thrones, noting that fans "have been wondering which names from George R.R. Martin's third Song of Ice and Fire novel A Storm of Swords will be introduced next year, especially since the lengthy book is being divided into two seasons."

Game of Thrones co-creator David Benioff offered assurances that Jojen and Meera Reed "haven't been written out. It's important to point out that that we have the largest cast on television right now. We introduced dozens of new characters in season two. If you hurl 300 characters at an audience, the story collapses under the weight of too many faces, too many names, and too many subplots. We need to be just as mindful of the audience members who have never read the books as we are of the readers; the series will fail if we only appeal to those who already know the characters. So we try to be parsimonious about how many new roles we introduce to the story and when we introduce them."



Movie Visuals: Abraham Lincoln: Vampire Hunter Trailers
The new red band trailer for Timur Bekmambetov's adaptation of Abraham Lincoln: Vampire Hunter by Seth Grahame-Smith's novel "ups the gore, and thoughts of what that ax could do to our Tax Code," Deadline.com noted.

Indiewire featured another new trailer in which the Gettysburg Address plays a prominent role and noted that the studio "will be screening the movie for the sailors on the USS Abraham Lincoln (because there isn't a USS Vampire Hunter, though that would be awesome)." The movie opens on June 22.



Books & Authors
Awards: Ondaatje Prize
Rahul Bhattacharya won the £10,000 (US$15,659) Royal Society of Literature Ondaatje Prize for his novel The Sly Company of People Who Care. The award recognizes "a distinguished work of fiction, nonfiction or poetry, evoking the spirit of a place.

The jury praised Bhattacharya's "verve and style as he brilliantly evokes the history and inhabitants and landscape of Guyana." Judge Michèle Roberts called the book "one of the most exhilarating novels I have read for years. This picaresque story, funny, tough and romantic, swerves around all kinds of inner and outer landscapes and offers unforgettable vignettes of a host of characters. He has invented a beautiful and original language,mixing street poetry and sharply sensual poetry."



IndieBound: Other Indie Favorites
From last week's Indie bestseller lists, available at IndieBound.org, here are the recommended titles, which are also Indie Next Great Reads:

Hardcover

Truth Like the Sun by Jim Lynch (Knopf, $25.95, 9780307958686). "This book is one of a kind and a great story. At a time when Seattle is celebrating the anniversary of the 1962 World's Fair, Lynch's novel is a bracing reminder of the larger context: an uncertain city hoping to make a mark mid-century, and then figuring out where it is in a more globalized world 40 years later. It is smart--and unique--to link these with one wonderfully rendered character, who is still trying to have a hand in how his city will go." --Rick Simonson, Elliott Bay Book Company, Seattle, Wash.

Cures for Hunger: A Memoir by Deni Y. Béchard (Milkweed Editions, $24, 9781571313317). "Béchard tells the story of his extraordinary upbringing in British Columbia, where he was strongly influenced by a father who enjoyed cheating death by doing everything from racing trains at railroad crossings to fighting anyone who crossed him. The even wilder deeds of his father's past could not be kept secret, and as they were slowly revealed, this loving and bizarre dad shaped the life of his son. Béchard has done a masterful job of taking all that life has dealt him and accepting and analyzing it in a fascinating piece of literature. I found myself alternating between cringing and laughing at each page." --Peter Schertz, Maria's Bookshop, Durango, Colo.

Paperback

Trapeze by Simon Mawer (Other Press, $15.95, 9781590515273). "This finely wrought story is set in England and France during World War II. Marian, who is bilingual, is recruited to train as an agent for British Special Ops. She surprises herself by handily completing and even excelling during training, and finds herself completely committed to the cause. Once in France, things are much more difficult. Readers who empathize with Marian, and many will, will be stunned as they read the final pages of this fast-paced and exhilarating historical novel about a young woman's path to maturity. Merde alors!" --Jenny Lyons, the King's English, Salt Lake City, Utah

For Ages 9 to 12

Explorer: The Mystery Boxes by Kazu Kibuishi (Amulet, $10.95, 9781419700095). "Explorer features a compilation of seven stories in graphic form, each by a different author/illustrator, yet each featuring a mysterious--and often magical--box that serves to tie the stories together. From Johane Matte and Saymone Phanekham's box in an alien universe-building warehouse to Dave Roman and Raina Telemeier's magical box found in the back of an ordinary closet, Explorer holds something for readers of every genre. This is both a gorgeous compilation for the graphic novel enthusiast and a fabulous introduction for the comics novice." --Marika McCoola, Odyssey Bookshop, South Hadley, Mass.

[Many thanks to IndieBound and the ABA!]




Book Brahmin: Shawn Colvin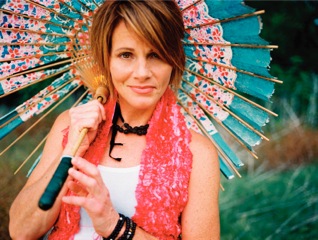 Shawn Colvin's life began, she says, when she first heard the Beatles. And after sleeping with a guitar at the end of her bed throughout her youth it's no wonder that she has made her living playing music. She has won three Grammys and been nominated for seven others, which has helped to alleviate the sting from the "trite and sugary" comment her poetry once received from a fifth grade English teacher. When she is not on the road she resides in Austin, Tex., with her daughter and is, as she describes it, a "soccer mom." Morrow will publish her memoir, Diamond in the Rough, on June 5, 2012.
On your nightstand now:
Bob Dylan in America by Sean Wilentz.
Favorite book when you were a child:
Little House on the Prairie. I come from eastern South Dakota, flat as can be. But I probably would have loved this book anyway. It reminds me of going camping with my family when I was young. The simplicity of entertaining oneself with nature and music and campfires. Only we didn't have Jack, the dog.
Your top five authors:
Harper Lee, Mark Twain, Stokes Howell, Sylvia Plath, Ernest Hemingway.
Book you've faked reading:
Crime and Punishment. I attempted to read this book in my 20s when I was trying to impress a guy I had a crush on. He was very well read. It worked.
Book you're an evangelist for:
Just Kids by Patti Smith. I was devastated by the elegance and beauty of this memoir about music, art, struggling in New York City--themes I'd included in mine. But this is the book I aspire to write someday. Beautiful.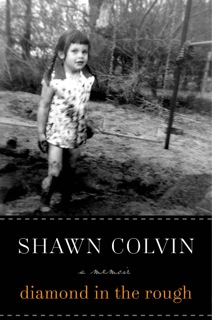 Book you've bought for the cover:
Life by Keith Richards. The cover said it all.
Book that changed your life:
"For the Roses" songbook by Joni Mitchell. Musicians frequently put out songbooks with piano arrangements and guitar tablature. With this one, though, Joni revealed the tunings she used for each song. Up until that moment it had been near impossible to figure out what she was playing. This book was like a key to the kingdom.
Favorite line from a book:
"Let's hang ourselves immediately!" --from Waiting for Godot. Or "Hey, Boo." --from To Kill a Mockingbird.
Book you most want to read again for the first time:
On the Road. I remember this one speaking to me in a language I wanted to learn. I'd like to think that eventually, in a way, I did.
Enter to win a copy of Shawn Colvin's memoir Diamond in the Rough, along with a signed bookplate and copy of her new album, All Fall Down.


Book Review
YA Review: Monument 14
Monument 14 by Emmy Laybourne (Feiwel & Friends/Macmillan, $16.99 hardcover, 294p., ages 13-up, 9780312569037, June 5, 2012)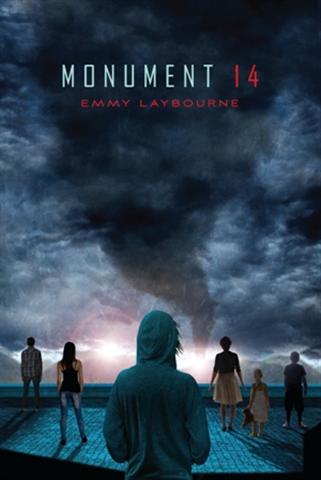 Emmy Laybourne's debut novel opens at a breakneck pace and rarely lets up, as 14 students try to survive a series of cataclysmic events while trapped--or safely sequestered, depending on how one looks at it--inside a Greenway superstore in Monument, Colorado.
A hailstorm strong enough to break windows causes career bus driver Mrs. Wooly to purposely steer her vehicle through the glass doors of a superstore in order to keep her passengers safe. Laybourne constructs the novel as a journal written by 11th-grader Dean Grieder, whose younger brother, Alex, also makes it to safety. Dean's keen perceptions quickly orient readers to the cast of characters. There's Jake, the star quarterback and "king of the beautiful"; Brayden, his teammate, who constantly brags that his father works for NORAD; Astrid, champion diver, and apple of Jake's eye, as well as Dean's; Niko, whom they call "Brave Hunter Man"; and Josie, with whom Dean campaigned for now-president Cory Booker. Most of the action plays out among the high school kids, but Laybourne gives each character--including the younger children--distinct personalities.
A volcanic eruption has set off a mega-tsunami, which triggered the hailstorm and an earthquake, and released chemical weapons from NORAD into the atmosphere. The chemicals affect people differently, depending upon their blood types--which may seem like a stretch, but Laybourne drives home the potential threat the chemicals could have on them all. The author also gets the dynamics of a group trapped together just right. Love triangles emerge; a sexy 13-year-old girl gets in over her head; Niko and Jake vie for the leadership role. Dean embodies the conflicting impulse of wanting to stay alive and also wishing to check out by raiding the store's alcohol and pharmaceutical supplies. All of the characters must go through their process of accepting that their families may not have survived. Several adults also attempt to gain entrance to Greenway, and the older members of the group must decide if it's safe to let the outsiders in--and they make one tragic mistake.
Laybourne's realistic depictions of the psychologies of her characters and the gamut of emotions that come into play in such extreme circumstances place this a cut above most entries in the dystopic genre. Readers will hope for many more from this talented author. --Jennifer M. Brown
Shelf Talker: A mega-tsunami triggers a leak of chemical weapons, forcing a group of students to take refuge in a superstore.


Deeper Understanding
BEA Book Buzz: For Young Readers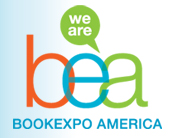 There are plenty of books clamoring for attention at next week's BookExpo America. Today we take a look at the titles children's booksellers are looking forward to selling. Tomorrow and Friday, we'll focus on adult titles.
In conversations with booksellers, Penguin's Breathless Reads, now in its second year, came up several times as a way to identify new talent in the YA field. Becky Anderson of Anderson's Bookshops, Naperville, Ill., said she's most excited about Black City by Elizabeth Richards (Putnam, Nov.), and Venom by Fiona Paul (Philomel, Oct.). "It's great that they do one a month, so you focus in on that one title, and they're in different genres," Anderson said.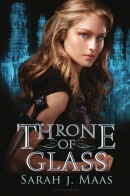 Valerie Lewis of Hicklebee's, San Jose, Calif., was eager to read Throne of Glass by Sarah J. Maas (Bloomsbury, Sept.), starring an 18-year-old female assassin. She also looked forward to Crewel by Gennifer Albin. (FSG/Macmillan, Oct.), narrated by 16-year-old Adelice, who is chosen to be a Spinster, an elite group that weaves a world ruled by the Guild. Another hot YA title is Through to You by first-time author Emily Hainsworth (Harper, Oct.). "I read it and my 17-year-old read it and loved it, too," said Becky Anderson. "A girl dies in a car crash and there's an alternate reality, and she has to choose which reality she wants."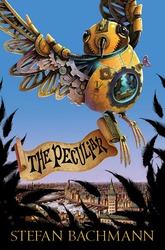 Hands-down the most buzzed about middle-grade debut this fall is The Peculiar by Stefan Bachmann (Greenwillow/Harper, Sept.). Jenn Northington at WORD, Brooklyn, N.Y., confessed, "I was shocked at how good it was." Becky Anderson called it "a different turn on fairy lore. It has such a great dark feeling to it, and the author is so young--I'd love to meet him."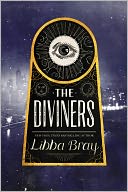 The most hotly anticipated YA book by a favorite author is The Diviners, the kickoff to Libba Bray's new series set in 1920s New York City (Little, Brown, Sept.) "I love the cover," said Becky Anderson. "I swear, every book Libba Bray writes is completely different than the one before. I mean, the Roaring '20s?" Cathy Berner at Blue Willow, Houston, Tex., is equally excited: "When Holly Black was here, she raved about the book. We can't wait to see where Libba's going next." Margaret Brennan Neville of the King's English, Salt Lake City, Utah, added, "Libba Bray is funny, she's smart, and a good writer. She gets readers to think about things a little differently."
Lois Lowry's Son (Houghton Mifflin, Oct.) was also highly touted. "I cannot wait to conclude a series I've been reading for almost 20 years," said Berner of the series, which began with the Newbery Medal–winning The Giver. Andrea Vuleta at Mrs. Nelson's Toy and Bookshop, La Verne, Calif., said she loved Son, but suggested that readers review the previous books to reacquaint themselves with the characters and the structure of the society.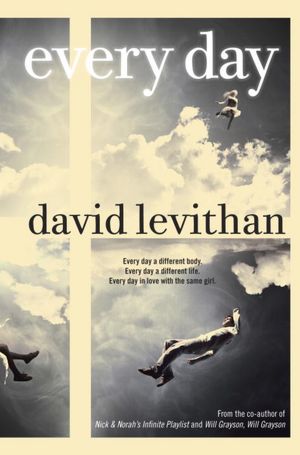 Vuleta believes that Every Day by David Levithan (Knopf, Aug.) will be his breakout book for teens, beyond what she calls his dedicated fan base. "He hasn't broken through to the general market," said Vuleta. "I hope this will do it." Northington looks forward to reading Ned Vizzini's The Other Normals (Balzer + Bray/Harper, Sept.), "Clearly there's a reference to Dungeons and Dragons," said Northington. "It could be entertaining." And for Becky Anderson, it's Joan Bauer's Almost Home (Viking, Sept.). Koehler is excited about the new A.S. King novel, Ask the Passengers (Little, Brown, Oct.). "I know that [the lesbian theme] can be hard to sell," Koehler said. "At the same time, the story has a little magical realism, and she sends a happy message." Berner can't wait to read Rachel Cohn's Beta (Hyperion, Oct.), the start of series and the author's first foray into science fiction. "Her voice is so entertaining in all she does," Berner commented.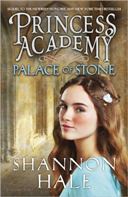 The middle-grade sequel that booksellers mentioned over and over is Shannon Hale's Princess Academy: Palace of Stone (Bloomsbury, Aug.), the sequel to her Newbery Honor book. Vuleta noted, "You don't have to read Princess Academy to enjoy it." And Brennan, Hale's local bookseller at the King's English, said it's terrific: "We're pleased that she stepped up and finished that story." Vuleta also championed Adam Gidwitz's companion to his A Tale Dark and Grimm, called In a Glass Grimly (Dutton, Sept.). "It's got everything!" said Vuleta. "It's got blood and guts and Technicolor vomit." Lewis really liked Wonkenstein, the first entry in Osbert Skye's The Creature from My Closet series, and can't wait to read the next episode, Potterwookie (Holt/Macmillan, Sept.). And Trish Brown of Hooray for Books! in Alexandria, Va., said that one of the three ARCs she'd "read and loved" recently was The Girl Who Fell Beneath Fairyland and Led the Revels There by Catherynne M. Valente (Feiwel & Friends/Macmillan, Oct.), a follow-up to The Girl Who Circumnavigated Fairyland in a Ship of Her Own Making.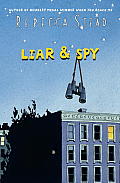 Among the other highly anticipated middle-grade titles were Newbery Medal winner Rebecca Stead's Liar & Spy (Wendy Lamb/Random House, Aug.). "It's amazing!," said Stephanie Anderson, currently of WORD (see Note above). "I was nervous to read it, as you always are, thinking it can't possibly be as good as When You Reach Me. It's still about New York, but it's totally different." Vuleta also looks forward to Drama by Raina Telgemeier (Scholastic Graphix, Sept.), the graphic novel follow-up to Smile. "It's been a while since Smile came out, but we sell it like crazy," Vuleta said. For Berner, it's Gary Schmidt's What Came from the Stars (Clarion/HMH, Sept.). "Gary's school visits at Blue Willow last year were amazing," said Berner, adding, "His ability to tell a story is unparalleled." Neville of the King's English loved Sharon Creech's The Great Unexpected (HarperCollins, Sept.). "Up until this book, she relied on the magic of the heart to make things resolve," Neville explained. "But in this book there's the fantastic kind of magic. It was a terrific story, and it was a surprise." That was also one of Trish Brown's three favorites (all are aimed at middle graders); the third was The Spindlers by Lauren Oliver (HarperCollins, Sept.).
Collette Morgan at Wild Rumpus, Minneapolis, Minn., "absolutely loved" Keeping Safe the Stars by Sheila O'Connor (Putnam, Oct.), author of Sparrow Road. When their grandfather falls ill, it's up to the oldest of the Star sisters, Pride, to protect her siblings. Morgan also thinks highly of Herbie Brennan's middle grade book, A Secret Prophecy (Balzer + Bray/Harper, Oct.), which she calls a "Di Vinci Code for kids." She has it out with both her YA and intermediate (middle-grade) reading groups. Northington looks forward to reading the kickoff to The Infinity Ring series, A Mutiny in Time by James Dashner, the newest adventure in multiplatform storytelling from Scholastic (a là 39 Clues), due out in August. "I really like James Dashner. Mazerunner was a lot of fun," she said, adding, "and good for boys."
Dystopian Fiction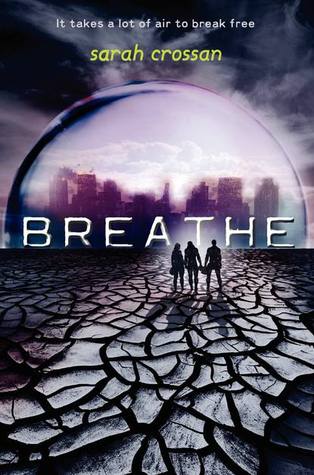 And there are still strong dystopian YA titles headed our way. WORD's Stephanie Anderson calls Rootless by Chris Howard (Scholastic, Nov.) "really solid. It's futuristic dystopia where there are no trees anymore. A kid is about to make a fake tree, and then realizes that there may be trees after all." Becky Anderson likes Breathe by Sarah Crossan (Greenwillow/Harper, Oct.). "It's all about suffocating cause our air is running out." Vuleta was impressed by Eve & Adam (Feiwel & Friends/Macmillan, Oct.) by husband-and-wife team Katherine Applegate and Michael Grant, who teamed up for a tale of industrial espionage and genetics set in the future. "I don't know who wrote which part," said Vuleta, "but I think the combination landed perfectly." On Neville's "short pile" is Shadows by Ilsa Bick (Egmont, Sept.), the sequel to Ashes, in which an electromagnetic pulse wiped out all electricity. "It's fast-paced, brutal reading," according to Neville. She also has the sequel to Ashfall, about a blowout in Yellowstone National Park, called Ashen Winter by Mike Mullin (Tanglewood/PGW, Oct.). "Finally, an apocalyptic novel where this could actually happen," Neville said with a laugh.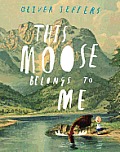 The most oft-cited picture book was Oliver Jeffers's This Moose Belongs to Me (HarperCollins, Aug.), in which a boy thinks that a moose is his, but the moose really belongs to everybody, according to Stephanie Anderson. Neville called it "really amazing" for the way Jeffers superimposed his artwork over pictures from the Teton National Park. Lewis's favorite is Bear Has a Story to Tell (Neal Porter/Roaring Brook, Sept.) by the husband-and-wife team behind Caldecott winner A Sick Day for Amos McGee, Philip C. Stead and Erin Stead. "It's about patience and friendship and thinking about other people's needs," Lewis said.
Lewis, who also does a lot of work with schools, noted that illustrations may well sell the frontlist, but a book must pass the read-aloud test to backlist. One such favorite was From the Good Mountain: How Gutenberg Changed the World by James Rumford (Flash Point/Roaring Brook, Oct.), which has a kind of call-and-response format. Lewis also praised I Need My Own Country! by Rick Walton, illustrated by Wes Hargis (Bloomsbury, Oct.). A girl gets ticked off by her younger brother and says she needs her own country. "She creates her own flag and her own rules, and punishments for breaking the rules," said Lewis. "It's a lesson in civics."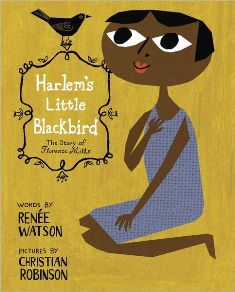 One of Vuleta's favorite discoveries is Harlem's Little Blackbird by Renée Watson, illustrated by Christian Robinson (Random House, Oct.) about Florence Mills, who was a singer from childhood. "It has an Ezra Keats kind of simple folk art quality. It looks like a story book, like the Jacques Costeau book by Dan Yaccarino." Neville called Doreen Rapport's Helen's Big World, illustrated by Matt Tavares (Hyperion, Oct.) "stunning." It's the story of Helen Keller, following the same oversize picture book format as Martin's Big Words (which was written by Rappaport, but illustrated by Bryan Collier).
And these are just some of the many titles to watch for at next week's BEA. --Jennifer M. Brown