Shelf Awareness for Monday, August 13, 2012

Quotation of the Day
'Every Generation Rewrites the Book's Epitaph'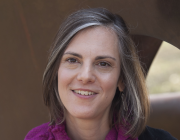 "Every generation rewrites the book's epitaph; all that changes is the whodunit.... However the terms change, in these visions, the place where books are read, acquired or received remains constant. Even that most cinematic of novels, A Clockwork Orange, begins and ends in the Public Biblio. Writers foresaw space travel, time travel, virtual reality and, endlessly, the book's demise; what they never seem to have imagined was that the libraries housing those dying volumes might themselves disappear. After a year in which 2,600 public library branches cut back their hours, some readers will need to walk a lot farther than the length of a street. I'm still waiting for the public library aeroplane."
--Leah Price in her
New York Times Book Review
essay headlined "
Dead Again
."


News
Fiction Prize Talks Bearing Fruit: Apple May Replace Orange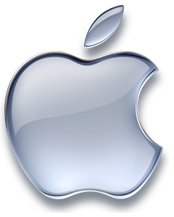 Apple "has had talks" with organizers of the former Orange Prize for Fiction about becoming its new backer, replacing the mobile phone company that had sponsored the award since its launch in 1996, but withdrew earlier this year.

Noting the fact Apple is "in talks at all is a signal of its determination to win more people over to reading e-books on its iPad," the Sunday Telegraph reported that several companies, including Kobo, "had also indicated their interest but that discussions with Apple were the most advanced.... Sources at the company said that its potential involvement was likely to result in a 'marketing arrangement' that would give the prize prominence in its iBookstore but did not necessarily involve naming rights."



'Bye, Bye, Go, Go': McMurtry Hosts 'The Last Book Sale'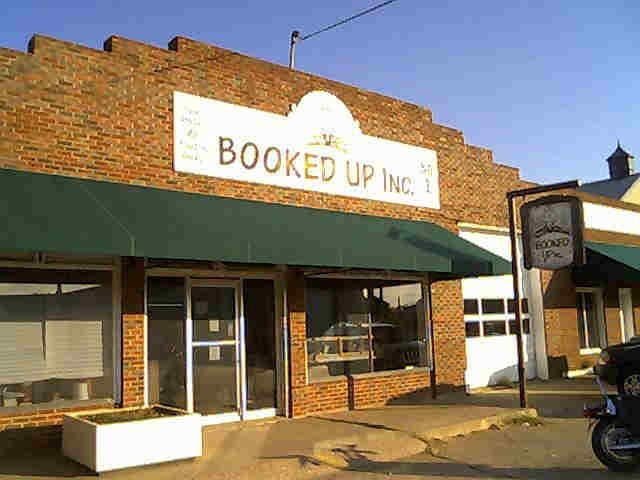 It all began Friday when Pat Garrard purchased a first edition of Elmore Leonard's The Bounty Hunter for $850, launching the "The Last Book Sale," an auction of nearly 300,000 titles at Larry McMurtry's Booked Up used and rare bookstore in Archer City, Tex. Earlier in the week, McMurtry had described the event as "cleaning house; I'm downsizing."

"High-dollar sales happened early in a special auction of 101 individual books handpicked by McMurtry," the San Antonio Express-News reported, adding that "big names in rare and used books came to buy, including Oregon-based Powell's Books, which has close to a million titles. But small private buyers made the trip to Archer City, too.... The more than 1,500 lots of books, each containing about 175 titles, commanded more modest prices. Some went for as little as $50 and others for as much as $600. The two-day auction ran through Saturday night."

Post-auction, McMurtry will close three of his four locations, leaving only Booked Up No. 1 open, with 150,000 titles. The Express-News noted that he seemed unsentimental about the departing volumes: " 'Bye, bye, go, go,' he said, flicking his hands, as if shooing away hundreds of thousands of books."

"Even if I walked away with nothing, I wanted to be here," book collector Neil Williamson told the New York Times, which added: "Or as Mr. McMurtry put it, 'It's become an event that's transcended its literal purpose.' "



Analysts: Tablet Price Cuts a Sign New Kindles Are Imminent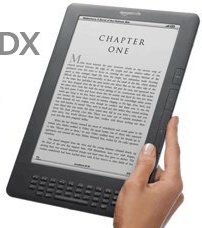 Recent price cuts by Amazon and Barnes & Noble on their tablet lines are being interpreted as a sign that the release of the much-anticipated new Kindles may be imminent. Gizmodo reported that when "bargain hounds" opened their Amazon Deal of the Day e-mail Friday "they were met with a bargain basement Kindle DX. Amazon's black sheep 10-inch e-ink tablet is $110 off today, a 29% discount. It's the kind of deal you offer when you want to clear out inventory, fast.... And it's not just the DX. Every single Lightning Deal today is Kindle-related: cases, speaker docks, sleeves. Sixteen deals in all, a waterfall of discounts. It's a fire sale, if you'll pardon the pun."

Yesterday, B&N announced price cuts on its line of Nook tablets, with the 16 GB model dropping $50 to $199, the 8 GB falling $20 to $179 and the Nook Color pared $20 to $149. " While the move better positions Barnes & Noble's tablets to compete with Google's Nexus 7... the price cuts also come in the face of increased speculation that Amazon will soon release new Kindles," Cnet reported.



DIESEL to Pop-Up Briefly as 'Brokeland Records'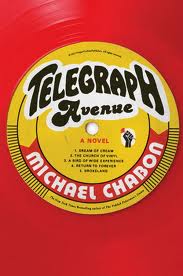 As part of an ambitious promotional campaign for Michael Chabon's upcoming novel Telegraph Avenue, Harper's marketing team will convert Oakland bookshop DIESEL into a pop-up store called Brokeland Records, which is a setting in the novel. From September 7 to 14, the pop-up store will sell used jazz records provided by independent record dealer Berigan Taylor, the Wall Street Journal reported. In the book, the main characters run a record shop, which is threatened by a new megastore.

DIESEL is currently teasing its customers with mysterious photos on the shop's website. When the pop-up store launches, Brokeland Records signs will temporarily replace DIESEL signs. There will also be Brokeland Records bags, buttons and stamps for book purchases made during the week, as well as a landing page for "DIESEL in Brokeland" on the shop's website, the Journal wrote.

A launch party is scheduled for September 12.


Obituary Notes: David Rakoff; Jean Merrill; Joe Kubert
Award-winning humorist David Rakoff, "whose mordant, neurotic essays examined everything from his surreal stint portraying Sigmund Freud in a Christmastime shop window display to his all-too-real battles with cancer," died last Thursday, the New York Times reported. He was 47.

---

Children's author Jean Merrill, who wrote more than 30 books and was best known for The Pushcart War (1964), died August 2, the New York Times reported. She was 89.

---

Comic book artist Joe Kubert, whose Joe Kubert School of Cartoon and Graphic Art in Dover, N.J., "cemented his legacy as an industry great," died yesterday, the Star-Ledger reported. He was 85.



Notes
Image of the Day: Cremer Brings Rift to Books of Wonder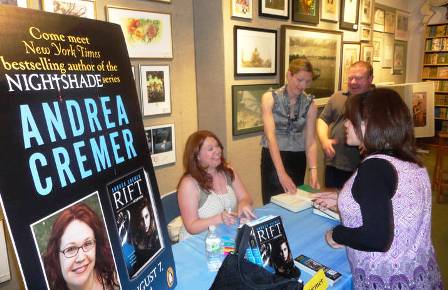 On Tuesday night, Manhattan's Books of Wonder hosted Andrea Cremer as she unveiled Rift, the first in a series of prequels to her popular YA fantasy Nightshade series, published by Philomel.
Before the event, Cremer also spoke about another set of prequels she's agreed to write for Dutton--a set of erotic novels intended for adult readers. While Rift and its followups are set in the 15th century, the other stories take place just a few years before the contemporary Nightshade storyline, and focus on the early years of secondary characters in those novels. "I needed to know these stories in order to tell the YA stories," Cremer said; when Philomel and Dutton approached her with the idea of creating books that might appeal to her existing crossover adult audience, the perfect material was already at hand.
"They're very dark, very tragic... and torrid, torrid romances," Cremer said of the novels (the first of which is scheduled for late 2013), and she and Dutton intend to be very clear about not pitching these books to her younger fan base. With that in mind, she said, "I don't have to hold back, and I'm very excited to bring the sexytimes."
Here, Cremer signs a copy of Rift for a fan while Penguin Young Readers publicity director Shanta Newlin and Books of Wonder's Peter Glassman prepare books for the rest of the line. --Ron Hogan


Anatomy of a Popular Post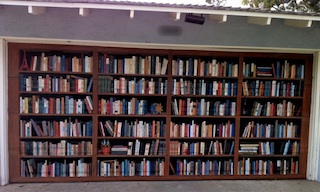 Recovering from recent ankle surgery, crime novelist Robert Crais was taking a walk in the Hollywood Hills when he saw this amazing garage door. Being a book person, he HAD to take a picture--and post it on Facebook. As of this past weekend, more than 6,000 people on Facebook have "shared" the post, and 35,000 book lovers have seen it.


Cool Idea of the Day: Signed Chairs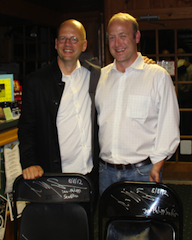 Last week at dinner after an event at McLean and Eakin Booksellers, Petoskey, Mich., for The Art of Hearing Heartbeats by Jan-Philipp Sendker (Other Press), the author had what McLean and Eakin's Matt Norcross called "a brilliant idea. He suggested we have visiting authors sign our event chairs after each event. It will make it more fun for our customers during events to see whose chair they were in, and once they are all signed, we can auction them off and start the whole process all over again. We immediately dragged Jan-Phillipe back to the store and made him sign two chairs." Here are Sendker (l.) with Norcross and two autographed chairs.


'Humanities Heroes': Montana Bookseller Honored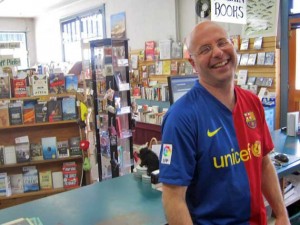 Congratulations to Shawn Wathen, co-owner of Chapter One Book Store, Hamilton, Mont., who was named one of 10 Humanities Heroes for 2012 by Humanities Montana, KLYQ reported. The award honors people "who have contributed significantly to the humanities by presenting engaging programs, hosting many humanities events, composing important books and articles about humanities topics, donating funds to sustain humanities work and more."

Wathen's nomination noted that his "passion for books and ideas has influenced the culture of humanity in the community through reflection, examination and reexamination of core values and cultures."

In addition to his work as a bookseller, Wathen has taught the Bitterroot Public Library's Marjorie A. Crawford Literature Seminar for about a decade, "concentrating on translated works, which he believes offer unique perspectives on the world. He also works with teachers in Ravalli county and organizations such as Literacy Bitterroot," KLYQ wrote.

The Humanities Heroes recipients will be honored October 6 in Missoula.



Book Trailer of the Day: Nightwatcher
Nightwatcher by Wendy Corsi Staub (Harper).


Media and Movies
Media Heat: Dan Ariely on NPR's Diane Rehm Show
This morning on the Today Show: Danica McKellar, author of Girls Get Curves: Geometry Takes Shape (Hudson Street, $28.95, 9781594630941).

---

This morning on Good Morning America: Boo, the subject of Boo: Little Dog in the Big City by J.H. Lee and Gretchen LeMaistre (Chronicle, $12.95, 9781452109718).

---

Today on NPR's Diane Rehm Show: Dan Ariely, author of The (Honest) Truth About Dishonesty: How We Lie to Everyone---Especially Ourselves (Harper, $26.99, 9780062183590).

---

Today on Fox News's Hannity: Dinesh D'Souza, author of Obama's America: Unmaking the American Dream (Regnery, $27.95, 9781596987784). He will also appear today on Sean Hannity and tomorrow on Fox & Friends and on Fox Business's Lou Dobbs Tonight.

---

Today on PBS's Newshour: David Cay Johnston, author of The Fine Print: How Big Companies Use 'Plain English' to Rob You Blind (Portfolio, $27.95, 9781591843580).

---

Tonight on a repeat of the Late, Late Show with Craig Ferguson: John Irving, author of In One Person (Simon & Schuster, $28, 9781451664126).

---

Tomorrow morning on NPR's Morning Edition: Vaddey Ratner, author of In the Shadow of the Banyan (Simon & Schuster, $25, 9781451657708).

---

Tomorrow morning on MSNBC's Morning Joe: Danica McKellar, author of Girls Get Curves: Geometry Takes Shape (Hudson Street, $28.95, 9781594630941). She will also appear on CNN News with Brooke Baldwin.

---

Tomorrow on NPR's Marketplace: Michael Grunwald, author of The New New Deal: The Hidden Story of Change in the Obama Era (Simon & Schuster, $28, 9781451642322). He will also appear on MSNBC's Morning Joe and Last Word with Lawrence O'Donnell.

---

Tomorrow on NPR's Diane Rehm Show: Tal McThenia and Margaret Dunbar Cutright, authors of A Case for Solomon: Bobby Dunbar and the Kidnapping That Haunted a Nation (Free Press, $26, 9781439158593).

---

Tomorrow night on the Daily Show: Neil Barofsky, author of Bailout: An Inside Account of How Washington Abandoned Main Street While Rescuing Wall Street (Free Press, $26, 9781451684933).




TV Project: The Beach
Fox has purchased The Beach, based on the 1996 novel by Alex Garland and the 2000 movie directed by Danny Boyle, to develop as a TV series, Deadline.com reported, adding that the project is being written by Andrew Miller (CW's The Secret Circle).



Books & Authors
Awards: World Fantasy Finalists
Finalists for the 2012 World Fantasy Awards have been announced in eight categories. Winners will be celebrated at the World Fantasy Convention November 1-4 in Toronto.


IndieBound: Other Indie Favorites
From last week's Indie bestseller lists, available at IndieBound.org, here are the recommended titles, which are also Indie Next Great Reads:

Hardcover
Battleborn: Stories by Claire Vaye Watkins (Riverhead, $25.95, 9781594488252). "This extraordinary debut collection is the short story form at its finest. Linked by setting, in the tradition of Annie Proulx, these 10 brave tales create a new mythology of the American West in a way that you've never experienced it before: From the desperate gold rush of the 49ers, to a tragic experience in a casino hotel, to the small, safe world a heartbroken woman creates in her bathtub. The writing is impeccable, the characters complex, and the stories full of heart and humanity. Do not miss this book!" --Alise Hamilton, Andover Bookstore, Andover, Mass.

The Long Walk: A Story of War and the Life That Follows by Brian Castner (Doubleday, $25.95, 9780385536202). "This meditation on combat and its aftermath is powerful, exhilarating, and sad, all at once. Castner relates wartime experiences that defy belief but are all too real and quickly remove any romance from the world of violence. Like Karl Marlantes and Benjamin Busch, Castner brings our current wars right onto our doorstep and shows that they are always with all of us, not to be hidden away." --Bill Cusumano, Nicola's Books, Ann Arbor, Mich.

Paperback
Widow's Might: A Liv Bergen Mystery by Sandra Brannan (Greenleaf, $14.95, 9781608323722). "Sandra Brannan keeps improving with each Liv Bergen novel. While not as gruesome as the first two in the series, this installment is a true mystery. Brannan's characters are becoming richer in each new installment. Wonderfully drawn, Liv holds you in thrall, and you can't wait to see what happens to her next. Just see if you can figure out the killer in this 'more than a whodunit.'" --Jo Gilley, Blue Ridge Booksellers and Cafe, Waynesville, N.C.

For Ages 9 to 12
The Unfortunate Son by Constance Leeds (Viking Juvenile, $16.99, 9780670013982). "In southern France in 1486, Luc, the second son of the Count de Muguet is born and rejected by his father and cast out of the castle because he is born without an external ear. Luc is hidden at a farm and is never told of his lineage. He is not deaf, but is sharp in hearing as well as in vision and blessed with a strong work ethic and warmth for others. Luc is taken in by a fisherman and his sister, who also house a girl of the same age. Luc takes to his newfound family, and he and the girl become attracted to each other. Then Luc is taken prisoner by a slaver and sold to a wealthy Arab merchant who becomes his teacher and mentor, forcing Luc to accept that becoming literate and using his gifts to care for others is worth more than freedom." --Jack Blanchard, Fairy Godmother, Washington, D.C.

[Many thanks to IndieBound and the ABA!]




Book Review
Review: The Twelve Rooms of the Nile
The Twelve Rooms of the Nile by Enid Shomer (Simon & Schuster, $26 hardcover, 9781451642964, August 2012)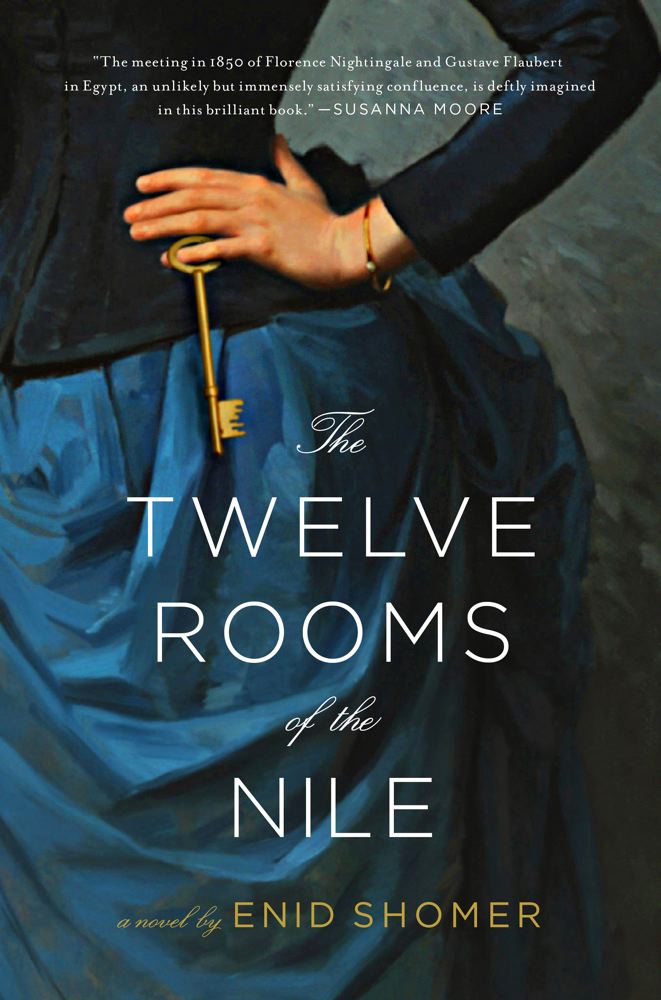 Enid Shomer has written four books of poetry and two short story collections (including Tourist Season). Now in her early 60s, she's published her first novel, The Twelve Rooms of the Nile. It's an entrancing story about a meeting between two famous people before they were famous (and who never actually met).
Egypt, 1849: The frustrated, cynical Gustave Flaubert is on a Nile cruise; so is an idealistic woman afflicted with desespoir named Florence Nightingale. Accompanying Flaubert is his good friend Maxime De Camp, excitedly photographing artifacts while Flaubert collects rubbings for him. With Flo is Trout, her maid, who carries around her waist a large key, a reminder of her lover in England.
There's no mystery to solve here or disaster for Flaubert and Nightingale to overcome together, just a delicate and slow unwinding of their powerful, complex personalities as they discuss their hopes with each other while climbing pyramids, crossing the Sahara and visiting the Red Sea. (Flaubert even gets trapped in a cave.) In some ways, The Twelve Rooms of the Nile is an epistolary novel, so important are the personal and reflective letters the two send each other by courier. Flaubert is at first "your humble servant" then "your friend" and she his Rossignal, then "my dear songbird." He keeps a memoir about his favorite prostitutes' private parts, the "sweet gift package in the declivity below," while she (like Flaubert's saint in his failed book, The Temptation of St. Antony) agonizes over how she can best devote her life--how she, a woman, can fulfill herself. He wonders how he could be like her, understand her "goodness," reconcile it "with his dissipated ways." How could he be the "rebel," the "revolutionary," that she is?
Shomer conducted prodigious amounts of research to re-create this Victorian world and to provide authentic portraits of these two giants of their era. But she wears that research lightly, as Shomer the poet also provides us with a lush prose, here and there just the right word, like Flaubert's own search as a writer for "le mot juste." In the end, as with Temptation, for which Flaubert conducted a "hellish amount of research" to write a novel in which "nothing happens," the "precise, lyrical language" and "driving rhythms" of The Twelve Rooms of the Nile creates a subtle, "palpable depiction" of the internal torments suffered by two geniuses. --Tom Lavoie
Shelf Talker: A luscious historical novel that creates a fascinating literary voyage into the minds of two great figures of the Victorian era.