Shelf Awareness for Wednesday, August 22, 2012

News
BAM Second Quarter: Sales Jump with More Stores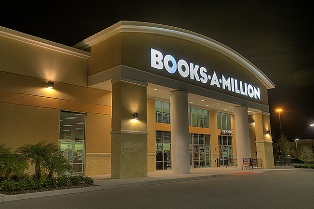 Net sales at Books-A-Million in the second quarter ended July 28 rose 14.9%, to $120.4 million, and the net loss improved to $900,000, compared to a net loss of $2.9 million in the same period a year earlier. At stores open at least a year, sales rose 0.5%.

CEO and president Terrance G. Finley commented: "Results for the quarter reflect the contribution from our new stores that opened in the fourth quarter [many of which were in old Borders locations], the phenomenal success of the Fifty Shades of Grey series, and continued solid performance in kids, teen, and general merchandise. Our team remains focused on diversifying our store assortments and adjusting our store layouts to support our core business and new categories as we prepare for the upcoming holiday season."

BAM also has authorized a stock repurchase program, allowing the company to buy up $5 million in stock through March 31, 2014. Currently BAM has 16 million shares outstanding. At the current price of $2.50 a share, the program would be able to buy two million shares.
Net sales at Books-A-Million in the second quarter ended July 28 rose 14.9%, to $120.4 million, and the net loss improved to $900,000 compared to a net loss of $2.9 million in the same period a year earlier. At stores open at least a year, sales rose 0.5%.

CEO and president Terrance G. Finley commented: "Results for the quarter reflect the contribution from our new stores that opened in the fourth quarter, the phenomenal success of the Fifty Shades of Grey series, and continued solid performance in kids, teen, and general merchandise. Our team remains focused on diversifying our store assortments and adjusting our store layouts to support our core business and new categories as we prepare for the upcoming holiday season."

BAM also has authorized a stock repurchase program, allowing the company to buy up $5 million in stock through March 31, 2014. Currently BAM has 16 million shares outstanding. At the current price of $2.50 a share, the program would be able to buy two million shares.




B&N Traffic Up, Glowlight in Stock
In a conference call yesterday expanding on Barnes & Noble's first-quarter results, company executives made the following points: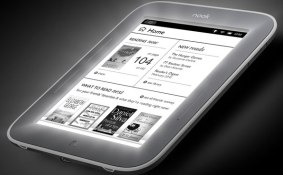 B&N has solved the major production problems involving its Nook Simple Touch with Glowlight, which has received good reviews but was out of stock for much of the time since its introduction earlier this year. Only in the last two weeks has B&N been able to stock all its retail outlets. The production problems hurt Nook and digital book sales, especially for new purchasers of e-readers who often stock up on titles soon after buying or receiving new devices. Still, B&N digital content sales grew through third-party apps on other devices and established customers who bought "more content than we expected," CEO William Lynch said.

B&N's share of the digital book market in the U.S. remains in the 25%-30% range, and there has been "a bit of a slight deceleration of the growth overall in the e-book market, which was to be expected," Lynch said.

When it launches in the U.K. this fall, B&N plans to differentiate itself from the competition, Lynch said, via its "two preeminent digital catalogues"--"because "this is a long tail business"--as well as "the devices themselves." Lynch predicted "a flight to quality" by U.K. consumers.

Traffic in B&N stores is up, and the company continues to feel positive effects in sales from the collapse of Borders last year, although it expects that to diminish over time. B&N has also benefited from "the reduction of book assortments and shelf space by mass-merchants and other brick-and-mortar channels," according to Lynch.

B&N is continuing to negotiate with landlords to improve lease terms and there are opportunities concerning leases that end this year, although, as Mitchell Klipper, CEO of retail, said, "the low hanging fruit is gone."

In the college world, an increasing number of institutions want "to outsource their physical and online campus bookstores. These schools see the growth in text book rentals and recognize the pending growth of digital content and are unable or unwilling to invest in managing the distribution of course materials in these formats themselves," Lynch said.




Clemente Is New CEO at Nebraska Book Company
Steve Clemente, who was made president and COO of Nebraska Book Company several months ago, has added the title of CEO. NBC emerged from bankruptcy in June.
NBC's chairman of the board Peter Reed said the change "strongly positions us for our long-term strategy. We now have a stronger balance sheet, streamlined reporting structure, and a dedicated and talented management team led by Clemente. I am confident this change in leadership will keep the team energized and focused on executing our business plan."

Nebraska Book Company operates 251 college stores, has 2,500 bookstore customers for its textbook division and has 1,600 technology platforms and e-commerce sites used by various bookstores. During the past year, the company said it planned to focus on on-campus college stores and thus closed about 40 off-campus stores.



Kindle Store Launches in India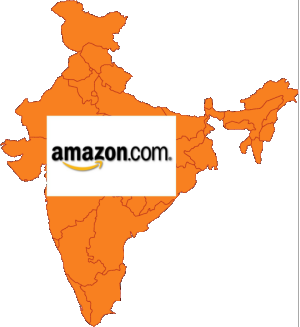 Amazon has launched the India Kindle Store, offering more than one million books priced in rupees. In addition, Kindle e-readers can now be purchased at Croma retail stores across the country. Ajit Joshi, CEO and managing director of Croma, said the Kindle will launch at an introductory price of 6,999 rupees (US$126). Kindle Direct Publishing is also now available in India for independent authors and publishers.

Along with a full selection of international titles, the India Kindle Store features works from a range of Indian authors, including Chetan Bhagat, Ashwin Sanghi, Ravinder Singh and Amish Tripathi; as well as exclusive Kindle books such as Love, Life and a Beer Can by Prashant Sharma and Reality Bites: A not so Innocent Love Story by Anurag Anan. One million free classics are also available for download.

This is not Amazon's first venture into the Indian market. Earlier this year, it launched Junglee.com, an e-commerce website that allows Amazon and third-party vendors to sell products, including the Kindle line. Amazon India has locations in Hyderabad, Chennai and Bangalore.



U.K. Start-Up Hopes to Put E-Books on Bookstore Shelves
Boxette, a U.K. start-up company that is a brand of e-book production firm This Written World, is looking to shelve digital titles in bricks-and-mortar stores. The concept involves loading e-books onto USB drives and selling them in boxes shaped to look like books on shelves, Digital Book World reported, adding that the company, which is funded in part by the U.K. government, hopes its product will "soon be sold in retailers such as Waterstones, W.H. Smith and independent book shops in the U.K."

Each Boxette package includes the USB drive "with a Kindle, ePUB and PDF format of the e-book and a custom 24-page booklet about the life of the author," DBW noted. The first available title will be the Charles Dickens 200th Anniversary Collection for £19.99 (US$31.50).



Notes
Image of the Day: Wallflowers Bloom at SIBA Booksellers Revival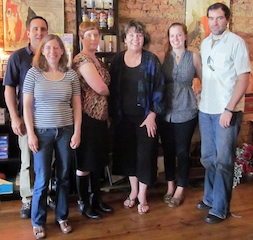 Monday at the SIBA Booksellers Revival at Horton's Books & Gifts, Carrollton, Ga., Claire Cook, author of Wallflower in Bloom (Touchstone), signed copies of her book and met booksellers. From l.: Jeff McCord, Bound to Be Read Books, East Atlanta, Ga.; Jill Hendrix, Fiction Addiction, Greenville, S.C.; Margaret Adams, Horton's; Cook; Erica Hensley, Bound to Be Read Books; and Charles Robinson, Eagle Eye Bookshop, Decatur, Ga.


Quarter Moon Books on the Rise
Noting that, "for the small guys, surprisingly, things are starting to look better in the land of independents," Gwenyfar Rohler--a writer and bookseller (Old Books on Front St., Wilmington, N.C.)--profiled Lori Fisher and her shop Quarter Moon Books & Gifts in Topsail Beach, N.C., for an Encore piece headlined "Live Local. Live Small."


"Our sales are approximately 26% above last year, but more importantly this year's sales are 8% above our best year of 2007," said Fisher, who has owned the bookstore since 1995. She added that the business had "been struggling the past few years and the sales this year were going to be the determining factor for the future of Quarter Moon.... This year has been quite a relief for me. I believe our new outdoor patio with colorful furniture has attracted more people to the store, and our extended hours in the evening for the wine bar has had a significant effect on our increased sales this year."

Praising her staff for their "irreplaceable" focus on personal service, Fisher observed: "I feel people who own small businesses have invested their heart and soul into them and really want to make a difference for their customers and their community.... I have established relationships with a lot of families over the years, watched children grow into adults and look forward to seeing them year after year."



Pro Assessment of Twilight Sparkle, Ponyville's Librarian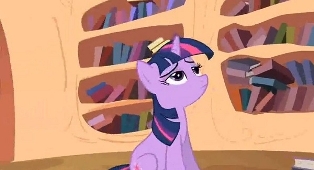 Is Twilight Sparkle an effective librarian from a professional's point of view? At Neatorama, John Farrier offered his incisive and amusing assessment of Ponyville's librarian, the protagonist of the animated TV series My Little Pony: Friendship Is Magic.

She was assessed in several categories, including organization ("Twilight's libraries are profoundly disorganized"), reference services, staff management, collection development and management and outreach.

Farrier concluded by noting that he had "described in detail some major deficiencies by Twilight Sparkle as a librarian. But my goal is not to tear her down. She is embraced by the community around the Ponyville Library and is thus not a failure as a professional librarian.... All of the problems that I have pointed out can be fixed, most likely by further training."



Personnel Changes at Zola Books, Tor/Forge
Darin Sennett is joining Zola Books as director of bookseller relations. He is a 17-year veteran of Powell's Books in Portland, Ore., where he helped create and run the store's web presence and online retailing operations and more recently integrated Google eBooks with Powells.com. Zola aims to sell all e-books from all publishers on all devices and offer "a more open, mobile and social book-buying experience."
---
Sally Feller has joined Tor/Forge as senior publicist. Previously she was publicity director at Black Dog & Leventhal Publishers.


Book Trailer of the Day: The Sprouted Kitchen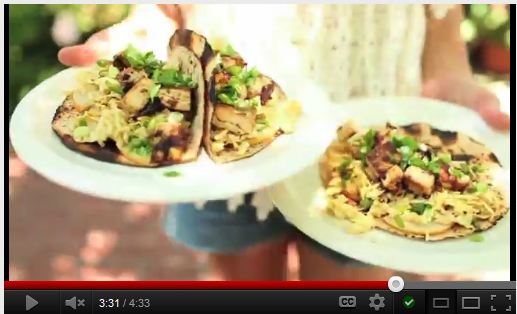 The Sprouted Kitchen: A Tastier Take on Whole Foods by Sara Forte and Hugh Forte (Ten Speed Press), which the Fortes made.


Media and Movies
Media Heat: Lawrence Ferlinghetti on Bookworm
Tomorrow on MSNBC's NOW with Alex Wagner: Michael Grunwald, author of The New New Deal: The Hidden Story of Change in the Obama Era (Simon & Schuster, $28, 9781451642322).

---

Tomorrow on KCRW's Bookworm: Lawrence Ferlinghetti, author of Time of Useful Consciousness (New Directions, $22.95, 9780811220316). As the show put it: "Lawrence Ferlinghetti, renowned poet and member of the pre-Beat and Beat generation, is 93 years old, alert and vibrant, profoundly alive. His new book, Time of Useful Consciousness, is part of his epic Americus. Its title is an aeronautical term for the period between the moment you run out of oxygen and the time you cease to be able to function. As such, it is a dire warning for America."

---

Tomorrow on NBC's Rock Center with Brian Williams: Joanna Brooks, author of The Book of Mormon Girl: A Memoir of an American Faith (Free Press, $14, 9781451699685).

---

Tomorrow on Sirius XM's Bob Edwards Show: Craig Brown, author of Hello Goodbye Hello: A Circle of 101 Remarkable Meetings (Simon & Schuster, $26.95, 9781451683608).

---

Tomorrow night on Late Night with Jimmy Fallon: Mike Birbiglia, author of Sleepwalk with Me: and Other Painfully True Stories (Simon & Schuster, $14, 9781476705767).




Movie Pics: Perks of Being a Wallflower; Cloud Atlas; Life of Pi
"Our literature-loving hearts have been aching--ACHING I TELL YOU--for the September 21 release of The Perks of Being a Wallflower, the big-screen adaptation of Stephen Chbosky's arresting, coming-of-age novel," MTV reported in featuring several new images from the movie.

---

Warner Bros. released new images from Cloud Atlas, the much-anticipated adaptation of David Mitchell's novel. Indiewire noted that among the many films showing at the Toronto International Film Festival next month, "perhaps the crown jewel is the world premiere of the Wachowskis' and Tom Tykwer's Cloud Atlas." The movie, starring featuring Jim Sturgess, Jim Broadbent, Susan Sarandon, Halle Berry, Bae Doona, Keith David, Tom Hanks, Hugh Grant, Hugo Weaving and Ben Whishaw, opens October 26.

---

New pics from Ang Lee's film version of Yann Martel's novel Life of Pi have also been released. Indiewire reported that a "vote of confidence comes from the discerning programmers of the New York Film Festival. They've chosen the film to open the 50th annual NYFF." Life Of Pi hits theaters November 21.



Books & Authors
Awards: Midwest Booksellers Choice; NAIBA Books of the Year
The winners of the Midwest Booksellers Choice Awards, honoring authors from and books about the Midwest and voted on by members of the Midwest Independent Booksellers Association, are:

Adult fiction: The Art of Fielding by Chad Harbach (Hachette)
Adult nonfiction: Wild by Cheryl Strayed (Random House)
Poetry: Pitch by Todd Boss (Norton)
Children's literature: Wonderstruck by Brian Selznick (Scholastic)
Children's picture book: Otis and the Tornado by Loren Long (Penguin)

The awards will be presented October 4 during the Heartland Fall Forum in Minneapolis, Minn.

---

The NAIBA Books of the Year, chosen by members of the New Atlantic Independent Booksellers Association, are:

Carla Cohen Free Speech Award: Americus by M.K. Reed and Jonathan Hill (First Second)
Fiction: Rules of Civility by Amor Towles (Penguin)
Nonfiction: Behind the Beautiful Forevers: Life, Death, and Hope in a Mumbai Undercity by Katherine Boo (Random House)
Picture book: I, Too, Am America by Langston Hughes, illustrated by Bryan Collier (S&S)
Middle readers: Wonder by R. J. Palacio (Knopf)
Young adult: Bitterblue by Kristin Cashore, illustrated by Ian Schoenherr (Dial/Penguin)

Authors will receive their awards on September 29 during NAIBA's Fall Conference in Arlington, Va.



IndieBound: Other Indie Favorites
From last week's Indie bestseller lists, available at IndieBound.org, here are the recommended titles, which are also Indie Next Great Reads:

Hardcover
Vengeance: A Novel by Benjamin Black (Holt, $26, 9780805094398). "If you haven't yet discovered Benjamin Black (a.k.a. John Banville) and his marvelous creation, Dr. Quirke, then you are missing some first-rate writing and entertainment. Vengeance is the fourth in a series set in Dublin in the late 1950s featuring the good doctor, a somewhat grumpy pathologist, and his drinking and sleuthing companion Inspector Detective Hackett. Quirke is a flawed man of many weaknesses, yet he manages to be in a state of permanent self-deprecation that he takes as a sign of virtue, and that makes him an irresistible and believable character." --Darwin Ellis, Books on the Common, Ridgefield, Conn.

You and Me: A Novel by Padgett Powell (Ecco, $23.99, 9780062126139). "Experience the utter joy of shooting the breeze on the porch with a couple of crotchety, intelligent old codgers. Inventive, funny, and profound, Powell turns phrases like a dervish in this Southern-styled ersatz retelling of Waiting for Godot. A wonderful book that perfectly captures kicking back and trying to make sense of the crazy world streaming by." --Josh Cook, Porter Square Books, Cambridge, Mass.

Paperback
If Jack's in Love: A Novel by Stephen Wetta (Berkley, $15, 9780425247785). "Jack Witcher's voice is one of the most heartbreaking I've heard in a long time. He's 12 going on 13 and in love with Myra Joyner. When Myra's brother goes missing and Jack's older brother, Stan, becomes the leading suspect in the disappearance, Jack's world starts to unravel. Not that he ever had it very good: his father is unemployed and hangs around the house watching soap operas; his brother is a pot-smoking 'hippie freak' with a terrible temper; and his mother is trying to understand why her family is the laughingstock of the town. Wetta has written a coming-of-age novel set in 1967 that is at once dark, witty, and charming." --Ken Favell, Books & Company, Oconomowoc, Wis.

For Teen Readers
Pushing the Limits by Katie McGarry (Harlequin Teen, $17.99, 9780373210497). "I picked up this book and thought, 'Oh, please save us from another typical high school romance story' and that is exactly what Katie McGarry has done. Told from the alternating perspectives of Echo, a girl with physical and emotional scars bespeaking a past she cannot remember, and Noah, a self-important fringe-walking bad boy who doesn't need anyone, this novel is expertly crafted and wholly believable. Sophisticated teens rejoice! Here's the number-one book on your summer 'must read' list!" --Andrea Greenlee, Page One Bookstore, Albuquerque, N.M.

[Many thanks to IndieBound and the ABA!]




Book Brahmin: Peter Stamm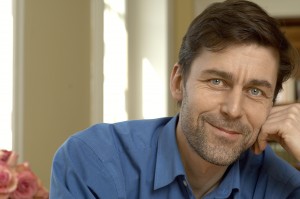 Peter Stamm was born in 1963, in Weinfelden, Switzerland, and is the author of many short stories and plays. Stamm's novels Unformed Landscape, On a Day Like This and Seven Years, and the collection In Strange Gardens and Other Stories are available from Other Press. He lives outside of Zurich. His latest collection of short stories, We're Flying (translated by Michael Hofmann), was published on August 14, 2012, by Other Press.
On your nightstand now:
"Im Licht der Finsternis" by Anita Albus, an essay about Proust (whom I haven't read yet). Les petits by Frédérique Clémençon, which someone gave me at the Geneva Book Fair. And then there is this huge pile of unread books that sometimes haunt me.
Favorite book when you were a child:
Probably Jules Verne's Michael Strogoff: The Courier of the Czar. It made me instantly accept an invitation to a reading tour in Siberia almost 30 years later. I did travel much more comfortably than Strogoff, though.
Your top five authors:
Ernest Hemingway, Cesare Pavese, Robert Walser, Anton Chekhov and Joseph von Eichendorff.
Book you've faked reading:
I used to have the bad habit to nod silently and make a knowing face when people were talking about books I hadn't read. Until I realized that most people hadn't read most books. Since then I admit with pride all shortcomings.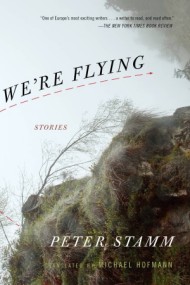 Book you're an evangelist for:
A Man Asleep by Georges Perec. When I first read this book, it was like a religious experience. It's probably about finding a meaning in a meaningless world. It's written in the second person, a high-risk undertaking that Perec masters wonderfully. The wonderful last words: "You are afraid, you are waiting. You are waiting at the Place Clichy that the rain stops falling." (My own translation.)
Book you've bought for the cover:
I don't remember the title, but I'm sure there was a beautiful woman on the cover.
Book that changed your life:
The short stories by Ernest Hemingway. After having grown up on literature of the 19th century, I became aware that there was a new way of writing (which wasn't that new when I was reading it). I first read Hemingway at school in an English class. It blew me away.
Favorite line from a book:
Just one of many from The Seagull by Anton Chekhov: "If at any time you should have need of my life, come and take it."
Book you most want to read again for the first time:
The Stranger by Albert Camus, again a book I first read in school. We read it in French, and I probably just understood half of it, but it still made a deep impression on me.


Book Review
YA Review: The Diviners
The Diviners by Libba Bray (Little, Brown, $19.99 hardcover, 608p., ages 14-up, 9780316126113, September 18, 2012)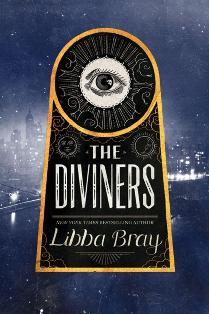 Libba Bray (A Great and Terrible Beauty) braids together the sensuous underworld of the 1920s speakeasies, the glamour of the Ziegfeld Follies and a sense of evil greater than Prohibition-era police corruption in her edge-of-the-seat new series.
She creates a 17-year-old heroine as complex as her previous series heroine, Gemma Doyle. Evangeline O'Neill has a sense of entitlement that masks deep sorrow and an intelligence that often goes unappreciated in a male-dominated society. Gemma's tragedy was the death of her mother; Evie's is the death of her brother, James, in the Great War. Evie wears a half-dollar he sent to her for her ninth birthday as a pendant.
Evie brings shame upon her family when she gets tipsy at a soiree and performs a naughty party trick. Her mother is secretary of the Women's Temperance Society, and the trick involved holding and "reading" Harold Brodie's class ring and announcing that he'd knocked up a chambermaid. Evie's father owes his car dealership business to Harold's dad, and wealthy Norma Wallingford, to whom Harold is "engaged-to-be-engaged," threatens to break up with him. Evie's parents send her from Zenith, Ohio, to New York City to board with her Uncle Will until things cool down. But this is no punishment. Evie's thrilled to leave her small town for the lights and excitement of Manhattan. Evie's uncle runs the financially troubled Museum of American Folklore, Superstition, and the Occult, called the "Museum of the Creepy Crawlies" by native New Yorkers. Evie learns her first lesson upon her arrival at Pennsylvania Station, when smooth-talking young Sam Lloyd lifts a $20 bill from her coat pocket. That's a lot of money in 1926. And that's not the last Evie will see of Sam.
Bray's seductive cast of characters features Theta Knight, the Ziegfeld beauty who falls in love with Memphis Campbell, a Harlem numbers runner and poet with a secret gift; and Jericho Jones, Uncle Will's mysterious assistant, who's also the secret crush of Evie's longtime pen pal, the sweetly naïve Mabel Rose. Bray uses a third-person narrative that shifts among their points of view. Spotlights briefly pause on the Proctor sisters, Blind Bill Johnson and Sister Margaret Walker, all of whom have a connection to a cryptic "coming storm."
A string of mysterious murders casts a pall over Evie's glittering prospects. A strange symbol branded onto each of the victims prompts the detective in charge to draft Uncle Will into the investigation, and Evie uses this as a way to ramp up attendance at the museum, to get it out of arrears and ensure she can stay. But her gift for reading objects reveals dark supernatural forces linked to a half-century-old prophecy. If what she's uncovering turns out to be true, they have only weeks to solve the puzzle and destroy the murderer or evil will reign on earth.
Bray's writing is at her spinetingling best here (e.g., "Blackened gravestones tilted like crooked teeth in a rotting mouth"). The book is thick, but the pages fly, and Bray leaves hints of a "coming storm" to lure readers back for the next installment--along with the question of whether Evie will get to remain in Manhattan and, if she does, which of her love interests will come to fruition. With romance, mystery, glamour and history as bait, Libba Bray is sure to hook new readers as well as welcome back her legion Gemma Doyle series fans. --Jennifer M. Brown
Shelf Talker: Libba Bray returns with a complex heroine to rival her own Gemma Doyle, and a string of murders that only Evie, with her talents as a Diviner, can solve--if she doesn't become a victim first.