Shelf Awareness for Friday, August 31, 2012

Editors' Note
Happy Labor Day!
Because of the Labor Day holiday, this is our last issue until Tuesday, September 4. Enjoy your weekend!



News
Kindle Fire: Out with the Old, In with the New?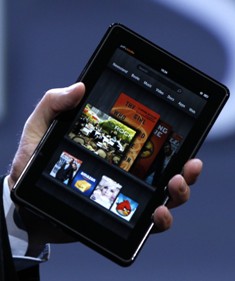 Yesterday, Amazon announced that the current version of Kindle Fire has sold out, less than a year after its introduction. The company, which rarely discloses specific sales numbers, claimed the Kindle Fire has captured 22% of tablet sales in the U.S.

"This has been a big year for digital products on Amazon," said founder and CEO Jeff Bezos. "All of the top 10 sellers on Amazon.com since Kindle Fire launched just less than a year ago are digital products." He also made reference to "an exciting roadmap ahead," which analysts expect to include the announcement of a new tablet line at the company's scheduled press event September 6.

The Verge featured a photo of the next Kindle Fire but added a cautionary note: "Whether the picture above is an unfinished prototype of the new model or one of several devices that will debut next week, we don't know yet, but we can confirm that it's authentic and is part of a larger set of images depicting a new Kindle device."



No Easy Day Gets Bad Review from Pentagon
The Pentagon's general counsel has threatened legal action against Matt Bissonnette, the former Navy SEAL who wrote No Easy Day (Dutton) "warning him he has violated secrecy agreements and broken federal law," CNN reported. In a letter sent after a department review of the book, Jeh Charles Johnson informed "Mark Owen" (Bissonnette's pseudonym) that "all remedies legally available" are being considered against him and his publisher, Penguin Group.

"In the judgment of the Department of Defense, you are in material breach and violation of the nondisclosure agreements you signed. Further public dissemination of your book will aggravate your breach and violation of your agreements," Johnson wrote. No Easy Day is currently scheduled for a September 4 release.



Amazon Acquires Dorchester List; Collects Pa. Sales Tax
The acquisition by Amazon Publishing of publication contracts for more than 1,000 titles from Dorchester Publishing has been finalized through an auction, as had been anticipated earlier this summer.

Available in print and Kindle editions, the books will be published under the following imprints: science fiction, fantasy and horror titles to 47North; romance titles to Montlake Romance; mystery and thriller titles to Thomas & Mercer; westerns and other titles to AmazonEncore.

Amazon noted that under the terms of the bid, "any former Dorchester Publishing authors that chose not to work with Amazon Publishing will have their rights revert back to them to pursue other publishing opportunities including self-publishing via the Kindle Direct Publishing platform."

---

Effective tomorrow, Amazon will begin collecting sales tax on orders shipped to Pennsylvania, a reversal of policy that was triggered by a state directive last year requiring the 6% levy. In February, the state Department of Revenue granted a seven-month extension to Amazon and other online retailers that has now expired. Amazon currently collects sales taxes on orders shipped to Kansas, Kentucky, North Dakota, New York, Texas and Washington, with California set to join the list September 15.



City Lit Books Opens in Chicago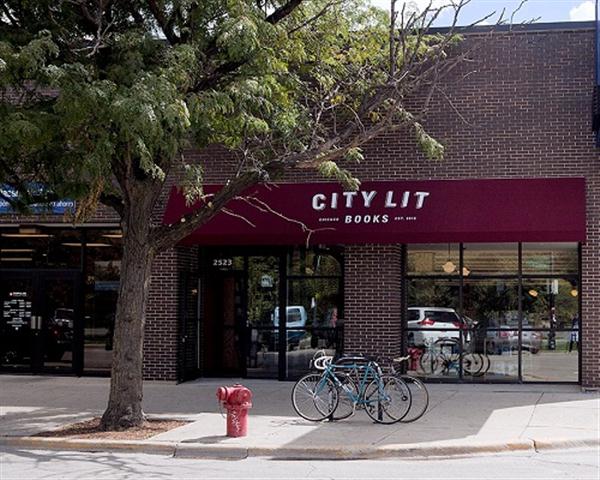 Teresa Kirschbraun opened City Lit Books, Chicago, Ill., two weeks ago and the new shop "has already made an impression" in the Logan Square neighborhood, Bookselling this Week reported, noting that to "build word-of-mouth and awareness, she put posters and bookmarks in other popular local shops and restaurants, and the 'Coming Soon' sign in the window of the store was extremely effective."

"People have noticed it, and they've just been waiting for us to open," Kirschbraun said. "The neighborhood has been unbelievably supportive.... Families have been pouring in. In just a week and a half, we've had several repeat customers. People have been outside waiting for our doors to open in the morning. They're telling us it's the perfect addition to the neighborhood."



Del Mar Book Store Closing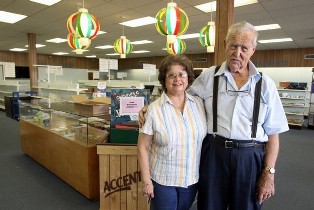 After 62 years in business, the Del Mar Book Store, Corpus Christi, Tex., is in the process of closing. The Caller Times reported that the owners will "close when the inventory is gone, and they plan to sell the building."

"Del Mar isn't big enough for three (local) bookstores and the Internet," said co-owner Jerry McCord, citing the presence of Neebo bookstore and the Del Mar College campus bookshop run by Texas Book Company.
Photo by Michael Zamora, Corpus Christi Caller-Times


Notes
Image of the Day: Parisian Romance in Pasadena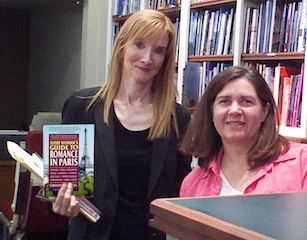 On Monday, Distant Lands Traveler's Bookstore, Pasadena, Calif., hosted an event for Caroline O'Connell, author of Every Woman's Guide to Romance in Paris (Square One). O'Connell (at l., with Distant Lands' co-owner Susan Hickman) gave a talk, slide show and q&a on all things Paris.


Cool Idea of the Day: Read Local, Drink Local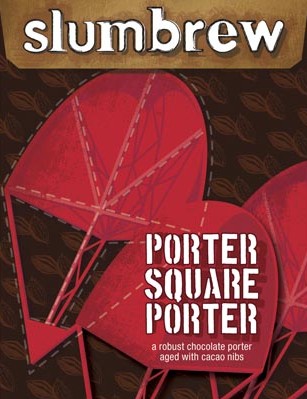 This fall, Porter Square Books, Cambridge, Mass., is launching the Read Local, Drink Local Series, which pairs a beer tasting from a local brewery with a book about beer. The first event is scheduled for September 14, featuring Slumbrew and Norman Miller, author of Beer Lover's Guide to New England.

According to Porter Square's website, "Shopping local is more than about books, it's about every part of our community; food, clothes, art, books, banks, and, of course beer. We saw this event series as a bookish way to connect with other members of our community. And, let's be honest, the Cambridge/Somerville area has some of the best breweries in the country. Who wouldn't want an excuse to sample their wares?"



The Readery Feeds Healthy Minds & Bodies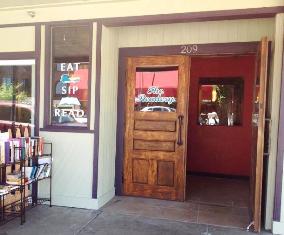 "Healthy bodies and healthy minds are the order of the day" at the Readery, Sandpoint, Idaho, the Bonner County Daily Bee noted in its profile of the cafe and bookstore that is "already developing a reputation for quality food and an intellectually stimulating atmosphere."

"I've always wanted to own a bookstore, and (my brother) Michael is a great chef, so we decided to combine our talents," said co-owner Anna Boshka, adding: "When I was growing up in Bigfork, Mont., our local bookseller knew everyone and their reading tastes. I want to be that lady for Sandpoint."



Book Trailer of the Day: Trust Your Eyes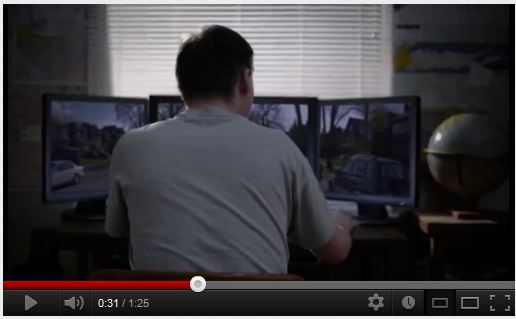 Trust Your Eyes, a new thriller by Linwood Barclay (NAL).


Media and Movies
Media Heat: D.T. Max on NPR's Weekend All Things Considered
Tomorrow on NPR's Weekend Edition: Kofi Annan, co-author of Interventions: A Life in War and Peace (Penguin, $36, 9781594204203). He is also on CBS Sunday Morning.

---

Sunday on NPR's Weekend All Things Considered: D.T. Max, author of Every Love Story Is a Ghost Story: A Life of David Foster Wallace (Viking, $27.95, 9780670025923). He will also appear on NPR's Studio 360.

---

Sunday on MSNBC's Up with Chris Hayes: Will Allen, author of The Good Food Revolution: Growing Healthy Food, People, and Communities (Gotham, $26, 9781592407101).




Movie Pics: The Hobbit; Breaking Dawn
"A small treasure trove of material" from director Peter Jackson's The Hobbit: An Unexpected Journey has been released, including "a new calendar that obsessives will pore over," Indiewire reported. The first Hobbit installment will hit movie theaters December 14, with the sequel, The Hobbit: There and Back Again, set for release December 13, 2013; and "the recently-announced and untitled third Hobbit film will arrive in the summer of 2014," Indiewire, noted.

---

MTV.com featured new images from Twilight: Breaking Dawn--Part 2 as well as an interview with director Bill Condon, "during which we learned the official running time, which vampire power has the coolest visual effect and why the film's climax will take your breath away." The movie will be released November 16.



Books & Authors
Awards: Edna Staebler Shortlist
Finalists have been named for the $10,000 Edna Staebler Award for Creative Non-Fiction, which recognizes a first or second published work by a Canadian author that has a Canadian setting or significance, Quillblog reported. The winner will be announced September 19. This year's shortlisted titles are:

Hot Art: Chasing Thieves and Detectives through the Secret World of Stolen Art by Joshua Knelman
Most of Me: Surviving My Medical Meltdown by Robyn Michele Levy
The Chimps of Fauna Sanctuary: A Canadian Story of Resilience and Recovery by Andrew Westoll



Pennie Picks The Shoemaker's Wife
Pennie Clark Ianniciello, Costco's book buyer, has chosen
The Shoemaker's Wife
by Adriana Trigiani (Harper, $15.99, 9780061257100) as her pick of the month for September. In
Costco Connection
, which goes to many of the warehouse club's members, she wrote: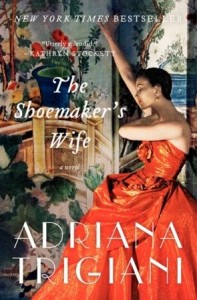 "I sometimes worry that how I describe a book might discourage people from reading it. For example, I can truthfully say that
The Shoemaker's Wife
by Adriana Trigiani is a sweeping romance--and lose some readers. But it's an incomplete description.
"Inspired by the story of the author's grandparents, who grew up five miles apart in the Italian Alps but didn't meet until they were both living in New Jersey, this novel serves as a meaningful piece of historical fiction in the descriptions of the Italian immigrant experience and life during wartime.
"The love flowing through this book isn't just the romance between the two main characters, it's the love Trigiani has for her family, in particular her grandparents. It's the kind of love that will make you want to leaf through old photo albums, give your parents a call and wish a story this beautiful didn't have to end."


Book Review
Review: The Yellow Birds
The Yellow Birds by Kevin Powers (Little, Brown, $24.99 hardcover, 9780316219365, September 11, 2012)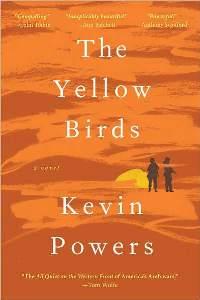 In Kevin Powers's visceral debut novel, The Yellow Birds, the war in Iraq seems driven as much by the relentless intensity of the hot, bright sun as by the suicidal fervor of the insurgents and their lethal toolkit of weapons. Twenty-one-year-old Private Bartle and his younger buddy "Murph" soldier up every day, donning body armor and Goopacks to walk the streets and outskirts of Al Tafar. Whether they live or die seems not a matter of training, strategy or superior technology but of random luck. "People are going to die," their roughhewn Sergeant Sterling tells them. "It's statistics." Every day, they check yesterday's fatality numbers and look around at their comrades thinking, "If you die, it becomes more likely that I will not."
The Yellow Birds is a meditative war story, more Red Badge of Courage than Catch-22. In chapters that alternately take place during training at Fort Dix, deployment in Al Tafar, discharge through Kaiserslautern and home again, Powers captures their transition from naïve enlistees taking in a gung-ho colonel's send-off to war-weary, guilt-ridden veterans. Operation Iraqi Freedom is not Bartle's grandfather's war, a conflict with a "destination and purpose;" instead, it's one of fruitless cyclicality: "We'd drive them out," Powers writes. "We'd kill them. They'd shoot us and blow off our limbs and run into the hills and wadis.... Then they'd come back, and we'd start over."
Every war seems to spawn its own literature, but all share the common DNA of combat and horror. Powers's sensitive novel also reflects the soldier's difficult reentry back home as Bartle holes up in an empty Richmond, Va., apartment while "the dull world that ignored our little pest of a war rolled on." When asked "Hey, how are you?" he wishes he could just tell the truth: "I feel like I'm being eaten from the inside out and I can't tell anyone what's going on because everyone is so grateful to me all the time and I'll feel like I'm ungrateful... or like I'll give away that I don't deserve anyone's gratitude and really they should all hate me for what I've done." Fortunately, we have the talented Iraq War veteran Powers to tell his story for him. --Bruce Jacobs
Shelf Talker: Powers' evocative first novel explores the frighteningly unpredictable dangers of modern combat through the perspective of a young army private in Iraq.


Deeper Understanding
Robert Gray: The Art of Forming a "Book Family"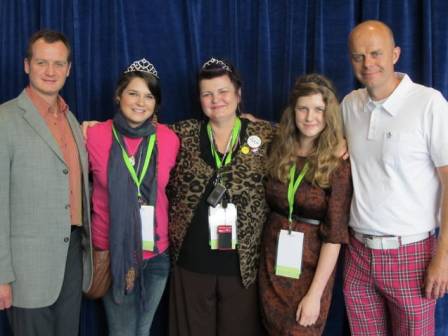 Consider this "book family" portrait: Kathy Patrick, owner of Beauty and the Book, Jefferson Tex., and founder of the Pulpwood Queens book club, is bookended by her daughters Madeleine (l.) and Helaina (r.), along with authors Michael Morris (l.) and William Torgerson (r.).

On the final day of BookExpo America this spring, I met the incomparable Patrick in person for the first time after years of e-mail and phone conversations. As you must for any impromptu meeting at BEA, we fine-tuned our rendezvous point coordinates by cell in the midst of the organized chaos, and eventually gathered near the main entrance.

I've been thinking about that moment as I prepare for the fall regional bookseller shows; imagining a kind of human web being gradually woven--in person and electronically--to connect so many of us in the book trade. Even if there are problem relatives here and there, we still all have impressive book family trees. I've always considered myself inept at the mysterious art of "networking," but damned if it doesn't happen anyway.

My conversations with Morris and Torgerson, whom I met for the first time during that BEA photo op, have continued. It just works that way, a phenomenon Patrick summed up nicely when she mentioned her "book family" to me earlier this week, adding "that's what books do; they connect us in ways we never dreamed to benefit our lives."

Since meeting Morris, I've read his fine new novel, Man in the Blue Moon (Tyndale). Would I have read it if we hadn't met? I suspect not. You know how that goes. The same holds true for Torgerson's book Love on the Big Screen (Cherokee McGhee), which I'm reading now. Paying attention is just what a book family does.

So how are these book families formed? Morris recalled that his initial contact with Patrick occurred years ago, when his first novel was released by a small press. "My mom saw Kathy and the Pulpwood Queens on Good Morning America. She called me up and said 'these women seem like your kind of readers.' So I looked Kathy up and probably like hundreds of others at the time, sent her my book."

Patrick has been championing his work ever since, and made Man in the Blue Moon the Pulpwood Queens' October Book Club Selection this year. She also invited Morris to co-host the next Girlfriend Weekend in January and is taking the extreme, if not unprecedented, step of "making my hair blue if I can sell 1,000 copies as I believe in this book so much!" He and his wife, Melanie, "have become my book family and I consider them like my younger brother and sister," she added.

Torgerson became part of Patrick's book family more recently. "I use a metaphor gifted to me by a former professor that goes, 'Writing floats on a sea of conversation,' " he observed. "I was out on the Web looking for people talking about books. I came across Kathy's Beauty and the Book page. It connected to Facebook. I wrote Kathy a message. You probably won't be surprised that she wrote me back almost immediately."

Timing is often, if not always, everything, and the subject of his first novel, Love on the Big Screen, was "the story of a college freshman whose understanding of love has been shaped by late-'80s romantic comedies," which ultimately inspired the theme for the 2012 Girlfriend Weekend.

"I enjoyed my time in Jefferson," Torgerson recalled. "I ended up caring about Kathy because she's sweet and she's looking for ways to help people. The Queens use literacy as a vehicle to help people. Reading is almost an excuse to come together and look for ways to help people in need."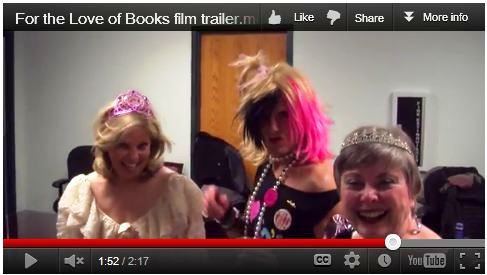 "Then Bill took it one step further," Patrick said. "As he was interested in film, he filmed our weekend and made a documentary, For the Love of Books, on our Pulpwood Queen mission to promote authors, books, literacy and reading." The movie will be screened September 8 at the Phenom Film Festival in Shreveport, La.

"He's now like family, too," she observed. "I have been blessed by these two authors and have hundreds of others who are right alongside these fantastic writers. I have created a 'book world,' a world where we are building lifelong friendships, relationships and community that is truly making our lives for the better." Maybe we could just call it book family values.--Robert Gray, contributing editor (column archives available at Fresh Eyes Now)