Shelf Awareness for Monday, November 12, 2012

News
Sandy Update: BookTowne Reopens; Stores' Relief Efforts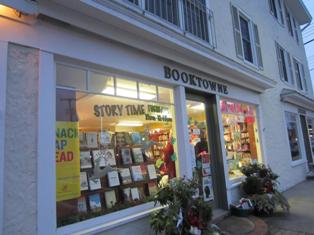 BookTowne, Manasquan, N.J., which had been closed since Hurricane Sandy struck, reopened on Saturday after power was restored to the downtown area of the Jersey Shore community. Fittingly, the store will now be able to host an event this Thursday evening for My Bookstore, edited by Ronald Rice (Black Dog & Leventhal), that will feature local author Audrey Vernick. Owner Rita Maggio said about the reopening: "It's great to see so many people around welcoming us back."
---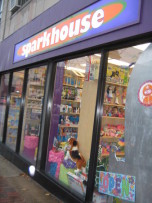 Sparkhouse Kids, the toy and book store in South Orange, N.J., an area that had widespread power outages, and Rebecca Gelman, a local architect who has been providing aid relief to the Shore victims, have created the "Smiles for the Shore" Toy Drive to ease the pain of children on the Jersey Shore who "have lost much more than heat and power."
Through this Sunday, Sparkhouse is accepting any new, unwrapped toys, and for every toy that is purchased at Sparkhouse for donation, the store will donate a toy of same value. All the donated toys will be delivered to Point Pleasant, N.J., for distribution next week.
---
Even though the Connecticut shoreline was pummeled by Hurricane Sandy and it took days for power to be restored in its area, R.J. Julia Booksellers, Madison, Conn., has begun an effort to help one of the areas in "our sister shoreline communities" that was damaged even more: with the help of First Niagara Bank, the store is hosting an emergency supply drive for the Unitarian Church of Staten Island.
The store is requesting donations of a variety of items needed by the church--from contractor garbage bags and dust filter masks to diapers and personal toiletries--that will be collected at the store today and loaded onto a truck provided by First Niagara.
Tomorrow owner Roxanne Coady's husband, Kevin, and a First Niagara volunteer will drive the truck to Staten Island.
---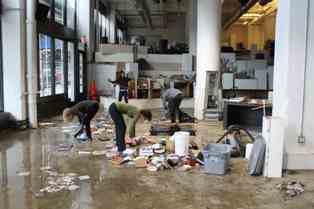 And in Brooklyn, N.Y., besides donating 10% of sales to storm relief, Greenlight Bookstore lent electronic equipment, including a credit card swiper, a bar code scanner and a receipt printer, to powerHouse Books, which was severely damaged when more than two feet of water filled the store during the storm, the Brooklyn Paper reported.
PowerHouse owner Daniel Power said the equipment "saved us a lot of time and made it so we could continue to conduct inventory."
"If we watched our business, that we built from scratch, get beat up like that, I would hope someone would do the same for us," Greenlight co-owner Rebecca Fitting said. "Bookstores work best when they're friends, not competitors."


BAM Debuts Redesigned Kids-A-Million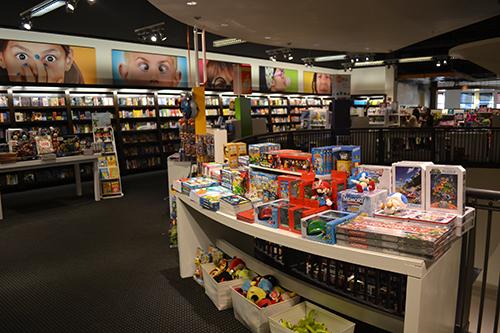 On Saturday, Books-A-Million's flagship store in Birmingham, Ala., hosted a grand opening for its completely redesigned 8,000-sq.-ft. Kids-A-Million specialty department. The second floor of the approximately 23,000-sq.-ft. Brookwood Village store has been restructured into what BAM described as a "dedicated kids-only retail destination," with space to accommodate about 12,000 children's books as well as an inventory of toys, games, gifts and tech products.

"Sales trends from our more than 250 stores across the country and booksamillion.com re-energized our focus on the children's category and prompted a redesign of Kids-A-Million at our flagship store," said Terrance G. Finley, CEO and president.



Copperfield's Moves Napa Store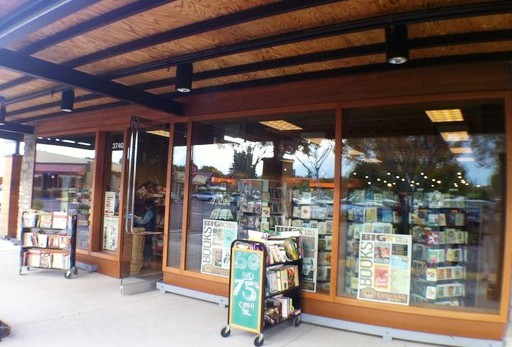 Copperfield's Books, Napa, Calif., has completed its move to a different location in Bel Aire Plaza, the Napa Valley Register reported. The store closed its 9,701-sq.-ft. old space early last week and re-opened in the new 4,000-sq.-ft. space on Friday.
Copperfield's had said it needed less space. In addition, its new location is next to Whole Foods, and Copperfield's will have access to Whole Foods' culinary center and kitchen.
photo: Louisa Hufstader


National Book Awards Dresses Up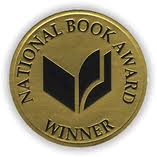 Wednesday's National Book Awards dinner and ceremony will have celebrity guests, a red carpet and be held again at the "cavernously ornate" Cipriani Wall Street, all part of an effort "to turn this once-dowdy event into a glamorous party," the New York Times wrote. Related changes being considered include expanding the jury pool beyond writers to encompass cultural figures and limiting how many nominations a publisher can make. The National Book Award Foundation has gone so far as suggesting to judges this year that it is "O.K. to nominate writers whose books were widely read."

"It's not about being glitzy," Perseus CEO and Foundation chairman David Steinberger told the Times. "It's about increasing the impact great books have on the culture."

Morgan Entrekin, president of Grove/Atlantic and Foundation vice-chairman, spoke positively of the Man Booker Prize in the U.K., where being shortlisted "can transform the fate of a book. The winner of the National Book Award succeeds, but I would like to see it have that kind of effect on the shortlist as well."

Other changes made in the past several years include the party to honor fiction writers under 35 and the after party, which now has a waiting list. Also, this year the finalists were announced on MSNBC's Morning Joe.




All In Front and Center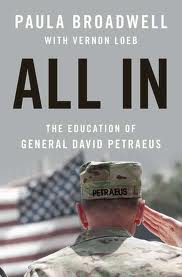 The resignation of CIA Director David Petraeus on Friday because of an affair has boosted sales of the biography of him co-written by the woman he had the affair with. Over the weekend, the unfortunately titled All In: The Education of General David Patraeus by Paula Broadwell and Vernon Loeb, published by the Penguin Press in January, has been ranked about #100 on Amazon.com and was about #170 on BN.com. A paperback edition is scheduled to be released by Penguin December 24.


Obituary Note: Tim Rix
Tim Rix, who "during a long career in the book industry occupied many senior roles including at Longman, Yale University Press, Blackwell, Frances Lincoln, Jessica Kingsley and Book Aid International," died Last Thursday, the Bookseller reported. He was 78. He was honorary president of the Independent Publishers Guild from 1993 to 2008 and was made a CBE in 1997.



Notes
Image of the Day: Polaroid Snapshot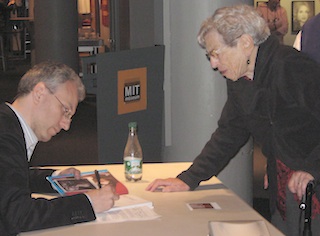 The MIT Museum, Cambridge, Mass., was an appropriate host for the recent launch party for Instant: The Story of Polaroid by Christopher Bonanos (Princeton Architectural Press): Polaroid's headquarters was in Cambridge, and the MIT Museum holds most of the company's archives. Here the author signs a copy of the book for Vivian Walworth, who worked at Polaroid as a chemist from 1944 to 1985.


Holiday Shopping Tip: Buying Books Online Is a 'Last Resort'
In a Smoky Mountain News piece headlined "For the Love of Local Bookstores," writer and teacher Jeff Minick made the connection between his mother's shopping philosophy years ago and today's Shop Local movement.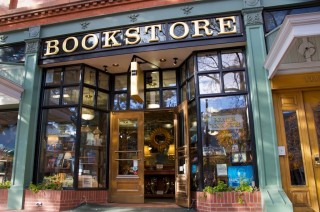 "When I was a child living in Boonville, N.C., a town of 600 people, my mother would load us into the station wagon twice a year--at the start of each new school year and at Christmas--and drive 25 miles to the Sears store in Winston-Salem," he wrote. "Once I asked my mother why we didn't go shopping at Sears more often. It seemed to me that this store, however diminished by today's standards, had everything we could possibly want under one roof. 'We shop in town first,' my mother said. 'This town supports your father, and it's up to us to help support it. We only go to Sears for what we can't find here.' My mother never knew it, but she was a founding member of the 'Buy Local' movement."

Noting that hundreds of bookshops have closed in recent years, Minick posed a question: "So why should we bother supporting such starry-eyed visionaries?" He then explained the community benefits of supporting local booksellers and concluded: "The holiday season is upon us. This Christmas, please consider shopping locally. Whether for books or bells, pliers or poinsettias, spend your money on Main Street. Try using the Internet as my mother used the Sears store so long ago, as a last resort to buy what you can't find in your own backyard."



Michael Croy Joins Graphicly
Michael Croy has become v-p of sales at Graphicly, which "provides authors and publishers with access to digital content conversion and distribution, across every marketplace imaginable while providing comprehensive and actionable insights on reader behavior." Croy was formerly director of retail sales at Simon & Schuster for five years.


Book Trailer of the Day: Cross Roads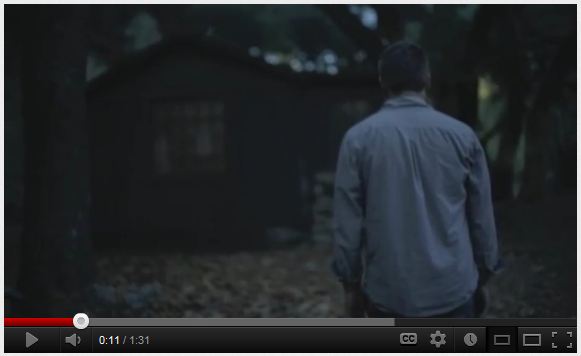 Cross Roads, a novel of a spiritual reawakening by Wm. Paul Young (FaithWords).


Media and Movies
Media Heat: Colm Tóibín on Morning Edition
This morning on Good Morning America: Jake Tapper, author of The Outpost: An Untold Story of American Valor (Little, Brown, $29.99, 9780316185394).

---

This morning on CBS This Morning: Oliver Stone and Peter Kuznick, authors of The Untold History of the United States (Gallery, $30, 9781451613513). They will also appear on CNN's Piers Morgan Tonight and CNN's Christine Amanpour.

---

This morning on the Today Show: Susannah Cahalan, author of Brain on Fire (Penguin, $18.95, 9781846147746).

---

This morning on Imus in the Morning: Vince Flynn, author of The Last Man: A Novel (Emily Bestler/Atria, $27.99, 9781416595212).

---

Today on CNN's Starting Point: Peter Ames Carlin, author of Bruce (Touchstone, $28, 9781439191828).

---

Today on NPR's Here & Now: Patrick K. O'Donnell, author of Dog Company: The Boys of Pointe du Hoc--the Rangers Who Accomplished D-Day's Toughest Mission and Led the Way across Europe (Da Capo, $26, 9780306820298).

---

Today on NPR's Diane Rehm Show: Deb Perelman, author of The Smitten Kitchen Cookbook (Knopf, $35, 9780307595652).

---

Today on NPR's Fresh Air: Andrew Solomon, author of Far From the Tree: Parents, Children and the Search for Identity (Scribner, $37.50, 9780743236713).

---

Today on the View: Newt Gingrich, co-author of Victory at Yorktown: A Novel (Thomas Dunne, $27.99, 9780312607074). He will be on the Colbert Report tomorrow.

---

Today on PBS's Tavis Smiley Show: Thomas E. Ricks, author of The Generals: American Military Command from World War II to Today (Penguin Press, $32.95, 9781594204043).

---

Today on NPR's the Takeaway: David Nasaw, author of The Patriarch: The Remarkable Life and Turbulent Times of Joseph P. Kennedy (Penguin Press, $40, 9781594203763).

---

Today on WABC Radio's John Batchelor Show: Robert Greene, author of Mastery (Viking, $28.95, 9780670024964).

---

Tonight on CNN's Piers Morgan Live: Penn Jillette, author of Every Day is an Atheist Holiday!: More Magical Tales from the Author of God, No! (Blue Rider, $25.95, 9780399161568).

---

Tonight the Daily Show: Mike Huckabee, author of Dear Chandler, Dear Scarlett: A Grandfather's Thoughts on Faith, Family, and the Things That Matter Most (Sentinel, $24.95, 9781595230935). He will also appear today on Fox's On the Record with Greta Van Susteren and tomorrow on Fox & Friends.

---

Tonight on the Colbert Report: Ken Burns, co-author of The Dust Bowl: An Illustrated History (Chronicle, $40, 9781452107943).

---

Tomorrow morning on NPR's Morning Edition: Colm Tóibín, author of The Testament of Mary (Scribner, $19.99, 9781451688382).

---

Tomorrow on CBN's 700 Club: Jennifer Tuma-Young, author of Balance Your Life, Balance the Scale: Ditch Dieting, Amp Up Your Energy, Feel Amazing, and Release the Weight (HarperOne, $25.99, 9780062117007).

---

Tomorrow on the Dr. Oz Show: Eben Alexander III, author of Proof of Heaven: A Neurosurgeon's Journey into the Afterlife (Simon & Schuster, $15.99, 9781451695199).




Books & Authors
Awards: Rogers Writers' Trust Fiction Prize
Tamas Dobozy won the $25,000 Rogers Writers' Trust of Canada Fiction Prize, which "recognizes Canadian writers of exceptional talent for the year's best novel or short-story collection," for his Siege 13, which will be published here in February by Milkweed Editions. According to the jury's citation: "From the dark cityscapes of besieged Hungary to the émigré cafés of contemporary North America, Siege 13 spans continents and decades, and in doing so illustrates once again that old maxim: the short story can be both as broad and as deep as a novel. At times gently humorous, at times quietly wise, Dobozy's thirteen stories dazzle with their psychological nuance and brilliant attention to detail. These stories are never less than breathtaking."



Book Review
Review: Dear Life: Stories
Dear Life: Stories by Alice Munro (Knopf, $26.95 hardcover, 9780307596888, November 13, 2012)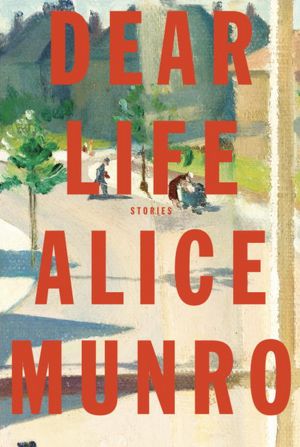 A kaleidoscope of souls might be the most apt description of Dear Life, though it's a description that can apply to any of Alice Munro's story collections. Each story is a flash of insight into the heart of a distinct character, grappling with the circumstances of his or her life. As in previous collections, Munro's stories cover a broad stretch of time, from World War II to the 1970s and beyond.
At the end of Dear Life, though, is a treat for Munro's longtime fans: a series of glimpses into her own childhood, which she describes as "the first and last--and the closest--things I have to say about my own life." Readers will find in the Ontario village where she grew up echoes of earlier stories that have appeared in collections such as The View From Castle Rock and The Beggar Maid.
If there is a common thread in Dear Life, it may be the theme of women struggling to determine their place in a world that has often already made the decision for them. "To Reach Japan," for example, features a female poet living in a time when a woman "having any serious idea, let alone ambition, or maybe even reading a real book, could be seen as suspect." As is common in Munro's stories, there are no conclusions reached, no voice from behind the scenes to influence the reader's opinion. Whatever bias the stories may hold is so expertly concealed that the reader is left holding their thorny questions in unprotected, ungloved hands. This is particularly true of the twisted dance of a couple in "Corrie," where a man who has an affair with a wealthy heiress holds the power, even as she holds the purse strings. In the end, it is difficult to judge who has been wronged the most.
Perhaps the most deeply affecting of the stories is "Amundsen," another story about a malleable--though clever--girl seeking to mold herself to the desires of an authoritative male figure. The 21st-century feminist instinct is to judge, and yet Munro presents the undeniable appeal of total submission--even when it proves to be at an untenable cost.
In Dear Life, Munro once again delivers a compelling collection of stories that offer insights, delights of language and multi-dimensional female protagonists. --Ilana Teitelbaum
Shelf Talker: Munro delivers another batch of compelling short stories--and a rare glimpse into her own childhood.


The Bestsellers
Top Book Club Books in October
The following were the most popular book club books during October based on votes from readers and leaders of more than 80,000 book clubs registered at Bookmovement.com:

1. Gone Girl by Gillian Flynn
2. The Light Between Oceans by M.L. Stedman
3. Wild: From Lost to Found on the Pacific Crest Trail by Cheryl Strayed
4. Unbroken: A World War II Story of Survival, Resilience, and Redemption by Laura Hillenbrand
5. The Immortal Life of Henrietta Lacks by Rebecca Skloot
6. Defending Jacob: A Novel by William Landay
7. The Casual Vacancy by J.K. Rowling
8. The Night Circus by Erin Morgenstern
9. What Alice Forgot by Liane Moriarty
10. The Book Thief by Markus Zusak

Rising Stars:

The Perks of Being a Wallflower by Stephen Chbosky
The Unlikely Pilgrimage of Harold Fry by Rachel Joyce

[Many thanks to Bookmovement.com!]