Shelf Awareness for Thursday, December 13, 2012

Quotation of the Day
Louise Erdrich: Bookselling Lessons Learned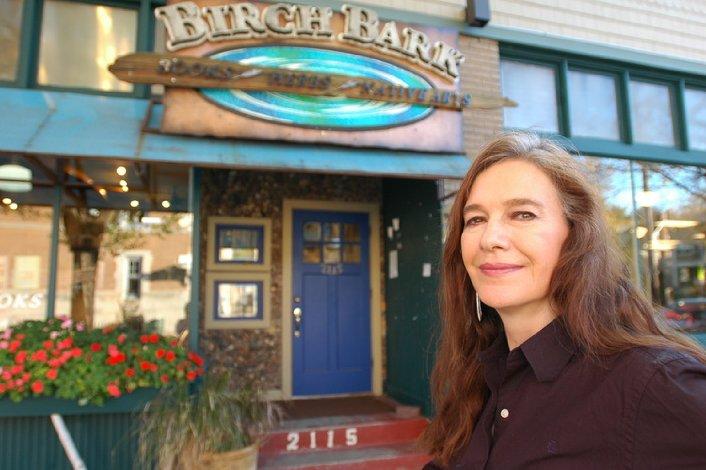 "Here are the lessons: get a business plan. Get a book person as a partner. Have a philosophy. Specialize to some degree. Make sure the rent won't kill your enterprise. Stay meticulously true to your own design principles--since mine are all about visual promiscuity it was easy. The place is composed of salvage wood and some distressed easy chairs. There is a confessional in the bookstore and the main table was made out of a sailboat by a friend. A handmade wooden canoe is suspended above it. The front door is the perfect shade of blue. Our online presence is strong. Our dogs recommend our books. We have a wonderful buyer who manages and created our website. Check out Nathan Pederson's work."
--
Louise Erdrich
, acclaimed novelist and owner of Birchbark Books, Minneapolis, Minn., in an interview with the Daily Beast


News
Nan Graham Named Scribner Senior V-P, Publisher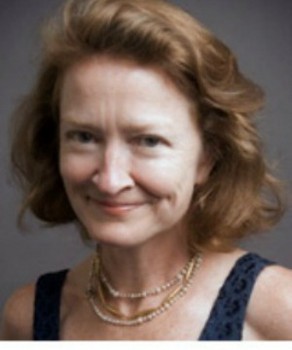 Editor Nan Graham has been named senior v-p, publisher of Scribner, an imprint of Simon & Schuster. She will report to Scribner president Susan Moldow, who said: "As if Nan hadn't amply proven how deserved this promotion is by her firm hand in shaping the list and staff and insuring the growth of the Scribner imprint over the last 18 years, her performance of late surely demonstrates that she continues to exercise her singular editorial instincts, abilities, and leadership qualities at the highest levels. Her tireless work and shining insights for every book on the Scribner list have made Nan's contribution to the success of the imprint paramount."

Graham was the 2011 recipient of the Center for Fiction's Maxwell E. Perkins Award. In addition to serving as Stephen King's longtime editor, Graham has edited a distinguished list of authors that includes Don DeLillo, Anthony Doerr, Amy Hempel, Miranda July, Rachel Kushner, Frank McCourt, Annie Proulx, Susanna Sonnenberg, Dana Spiotta, Colm Tóibín, Kate Walbert and Jeannette Walls.

More recently she acquired and edited Siddhartha Mukherjee's The Emperor of All Maladies: A Biography of Cancer, which won the 2011 Pulitzer Prize for general nonfiction, as well as the bestselling debut novel The Light Between Oceans by M.L. Stedman. Graham also edited Andrew Solomon's Far from the Tree: Parents, Children, and the Search for Identity.

"One of the great benefits of creating our new publishing organization is that it allows us to give Nan Graham, the very model of an outstanding editor and publishing executive, an even greater role at Scribner," said Carolyn Reidy, S&S president and CEO. "All of us at S&S and throughout our industry have marveled at how she has led the editorial team these many years, and are eager to see her at the helm."



Moving Week for ABA
The American Booksellers Association's offices will be closed starting at 3 p.m. today as the staff moves from Tarrytown to White Plains, N.Y., where its new offices are expected to reopen on or about Wednesday, December 19, Bookselling This Week reported, adding that there will be an interruption in phone service during the move.

Upon reopening next week, ABA's office phone number, staff extensions and fax numbers will be new, though 800-number and staff e-mail addresses will remain the same. A list of key contacts, with new phone extensions, is available here. The updated general contact information is:

American Booksellers Association
333 Westchester Avenue, Suite S202
White Plains, N.Y. 10604
Phone: 914-406-7300
Member fax: 914-417-4013
General fax: 914-410-6297



Scholastic's Crystal Ball: Top 10 Trends in Kids' Books for 2013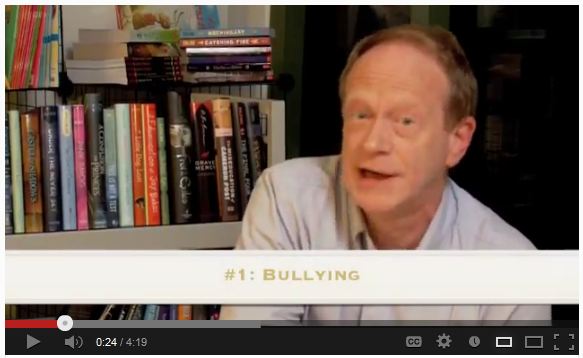 The editors at Scholastic Trade Publishing group, Scholastic Book Clubs and Scholastic Book Fairs looked into their collective crystal ball to forecast the top 10 trends in children's books for the coming year:
Bullying is THE timely topic in kids' books.
'13 will be a lucky number for science fiction fans.
Intriguing nonfiction
Novels-in-cartoons
Kid lit on the screen
War
Tough girls
Survival stories
Spotlight on diversity
Nature runs amok.

"Publishing trends are truly driven by a vital community of readers--our kids," said David Allender, editorial director for Scholastic Book Clubs. "We see readers get excited about books, talk about them, and share them with their friends. Before you know it a book is trending, more and more kids are vying to read it, and they can't get enough of it."



Sony's Reader Store Launches in Germany
Yesterday, Sony launched its German Reader Store, offering a catalogue of several hundred thousand titles, including German bestsellers and international e-books in ePUB format. The company noted that "many thousand titles are DRM free or watermarked, if publishers support this strategy," and mentioned as an example publisher Bastei Lübbe, whose authors include Ken Follett, Andreas Eschbach and Dan Brown.

"We're happy to launch Reader Store Germany. We aim to satisfy the reading needs of our customers by offering the books they want to read," said Tad Kitsukawa, managing director, Sony Digital Reading Services.



Notes
Image of the Day: Reading as a Team Sport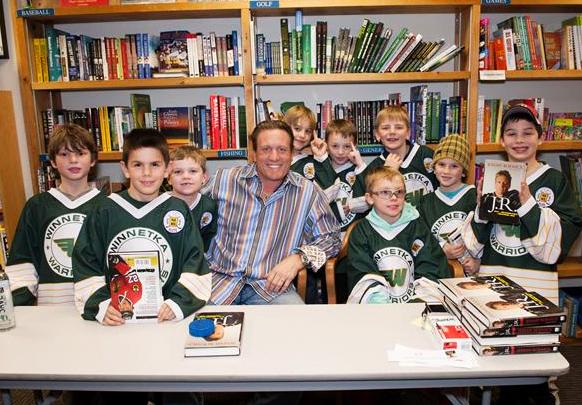 Tuesday night, the Book Stall at Chestnut Court, Winnetka, Ill., hosted an event for Jeremy Roenick, a former player with the Chicago Blackhawks and author of J.R.: My Life as the Most Outspoken, Fearless, and Hard-Hitting Man in Hockey (Triumph Books). Here a local youth hockey team of seven and eight year olds posed with Roenick. "We had hundreds of people here in the store, none as enthusiastic as the youth team," owner Roberta Rubin commented.


What Do Booksellers Do All Day?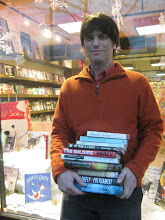 Daniel Goldin, owner of Boswell Book Company, Milwaukee, Wis., shared the bookishly gory details of a day in his bookselling life on the store's blog in a post headlined "What do Daniels do All Day?"

"I think there are a lot of people out there wondering why I can't get whatever they needed done, so sometimes an explanation really is needed, especially on a day like today where ten hours flew by in a flash," he wrote.



Employment Opportunity: Total Commitment Required
Dalkey Archive founder John O'Brien
photo: L.A. Times
Dalkey Archive Press has created a social media stir with a detailed "Open Positions" listing on its website that is described as the beginning of a "process of succession from the founder and current publisher, John O'Brien, to a publishing house that will be directed by two-three people along with support staff."

Citing a recent decision to make London the publisher's base of European operations, Dalkey Archive said it plans to develop staff there, and during the transition a "pool of candidates for positions will be primarily derived from unpaid interns in the first phase of this process, although one or two people may be appointed with short-term paid contracts."

The job requirements are, to put it mildly, stringent. For example, Dalkey Archive requires that potential candidates be "determined to have a career in publishing and will sacrifice to make that career happen," are "willing to start off at a low-level salary and work their way upwards," will do "whatever is required of them to make the Press succeed" and--in the renounce-all-personal-life category, "do not have any other commitments (personal or professional) that will interfere with their work at the Press (family obligations, writing, involvement with other organizations, degrees to be finished, holidays to be taken, weddings to attend in Rio, etc.)."



Book Trailer of the Day: Prophecy
Prophecy by Ellen Oh (HarperTeen), the first volume in the Dragon King Chronicles.


Media and Movies
Media Heat: Indie Booksellers Pick 2012's Best
Today on NPR's Morning Edition: Susan Stamberg interviews three "go-to independent booksellers" to find out what titles are on their Best of 2012 lists. Guests are Lucia Silva, former book buyer at the now-closed Portrait of a Bookstore, Studio City, Calif.; Daniel Goldin of Boswell Book Co., Milwaukee, Wis.; and Rona Brinlee of The BookMark. Neptune Beach, Fla.

---

Tonight on Rock Center with Brian Williams: Mary Pope Osborne, author of Dinosaurs Before Dark: The Magic Tree House 20th Anniversary Edition (Random House, $14.99, 9780375869884).

---

Tomorrow on Ellen: Justin Bieber, author of Justin Bieber: Just Getting Started (HarperCollins, $21.99, 9780062202086).

---

Tomorrow on NPR's Science Friday: Ray Kurzweil, author of How to Create a Mind: The Secret of Human Thought Revealed (Viking, $27.95, 9780670025299).
Also on Science Friday: Christopher Bonanos, author of Instant: The Story of Polaroid (Princeton Architectural Press, $24.95, 9781616890858).


This Weekend on Book TV: Jon Meacham
Book TV airs on C-Span 2 this week from 8 a.m. Saturday to 8 a.m. Monday and focuses on political and historical books as well as the book industry. The following are highlights for this coming weekend. For more information, go to Book TV's website.

Saturday, December 15
1:15 p.m. Neil Barofsky is interviewed about his book Bailout: An Inside Account of How Washington Abandoned Main Street While Rescuing Wall Street (Free Press, $26, 9781451684933). (Re-airs December 22 at 7 p.m.)

11 a.m. Arlie Hochschild talks about her book The Outsourced Self: Intimate Life in Market Times (Metropolitan Books, $27, 9780805088892).

7 p.m. Mark Binelli presents his book Detroit City Is the Place to Be: The Afterlife of an American Metropolis (Metropolitan Books, $28, 9780805092295). (Re-airs December 22 at 9 a.m.)

8 p.m. Henry Gallagher talks about his book James Meredith and the Ole Miss Riot: A Soldier's Story (University Press of Mississippi, $26, 9781617036538). (Re-airs December 23 at 9:15 a.m.)

9 p.m. Book TV interviews Bob Minzesheimer, book reviewer and reporter for USA Today, and Sarah Weinman, news editor for Publishers Marketplace, about the year in books. (Re-airs Monday at 2 a.m. and December 23 at 10 a.m.)

10 p.m. After Words. Donna Lieberman, executive director of the New York Civil Liberties Union, interviews Cynthia Lowen, author of Bully: An Action Plan for Teachers, Parents, and Communities to Combat the Bullying Crisis (Weinstein Books, $15.99, 9781602861848). (Re-airs Sunday at 9 p.m. and Monday at 12 a.m. & 3 a.m., and December 23 at 12 p.m.)

11 p.m. A panel featuring Ted Widmer, Caroline Kennedy, Ellen Fitzpatrick and Tom Oliphant, who discuss Listening In: The Secret White House Recordings of John F. Kennedy (Hyperion, $40, 9781401324568). (Re-airs December 25 at 7 p.m.)

Sunday, December 16
9 a.m. Amy Greenberg presents her book A Wicked War: Polk, Clay, Lincoln, and the 1846 U.S. Invasion of Mexico (Knopf, $30, 9780307592699). (Re-airs Sunday at 11 p.m. and December 22 at 12 p.m.) )

3 p.m Patrick Tyler discusses his book Fortress Israel: The Inside Story of the Military Elite Who Run the Country--And Why They Can't Make Peace (FSG, $35, 9780374281045).

7 p.m. Wole Soyinka talks about his book Of Africa (Yale University Press, $24, 9780300140460). (Re-airs December 23 at 12 a.m.)

10 p.m. Jon Meacham presents his book Thomas Jefferson: The Art of Power (Random House, $35, 9781400067664). (Re-airs December 22 at 8 a.m.)




Books & Authors
Awards: Flaherty-Dunnan First Novel Winner
Billy Lynn's Long Halftime Walk by Ben Fountain (Ecco) has won the 2012 Flaherty-Dunnan First Novel Prize, sponsored by the Center for Fiction. The prize carries a $10,000 award.
The judges called Billy Lynn's Long Halftime Walk "a novel about the American war in Iraq, football, cheerleaders, the movie business, capitalism, love, sex, the transmigration of souls, and the general insanity of everyday life in America. Set during a single day--the novel's action unfolds during the course of one Thanksgiving Dallas Cowboys football game at Texas Stadium."
The Center also has awarded the 2012 Maxwell E. Perkins Award for Distinguished Achievement in the Field of Fiction to Deborah Treisman, fiction editor of the New Yorker.


Barnes & Noble's Best Books of the Year
Barnes & Noble has announced its Best Books for 2012, selected by company booksellers from customer favorites and personal recommendations in fiction, nonfiction, teens and kids categories. The Best Books includes a list of e-book only titles.


IndieBound: Other Indie Favorites
From last week's Indie bestseller lists, available at IndieBound.org, here are the recommended titles, which are also Indie Next Great Reads:

Hardcover
Hand for a Hand by T. Frank Muir (Soho Crime, $25, 9781616951818). "A dismembered hand is found on a golf course green with a note addressed to Scottish DCI Andy Gilchrist consisting of just one word: Murder. The subsequent investigation gets too close to home for Andy when family members become involved. Set in historic St. Andrews with dour characters and dreary weather to set the mood, this first in a new series is a real nail-biter until the last page." --Rita Moran, Apple Valley Books, Winthrop, Maine

The Valley of Unknowing by Philip Sington (Norton, $25.95, 9780393239331). "This well-crafted novel, set in the East German state in the 1980s, is an intricate story of subterfuge and betrayal that shares many features of the best thrillers. Sington offers not only a spot-on description of life in the former DDR, but also gives us real characters in a tale that provides engaging twists up to the very satisfying ending." --Garry Jarman, Island Books, Etc., Mercer Island, Wash.

Paperback
The Confidant: A Novel by Helene Gremillon, translated by Alison Anderson (Penguin, $15, 9780143121565). "Infertility and infidelity lie at the heart of this very French romance. In 1975, Camille, a young Parisian editor who has just lost her mother, receives an unusual letter of condolence, the first of a weekly series of lengthy reminiscences from an anonymous source concerning events and people in wartime France from 1939 to 1943. Is it an author with a novel method of getting an editor's attention or a bona fide memoir of prewar France? And is Camille really the intended recipient? Family secrets, unsuspected for 30 years, shake Camille to her core in this suspenseful and intricately plotted debut." --Darwin Ellis, Books on The Common, Ridgefield, Conn.

For Ages 9 to 12
Hereville: How Mirka Met a Meteorite by Barry Deutsch (Amulet, $16.95, 9781419703980). "Everyone's favorite troll-fighting, sword-wielding, adventure-scheming 11-year-old Orthodox Jewish girl is back! Once again, Mirka is dodging chores (especially knitting--she HATES knitting), trying--and failing--to beat her wily stepmother at chess, and seeking mischief and mayhem whenever possible, but this time with the help of a Mirka look-alike named Metty. Deutsch's drawings are a delight. His characters burst off the page, and he portrays Mirka's insular community with humor, just enough cheekiness, and plenty of warmth." --Elizabeth Sher, Politics & Prose Books and Coffee Shop, Washington, D.C.

[Many thanks to IndieBound and the ABA!]




Book Review
Review: Hikikomori and the Rental Sister
Hikikomori and the Rental Sister by Jeff Backhaus (Algonquin, $23.95 hardcover, 9781616201371, January 8, 2013)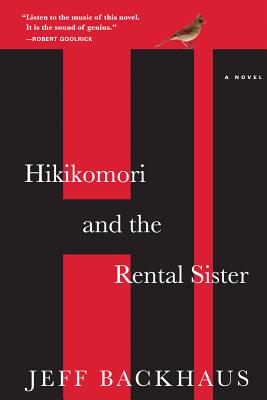 The phenomenon of hikikomori, a growing Japanese subculture of young men who withdraw--the word translates as "withdrawal"--to their rooms and cut themselves off from social contact with others, was explained in a 2006 New York Times article. "Some hikikomori do occasionally emerge from their rooms for meals [or] late night runs to convenience stores," Maggie Jones wrote. "Experts estimate that about 80% of the hikikomori are male… some live in their rooms for 15 years or more."
Jeff Backhaus's debut novel, Hikikomori and the Rental Sister, moves this phenomenon to New York City. Thomas Tessler has been in his room for three years, believing that he was responsible for his son's death and unable to forgive himself. His wife, Silke, comes and goes and, while she is cooking or cleaning, keeps up a running commentary with Thomas behind his closed door. She always leaves her bedroom door open and occasionally sits in front of Thomas's door and sobs uncontrollably. Thomas registers her moods, from friendly banter to screaming anger, and does not respond. He leaves his room in the middle of the night to get food and supplies, never speaking to Silke.
Finally, in desperation, Silke seeks out a young Japanese immigrant named Megumi to act as as a "rental sister," giving her a key to the apartment and permission to do whatever it takes to lure Thomas out of hiding. Inevitably, after several rebuffs, Thomas lets Megumi into his room and they form an easy intimacy. They have no history, so there is nothing to remember or forgive. He tells her of his failure of instinct, not pushing his son out of the path of a car and she responds matter-of-factly: "You didn't kill him. If you did, you'd be in jail."
Megumi has run away from her own tragedy. Her brother was a hikikomori; he killed himself after realizing he would never fit into Japanese society because he had a Korean mother.
Silke realizes that Thomas and Megumi have a relationship that does not include her. One night, she makes a dramatic move that changes the equation forever, as the trio's roles and feelings become clearly defined. Before any final decisions are made, though, Backhaus presents a lovely set piece with Thomas and Megumi at an onsen--a Japanese hot spring--where in salt and steam and tears all things are cleansed. --Valerie Ryan
Shelf Talker: A young man who has secluded himself from his wife and his life for three years is lured back to the world by a rental sister with her own tragic story.