Shelf Awareness for Thursday, December 20, 2012

Quotation of the Day
Buying Books 'Like the World Ain't Gonna End '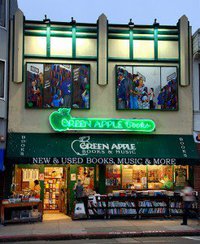 "Ev'rybody's buying books like the world ain't gonna end in a couple of days. (Thanks, guys!)"


News
Sargent on Suit: 'Hard to Settle When You've Done Nothing Wrong'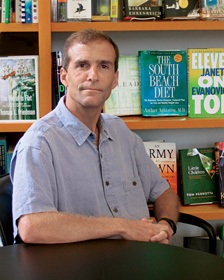 In a striking holiday message to Macmillan authors, illustrators and agents, CEO John Sargent surveyed the past year and next year.

Despite Penguin's recent settlement, Macmillan is continuing to fight the Department of Justice suit over e-book pricing. "There are two reasons we decided not to settle," Sargent wrote. "First, it is hard to settle when you have done nothing wrong. Much as the lawyers explain to me that settling is completely standard business procedure, it still seems fundamentally flawed to me somehow. Call me old-fashioned. The second reason is the more important one. Since the very beginning, the government's demands have never wavered in all our discussions. They still insist on the two-year discounting regime that forms the heart of the agreement signed by the [four] settling publishers. It was our belief that Amazon would use that entire discount for the two years. That would mean that retailers who felt they needed to match prices with Amazon would have no revenue from e-books from five of the big publishers (and possibly the sixth) for two years. Not no profit, no revenue. For two years. We felt that few retailers could survive this or would choose to survive this. Simultaneous discounting across the major publishers (you could think of it as government-mandated collusive pricing) would lead to an unhealthy marketplace." He added that the legal bills from the case "look like the unit sales numbers for 50 Shades of Grey."

Macmillan is not in discussions with any other publisher about combining. "This will leave us where we have always been, the smallest of the big publishers," Sargent commented. "It has never hurt us in the past, and I expect it will not hurt us in the future. Publishing trade books is, in the end, a human endeavor. The relationship between editor and author does not scale. Nor do the relationships between sales rep and bookseller or between publicist and producer."

Among other points:

Macmillan has renegotiated all but one e-book contract with retailers that allows up to 10% discounting on books priced at $13.99 and above and complies with the demands of the Justice Department complaint. The company settled with the European Union "because of many differences in their system and because the discounting change will not materially affect the market there for us."

Some 26% of Macmillan sales this year have been digital. "It is good to remember that means 74% of Macmillan's total sales are ink on paper books," Sargent wrote. "Just as in 2011, the percentage of e-book sales has remained consistent week by week through the year for the most part (the big uplift in the last two years has occurred the week after Christmas). Our e-book business has been softer of late, particularly for the last few weeks, even as the number of reading devices continues to grow.... Consumers will decide in the end how they want to read books, and we will deliver your books in all the formats they desire. Our job is to get to this final state with an even playing field for retailers, a healthy marketplace, and the maximum possible distribution of your work in all formats."

Sargent concluded by saying that "the best news as we enter this holiday season is that independent booksellers have had a good year, booksellers in general have had the time to adjust their product mix and store counts, and consumers continue to value and buy real books. Piracy continues to be an issue, but it has not exploded. More people are reading more books. The playing field in e-book retailing, while not even, has not yet tilted too far. There is a bright future out there."




Publishers Lunch Launches Bookateria

Publishers Lunch and Publishers Marketplace have created Publishers Lunch Bookateria, a website that offers more than two million titles for sale through a range of retail partners: Indiebound, iBookstore, Barnes & Noble, Books-A-Million and Amazon. The site is managed and merchandised by Publishers Lunch; Random House built the site and provides technology, staff and support services.

Publishers Lunch will receive standard affiliate commissions offered by the retailers it links to. The site expects to run "a limited amount of ads" eventually, although that's not a priority now.

Publishers Lunch founder Michael Cader described Bookateria as an "online discovery store for books" that is focused initially on "our core audiences--the 45,000 daily Publishers Lunch recipients, and the broader 100,000 or so unique monthly visitors to Publishers Marketplace." This audience includes "a lot of serious book-lovers--including authors, librarians, film and TV people, media, bloggers and more."

Cader continued: "We know from our readers that every new deal report and daily news item triggers purchase impulses among our audience, who are avid book consumers. So we've long been looking for a solution that lets us connect the news and our proprietary data directly to a store environment to drive book sales, while supporting the entire bookselling environment, without favoring any one party or competing directly with booksellers who provide such a valuable service." He hopes that the initial core audience will share their enthusiasm with a broader audience that will be interested in an insider's view of hot books and authors.
Bookateria features include Books in the News and highlights of new books published or announced and authors newly signed, as well as extensive lists of titles that include booksellers recommendations, such as the ABA's IndieBound program. The catalogue also gives agents, authors and others a place to link to promote discovery and sale of their own books.
On the site, Publishers Lunch Bookateria emphasized that it is creating "a complete private environment for searching books. We do not identify or track your book browsing at all, and no algorithms will come to dubious conclusions about your reading habits."
Cader added that the site "lets us connect a lot of what we do directly to books and the ability to purchase, which should benefit the entire community. And in that way, it represents our answer to the common concerns about enhancing book discovery online--if everyone who cares about books, authors and the publishing and bookselling ecosystem that supports them finds a way to share what they know with their natural audiences, good things will come."




ABA's 'New New' Phone Number

Because of "a last-minute change by our telephone service provider," the American Booksellers Association, which is moving into new offices in White Plains, N.Y., has a "new new" main phone number. That number is 914-406-7500.
Revised staff extensions are on bookweb.org. The association's toll-free number and staff e-mail are unchanged. The ABA's new address is 333 Westchester Avenue, Suite S202, White Plains, N.Y. 10604.




Holiday Hum: Wombats, Cats, Cards and More at Left Bank Books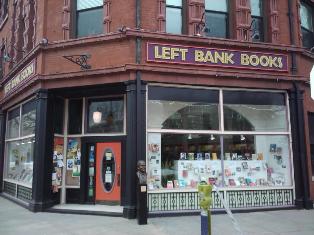 Left Bank Books in St. Louis, Mo., is two for two this holiday season: for December, sales are up double digits at both Left Bank outlets. The downtown outpost has seen an increase of 15%, while the flagship store in the city's Central West End neighborhood has jumped 24%.
Co-owner Kris Kleindienst attributes the sizable bump at the Central West End shop in part to a revamping it underwent earlier this year. Left Bank Books won a contest for a makeover by Paz & Associates, the bookstore training and consulting group. Over the years the store expanded into two adjacent properties and had "started to look tired and crowded and unworkable," said Kleindienst.
The main modification involved construction to make a staircase leading to a lower level more visible to customers, who often didn't realize they were allowed down there to shop. The YA section has been moved from the children's department into the space, along with graphic novels, science fiction, fantasy, film, music and pop culture titles, and other books likely to appeal to a younger audience.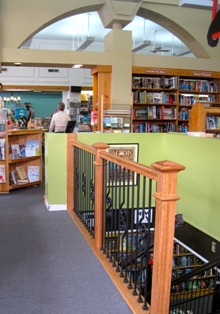 On the main floor, color was added to traditionally white walls, while freestanding bookshelves, tables and cardboard displays were removed to open up the floor plan. The change led to streamlining overstocked inventory and "right-sizing sections," noted Kleindienst. The spaciousness has created a more inviting atmosphere, making it easier for customers to browse and to see merchandise. Not only are they spending more time in the store, but customers seem more relaxed this holiday season than in past years.
The title at the top of store lineup this season is One Last Strike: Fifty Years in Baseball, Ten and a Half Games Back, and One Final Championship Season by Tony La Russa, the St. Louis Cardinals manager who led his team to an unlikely 2011 World Series victory. Left Bank has sold thousands of copies of the book. The other seasonal bestseller also has a local slant: William Knoedelseder's Bitter Brew: The Rise and Fall of Anheuser-Busch and America's Kings of Beer. In 2008, the St. Louis brewer was sold to a Belgian company. "The book is flying out of here," said Kleindienst. "Everybody wants to know the down and dirty."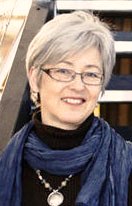 Selling swiftly are titles featured on a display of the New York Times' "10 Best Books of 2012," among them Andrew Solomon's Far from the Tree: Parents, Children, and the Search for Identity and Building Stories by Chris Ware. This week the store sold its last two copies of Ware's $50 innovative graphic novel, packaged in a keepsake box; it's now out of stock. Hardcover fiction is having a superb showing at Left Bank Books, boosted by a strong line-up from big-name scribes like Louise Erdrich (The Round House), Barbara Kingsolver (Flight Behavior) and Michael Chabon (Telegraph Avenue).
The staff's favorite children's picture book this season is Christmas Wombat by Jackie French. For young adult readers, Antony John's tales are perennially popular. The author, whose latest is the action-packed Elemental, lives two blocks from Left Bank Books.
Among the array of top-selling sidelines are book lights, which are seeing a renaissance, plush toys and pricey chocolates from a local boutique manufacturer. As for Kobo e-readers, Kleindienst initially took the minimum display packaged offered, one for each store, and has since re-ordered. Although profit margins are minuscule and staffers spend a lot of time familiarizing customers with the devices, stocking them is a service to clientele and a way to keep customers from taking their business to another retailer. "If they have to go somewhere else for those things, then it's probably more convenient to buy all their books that way," she said. "I'm grateful we do have them. To be taken seriously in the marketplace, you have to have them."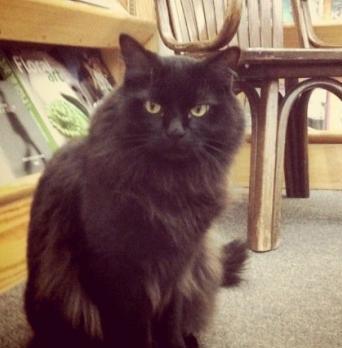 Online shoppers have received a 20% discount on a different staff pick every day this month. Kleindienst's selection is local radio host Kevin Killeen's Never Hug a Nun, a debut novel about a young boy in 1960s St. Louis. Even Spike, the resident feline, has some gift suggestions. He recommends Francesco Marciuliano's I Could Pee on This: And Other Poems by Cats and the comic- and joke-filled How to Tell If Your Cat Is Plotting to Kill You. Concerning the latter, Spike cautions, "The answer is yes." --Shannon McKenna Schmidt


Notes
Image of the Day: December 21 Approaches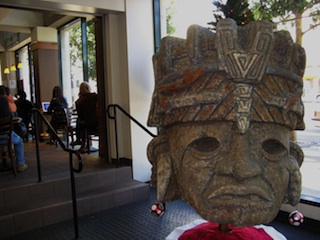 As a possible last act of its kind, the Opera Plaza Books Inc. store in San Francisco replaced its traditional 12-ft. Christmas tree with an 8-ft. Mayan head, which owner Michael Tucker called "at least one last good use" of some of the props from Books Inc.'s old Disneyland store. Customers have been blasé about the head, although one person asked what happens if nothing changes tomorrow, when the Mayan calendar appears to indicate the end of the world. The answer: "Then the real panic begins because there will be only three shopping days until Christmas!"


'This Is Why We Need Bookstores'
The power of floor displays: Bookshelf Porn showcased an epic display of The Hobbit & Lord of the Rings boxed set, noting, "This is why we need bookstores."



Professional Moves: Stesha Brandon; Mark Anderson
Effective January 4, Stesha Brandon is leaving her position as manager of public relations and events at the University Book Store, Seattle, Wash., where she has worked nearly 10 years. On January 28, she becomes program director at Town Hall Seattle, which, among other endeavors, produces book-related programming with community partners, including University Book Store and Elliott Bay Book Company, and a range of publishers.
---
Effective January 1, Mark Anderson is joining Insight Editions as marketing director. He has been consulting for the company in marketing and social media. Earlier he was associate sales manager and digital marketing manager at the University of California Press.


Book Trailer of the Day: Prairie Silence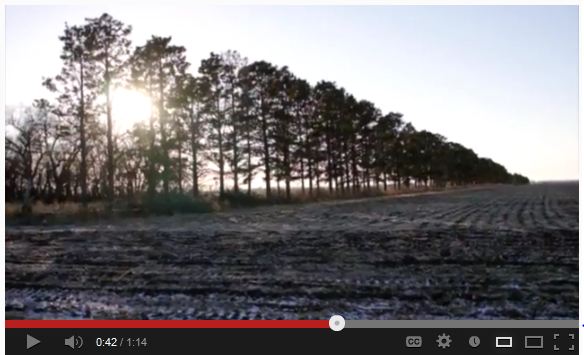 Prairie Silence: A Memoir by Melanie Hoffert (Beacon Press).


Media and Movies
Media Heat: Alan Light Sings Hallelujah
Monday and Tuesday mornings on the Today Show: Philip Galanes, author of Social Q's: How to Survive the Quirks, Quandaries and Quagmires of Today (Simon & Schuster, $23, 9781451605785).

---

Monday on CBS This Morning: Alan Light, author of The Holy or the Broken: Leonard Cohen, Jeff Buckley, and the Unlikely Ascent of "Hallelujah" (Atria, $25, 9781451657845).

---

Monday on CNN's Starting Point: Lorna Byrne, author of A Message of Hope from the Angels (Atria, $18, 9781476700335).

---

Next Thursday on NPR's Morning Edition: Simon Garfield, author of On the Map: A Mind-Expanding Exploration of the Way the World Looks (Gotham, $27.50, 9781592407798).




Movies: Unbroken
Angelina Jolie is "in final negotiations" with Universal Pictures and Walden Media to direct Unbroken, based on Laura Hillenbrand's Unbroken: A World War II Story of Survival, Resilience and Redemption, Deadline.com reported. The story of Olympian-turned-World War II POW Louis Zamperini has a new script draft by William Nicholson (Gladiator and Les Miserables), who rewrote an earlier draft by Richard LaGravanese.

"I read Laura Hillenbrand's brilliant book, and I was so moved by Louie Zamperini's heroic story, I immediately began to fight for the opportunity to make this film," Jolie said. "Louie is a true hero and a man of immense humanity, faith and courage. I am deeply honored to have the chance to tell his inspiring story."

Universal executives Adam Fogelson and Donna Langley commented: "In her life and in her work, Angelina has embraced stories and causes involving great struggle and triumph over tremendous odds and the basic human condition. She has a real ability to illustrate the strength in human spirit which will be essential in telling Lou's story of survival and great heroism."



This Weekend on Book TV: Living with Guns
Book TV airs on C-Span 2 this week from 8 a.m. Saturday to 8 a.m. Monday and focuses on political and historical books as well as the book industry. The following are highlights for this coming weekend. For more information, go to Book TV's website.

Saturday, December 22
3 p.m. Sarah Kilborne recounts the business acumen of her great-great-grandfather in American Phoenix: The Remarkable Story of William Skinner, a Man Who Turned Disaster into Destiny (Free Press, $28, 9781451671797). (Re-airs Sunday at 10 p.m.)

4:30 p.m. Eboo Patel, a member of President Obama's inaugural Faith Council, discusses Sacred Ground: Pluralism, Prejudice, and the Promise of America (Beacon Press, $24.95, 9780807077481). (Re-airs Sunday at 7:45 a.m.)

7:45 p.m. Marcus Rediker presents his book The Amistad Rebellion: An Atlantic Odyssey of Slavery and Freedom (Viking, $27.95, 9780670025046). (Re-airs Monday at 3 p.m.)

9 p.m. Evan Thomas discusses his book Ike's Bluff: President Eisenhower's Secret Battle to Save the World (Little, Brown, $29.99, 9780316091046). (Re-airs Sunday at 11 a.m.)

10 p.m. After Words. Paul Helmke, former president of Brady Campaign to Prevent Gun Violence, interviews Craig Whitney, author of Living with Guns: A Liberal's Case for the Second Amendment (PublicAffairs, $28.99,9781610391696). (Re-airs Sunday at 9 p.m., Monday at 12 a.m. and 3 a.m., and December 30 at 12 p.m.)

11 p.m. Robert Watson talks about Affairs of State: The Untold History of Presidential Love, Sex, and Scandal, 1789-1900 (Rowman & Littlefield, $49, 9781442218345). (Re-airs Monday at 2 a.m.)

Sunday, December 23
1:30 p.m. Book TV interviews Stephanie McCurry, author of Confederate Reckoning: Power and Politics in the Civil War South (Harvard University Press, $21.95, 9780674064218). (Re-airs Monday at 1:30 a.m.)

5 p.m. Covenant House president Kevin Ryan and former New York Times reporter Tina Kelley discuss their book, Almost Home: Helping Kids Move from Homelessness to Hope (Wiley, $16.95, 9781118230473), with Newark, N.J., mayor Cory Booker, who wrote the foreword. (Re-airs Monday at 12 p.m.)

7:15 p.m. Todd Andrlik presents his book Reporting the Revolutionary War: It Was History, It Was News (Sourcebooks, $39.99, 9781402269677).

11 p.m. Bill Carter talks about his book Boom, Bust, Boom: A Story About Copper, the Metal That Runs the World (Scribner, $26, 9781439136447).



Books & Authors
Awards: Irish Book of the Year
Donal Ryan won the Bord Gáis Energy Book of the Year award for his debut novel, The Spinning Heart, which was praised as "the sort of debut that must hearten all who care about the Irish literary tradition. To discover a writer of such skill and assurance in a first book is truly extraordinary."



Book Review
Review: The Happy Life: The Search for Contentment in the Modern World
The Happy Life: The Search for Contentment in the Modern World by David Malouf (Pantheon, $19.95 hardcover, 9780307907714, January 8, 2013)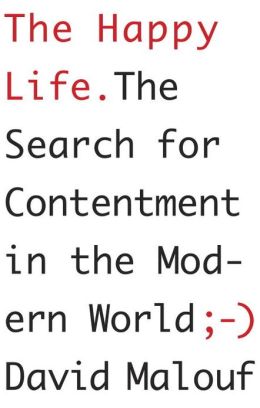 In the extended essay that is The Happy Life, Australian novelist, poet and playwright David Malouf wants to know why, when "chief sources of human unhappiness" such as poverty, famine and disease have been removed from our lives, "happiness still eludes so many us." He's content to pose more astute questions than he answers in exploring that dilemma, adding to his own insights those of a host of philosophers, writers and artists.
Starting with Thomas Jefferson's formulation in the Declaration of Independence, then shifting back to Plato and forward to our own time, Malouf briefly treats humankind's shifting notions of what it means to be happy. In contrast to our more contemplative forebears, for example, for us, "a lone figure in a closed and lonely room is our image now for existential dread."
Malouf's key insight is that we're living in the small slice of human history in which we are conscious that we inhabit "the Planet," instead of the constrained world that was the limit of experience for most of our ancestors. "The Planet is a thing more remote and less manageable than the Earth," he observes. In the 1970s, when we first could view a photograph of Earth from space, we realized our own insignificance in the face of such vastness, and it has inevitably contributed to our increasing discomfort. When we contemplate the impersonal geopolitical and economic forces that seem more unsettling each day, our distress only grows. "We feel like small, powerless creatures in the coils of an invisible monster," Malouf writes, "vast but insubstantial, that cannot be grasped or wrestled with."
Contrast that with Shukhov, the protagonist of Alexander Solzhenitsyn's One Day in the Life of Ivan Denisovich, whose definition of happiness is as elemental as an extra bowl of porridge and the chance to buy a bit of tobacco. According to Malouf, what Shukhov achieves "briefly, intermittently, is moments of self-fulfilment." Yet somehow, for many of us who live lives of almost unimaginable physical comfort, "the good life, it seems, is not enough."
The Happy Life is no self-help book, and David Malouf is not naïve enough to suggest he has any easy cure for our persistent angst. But for anyone who wants an intelligent primer to begin the process of asking some of the questions whose answers may relieve it, Malouf offers a useful starting point. --Harvey Freedenberg
Shelf Talker: In an extended essay, David Malouf explores some of the reasons why happiness seems to be an elusive state in modern life.


The Bestsellers
Top-Selling Self-Published Titles
The bestselling self-published books last week as compiled by IndieReader.com.

1. The Edge of Never by J.A. Redmerski
2. The Elf on the Shelf by Carol V. Aebersold and Chanda B. Bell
3. Guinness World Records 2013
4. LEGO Ninjago: Character Encyclopedia
5. Oh Myyy! (There Goes the Internet) by George Takei
6. The Revolution Was Televised by Alan Sepinwall
7. Accidentally on Purpose by L.D. Davis
8. Fade into You by Kate Dawes
9. All In by Raine Miller
10. Stop the Wedding! by Stephanie Bond

[Many thanks to IndieReader.com!]