Shelf Awareness for Wednesday, February 13, 2013

Quotation of the Day
Walter Dean Myers on 'The State of Our Union'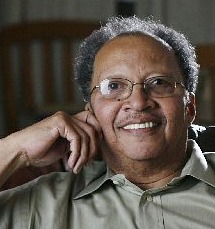 "This is my second year as National Ambassador for Young People's Literature, and I plan to spend the year writing for young people and also educating parents, guardians and teenagers about how America's literacy gap can be solved.... I'll be writing about how teenagers, especially boys, can overcome their feelings of being defeated and how they can get back into the game. Working with the Library of Congress, and the Every Child a Reader Foundation, I hope to make a small difference and look forward to the year doing what I love."
--Author
Walter Dean Myers
on PBS
Newshour
's "
The State of Our Union
," which has been reaching out to people featured in the program's arts and culture stories last year to check on the state of their lives now and what they foresee for 2013.


News
Three Potential Buyers Vying for Quail Ridge Books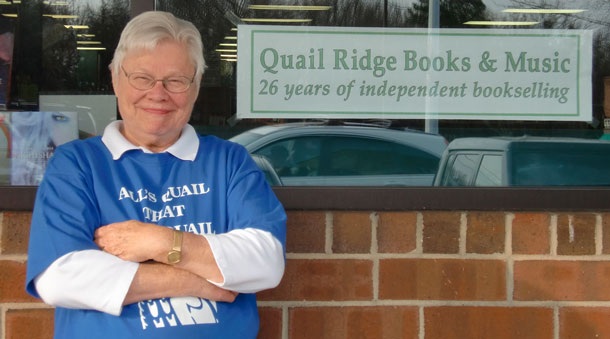 Quail Ridge owner Nancy Olson
photo: Independent We Stand/Flickr
The list of potential buyers for Quail Ridge Books & Music, Raleigh, N.C., has been narrowed from 35 to three final bidders who are in the running to become the new owners of the bookshop, WRAL reported.

All three potential buyers are local, according to Mark Kaufman of Paz & Associates, who is assisting owner Nancy Olson with the sales process. He added that they could make offers within the next week, and a decision could be made by early April. Olson put Quail Ridge up for sale last November.


Rowman & Littlefield Restructuring, Adding London Office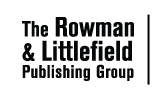 Rowman & Littlefield is consolidating its imprints and is focusing Rowman & Littlefield as "the primary vehicle for its academic, reference, trade, and textbooks." As a result, Scarecrow Press, Altamira Press and Jason Aronson will be folded into Rowman & Littlefield. Among imprints that are remaining separate: Lexington Books, which will continue to focus on academic monographs; Sundance-Newbridge, which will continue to publish educational materials for grades K-8; and Bernan, which will publish and distribute government and intergovernmental publications such as The Statistical Abstract of the United States, which it co-published in December with Pro-Quest.
In related news, Rowman & Littlefield has opened a London office run by Oliver Gadsby, former CEO of Continuum, assisted by Sarah Campbell, also formerly of Continuum. Rowman & Littlefield International is located at 16 Carlisle Street, London W1D 2BT.
Rowman & Littlefield has also begun distributing the Christopher-Gordon college textbook list.


Tamblyn Named Kobo's Chief Content Officer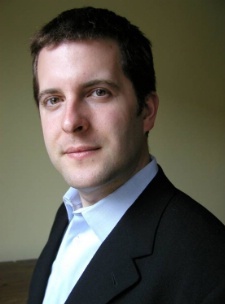 Michael Tamblyn has been promoted to the position of chief content officer at Kobo, where he will be responsible for the company's content acquisition and sales, publisher and industry relations, and localized merchandising experiences across all of Kobo's online and mobile services. In a statement, the company described Tamblyn as "a driving force in bolstering Kobo's content offering since the company was founded" and noted that he also spearheaded the launch of Kobo's self-publishing service, Kobo Writing Life.

Kobo CEO Michael Serbinis praised Tamblyn's "leadership in the industry and his hands-on approach to working with publishers and authors has been instrumental to Kobo's success. In his new role, he will continue to grow our existing catalogue and drive Kobo's expansion into new content categories."

Prior to joining Kobo as executive v-p, content, sales and merchandising, Tamblyn was the founding CEO of BookNet Canada. He also co-founded Bookshelf.ca, which was purchased by Indigo Books & Music in 1998. At Indigo, he launched Indigo.ca and served as v-p of online operations.

"Getting the right book into a reader's hands instantly--that's always our goal," he said. "But even more than that, we want to create experiences that enrich and expand a customer's reading life, always pushing technology to make reading better."


The Book Tavern's One-Block Move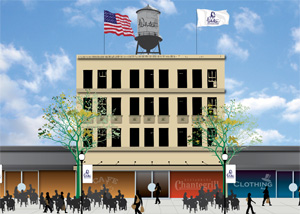 After eight years in business, the Book Tavern, Augusta, Ga., has outgrown its 1026 Broad Street location and early next month will move one block down to the White's Building, where "the most exciting thing is more space! More space for books! More space for lounging chairs and tables! More space for Book Clubs to meet! More space for NEW IDEAS!"

The Book Tavern plans to close in early March and hopes to reopen by early April, though during the transition they will continue to provide special ordering services for new books and "are also looking at the possibility of a pop-up bookstore while we're installing shelves and furniture."


Rowling & RH CEO Among 20 'Most Powerful Women in Britain'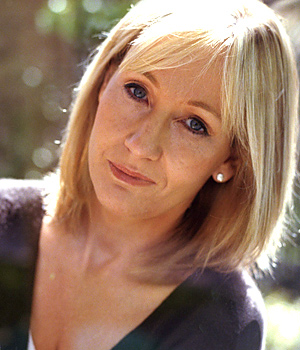 While Queen Elizabeth still tops the list of the "20 most powerful women in Britain," the world of books was also represented by Random House Group CEO Gail Rebuck in 10th place and author J.K. Rowling in 13th, according to a survey by BBC Radio 4's Woman's Hour.

The top-100 list (unranked beyond the first 20) also included Ursula Mackenzie, CEO of Little, Brown Book Group; British poet laureate Carol Ann Duffy and Sigrid Rausing, owner of Granta Books and Granta magazine.


Notes
Image of the Day: Annie + Ivy + Bean: The Musical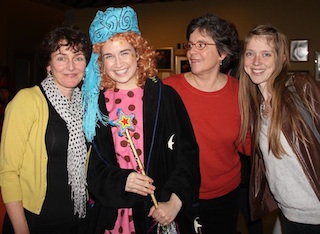 Last Saturday, in Berkeley, Calif., Annie Barrows attended the world premiere of Ivy + Bean: The Musical, an original production of the Bay Area Children's Theatre based on her Ivy + Bean series. Chronicle Books partnered with the Theatre to invite booksellers and librarians to watch, and afterward, Barrows and the cast mingled with young fans. From l.: Annie Barrows; Megan Putman, who plays Ivy; Anne Whaling of Mrs. Dalloway's Bookstore in Berkeley; and Chronicle Books editorial assistant Taylor Norman.


No Balloons Allowed: Some 'Very Specific' Library Rules

"We've all seen signs banning cell phones, food, and drinks. But these rules cover issues that might not be common to all libraries," Mental Floss observed in highlighting "9 very specific rules from real libraries," including "No Balloons" and "Keep the door closed due to bats."


Reading Road Trip: '100 Years of Bookmobiles'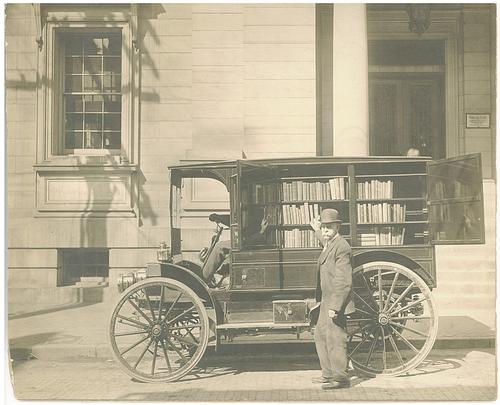 Jacket Copy offered a "quick tour through bookmobiles of the ages," ranging from the German Robi bookmobile that, from the outside, "seems like little more than a big blue bus. On the inside, however, it's an ultra-modern hangout with books galore" to the 1912 Washington County, Md., library bookmobile purchased to "deliver books to rural readers. According to the library's annual report, it was the modern replacement for an 'old wagon.' "


Book Trailer of the Day: The Man in the Empty Suit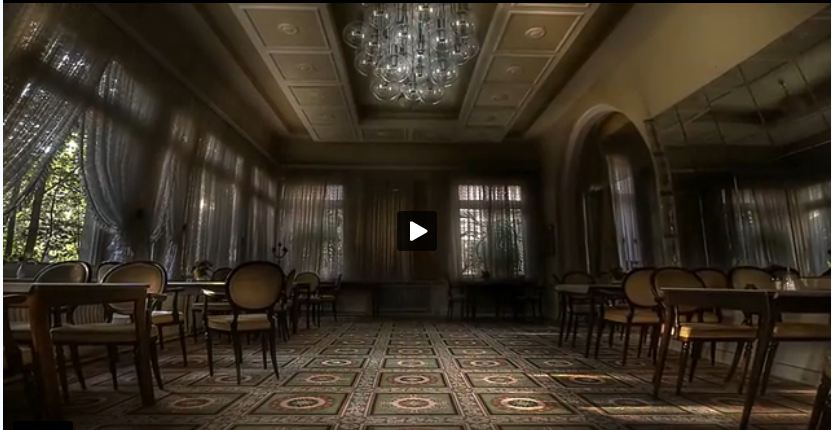 Man in the Empty Suit by Sean Ferrell (Soho Press). Every year, a time traveler spends the 100th anniversary of his birth at an abandoned hotel in 2071 New York City with all the other versions of who he has been and who he will be.


Media and Movies
Media Heat: Gavin Newsom on Colbert
Tomorrow on the Today Show: Steve Teret, one of the contributors to Reducing Gun Violence in America (Johns Hopkins University Press, $9.95, 9781421411101). Teret's chapter in the book is titled "Personalized Guns: Using Technology to Save Lives."

---

Tomorrow on CBS's the Talk: Nigella Lawson, author of Nigellissima: Easy Italian-Inspired Recipes (Clarkson Potter, $35, 9780770437015).

---

Tomorrow on KCRW's Bookworm: Nick Flynn, author of The Reenactments (Norton, $15.95, 9780393344356). As the show put it, "The Reenactments recounts author Nick Flynn's strange days on the set of Being Flynn. His personal memoir, Another Bullshit Night in Suck City, was adapted into a film starring Robert De Niro and Paul Dano. The experience of watching De Niro and Julianne Moore playing his own parents became an occasion for Flynn to relive traumatic memories, and to reflect on the nature of consciousness, tragedy, poetry, and catharsis."

---

Tomorrow on MSNBC's the Cycle: Alex Berenson, author of The Night Ranger (Putnam, $27.95, 9780399159725).

---

Tomorrow night on the Colbert Report: Gavin Newsom, author of Citizenville: How to Take the Town Square Digital and Reinvent Government (Penguin Press, $25.95, 9781594204722).

---

Tomorrow night on Last Call with Carson Daly: Sam Sheridan, author of The Disaster Diaries: How I Learned to Stop Worrying and Love the Apocalypse (Penguin Press, $26.95, 9781594205279).


TV: New Game of Thrones Season 3 Preview
HBO has released a new preview for the third season of Game of Thrones, which premieres March 31.


Books & Authors
Awards: Poets & Writers; Montana, Florida Prizes; Hatchet Job
Steve Berry, Rigoberto González and Judith Kelman are the winners of the 2013 Barnes & Noble Writers for Writers Awards, sponsored by Poets & Writers (and formerly called the Writers for Writers Awards). Berry was cited for "his dedication to historic preservation, especially sites of literary importance." Kelman won for "founding Visible Ink, a writing program at Memorial Sloan Kettering Cancer Center." González was cited for "championing Latina/o writers."

Chuck Adams of Algonquin has won Poets & Writers' editor's award, which recognizes "a book editor who has made an outstanding contribution to the publication of poetry or literary prose over a sustained period of time."

And the first winner of Poets & Writers' new Leadership Award is Barnes & Noble chairman Len Riggio, who was cited for "his transformational impact on the field." Poets & Writers executive director Elliot Figman commented: "By making Barnes & Noble outlets places for encountering contemporary writers, Riggio has helped to remind us that the private life of the mind and the discourse of the public square are intimately linked."

The winners will receive their awards on March 18 in New York City at a dinner to benefit Poets & Writers.
---
The Miseducation of Cameron Post by emily m. danforth won the Montana Book Award, which recognizes literary and/or artistic excellence in a book set in Montana; deals with Montana themes or issues; or is written, edited or illustrated by a Montana author or artist.

---

Winners were named in eight categories for this year's Florida Book Awards, which honor and celebrate the best Florida literature published the previous year. For a complete list of Florida Book Awards honorees, check here.
---

Although Ron Charles of the Washington Post didn't win this year's Omnivore Hatchet Job of the Year award honoring "the writer of the angriest, funniest, most trenchant book review of the past twelve months," he did offer suitably lacerating coverage of the ceremony last night in London where Camilla Long picked up her golden hatchet and year's supply of potted shrimp.

"So I didn't win the Hatchet Job of the Year award tonight for the meanest book review," wrote Charles, who was shortlisted for the prize. "So what? Doesn't bother me at all. It's a stupid prize, anyhow, given by the Omnivore website in England, and you know how clubby those Brits can be. I never stood a chance.... But I'm fine. Really. (Proust never won the Nobel, you know.) And I don't even like shrimp."


IndieBound: Other Indie Favorites
From last week's Indie bestseller lists, available at IndieBound.org, here are the recommended titles, which are also Indie Next Great Reads:

Hardcovers
The Lost Art of Mixing: A Novel by Erica Bauermeister (Putnam, $25.95, 9780399162114). "The Lost Art of Mixing is the poignant and often hilarious sequel to The School of Essential Ingredients. Cooking classes brought the characters together in the first book and entwined their stories with one another as effectively as the ingredients they were learning to blend. In this book, new characters are introduced and the resultant 'mixing' of their lives with the original characters gives the reader further insights into their personalities and circumstances. Happily, while neatly answering questions regarding the fate of the characters, the threads of this story also lend themselves to future volumes." --Melanie Mayberry, Cornerstone Cottage Kids, Hampton, Iowa

Schroder: A Novel by Amity Gaige (Twelve, $21.99, 9781455512133). "This deeply layered novel about an embattled father reclaiming his only joy drew me in with the intense beauty of its language and the doomed journey of its unreliable narrator. In Erik Schroder, Gaige gives us a character who should repel but whom I loved for his humanity and the way he expressed his love for his daughter and she, her love for him. Schroder takes the reader into the arrested heart of a foreigner whose need to appear American is ultimately his undoing. That we care about him is a testament to Gaige's skill and compassion." --Vicki DeArmon, Copperfield's Books, Sebastopol, Calif.

Paperback
Murder at the Lanterne Rouge: An Aimee Leduc Investigation by Cara Black (Soho Crime, $14.95, 9781616952143). "This is a whirlwind mystery featuring Aimee Leduc of the Leduc Detective Agency. The agency specialized in computer security, but Aimee always stumbles onto murders, and in this case she must find the murderer because her partner Rene's girlfriend is the main suspect. Black expertly weaves the social issues of Chinese sweatshops and illegal immigrants with current science and computer technology, 14th century Templars and guilds, and the local police and French secret service. The murder is only one of the mysteries in this investigation that will delightfully transport you to Paris." --Patricia Moody, Hickory Stick Bookshop, Washington Depot, Conn.

For Ages 9 to 12
The Vengekeep Prophecies by Brian Farrey, illustrated by Brett Helquist (HarperCollins, $16.99, 9780062049285). "Jaxter Grimjinx and Callie Strom mix mysticism, science, magic, potions, guile, and fantasy in somewhat, but not altogether, equal proportions in their quest to save their village from an unintended prophecy of doom. In this first book of a fast-paced and exciting adventure, both Jaxter and Carrie emerge wiser about the world they live in and are well positioned in their new roles for what is to come in the second book of the Vengekeep Trilogy." --Jack Blanchard, Fairy Godmother, Washington, D.C.

[Many thanks to IndieBound and the ABA!]


Book Brahmin: Phillip Lopate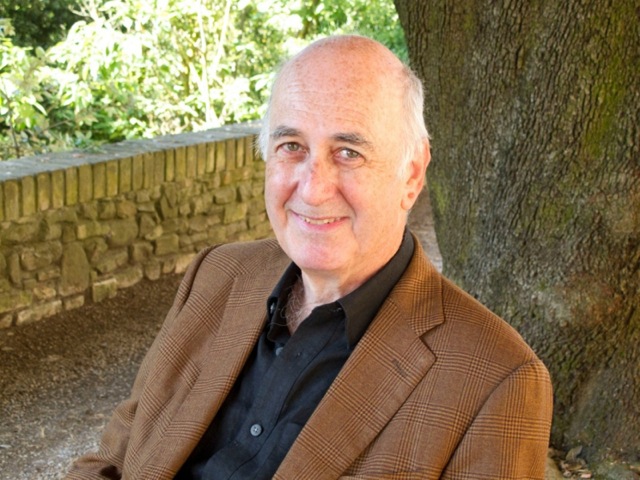 Photo: Sally Gall
Phillip Lopate is the author of more than a dozen books, including the personal essay collections Bachelorhood, Against Joie de Vivre, Portrait of My Body and Waterfront. He directs the graduate nonfiction program at Columbia University and lives in Brooklyn with his wife and daughter. This week, Free Press simultaneously releases his two new works: Portrait Inside My Head: Essays and To Show and To Tell: The Craft of Literary Nonfiction.
On your nightstand now:
I've got a few collections by Max Beerbohm on my nightstand: And Even Now and Around Theatres. Beerbohm was a cheeky, hilarious personal essayist and a terrific drama critic, and I'm working on putting together a new collection of his pieces for New York Review Books. I've also been dipping into Louise Gluck's Poems 1962-2012, because I've long been a fan of hers (as well as a casual friend--I'm usually reading at least one book by someone I know). She is spare and powerful and the genuine article. I want to trace her progression from the early, well-mannered poems to the searingly personal ones, to the later ones speaking through various personae. And finally, I've been reading David Thomson's The Big Screen and finding it very satisfying, because he's so quirky and independent in his judgments, and the book itself is fearlessly outspoken, the way film criticism should be. Of course, I disagree with him at least 30% of the time, but I cherish his no-holds-barred approach.
Favorite book when you were a child:
I'd have to say Robert Louis Stevenson's Kidnapped. There was something about that adventure story of a boy on his own in a scary world, cut off from family and falling in with a swashbuckling man whom he idolizes, and who becomes a surrogate father/older brother to him, that spoke directly to my own hunger for a more engaging, capable, confident father than the one I had. Ever since, I've been intrigued with Stevenson, not only the boy's adventure storyteller, but the essayist, the travel writer, the invalid who married an older woman with children and ended up in the South Seas.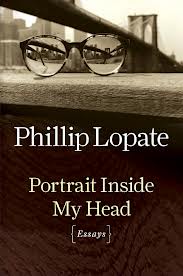 Your top five authors:
These are the top writers who shaped me when I was an adolescent: Fyodor Dostoevsky, Friedrich Nietzsche, Henry Fielding, Denis Diderot, Italo Svevo and Machado de Assis. They were all ironists, and I fell under the spell of Notes from Underground, Rameau's Nephew, Confessions of Zeno, Epitaph for a Small Winner, all that sort of mischievous, prickly, curmudgeonly, antisocial discourse, as well as Nietzsche's impish paradoxes and provocations. Some decades later, when I switched from fiction to essay-writing, Montaigne became my idol, and not far behind him, William Hazlitt, Charles Lamb, Walter Benjamin.... Gee, have I already exceeded five? Impossible to keep to that low number, I have so many favorite authors.
Book you've faked reading:
Midnight's Children by Salman Rushdie. I've always heard it's his best book, a masterpiece, but I started off by reading Rushide's Shame, which I found blustery, overwritten and too pleased with its vulgarities, and couldn't bring myself to tackle his earlier, most likely better novel.
Book you've been an evangelist for:
I always try to get my students to read Sei Shonagan's The Pillow Book. This irresistible grab-bag of poetic nature descriptions, likes, pet peeves, gossipy vignettes and portraits of court life by the 10th-century Japanese noblewoman has an air of total freedom about it, and as such is or should be an inspiration to all aspiring writers. She claims she wrote it just for her own pleasure, as a private diary, and she certainly couldn't care less whether she was offending the conventional sensibilities of her time. A tough-minded lady and a great free-wheeling character to meet on the page. I often find myself thinking, Why don't I just follow her lead, abandon all plot or subject matter and write my own Pillow Book? But I don't have the nerve.
Book you've bought for the cover:
I, Etcetera by Susan Sontag. That's the one with Sontag lounging on a couch, her legs going on forever, while she stares coolly and defiantly at the camera. To return to the above refrain, I knew Sontag off and on for years, and never found her to be quite as glamorous as she came across in photographs. Though I was immensely influenced by her evocative, heady essay-writing style, I also had mixed feelings about some of her work, which ambivalence I later explored in my Notes on Sontag. In any case, I just had to buy that book.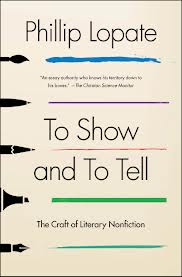 Book that changed your life:
One book that changed my life was Jane Jacobs's The Death and Life of Great American Cities. I had been a more or less unconscious lover of urban experience, and suddenly this book gave me the key, the code to understand what it was I valued so in the daily, rough-and-tumble encounters of street life. Later on I came to question some of her anti-planning biases, but on the whole I have remained a staunch Jacobite in my approach to cities.
Favorite line from a book:
"Never, never, never, never, never," which King Lear pronounces while holding the body of his dead daughter, Cordelia. The finality of it, the austere rigor, raised a shiver up my back. For all of Shakespeare's magnificent language, when push came to shove, all he had to say to explain sudden grief was never, never, never, never, never.
Book you most want to read again for the first time:
Flaubert's Sentimental Education made a great impression on me when I read it the first time in college at 19 years old. I think I was particularly taken with the tense dynamics of friendship between the protagonist, Frederic, and his envious pal, Deslauriers (with whom I identified). Friendship has been a lifetime preoccupation of mine, and I would give a lot to know if the novel would affect me now as deeply. On the other hand, I've found it is sometimes a mistake to go back to those books that shattered you when you were younger. You may be in for a real disillusionment.


Book Review
YA Review: Nobody's Secret
Nobody's Secret by Michaela MacColl (Chronicle, $16.99 hardcover, 248p., ages 12-up, 9781452108605, April 16, 2013)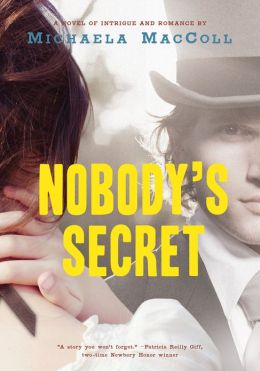 Using Emily Dickinson's poetry and the facts known about her life, Michaela MacColl (Prisoners in the Palace) fashions a suspenseful, often humorous historical novel in which a 15-year-old Emily plays detective when a stranger to town winds up facedown in her family's pond.
Emily is out in the meadow attempting to lure a bee to her nose when a young gentleman approaches her. She asks him who he is, and he tells her he's "nobody important." When he asks her what she's doing, she risks answering him honestly: "Hoping a bee would land on my nose." He takes her pursuit seriously and daubs some honey on her nose, from a piece of honeycomb, to help her achieve her goal ("I have a relation who keeps bees," he explains). She calls him Mr. Nobody, he calls her Miss Nobody, and the author creates instant chemistry between them. Their exchange derives from Emily Dickinson's poem--"I'm Nobody! Who are you?/ Are you--Nobody--Too?"--which also serves as the opening chapter's heading. This sets the clever structure for MacColl's novel: each chapter begins with lines from a Dickinson poem that suits the events to follow.
When Mr. Nobody turns up dead, Emily becomes determined to figure out how Mr. Nobody died as well as his true identity. Emily, being a poet, pays attention to details, and she uncovers one clue after another. Her father is out of town on business, but Emily does not hesitate to invoke his name in her quest for answers. MacColl depicts an era when intelligence is not valued as highly in a woman as it is in a man. (Emily's father "buys me books all the time, but tells me not to read them," Emily tells Mr. Nobody.) Yet she wins over Dr. Gridley and Reverend Colton with her clear reasoning. The author smoothly integrates other historical details, such as the plight of Horace Goodman, the freedman who works for a family in town, Emily's family's role in the founding of Amherst College, and Emily's discomfort with the idea of God being worshipped only in the church. Emily feels God's presence more keenly in Nature--much like the Transcendentalists writing at the time. An afterword includes a wealth of resources for those who wish to learn more about Emily Dickinson and her poetry.
As reclusive as Dickinson reportedly was, MacColl demonstrates how accessible her poetry was, and why Emily Dickinson has earned a place as one of America's most beloved poets. --Jennifer M. Brown
Shelf Talker: A young Emily Dickinson solves the mystery of a stranger's death in her small town of Amherst, Mass., in this inventive novel.