Shelf Awareness for Thursday, April 25, 2013

News
Barbara's Bestsellers May Return to South Station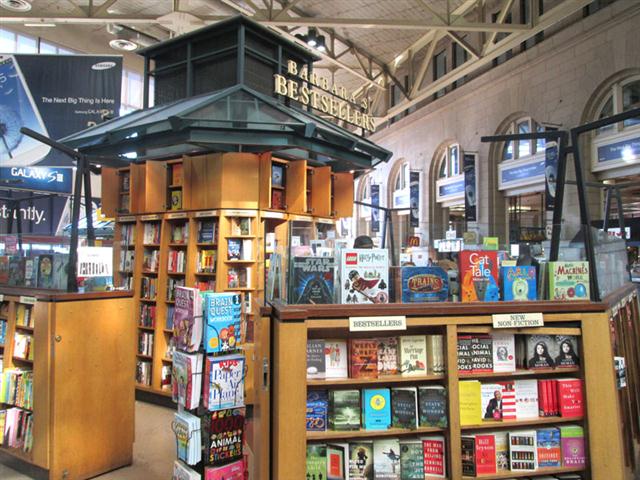 photo: hipharp.com
Barbara's Bestsellers in South Station, Boston, Mass., which closed this week, hopes to reopen elsewhere in the train station, Barbara's owner Don Barliant told the Boston Business Journal. The new Barbara's would likely be even smaller than the old 417-square-foot kiosk.
"I love our South Station location," Barliant said. "It's one of the best remaining bookstores in Boston and it was very profitable and always was. We're hoping we can reach a deal, but nothing has been signed. It's possible that the plan for new space won't work out, but if a deal happens it would be in the next week or so."
Barliant said that Barbara's Bestsellers' lease had run out two years ago, and it was operating on a month-by-month basis. A real estate agent told the Journal that while Barbara's was paying $4,000 a month in rent, the apparent new tenant, Starbucks, will pay $20,000 a month.
Barbara's Bookstore first opened on Wells Street in Old Town in Chicago in the 1960s, and expanded in the Chicago area and the Northeast to include branches in railroad stations, airports, office towers and a hospital. Barbara's also has several stores and book sections in several Macy's stores.


Angela Bole New Executive Director of IBPA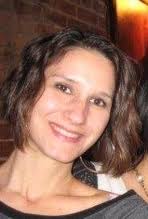 Effective July 17, Angela Bole is becoming executive director of the Independent Book Publishers Association, replacing Florrie Binford Kichler, who will retire in June. Terry Nathan continues as chief operating officer of IBPA.
Bole is deputy executive director of the Book Industry Study Group, a position she has held since 2009. Earlier she was associate director and marketing and communications manager at BISG. She has English literature and gender studies degrees from Indiana University Bloomington and a master's in book publishing from New York University. She is a member of the Women's Media Group and is treasurer of the International Digital Publishing Forum.
Bole commented: "IBPA has been uniquely positioned as the heart and soul of independent publishing for 30 years. Being extremely passionate about books and storytelling in all possible genres and formats, I knew right away IBPA was the perfect fit. It's a community center, a support network, an education hub, and proof that it's possible to do together what it's impossible to do alone."
Kichler has been an IBPA board member or officer for more than a decade, serving as chair and president for parts of that time. She is founder and president of Patria Press, Carmel, Ind.


James Patterson Explains 'The Ad'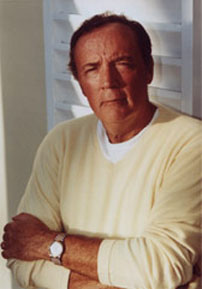 James Patterson spoke with Salon about the full-page ad he placed earlier this week on the back page of the New York Times Book Review advocating for government intervention to save the book trade.

"I don't think it's a question of bailing out, necessarily," he said. "In Germany, Italy and France, they protect bookstores and publishers. It is widely practiced in parts of Europe. I don't think that's outlandish. But people have mixed feelings about the government doing anything right now.

"I haven't thought about it but I'm sure there are things that can be done. There might be tax breaks, there might be limitations on the monopolies in the book business. We haven't gotten into laws that should or shouldn't be done in terms of the Internet. I'm not sure what needs to happen, but right now, nothing's happening."


PAMA Panel: What Exactly Is 'New Adult?'
"New Adult" has become one of the leading buzzwords of today's book marketplace, but what exactly does it mean? A recent panel discussion put together by the Publishers Advertising and Marketing Association made answering that question one of its first priorities. Amy Tannenbaum, a literary agent with the Jane Rotrosen Agency, described this emerging genre's focus on late teen and 20-something characters: "They're no longer kids, but they're not quite adults," she said. "They don't have to think about the consequences of their actions the way adults do."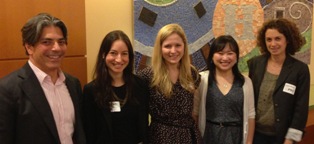 L-r: Pascocello, Tannenbaum, Bergeron, and Hwang with PAMA president and Workman marketing director Jessica Wiener
Cindy Hwang, an executive editor with the Berkley Publishing Group, noted that, as in young adult fiction, New Adult novels are often coming-of-age stories, set in (or just after) college rather than high school. "College-age novels used to fail because they were published by YA divisions," she explained; college stories just made teen readers anxious, rather than entertaining them. But an author like Jamie McGuire could self-publish a novel like Beautiful Disaster and, not knowing that it wasn't supposed to "work" in the existing marketplace, find an untapped audience of women in their 20s who'd been waiting for a sexually charged college romance. (McGuire did so well on her own that she was able to sell the novel, and a sequel, to Atria--to Tannenbaum, in fact, who was still editing then.)
Though some New Adult titles have sensual elements to them, Hwang was careful to make a distinction between erotic romance--where the relationship is still the primary focus of the story--to erotica, which emphasizes the sex. She expressed some displeasure at the conflation of the two categories, and how trying to wedge the success of New Adult into a post-50 Shades landscape has led to descriptions of New Adult as "sleazy YA" and (in her opinion) the mislabeling of some authors and their books. "Would I define Sylvia Day as New Adult?" she asked rhetorically, citing the author of the bestselling Bared to You and its sequels. She would not, though other people have.
Everyone, however, bristled at the suggestion that New Adult might steer away from "mature" subject matter. "We're an adult imprint, so our marketing efforts are focused on adult audiences," said Amanda Bergeron, an associate editor at William Morrow and Avon. Hwang suggested that the metadata associated with New Adult titles could be refined; already, we're seeing certain publishers indicating such titles are intended for readers 18 and older.
Rick Pascocello, v-p and executive marketing director of Berkley/NAL, noted that the success of New Adult was primarily an Amazon/e-book phenomenon. When the question of how this genre plays in bricks-and-mortar indie shops came up, Hwang observed "it's been harder for the bookstores to figure out where to place the titles." McGuire's novel has been the only New Adult to break out in print so far, but Pascocello commented that several of Berkley's accounts have begun to ask for similar books. Bergeron also reported that Morrow is planning to distribute a sampler of its New Adult titles later in 2013.
Hwang warned that while there have been prominent erotica success stories in the last two years, "it's harder now for a new author to break in--and it's probably going to be harder for them to build an audience." The market, she added, is already "saturated." Big-name authors like E.L. James will likely continue to do well, but we're not likely to see many more authors following in her wake. Tannenbaum was more optimistic about New Adult's prospects: "I don't see an end in sight," she said. "Why would people want to stop reminiscing about their college years?" And, as even Hwang admitted, "the thing is, we haven't peaked yet." --Ron Hogan


U.K. Booksellers Deliver Petition to #10 Downing St.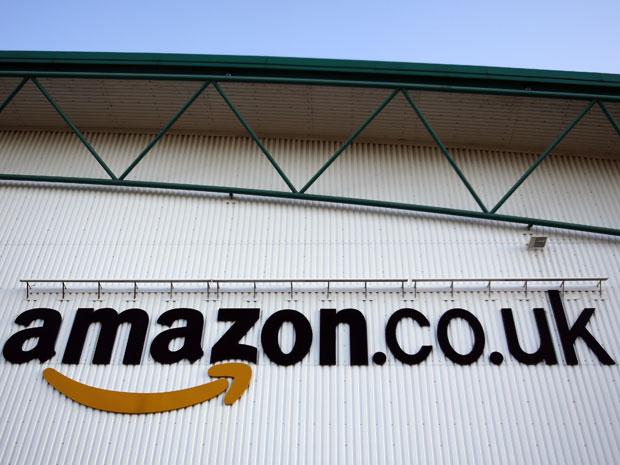 A petition calling for Amazon to pay more U.K. corporation tax was hand-delivered yesterday to the British Prime Minister's residence at 10 Downing St. in London by Frances and Keith Smith of Warwick Books and Kenilworth Books, the Bookseller reported.

Frances Smith said the petition, which garnered more than 150,000 signatures, was part of a movement to "keep putting pressure on the government to so something in the long term.... We've heard some warm words from government on clamping down on the tax avoiders, but not so much action. Surely it's about time that all companies who choose to do business and make profits in this country pay a reasonable amount of tax on their operations, just like we do."


Sendak Tribute at ABFFE Silent Auction
A special tribute to the late Maurice Sendak will be featured at BEA during the annual Children's Book Art Silent Auction, which benefits the American Booksellers Foundation for Free Expression.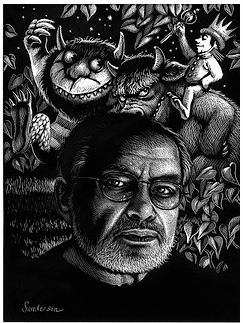 This year's auction will offer pieces created by children's book illustrators in honor of Sendak, who mentored and inspired many artists. A special auction area will be devoted to the items. Among artists donating work to the Maurice Sendak Memorial are Ruth Sanderson, Deborah Freedman and Wendy Watson.

"Maurice Sendak is probably the illustrator most universally revered by other illustrators working in the field today. He has been the gold standard by which all others are judged, and by which we judge ourselves," said Sanderson.

Illustrators interested in submitting artwork to honor Sendak or general artwork for the auction can contact ABFFE auction manager Kristen Gilligan Vlahos.


Obituary Note: Edward de Grazia
Edward de Grazia, a "fierce civil libertarian," lawyer and teacher "who in the 1950s and '60s broadened the scope of what Americans would be allowed to read by helping to defeat government bans on sexually explicit books," died on April 11, the New York Times reported. He was 86.


Notes
Image of the Day: Tomorrow Tonight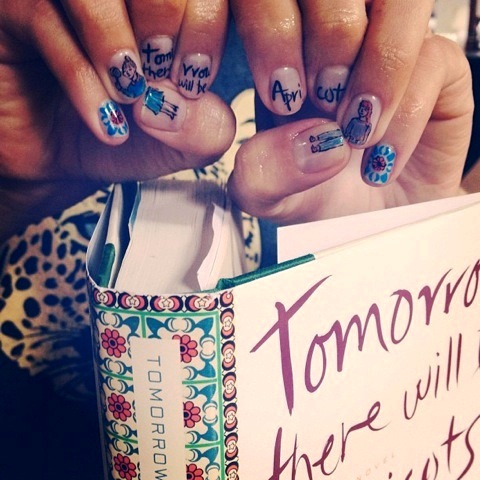 Tonight McNally Jackson in New York City hosts the launch event for debut novel Tomorrow There Will Be Apricots by Jessica Soffer (Houghton Mifflin Harcourt). Soffer, who will be in conversation with Colum McCann, had her nails done for the occasion!


Amazon's 'Most Well-Read Cities' in U.S.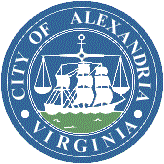 For the second straight year, Alexandria, Va. topped Amazon's list of the "Most Well-Read Cities in America," which is compiled from sales data of all book, magazine and newspaper sales in both print and Kindle format since June 1, 2012, on a per capita basis in cities with more than 100,000 residents. This year's top 20 are:
| | |
| --- | --- |
| 1. Alexandria, Va. | 11. St. Louis, Mo. |
| 2. Knoxville, Tenn. | 12. Salt Lake City, Utah |
| 3. Miami, Fla. | 13. Seattle, Wash. |
| 4. Cambridge, Mass. | 14. Vancouver, Wash. |
| 5. Orlando, Fla. | 15. Gainesville, Fla. |
| 6. Ann Arbor, Mich. | 16. Atlanta, Ga. |
| 7. Berkeley, Calif. | 17. Dayton, Ohio |
| 8. Cincinnati, Ohio | 18. Richmond, Va. |
| 9. Columbia, S.C. | 19. Clearwater, Fla. |
| 10. Pittsburgh, Pa. | 20. Tallahassee, Fla. |


Personnel Changes at Egmont USA
Margaret Coffee has joined Egmont USA as sales and marketing director. She has more than 25 years of experience in publishing and most recently was v-p of sales at Albert Whitman. Before that, she was director of field sales at Scholastic, where she worked in sales for 16 years; was a sales rep at Penguin; was Candlewick Press's first Midwestern sales rep; and began her career in marketing at Dutton's Children's Books.
Katie Halata, formerly marketing manager at Egmont USA, is now sales and marketing manager.


Book Trailer of the Day: Saul Bellow's Heart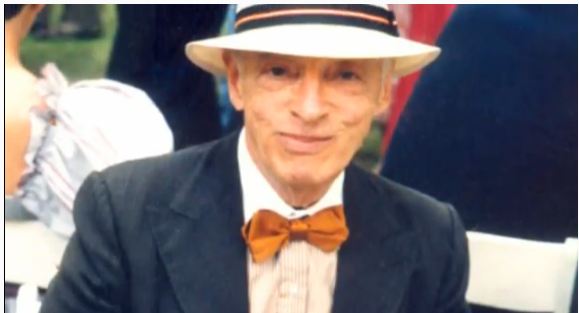 Saul Bellow's Heart: A Son's Memoir by Greg Bellow (Bloomsbury).


Media and Movies
Media Heat: Michael Pollan on Science Friday
Today on the Rachael Ray Show: Lidia Bastianich, author of Lidia's Family Kitchen: Nonna's Birthday Surprise (Running Press Kids, $16.95, 9780762446551).
---

Tomorrow on HLN's Jane Velez-Mitchell: Rory Freedman, author of Beg: A Radical New Way of Regarding Animals (Running Press, $18, 9780762449545).
---
Tomorrow on NPR's Science Friday: Michael Pollan, author of Cooked: A Natural History of Transformation (Penguin Press, $27.95, 9781594204210).
---
Tomorrow on ABC's 20/20: Jill Smokler, author of Motherhood Comes Naturally (and Other Vicious Lies) (Gallery, $15, 9781476728346).


This Weekend on Book TV: Bolivar: American Liberator
Book TV airs on C-Span 2 this week from 8 a.m. Saturday to 8 a.m. Monday and focuses on political and historical books as well as the book industry. The following are highlights for this coming weekend. For more information, go to Book TV's website.

Saturday, April 27
3:45 p.m. Gary Shapiro discusses Ninja Innovation: The Ten Killer Strategies of the World's Most Successful Businesses (Morrow, $25.99, 9780062242327).

4:45 p.m. Busboys and Poets, Washington, D.C., hosts an event for photographer Rennio Maifredi and writer Zainab Salbi, who collaborated on the book If You Knew Me You Would Care (powerHouse Books, $65, 9781576876190).

7 p.m. Ann Kirschner presents her book Lady at the O.K. Corral: The True Story of Josephine Marcus Earp (Harper, $27.99, 9780061864506). (Re-airs Sunday at 9:45 a.m.)

8 p.m. David Graeber talks about his book The Democracy Project: A History, A Crisis, A Movement (Spiegel & Grau, $26, 9780812993561).

9 p.m. Denis Brian discusses his book The Elected and the Chosen: Why American Presidents Have Supported Jews and Israel (Gefen Publishing House, $24.95, 9789652295989). (Re-airs Sunday at 6:30 a.m.)

10 p.m. After Words. National Law Journal's Jenna Greene interviews Karen Houppert, author of Chasing Gideon: The Elusive Quest for Poor People's Justice (New Press, $26.95, 9781595588692). (Re-airs Sunday at 9 p.m., Monday at 12 a.m. & 3 a.m., and May 5 at 11 a.m.)

11 p.m. David Harsanyi presents his book Obama's Four Horsemen: The Disasters Unleashed by Obama's Reelection (Regnery, $27.95, 9781621570677).

Sunday, April 28
12 a.m. A conversation between Edward Jay Epstein, author of The Annals of Unsolved Crime (Melville House, $26, 9781612190488), and Errol Morris, author of A Wilderness of Error: The Trials of Jeffrey MacDonald (Penguin, $29.95, 9781594203435).

7 p.m. At an event hosted by Politics and Prose Bookstore, Washington, D.C., Marie Arana presents her book Bolivar: American Liberator (S&S, $35, 9781439110195).

8 p.m. Donovan Campbell discusses his book Joker One: A Marine Platoon's Story of Courage, Leadership, and Brotherhood (Random House, $16, 9780812979565). (Re-airs Monday at 4 a.m.)

10 p.m. Former Senator Kay Bailey Hutchison talks about her book Unflinching Courage: Pioneering Women Who Shaped Texas (Harper, $27.99, 9780062130693).

10:45 p.m. At an event hosted by the Book Stall at Chestnut Court, Winnetka, Ill., Vladimir Alexandrov recounts the life of Frederick Bruce Thomas in his book The Black Russian (Atlantic Monthly Press, $25, 9780802120694).


Books & Authors
Awards: Lambda Literary Foundation Honors
Augusten Burroughs, John Irving and Cherríe Moraga are being honored by the Lambda Literary Foundation this year. Burroughs will receive the Foundation's Trustee Award, Irving the Bridge Builder Award and Moraga the Pioneer Award.

"The works by this year's special honorees have brought us memorable characters, radical ideas, and have been profoundly influential," LLF executive director Tony Valenzuela said. "Their contributions are original and leave an enduring mark on our literature."

Lambda also announced that the James Duggins Outstanding Mid-Career Novelist Prize winners are Nicola Griffith and Trebor Healey, who will each receive $5,000. The Dr. Betty Berzon Emerging Writer Award goes to Sassafras Lowrey and Carter Sickels, who will each get $1,000.

They will be honored, along with dozens of writers chosen from the extensive list of Lambda Literary Awards finalists, at a ceremony June 3 in New York City.


Attainment: New Titles Out Next Week
Selected new titles appearing next Tuesday, April 30:
Waiting to Be Heard: A Memoir by Amanda Knox (Harper, $28.99, 9780062217202) explores the four years Knox was imprisoned in Italy for her roommate's murder.

VB6: Eat Vegan Before 6:00 to Lose Weight and Restore Your Health . . . for Good by Mark Bittman (Clarkson Potter, $26, 9780385344746) is a part-time vegetarian dieting plan.

The Woman Upstairs by Claire Messud (Knopf, $25.95, 9780307596901) follows a lonely school teacher who grows attached to her new neighbors.

Stolen by Daniel Palmer (Kensington, $25, 9780758246660) features a husband who pays for his wife's medical treatments by committing identity theft.

Clean Gut: The Breakthrough Plan for Eliminating the Root Cause of Disease and Revolutionizing Your Health by Alejandro Junger (HarperOne, $27.99, 9780062075864) claims all disease stems from the "gut."

Beg: A Radical New Way of Regarding Animals by Rory Freedman (Running Press, $18, 9780762449545) advocates compassion for all animals.


Book Review
Review: The Peripatetic Coffin and Other Stories
The Peripatetic Coffin and Other Stories by Ethan Rutherford (Ecco, $13.99 paperback, 9780062203830, May 7, 2013)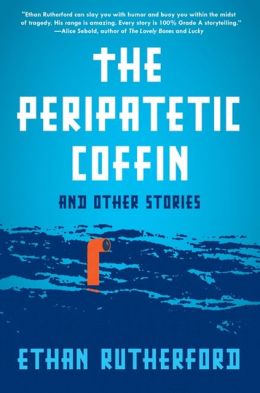 The Peripatetic Coffin, Ethan Rutherford's debut collection of short stories, is a keeper. His work creeps up on you when you're not looking, like the title story. The coffin in question is the Civil War-era submarine H. L. Hunley: 40 metallic feet long, with a four-foot beam and a cabin height of four feet, it is the Confederacy's secret savior. With a bomb attached to the bow, it will, with underwater stealth, destroy the Union ships blockading Charleston harbor. Narrated by Ward Lumpkin, who mans the second crank station, the tale is one of honor, courage and blind faith in a "contraption that has killed thirteen men, including its inventor, on test runs alone." Their night attack on the USS Housatonic succeeds, but the sub never makes it back to port. In the dark, as the water rises, Ward wonders if they were "but a spectacle of self-defeat."
There are two other beautifully rendered nautical tales. "The Santa Anna" is a superbly atmospheric piece about a Russian schooner trapped in the Arctic ice; "dirwhals!" is a sharp piece of environmental science fiction about the shipper-tank Halcyon hunting sand-diving beasts on the "rolling hills and oppressive heat" of the Desert Gulf of Mexico, a million miles from earth.
In "A Mugging," a middle-aged couple is mugged at night. Charles is punched in the face; the first time ever. Quietly, painfully, Rutherford reveals the "unsettling" effects of the incident, culminating in a snowy night when Charles sees Claire in the window: "He wishes she were anyone, at this point, but his wife." He pulls his hood low over his face and throws a snowball at the window, "pleased with the sound."
"Summer Boys," about two inseparable fifth-graders, opens all nostalgic: the joys of youth, skateboarding, adventures. Then, as with "A Mugging," the story takes a turn down a dark corridor in one boy's house. And even though they're "just boys," one of them "senses the end of something approaching." He tells us he will "be in this basement the rest of my life."
Add a whimsical, absurdist tale about a summer camp where campers die trying to retrieve a stolen mascot moose head, a powerful portrait about a son gone wrong and its devastating effect on the family and, to round things out, ruminations on lost love and a sick alpaca, and you've got a revelatory feast of storytelling. --Tom Lavoie
Shelf Talker: Eight masterful tales inject power, subtlety and emotion into an unforgettable cast of beleaguered, doomed characters.


Ooops
Off Script: Ellroy Is Adapting Shakedown
Yesterday's piece on Shakedown, a TV drama FX is developing based on James Ellroy's novella incorrectly identified the scriptwriter as Joel Gotler, who is the author's manager. Ellroy will adapt his own story for the show and is one of the executive producers. Our apologies for the error.