Shelf Awareness for Thursday, May 16, 2013

News
2012 Trade Sales: E-Books Sales Up but Rate of Growth Slows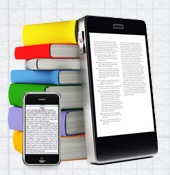 In 2012, trade book sales rose 6.9%, to $15.049 billion, and e-book sales continued to grow, although the rate of growth slowed, according to Bookstats, a survey conducted by the Book Industry Study Group and the Association of American Publishers that includes data from nearly 2,000 publishers.
After several years of triple-digit growth, e-book sales grew 43% in 2012, representing 457 million e-books compared to 557 million hardcovers, and e-books now account for about 20% of publishers' revenues, up from 15% in 2011. The strongest segment of the e-book market remained adult fiction, boosted by erotica, with sales up 42%. Nonfiction e-book sales rose 22% while children's/YA rose 117%. The audiobook format, sparked by mobile device sales and downloadable content, also remains solid.
Hardcover and paperback sales were essentially flat while mass market sales fell. In the first full year following the collapse of Borders, publishers' sales to bricks-and-mortar retailers dropped 7%, to $7.5 billion. By contrast, sales to online retailers rose 21%, to $6.9 billion.
"The numbers reflected a publishing industry where more books are available in more formats than ever before, and where consumers' preferences continue to shift," the New York Times wrote.
USA Today noted the e-book numbers showed "enough of a difference in the annual growth rate to have publishers talking about an e-book 'slowdown,' even as digital books remain the fastest-growing part of the market."

The "slowdown reflects a marketplace that is maturing with multiple formats--digital and print," said Michael Pietsch, CEO of the Hachette Book Group. "In all the talk about e-books, we often lose track of the fact that more than three out of four books sold in the U.S. are still printed ones."

Barnes & Noble CEO William Lynch added: "Consumers have settled into their book formats of choice. Physical book sales will have a longer tail than previously anticipated."


Live from Lincoln Center: 'An Evening with Dan Brown'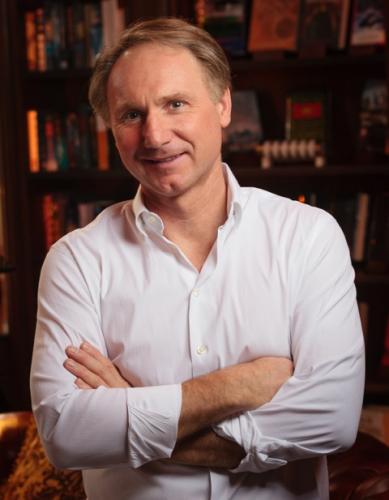 "Ho hum. Another launch of another Dan Brown book," joked Today host Matt Lauer as he came out on stage at Lincoln Center's Avery Fisher Hall in Manhattan to introduce "A Night with Dan Brown," during which the mega-bestselling author actually had not all that much to say about his latest novel, Inferno (Doubleday), which went on sale Tuesday. Instead, Brown spoke at length about the tension between science and religion in his work, connecting it to his life story. "I grew up the child of a church organist and a math teacher," he explained, introducing his parents, who were sitting near the front of the theater. "I was pretty much confused from day one." Brown pulled out personalized license plates for both parents' cars--KYRIE for his "Church Lady" mom, METRIC for his rationalist dad--as his childhood became the backdrop for the question, "How do we become modern, science-minded people without losing our faith?"
He did, eventually, talk about Inferno--but would share only three words that he said would point to some of its most important themes. From Dante's original epic poem, he teased the Italian term contrappasso, "to suffer the opposite," elaborating on how the sinners in Dante's hell endured punishments that were ironic reversals of their misdeeds in life. Then, he mentioned transhumanism, which he described as a controversial realm of cutting-edge science, including the projected ability to manipulate our own genetic makeup. Finally, Malthusian, an invocation of the Industrial Revolution-era philosopher Robert Malthus's warnings about the dangers of overpopulation. "In 85 years," Brown noted, "the population of this world has tripled."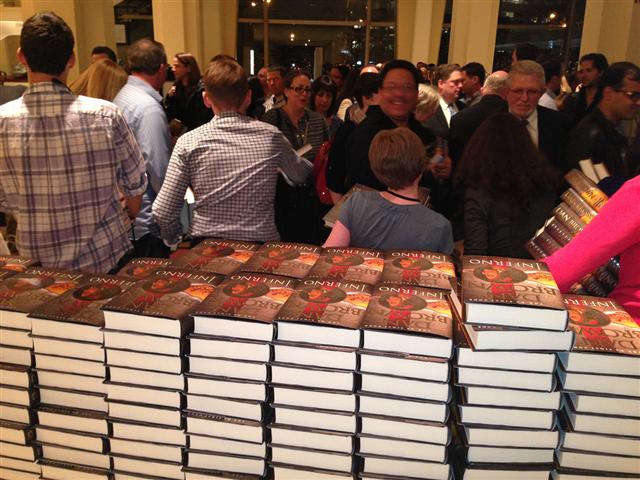 Brown had also commented that this event was the first time that he'd launched one of his novels at a location other than his local bookshop, Water Street Bookstore in Exeter, N.H., which had been supporting his work even before he was famous. (They were still a part of the evening, though; Brown's talk was being livestreamed at the shop.) Afterward, as the audience made their way out, Doubleday had stacks of Inferno ready to hand out. --Ron Hogan


BookLikes: Another Social Reading Site Launches

BookLikes, which has just moved from beta to full release, combines "different aspects of social media sites such as Tumblr and Goodreads to become a place for readers to share thoughts and reviews," TeleRead reported, adding that users "can create different posts about anything... follow other users, read their posts and discover books they've read."

TeleRead also highlighted what it termed a "noticeable aspect: Users can link to affiliate sites such as Amazon in the United States. It seems that there's a potential to make money on this site if your gain a bunch of followers and get them to purchase books through Amazon."


Seattle Mystery Bookshop's Real Whodunnit Solved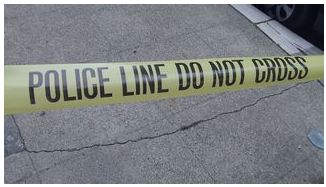 A portion of Cherry Street in front of Seattle Mystery Bookshop was cordoned off with police tape yesterday morning after someone reported a suspicious package outside the bookstore. KOMO News reported that "officers arrived to find a granola bar in an inflated package and a modem card attached by a phone cord. All three items were sitting on top of a piece of white paper." Seattle Police Department's Arson/Bomb Squad was called in, and determined the items were harmless.

The store's blog noted: "In this day and age, you cannot be too careful. Thanks to the SPD for making sure everything was safe at the shop. That was the start of our day, how was yours?"

KOMO updated the story later in the day after a Twitter follower informed them that "this morning's granola-powered bomb actually started as what appears to be the world's saddest garage sale."


BEA: In-Booth Autographing Schedule Now Available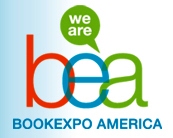 For those of you finalizing your game plans for BookExpo America in New York City at the end of the month, BEA has released its in-booth autographing schedule.


Obituary Note: Penry Williams
Oxford historian Penry Williams, "who wrote well-regarded books on the government of Tudor England, including Sir Walter Raleigh: In Life and Legend, died last month, the Guardian reported. He was 88.


Notes
Historic Preservation Award for Peregrine Book Company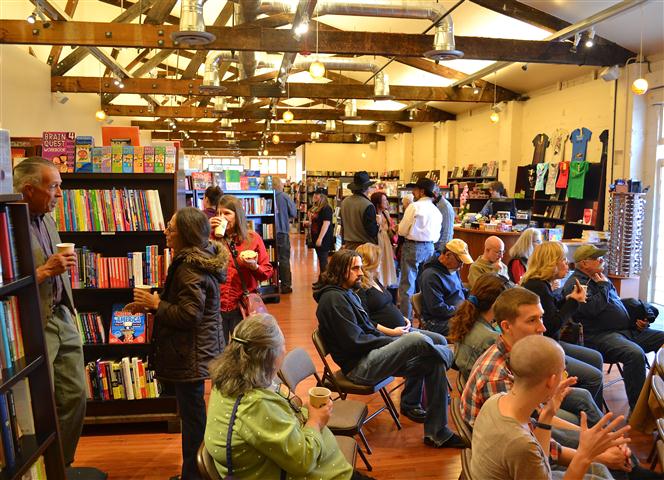 As part of Arizona Historic Preservation Month, Peregrine Book Company received the Prescott Preservation Commission Restoration Award for renovation of its building in the old downtown near the Santa Fe Railroad Depot. The bookstore, which opened last November, transformed the old structure into beautiful retail space with massive wooden trusses, LED lighting, handblown glass fixtures, and 16 skylights. Windows that had been stuccoed over decades ago were reopened and replaced with energy efficient glazing. The entrance features a locally crafted wooden door with a bronze peregrine feather for a handle.

"The City of Prescott wishes to acknowledge and thank [the Peregrine] for a job well done in restoring/rehabilitating their historic property," said Cat Moody, Prescott historic preservation specialist.

The location had been a livery stable, a lumberyard and a streetcar garage before the present building was built in 1930 for the Arizona Mining Supply Corporation. Over the years, it has housed a hardware store, a bank and a boutique, though most of the building has been essentially a warehouse for many years.


Boswell Book Co.: 'We'll Be Here as Long as You Want Us'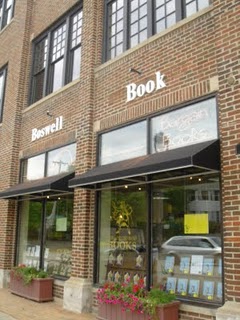 Noting that shopping habits in Milwaukee, Wis., are changing as the city's "retail landscape continues to evolve," OnMilwaukee.com's "Retail Week" series plans to "highlight shopping through a creative and diverse lens." Among the local business people interviewed was Boswell Book Company's owner Daniel Goldin, who was asked about the presumption that it is more expensive to buy locally made products.

"I try to focus on what I can do to build business, driving folks into the store, and compelling them to make a purchase with selection, service and a good experience," he said. "We can't price match, but we have a nice selection of bargain and second hand books, and we have a nice loyalty program and selected discounting of new hardcovers.

"I do say to them that we'll be here as long as you want us, and that, for example, we're not able to price match our Internet competitor when asked. We have customers who get it and are very supportive, and other folks who showroom us.

"We do know that a lot of our customers feel particularly attached to the store, and we've had a number of transplants that have told me that Boswell is one of the reasons they like it in Milwaukee. I've also heard that a lot of visitors find that the bookstore compares favorably with wherever they live, if they even have one at all. We actually get a decent amount of tourists!"


Building a Better Hotel Library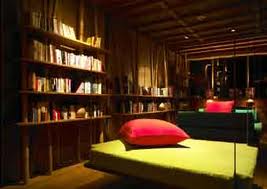 Ultimate Library, which was started by Philip Blackwell in 2007 "after a few too many stays in book-impoverished lodgings," selects and supplies books on behalf of its hotel clients for use in library, lounge and individual rooms, the Economist reported. The former CEO of his family's bookstore chain "has sold his library vision to the likes of Aman Resorts, Swire Hotels and the Savoy."

Blackwell's clients have invested as much as $30,000 "to ensure a bit of professional nous is applied to the selection. Those hotels that use the Ultimate Library's services do not necessarily let Mr. Blackwell's team get on with the job unimpeded. 'With one hotel,' he says, 'we had to come up with 150 books and justify each one,' " the Economist noted.

"There is an emotional value to physical books," said Blackwell.


Book Trailer of the Day: The Resurrectionist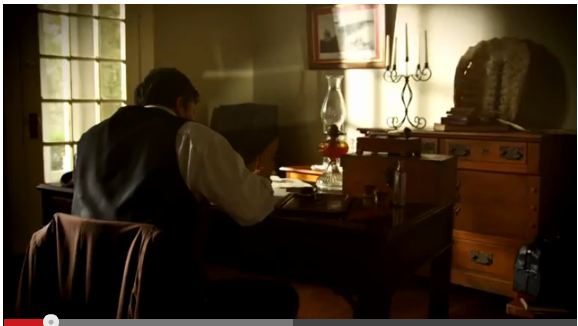 The Resurrectionist by E.B. Hudspeth (Quirk Books), a novel with more than 100 illustrations that the publisher describes as a cross between Frankenstein and Gray's Anatomy.


Media and Movies
Media Heat: Ken Robinson on NPR's On Point
This morning on MSNBC's Morning Joe: Paul Anka, co-author of My Way: An Autobiography (St. Martin's, $29.99, 9780312381042).
---
Tomorrow morning on CBS This Morning: Ian Punnett, author of How to Pray When You're Pissed at God: Or Anyone Else for that Matter (Harmony, $20, 9780307986030).

---

Tomorrow morning on the Today Show: Pamela Ryckman, author of Stiletto Network: Inside the Women's Power Circles That Are Changing the Face of Business (AMACOM, $22.95, 9780814432532). She will also appear on NBC's Rock Center with Brian Williams.

---

Tomorrow on the View: Jackie Hance, author of I'll See You Again (Gallery, $26, 9781451674774).

---

Tomorrow on MSNBC's Hardball with Chris Matthews: Olympia Snowe, author of Fighting for Common Ground: How We Can Fix the Stalemate in Congress (Weinstein, $26, 9781602862173).

---

Tomorrow on NPR's On Point: Ken Robinson, co-author of Finding Your Element: How to Discover Your Talents and Passions and Transform Your Life (Viking, $27.95, 9780670022380).

---

Tomorrow on MSNBC's the Cycle: Steve Schirripa, co-author of Big Daddy's Rules: Raising Daughters Is Tougher Than I Look (Touchstone, $25, 9781476706344).

---

Tomorrow on Moyers & Company: Gerald Markowitz and David Rosner, authors of Lead Wars: The Politics of Science and the Fate of America's Children (University of California Press, $34.95, 9780520273252). They will also be on the Tavis Smiley Show.


Movie: The Maze Runner
Filming began Monday for 20th Century Fox's film adaptation of James Dashner's YA novel The Maze Runner. Entertainment Weekly featured an illustration director Wes Ball created for inspiration, noting that the "massive walls seem simultaneously industrial and ancient. They have the scale of natural rock formations, but there is no such thing as straight lines like these in the wild. From the creeping vines and empty corridors, the walls also seem to have been totally abandoned... except for a group of young boys who live in the grassy center of this intimidating structure."

"I like writing images," said Ball. "I started daydreaming about what it's like to be at those doors and looking up at those walls." The movie is scheduled to open February 14, 2014.


This Weekend on Book TV: Gaithersburg Book Festival Live
Book TV airs on C-Span 2 this week from 8 a.m. Saturday to 8 a.m. Monday and focuses on political and historical books as well as the book industry. The following are highlights for this coming weekend. For more information, go to Book TV's website.

Saturday, May 18
10 a.m. Book TV offers live coverage from the Gaithersburg Book Festival, held on the grounds of the Gaithersburg, Md., City Hall. Events include a panel on independent bookselling moderated by Shelf Awareness's own John Mutter featuring Mitchell Kaplan of Book & Books, Lissa Muscatine of Politics and Prose and Chris Kerr of Parson Weems. (Re-airs Sunday at 12 a.m.)

6 p.m. BookTV visits Columbia, S.C., to interview several of the city's authors and tour its literary sites. (Re-airs Sunday at 11 a.m.)

7 p.m. Lanny Davis presents his book Crisis Tales: Five Rules for Coping with Crises in Business, Politics and Life (Threshold Editions, $27, 9781451679281).

8:45 p.m. Eve Ensler talks about her book In the Body of the World: A Memoir (Metropolitan, $25, 9780805095180).

10 p.m. After Words. Ariel Cohen, the Heritage Foundation's Senior Research Fellow for Russian and Eurasian Studies, interviews Diana West, author of American Betrayal: The Secret Assault on Our Nation's Character (St. Martin's, $26.99, 9780312630782). (Re-airs Sunday at 9 p.m., Monday at 12 a.m. & 3 a.m. and Sunday at 12 p.m.)

11 p.m. For an event hosted by Kepler's Books, Menlo Park, Calif., John Geoghegan discusses Operation Storm: Japan's Top Secret Submarines and Its Plan to Change the Course of World War II (Crown, $28, 9780307464804).

Sunday, May 19
6 p.m. Book TV interviews Hermione Lee in London about the process of writing biographies and the lives of Virginia Woolf and Edith Wharton. (Re-airs Monday at 2 a.m.)

6:30 p.m. Book TV interviews Charles Emmerson, author of 1913: In Search of the World Before the Great War in London (PublicAffairs, $30, 9781610392563). (Re-airs Monday at 2:30 a.m.)

7:30 p.m. Neil Gross presents his book Why Are Professors Liberal and Why Do Conservatives Care? (Harvard University Press, $35, 9780674059092).

10 p.m. Facebook COO Sheryl Sandberg talks about her book Lean In: Women, Work and the Will to Lead (Knopf, $24.95, 9780385349949).


Books & Authors
Awards: Chautauqua; Bollinger Everyman Wodehouse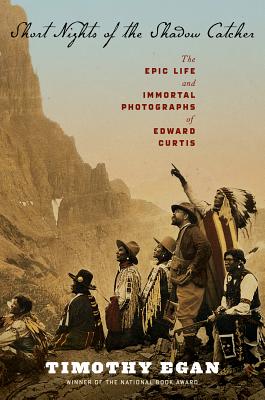 Timothy Egan won the $7,500 Chautauqua Prize for his book Short Nights of the Shadow Catcher (Houghton Mifflin Harcourt). Presented annually by the Chautauqua Institution to a book of a book of fiction or literary/narrative nonfiction "that provides a richly rewarding reading experience and honors the author for a significant contribution to the literary arts," the award also includes all travel and expenses for a one-week residency at Chautauqua.

"Given the history of Chautauqua, and its role as a summer retreat for lovers of history, art, brisk argument and the written word, I couldn't be more thrilled to be a small part of this," said Egan. "You've helped to give the subject of my book, the American Indian photographer Edward Curtis, a bit of a renaissance."

Sherra Babcock, Chautauqua Institution v-p, said, "Egan writes with such lyrical prose that Edward Curtis and his obsession to document the Native American haunted me long after I read the last sentence."

---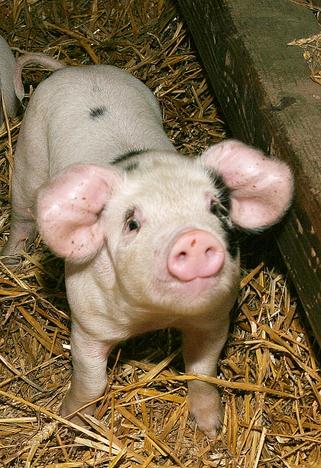 Howard Jacobson became the first two-time winner of the Bollinger Everyman Wodehouse Prize for comic fiction when his novel Zoo Time took the award yesterday, the Guardian reported, noting that the winner "as is traditional will be presented with a locally-bred Gloucestershire Old Spot pig named after their winning title."

Jacobson, who had previously won in 2000 for Mighty Walzer, said, "This is the only literary prize that actively seeks out and rewards comedy. Other prizes often view it as sort of embarrassing writerly malfunction--which is treacherous, in my view, when you consider the comic origins of the novel and the strong comedic traditions of English writing in particular." He added that he was concerned his pig had to be called Zoo Time: "It feels a bit tactless. But it could have been worse. It could have been Bring Up the Bodies."


Attainment: New Titles Out Next Week
Selected new titles appearing next Tuesday, May 21:

Margaret Thatcher: From Grantham to the Falklands by Charles Moore (Knopf, $35, 9780307958945) is the first part of an authorized biography of the late Prime Minister.

The Redeemer by Jo Nesbø, translated by Don Bartlett (Knopf, $25.95, 9780307595850) is the newest thriller starring Oslo investigator Harry Hole.

A Chain of Thunder: A Novel of the Siege of Vicksburg by Jeff Shaara (Ballantine, $28, 9780345527387) is the second part of a Civil War historical fiction trilogy.

Brotherhood: Dharma, Destiny, and the American Dream by Deepak Chopra and Sanjiv Chopra (New Harvest, $28, 9780544032101) chronicles the Chopra brothers' journeys from India to America.

Eleven Rings: The Soul of Success by Phil Jackson and Hugh Delehanty (Penguin Press, $27.95, 9781594205118) explores the career of the former coach of the Chicago Bulls and Los Angeles Lakers.

Norwegian by Night by Derek Miller (Houghton Mifflin Harcourt, $26, 9780547934877) follows an elderly Korean War veteran who moves to Norway with his granddaughter.

The Asylum by John Harwood (Houghton Mifflin Harcourt, $25, 9780544003477) is a Victorian thriller about an amnesiac patient trapped in an asylum.


Now in paperback:

Star Trek into Darkness by Alan Dean Foster (Pocket, $16, 9781476716480).


Book Review
Review: One Thousand and One Nights: A Retelling
One Thousand and One Nights: A Retelling by Hanan Al-Shaykh (Pantheon, $26 hardcover, 9780307958860, June 11, 2013)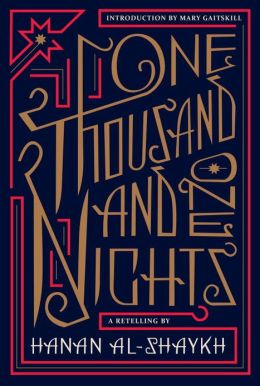 Most of us are familiar with the premise of One Thousand and One Nights (or the Arabian Nights, as it's often called): King Shahrayar would take a new wife each night, killing her in the morning, until the evening the vizier's daughter Shahrazad started telling him a story, leaving off just before the end so he'd spare her life for another day. Of course, the next night would bring another cliffhanger, and the cycle would repeat anew.
The Lebanese author Hanan al-Shaykh (Women of Sand and Myrrh) has recast several of Shahrazad's tales in modern English, presenting them in a coherent narrative that is as spellbinding as ever. "The action of the stories in One Thousand and One Nights is dark and full of cruelty," Mary Gaitskill writes in her introduction, "especially toward women, who are constantly accused of adultery and then murdered or beaten up. But the animating spirit here is light and full of play, especially on the part of the female characters who are consistently resourceful and witty. Al-Shaykh's translation has special beauty in that it emphasizes this mischievous aspect alongside the expansive, revelatory and forgiving nature of the tales... rooting her stories in the mysterious underground of male-female relations."
Al-Shaykh has selected 19 of the original stories, knitting them into a single extended narrative. Starting with "The Fisherman and the Jinni," she moves on to the fisherman's brother, the porter and the three ladies, a hunchback, a merchant, three dervishes, a woman and her five lovers, Sinbad the Sailor and then back to the porter and the three ladies.
The age-old conundrum regarding literature's function--is it to tickle or to teach?--is solved here, and the answer is: both. You could make the case that the clever, resourceful Shahrazad is literature's first feminist heroine, and each of her stories is filled with nuggets of simple philosophy. "I wish my story was similar to those of the two dervishes who have gone before me," says the third dervish at the onset of his tale. "But I have learned, as the days have passed, that there is nothing to be gained from regret; it changes nothing, leaves us melancholy and in pain for ever." --Valerie Ryan
Shelf Talker: Hanan al-Shaykh doesn't cover all 1,001 of Shahrazad's stories, but the 19 she has presented are charmingly retold in modern English.