Shelf Awareness for Tuesday, July 2, 2013

Quotation of the Day
Indie Advises B&N: 'Embrace the Commitment to Books and Ideas'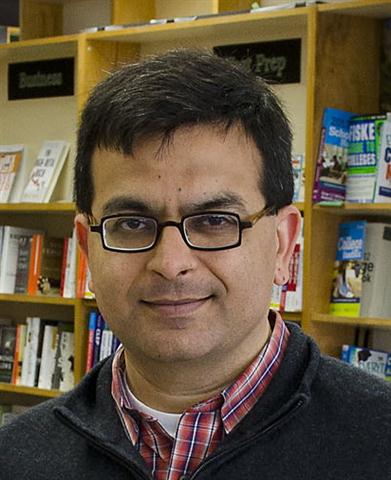 "If I were in their shoes, I would deepen the commitment to a broader stock of books, to displaying and promoting books from small presses and university presses. They should also be more involved with local schools and libraries. They may have to run fewer, smaller stores, but that's how to do it. There is absolutely a place for them if they embrace the commitment to books and ideas. But if they are a profit first, general retailer, then I don't think there is a place for them."


News
Glad Tidings from Glad Day Bookshop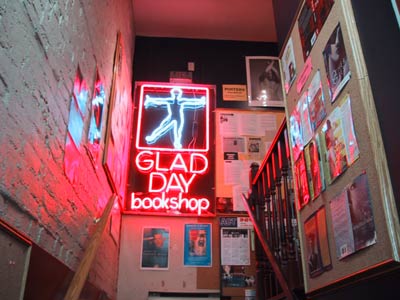 Toronto's Glad Day Bookshop, the first LGBT bookstore in Canada and one of the oldest in the world, was in dire financial straits just a year ago. Saved from the brink of closing by a group of community members who pulled together to purchase it, Glad Day has gone through a resurgence and is planning for its future, the Globe and Mail reports.
Michael Erickson, a high school teacher and current CEO of Glad Day, led 22 others in purchasing the store in 2012, after owner John Scythes decided to sell. They celebrated their first year of community ownership in late June, with cabaret performances and author readings.
Erickson and Glad Day's other owners plan to expand the store's online presence. They successfully funded a $15,000 crowd-funding campaign to create a new website in early June; 2,000 LGBT books will be available for purchase online. In the hopes of further turning the store into a community and cultural hub, Glad Day's event space was also recently renovated, and has attracted a wide range of LGTB authors and groups.
"As a community, we're changing in terms of age, gender, sexual identity, race, religion and accessibility," Erickson told the Globe and Mail. "Glad Day is choosing to embrace diversity into its new DNA."


Domy Books Houston Closing, Becoming Art Space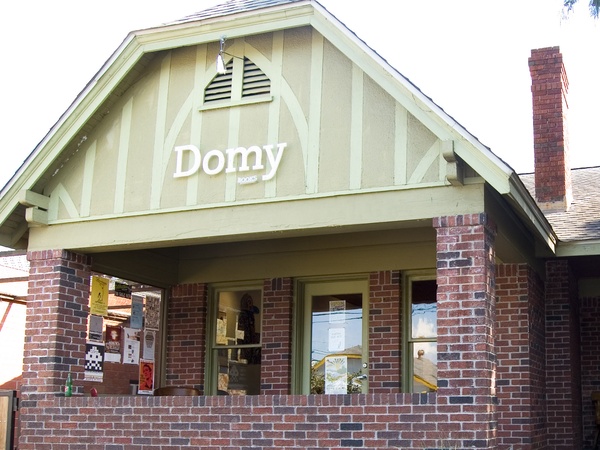 photo: Chris Conyers
Domy Books, Houston, Texas, is closing July 14, CultureMap reported. Owner Dan Fergus, who founded the store seven years ago, is transforming the space into the Brandon, a gallery that will have "exhibits featuring emerging artists, artist lectures and music performances." His partner in the venture is artist Cody Ledvina, who was a co-creator of the Joanna art space.

Domy focused on books, periodicals and products that "concentrate on national (and international) contemporary art, literature and culture." It also exhibited a variety of art.

The Domy Books store in Austin closed last year and was transformed by Mikaylah Bowman and Travis Kent, Domy employees, into Farewell Books, which opened in February.


B&N Closes West Palm Beach Store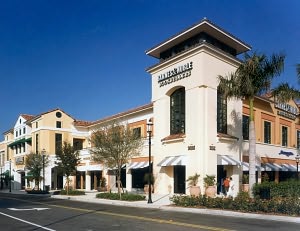 The Barnes & Noble store at CityPlace, West Palm Beach, Fla., closed over the weekend, WPTV reported. Reports in March indicated the location was headed for closure, though no date had been set publicly by B&N. WPTV called the news "the worst of times for book lovers in central Palm Beach County, as the area's only physical bookstore has closed."


HarperCollins Restructures Internationally

On the day after parent company News Corp. split into two companies, HarperCollins is restructuring its international business. Victoria Barnsley, who has been CEO and publisher of HarperCollins U.K. since 2000 and CEO and publisher of HarperCollins International since 2008, is leaving the company. Her responsibilities for management of HarperCollins's operations in Australia, New Zealand and India are being transferred to the U.S.; those units will now report directly to Brian Murray, president and CEO of HarperCollins Worldwide.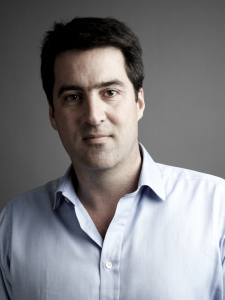 At the same time, Charlie Redmayne, who has been CEO of J.K. Rowling's Pottermore for the past two years, is returning to HarperCollins U.K. as CEO, effective August 5. He had earlier been chief digital officer at HarperCollins and had earlier worked at News Corp.'s BSkyB unit.


LibraryReads to Begin this Fall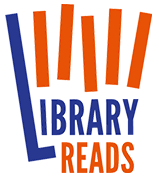 Starting this fall, public library staff from across the country will select a monthly top-10 list of their favorite new adult releases. The volunteer program, called LibraryReads, has been in the works since 2011; librarians began discussions about creating an initiative analogous to the ABA's Indie Next List after a summer library conference.

"LibraryReads will harness [librarians'] passion and deep book knowledge, and create a new way to connect readers and authors, using the incredible collective outreach of library systems, big and small, across the country," said Robin Nesbitt, the collection management director of the Columbus Metropolitan Library.

Overseeing the launch of LibraryReads is a steering committee composed of librarians and friends of libraries from across the country. The committee plans to organize further outreach and marketing groups as the launch nears. The ABA will also assist the launch of LibraryReads. ABA CEO Oren Teicher said, "It's a wonderful initiative to spread the word about books and to harness the vast knowledge of librarians in putting books in readers' hands. We know that bookstore customers are also often library patrons; and, sometimes, library patrons are often bookstore customers! Working together makes perfect sense."

Publishers are also providing significant support to the LibraryReads program; initial partners, including HarperCollins, Macmillan, Other Press, Penguin Random House, Quercus and Workman, have underwritten the cost of creating both the LibraryReads website and initial marketing materials. Selections will be based entirely on nominations from librarians; publishers are not required to be partners for their books to be eligible.

In other library news, the newest edition of University Press Books for Public and Secondary School Libraries--number 23 in the series--is now available online. The annual bibliography compiles the "best of the best" of scholarly books, as chosen by librarians, from a list of 377 books published by members of the Association of American University Presses.

To celebrate the new edition, the American Library Association hosted a special program on June 30 at its annual meeting in Chicago, called "The Best of the Best from University Presses: Books You Should Know About."


BA Survey: Mixed Message from Young U.K. Book Buyers
While they still account for a high percentage of showrooming activity in the U.K., "young people have been put off buying from Amazon after recent revelation's about the company's tax affairs," according to a recent study of consumer spending habits commissioned by the Booksellers Association.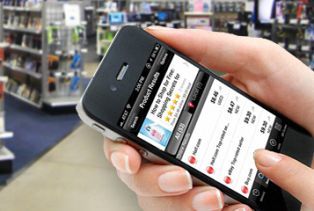 Nearly two-thirds (63.5%) of the responding 2,045 book buyers confessed to showrooming in U.K. bookshops, City A.M. reported, noting that 75.9% of 16- to 24-year-olds admitted to showrooming behavior, compared to 51.7% of people over the age of 55.

The BA's Meryl Halls said, "Showrooming is just one of a variety of pressures bookshops are facing, with other issues such as rising rents, high business rates, lack of town center parking and the unfair tax arrangements of multinationals also playing a role."

The Bookseller noted that 70.8% of 16- to 24-year-olds said revelations about Amazon's sales tax issues "made them less likely to shop for books online, as did 59.5% of the overall shoppers questioned." An "overwhelming majority" (91.7%) of survey respondents believes action should be taken to support bookshops and 88% of British book buyers "are concerned that there are fewer bookshops on the high streets than five years ago."

"It's fair to say that these results show a mixed picture about the consumer book buying market," said Halls. "Clearly shoppers value bookshops highly as places to discover books and gifts, and most people still prefer to pitch up and feel a real physical book in their hands before choosing to buy. However, consumers are turning to technology to check competing ways to purchase, which in some cases leads to a shop losing sales."


Notes
Image of the Day: Astor Vintage Style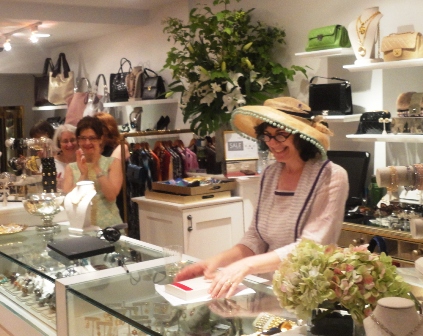 When Stephanie Lehmann launched her latest novel, Astor Place Vintage (Touchstone), at the Madison Avenue outpost of Colette, a popular consignment boutique in the Hamptons, last week, she came dressed for the occasion--in an authentic Edwardian-era outfit that's also featured in the book's trailer. After reading a short scene from the novel, in which a vintage clothing store owner stumbles onto the diary of an ambitious young woman from a century earlier, Lehmann cheerfully signed copies of her book, which were sold by Betty Bennett of the Fieldstone Book Company, Wyckoff, N.J.


Exhibition Celebrates Canadian Small Presses
University of Toronto's Thomas Fisher Rare Book Library is featuring a new exhibition, "A Death Greatly Exaggerated: Canada's Thriving Small and Fine Press," which showcases "the craft of the printed book and the small presses that keep the art form alive," Quillblog reported.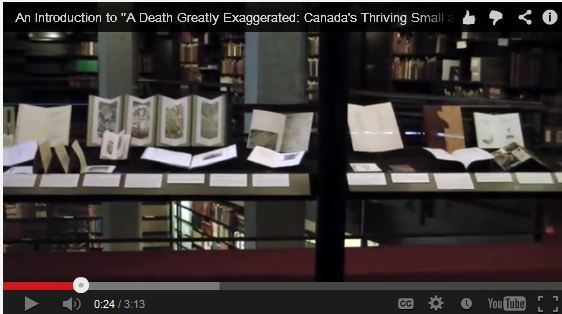 "Rare-books libraries and special collections aren't just about old books. They are about fine books produced in small quantities, books that have lasting value," said outreach librarian John Shoesmith, curator of the exhibition. Highlights include Margaret Atwood's first chapbook, Double Persephone (Hawkshead Press, 1961).

Regarding the future of Canada's small presses, Shoesmith said, "These guys love what they're doing, and we are going to continue to collect this stuff at the Fisher. We want to be the main repository for small presses in Canada. It will tell a good story 50 years from now about the fact that people were still making beautiful books, and I predict that 50 years from now they'll still be doing that."


Ami Greko Joins Goodreads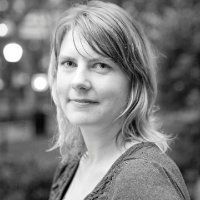 Ami Greko has joined Goodreads as book marketing strategist, working from New York. She previously managed vendor relations in the U.S. for Kobo. She is also a founder of Book Camp NYC and co-curates and hosts the 7x20x21 series.


Book Trailer of the Day: The Measures Between Us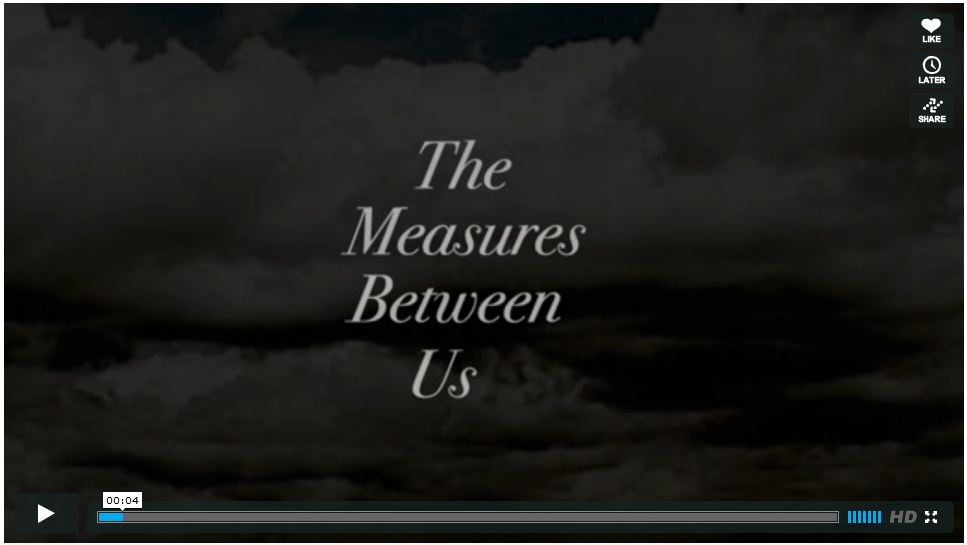 The Measures Between Us, a novel by Ethan Hauser (Bloomsbury USA).


Media and Movies
Media Heat: Questlove on the Daily Show
Tomorrow night on a repeat of the Daily Show: Ahmir "Questlove" Thompson, co-author of Mo' Meta Blues: The World According to Questlove (Grand Central, $26, 9781455501359).


Movies: Mockingjay; The Young World
For the two-part finale The Hunger Games: Mockingjay, Lionsgate and director Francis Lawrence "are eyeing Julianne Moore to play the role of President Alma Coin," Deadline.com reported, noting that the move "is likely to happen quickly, and Moore would star in both of the final films, which bring back Josh Hutcherson and Liam Hemsworth and the returning cast along with Philip Seymour Hoffman, who will be making his first appearance in The Hunger Games: Catching Fire, which the studio is planning to bring to San Diego Comic-Con in July."

---

Warner Bros. has picked up the film rights to The Young World, "the first in an original trilogy of post-apocalyptic YA novels" by filmmaker Chris Weitz (The Golden Compass, Twilight Saga: New Moon), who will direct the adaptation, according to the Hollywood Reporter. The studio won "a heated auction Friday" to secure the rights.


Books & Authors
Awards: Carnegie Medals for Fiction and Nonfiction
Winners of this year's Andrew Carnegie Medals for Excellence in Fiction and Nonfiction were announced Sunday at the American Library Association's annual conference in Chicago. Richard Ford was presented with the fiction prize for his novel Canada (Ecco) and Timothy Egan was the nonfiction medal winner for Short Nights of the Shadow Catcher: The Epic Life and Immortal Photographs of Edward Curtis (Houghton Mifflin Harcourt). Each author received $5,000.

Nancy Pearl, chair of the awards' selection committee, said the two winners, "while differing greatly in subject matter, tone, and style, share two important characteristics: they're both terrific reads, both illuminating and absorbing and each is simply wonderfully written."


IndieBound: Other Indie Favorites
From last week's Indie bestseller lists, available at IndieBound.org, here are the recommended titles, which are also Indie Next Great Reads:

Hardcovers
On Sal Mal Lane: A Novel by Ru Freeman (Graywolf Press, $26, 9781555976422). "In 1983, the Sri Lankan tensions between the Tamils and the Sinhalese broke into civil war. On quiet, secluded Sal Mal Lane, the Horvaths and their neighbors are not sheltered from the turmoil, and the prejudices of the greater world find their way onto their secluded street. The coming of age of the children on Sal Mal Lane and the loss of one innocent in particular shatters their world. On Sal Mal Lane is a beautifully written, heartbreaking story of a foreign yet somehow familiar time and place." --Ellen Richmond, Children's Book Cellar, Waterville, Maine

Bootstrapper: From Broke to Badass on a Northern Michigan Farm by Mardi Jo Link (Knopf, $24.95, 9780307596918). "Webster's definition of bootstrap is 'carried out with minimum resources or advantages.' Link picked the perfect title for her memoir, revealing the guts and gumption she exhibited to secure what was most important for herself and her three sons. Unwilling to let a divorce drive her family from their small working farm in northern Michigan, Link is relentless in facing down the seemingly never-ending obstacles. Her belief in the virtues of hard work, family, and self-sufficiency are tested every day in a year relived with humor and intimacy in full-moon chapters." --Marla Van Hook, Horizon Books, Traverse City, Mich.

Paperback
Capital: A Novel by John Lanchester (Norton, $15.95, 9780393345094). "Capital begins with the households of London's Pepys Road each receiving a card that states, 'We want what you have.' Those menacing and mysterious notes are the jumping off point for Lanchester's brilliant exploration of modern London. From the financial trader in the midst of growing midlife and career crises, to the Pakistani family struggling with faith and family, to a dying woman and her street artist son, Lanchester effortlessly weaves myriad stories into brief chapters to create a written tapestry of remarkable color and depth." --Catherine Weller, Weller Book Works, Salt Lake City, Utah

For Ages 9 to 12
The Adventures of Arnie the Donut: Bowling Alley Bandit by Laurie Keller (A Christy Ottaviano Book, $13.99, 9780805090765). "Whether or not you remember Arnie from his picture book origins, you will adore him as Mr. Bing's 'doughnut dog.' Reluctant and avid readers alike will gobble up Keller's kid-friendly format, sprinkled liberally with jokes, happy silliness, and goofy illustrations, plus bowling trivia and a mystery as well. This first in a new series is a delight sure to leave chapter book fans hungry for more." --Jeanne Snyder, Books & Books, Coral Gables, Fla.

[Many thanks to IndieBound and the ABA!]


Book Review
Review: The Collini Case
The Collini Case by Ferdinand von Schirach, trans. by Anthea Bell (Viking, $25.95 hardcover, 9780670026524, August 5, 2013)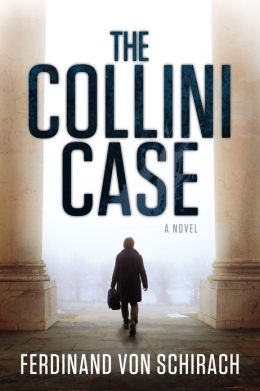 From the shocking and disturbing opening sequence through the whiplash surprise turnaround 30 pages into the story, Ferdinand von Schirach's The Collini Case takes off running and, without manipulation or stunts other than a brilliantly orchestrated plot, proceeds to tell a whopper of a tale--one that led, after its publication in 2011, to changes in German law concerning the Nazi era.
When an 85-year-old industrialist is brutally murdered, Collini, the huge, sweaty brute who fired four bullets into the back of his head and stamped on the old man's face, refuses to reveal his reason. Caspar Leinen is an idealistic but inexperienced defense lawyer going up against a legendary prosecutor. What Leinen doesn't expect is a phone call from his childhood best friend's sister, sobbing and furious that he is defending Collini. Her reason is a shocker, and it's enough to make Leinen almost back out of defending Collini--until a minor character reminds him, "You're a lawyer, you have to do what lawyers do."
The Collini Case is a novel where the crime and the killer are known from the outset, but not the reasons behind them. It's an ordered world of systems and procedures, occasionally jarred by the eruption of violence. The mystery is an eternal one: How can a gentle, loving family member become a ruthless killing machine in another context? The plotline is smart, clean and clearly thought-out. The characters are richly drawn and complex; as von Schirach writes, they "aren't black or white... they're grey."
Von Schirach is one of Germany's most prominent defense lawyers, and his voice is authoritative and deceptively simple. His non-sensational style, by its very low-key matter-of-factness, only makes his surprises more joltingly unexpected. As a compassionate, smart and sensitive hero, Leinen is irresistible. Though this is a short novel, one memorable sequence follows another: a novice witnessing his first autopsy; a fat baker giving some much-needed advice; a horse with a broken foreleg. The courtroom scenes are riveting without being melodramatic; the wartime sequences at the novel's end are appropriately harrowing. And the undetected loophole in German law around which the plot revolves came under fire just four months after the book's publication in Germany, with legal activists citing this streamlined tour-de-force and its painfully human tragedy. --Nick DiMartino
Shelf Talker: A nightmarish murder that seems open-and-shut turns out to be something much else in a lean, perfectly constructed mystery that led to changes in German law after its publication.