Shelf Awareness for Readers for Friday, January 11, 2013
Book Candy
Bookish New Year's Resolutions; Book Organizers
Even though it has been more than a week since New Year's Eve, it's never too late to choose one of Bookish blog's "top ten bookish resolutions."

---

Also still in a New Year's mood, Flavorwire offered "20 great writers on the art of revision," noting that "hopeful souls around the world are working diligently on their plans to revise--their health, their attitudes, their lives."

---
Brainpickings found "7 obscure children's books by authors of grown-up literature."

---
You oughtta be in Hollywood... and writing. Word & Film featured "9 struggling writers in film, from Jack Torrance to Barton Fink."

---

Ubergizmo featured a set of Katana bookends designed to make "your book collection look sharp."

---
Bat signal for your living room? Trendhunter found a range of "Batty Book Organizers" that let you "organize your books in the most vigilante way possible."
The Writer's Life
Brandon Sanderson: Following Jordan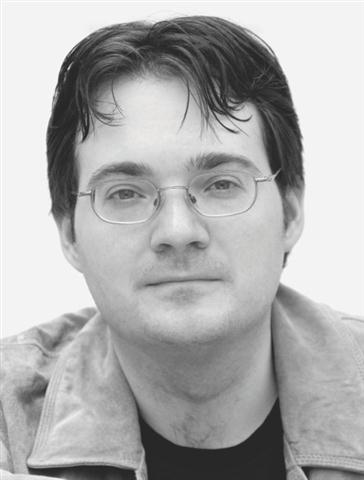 Brandon Sanderson remembers picking up a paperback of The Eye of the World, the first volume in Robert Jordan's epic fantasy series The Wheel of Time, in late 1990, when he was about 15 years old. "As a young new fantasy fan, who had just discovered the genre in the last year or so," he said, he was drawn to the book because of its size--nearly 700 pages. "You can't judge quality based on length, but I'd hit upon the fact that if I liked a book that was long, there was much more of it to love, so I looked for the big books hoping that I'd find ones that I loved and be able to dig deep into the world."
Jump ahead to 2007: Robert Jordan had died in the middle of writing what he'd intended as the final volume in the series, and Sanderson--now in his early 30s--was beginning to emerge as an epic fantasist in his own right, sharing a publisher with Jordan at Tor Books. After reading one of Sanderson's novels, Jordan's wife and editor, Harriet McDougal, asked Sanderson to help bring the Wheel to its conclusion. "It felt like a huge responsibility, one that I had never considered myself doing," he said of that request. "It was overwhelming, astounding, amazing, wonderful and horrifying all at the same time." It also turned out to be a much bigger project than he'd anticipated, as that last book expanded into a trilogy, starting with The Gathering Storm (2009) through Towers of Midnight (2010) and, finally, A Memory of Light (January 2013).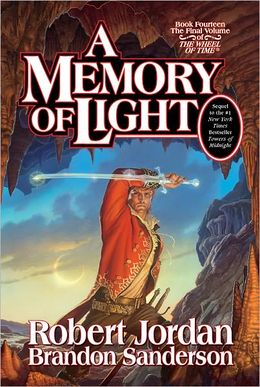 To prepare himself, Sanderson reread all 11 of Jordan's novels and began writing some "test scenes," estimating that it took him about six months before he felt that he'd found the right approach. "I never tried to imitate his voice," he said, "but every writer learns, like every painter, how to approach different styles." He described the results as adapting his own voice to the fictional world Jordan had created, with an ultimate focus on the characters. "I'm not spending much time worrying whether Robert Jordan would have used this word or that word," he explains. "I spend my time worrying: Would Rand say this? Would Egwene do that? Would Perrin think this?"
This wasn't, he emphasizes, just a matter of tying up some loose ends. "People ask about this a lot: Did it follow the outline? There wasn't an outline," he observed. "Robert Jordan didn't write from an outline. He wrote by instinct." There were several completed scenes--which Sanderson incorporated into his manuscripts whenever they were available--and notes from conversations between Jordan and his assistants, but Sanderson emphasized that these provided only indications of how Jordan intended to complete the Wheel, not firm decisions. "If there had been a strict outline, exact details on what to do, they wouldn't have needed me," he said. "They could have hired a ghostwriter to write it." Now, after five years of what he describes as "a very deep collaboration" with Jordan and his epic, "sometimes I can't even remember what's in the books, what's in the notes, and what I came up with."
As that collaboration was unfolding, Sanderson's own literary output continued to grow. He pointed out, however, that some of the books that appeared between 2007 and 2013 were already completed and in the pipeline, "So it looks like I was working on a lot of projects at once, when really I wasn't doing as much as it seems." The only book he devoted much time to apart from the final Wheel trilogy, he said, was 2010's The Way of Kings, a 1,000-page novel that's intended as the first volume of a 10-book series. Then again, "I take vacations by writing books I'm not supposed to be writing," he added. "I'll flee from duties for a while and work on a short story or something," like the novella The Emperor's Soul (published by Tachyon in late 2012).
As for a proper vacation, Sanderson said, "The book isn't really done until it's out and the tour is over." After that, though, he does have plans for a family cruise... and then, no doubt, it's right back into his own epic worlds. The sequel to The Way of Kings, after all, is tentatively scheduled for later this year. --Ron Hogan, founder of Beatrice.com
Inklings
Sorting Out the Past: Politics and History in Fiction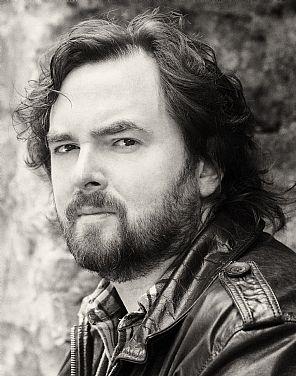 Stuart Neville has been a musician, a composer, a teacher, a salesman, a film extra, a baker and a hand double for a well-known Irish comedian. His first novel, The Ghosts of Belfast, was selected as a New York Times Notable Crime Book for 2010 and won the Los Angeles Times Book Prize. His other novels include Collusion (also a New York Times Notable selection) and Stolen Souls.
The seeds for my new novel, Ratlines (Soho Crime, January 2013), were sown more than three years ago when I learned that an infamous Nazi named Otto Skorzeny had lived outside Dublin between 1959 and 1969. Researching this figure, and the scores of other Nazis and collaborators who had settled in Ireland after World War II, I came across another name: Charles Haughey, three-time prime minister of Ireland, and one of the most controversial figures in that country's history. He had been acquainted with Skorzeny, and as Minister for Justice in the early '60s, Haughey was responsible for immigration and asylum seekers. The cogs in my head started turning.
One problem, though: there are real political implications in telling this story. Could I write a thriller with a journalistic bent? I knew other people had done it. One of my favourite novels is James Ellroy's 1994 bombshell, American Tabloid. In that book, Robert and John F. Kennedy, J. Edgar Hoover and many others feature prominently and in a less than flattering light. An outline for Ratlines came together pretty quickly, and I was excited about the subject matter. There was no question this was the book I wanted to write. But could I write it? What were the legal implications of using real people in a novel?
Libel laws in Britain and Ireland are amongst the toughest in the world. My first book in particular had to go through many legal reads to make sure no one could claim a character was based on them and sue for defamation. With Ratlines, a whole cast of characters would be drawn from real life. I learned that so long as a person is no longer alive, they can be represented in fiction, so there was my key. I still had to walk a tightrope, and my U.K. publisher's lawyers have been over the manuscript with a fine-toothed comb. But in the end I managed to create fiction from the threads of history, and I hope I've shone some light into Ireland's dark corners.
Book Review
Fiction

The Way of the Dog
by Sam Savage

Tenth of December: Stories
by George Saunders
Hikikomori and the Rental Sister
by Jeff Backhaus
The River Swimmer
by Jim Harrison
The Uninvited
by Liz Jensen
Mystery & Thriller
Little Wolves
by Thomas Maltman
Watching the Dark
by Peter Robinson
Philosophy
The Happy Life: The Search for Contentment in the Modern World
by David Malouf
Psychology & Self-Help
Love at First Click: The Ultimate Guide to Dating
by Laurie Davis
Children's & Young Adult

The Wrap-Up List
by Steven Arntson
The 13th Sign
by Kristin O. Tubb
Crash
by Lisa McMann
Art & Photography
Refugee Hotel
by photographs by Gabriele Stabile, text by Juliet Linderman
SOLITUDE CREEK
by Jeffery Deaver
ISBN-13 978-1455517152
Grand Central Publishing
5/12/2015
#4 in the Kathryn Dance Series


an exclusive interview with
NYT bestselling author Jeffery Deaver
SOLITUDE CREEK is the fourth in the Kathryn Dance series, following the amazing, XO. What's in store for Dance this time around?
Oh, mayhem, chaos, and terror, of course! In this novel, Kathryn gets busted down to "buck private" for making a serious mistake during an interrogation; she's relegated to civil work for the CBI, like checking health certificates and bottle deposit receipts. But you can't keep a strong woman down and she secretly runs an investigation on a villain obsessed with turning people's panic into a weapon.
THE BIG THRILL caught up with Deaver to talk about mayhem, chaos, and of course, SOLITUDE CREEK. Read about it here.

ALSO FEATURED ON THE
the big THRILL…
RUINS OF WAR by JOHN A. CONNELL: It took a decade, four defunct novels, and countless rejections before Connell landed a publishing deal. But the hard work and determination paid off. His novel, RUINS OF WAR—a unique, historical thriller set in postwar Germany—is already garnering national acclaim. And Connell, well, he's considered a debut-to-watch. Read about him in THE BIG THRILL.
THE TAPESTRY by NANCY BILYEAU: As a trained Journalist, whose editorial credentials include Rolling Stone and Entertainment Weekly, Nancy Bilyeau understands the value—and importance—of a well-researched novel. Particularly in the case of her Tudor-inspired thrillers. For THE TAPESTRY, the third book in her bestselling Joanna Stafford series, Bilyeau pits her protagonist against none other than King Henry VIII. Check it out in THE BIG THRILL.
THE SHADOW CARTEL by LAYTON GREEN: International man of action, Dominic Grey, has fought cults and criminals all over the globe. In his next escapade, he takes on THE SHADOW CARTEL. We recently sat down with Dominic's creator, Layton Green, and asked the world-traveler-turned-bestseller about his journey to the top of the bestseller list and where he plans to go from here. Catch the whole interview in THE BIG THRILL.
STONE COLD DEAD by JAMES ZISKIN: A taut tale of mystery and suspense that is at once a reminder of how a sleuth got the job done in the era before CSI and an antidote to nostalgia, James Ziskin's STONE COLD DEAD is just too cool to miss. Read all about it in THE BIG THRILL.
DYING BRAND by WENDY TYSON: In the third installment of Wendy Tyson's Allison Campbell mysteries, Campbell ends up investigating the brutal murder of her former boyfriend. As her hunt for truth reveals each secret, Campbell's past and present collide, in a mystery that is not just deadly, but the most personal yet. Get the full scoop on DYING BRAND in THE BIG THRILL.