Shelf Awareness for Readers for Tuesday, October 15, 2013

Book Candy
Novels for Social Occasions; Rare Photos of Famous Authors
Noting that "at their heart, novels are about how people get on with one another--or fail to," the Huffington Post recommended the "10 best novels for social occasions."

---
Quiklit highlighted "25 rare photos of famous authors."

---

Buzzfeed revealed "25 famous movies that you might not know were based on books."

---

Inspired by the thought that next spring we'll have a Broadway stage version of The Bridges of Madison County, Flavorwire imagined "5 odd book-to-musical adaptations we'd like to see."

---
Charles Graeber, author of The Good Nurse: A True Story of Medicine, Madness and Murder, chose his "top 10 true crime books" for the Guardian.
The Writer's Life
Scott Turow: The Gun Hanging on the Wall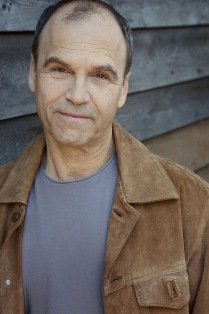 Photo: Jeremy Lawson Photography
The author of nine novels, including Presumed Innocent and its sequel, Innocent (and of the nonfiction classic One L, about his first year as a law student), Scott Turow is an attorney and president of the Authors Guild. He writes frequently about the law and authors' rights in essays and op-eds. His new novel is Identical (Grand Central, $28, October 15, 2013).
Set in Turow's iconic Kindle County, Identical begins with the fallout from the 1982 death of a young woman, Dita Kronon--a murder that sent her boyfriend, Cass Gianis, to jail and entangled her family and his. In early 2008, as Cass is about to be released, Dita's brother Hal claims before reporters that Cass's identical twin, Paul, had a role in the murder. Since Paul has been running a strong campaign for mayor, Hal, a powerful political rival, may have more than vengeance in mind. Paul's defamation suit against him sets this intricate, dazzling novel in motion and allows readers to encounter a number of indelible characters.
As the story vaults between 1982 and 2008, we follow the action through several characters, first through Paul. But we spend far more time with Hal's investigator, Evon Miller, and with Tim Brodie, an 81-year-old PI who, as a police detective, headed the original murder investigation. For the reader, there's a great deal of pleasure to be had in moving through the thoughts, suspicions and realizations of various characters. Does the number of viewpoints increase the level of difficulty for the writer?
Looking back, it was many years before I wrote from multiple points of view--not until I published my fourth novel, The Laws of Our Fathers. I just wasn't sure before that how to balance a book when it reflected more than one intelligence. So, yes, multiple viewpoints do sometimes multiply the problems, since you need to know more than one character intimately, and also master more than one voice. Furthermore, there's the question of how each character is contributing to the larger whole. But as I've gotten older, I've welcomed the chance to get out of the hotbox of just one character's skin.
It's a pleasure being reacquainted with Evon, the FBI special agent we first met in Personal Injuries (1999). In that novel, she longed for the chance to be someone else, and one question Identical probes is whether that's ever really a possibility. Why did you bring back Evon?
Well, this question actually contains the answer. Identical--not surprisingly, given the title--is about identity and the elusive ways love plays into our own search to be ourselves. If we're okay on our own, why do we seem to need other people so desperately? Why is that process sometimes so frustrating, even when the other person is, literally, the same as you? In 1999, Evon was coming to terms with herself in a very basic way, accepting her sexual preferences and learning to be a little less strict and judgmental in the process. I loved her as a character and was attracted to the idea of exploring the themes I described from the viewpoint of somebody who had made an immense voyage of self-acceptance but still needed love.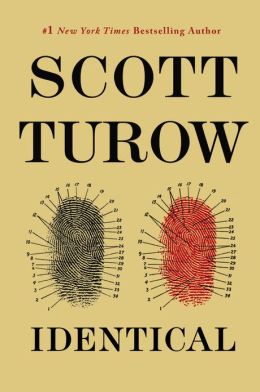 Is there any difference or difficulty in writing from a woman's point of view?
I've done that with some frequency in the last 15 years. I don't think I'd ever claim to thoroughly understand the way women experience their lives--my girlfriend gives me high points, but also reminds me from time to time of what I miss--but I hope I have some clue. The advantage in writing a novel is that you don't have to represent every minute of 24 hours, just do a good job of understanding and being able to portray the moments at hand.
Identical is very much a book about good and bad blood, both in terms of DNA evidence and familial and fellow feeling. As happens in your novels, much of the bloodletting that takes place is emotional. In your afterword, you write that you took a few of the details of Dita's murder from an unsolved 1966 Chicago case. Where did the long-enmeshed Gianis and Kronon families come from?
At the simplest level, their roots are mythological. The Greek creation myths begin with some rather extraordinary internecine struggles. But it's part of the novel's motifs to be exploring that familiar dichotomy of love and hate. I've seen lots of bad blood within families and between them.
Many early statements and casual descriptions have a deeper, different meaning in light of Identical's many final revelations. Rereading the novel, it becomes clear how brilliantly you seeded things. Did these subtle but crucial details require an enhanced level of vigilance on your and your editor's part?
That's always a delicate balance, especially in writing a mystery. It's very easy to surprise readers--if you give them no chance to guess the outcome. But if you want to play fair with readers and let them experience a novel's revelations as being much more life-like, in the sense that the barely noticed detail becomes monumental--then you have to put that detail there in the first place, but without overemphasizing it. I always remember Chekhov's admonition that if a gun is going to go off in the third act, it has to be hanging on the wall in the first.
Without giving away any of these twists, I'd like to ask how much you enjoyed coming up with them. There's a two-page stretch, for instance, of sheer shock and delight in which the revelations keep on coming.
I'd be dishonest if I didn't say I enjoy it a lot. As a reader or member of the audience, I've always loved plot and surprise in novels and other narrative forms, and I think the pleasure I take as an author is, in part, imagining how much I'd enjoy those moments as a reader. But there is also a little bit of god-like joy in being inscrutable to the mortals below.
Identical is also a wrenching exploration of inheritance and breaking free--and of the price of love and familial devotion. Would it be fair to say that this has long been a preoccupation of your fiction?
I sometimes wonder if writers ever understand what they're writing about, since as you point out, book after book seems to have the same preoccupations. I've always been obsessed with the way family love and intimate love play themselves out, especially when they have to be expressed in the public forum of the law. "Family law" is a bit of an oxymoron--families obey no laws, except the most rudimentary ones. The law's attempt to set boundaries on family behavior is appropriate, but the law is always cautious never to try to intervene too much.
You've written that "what happens in courtrooms--the struggle to faithfully recover the past, to understand how evil occurs, to sort out what conduct truly deserves the community's denunciation--is eternal, and eternally interesting." Nonetheless, in your fiction you allow even your most despicable characters some measure of goodness. Is creating such individuals one of the great pleasures of fiction writing?
Everybody has a point of view, and even the darkest-hearted villains feel trapped in a world of teeming emotion that they believe justifies their behavior. You learn that as a criminal-defense lawyer. Certainly trying to bring to the page the way people understand themselves is one of the deepest pleasures of the calling. That said, I've always been fascinated with the people who can say "I'm a bad person" and then feel absolved merely by that recognition, or that they're free to behave like jerks because they've acknowledged the norms.
At one point, Paul thinks that a good judge must have "patience, civility, a sense of boundaries and balance," skills that are "less important for practicing lawyers." Is the novelist closer to the judge or the lawyer?
At what age? Getting older, I feel more judicial as I look down on my created world.
One L, your record of your first year at Harvard Law School, remains as tense and urgent as it must have been when it was first published in 1977. In view of it and of Tim's thoughts on practicing law--that most of it is just common sense--what do you think of President Obama's belief "that law schools would probably be wise to think about being two years instead of three years."
Well, if you go back to the new edition of One L that was published 10 years after I graduated law school, you'll find a proposal a little like that in the afterword. I suggested that everybody take a national bar exam after year two, and spend the third year as an apprentice in a chosen field, acquiring an expertise. The president is concerned about the massive debt that accumulates over three years of law school for many students, but the revelatory nature of legal education is pretty much over after the second year. There is plenty of substantive knowledge yet to be acquired, but I think law school could well conclude after two years. --Kerry Fried
Book Review
Fiction

Half the Kingdom
by Lore Segal
Dirty Love
by Andre Dubus III
Mystery & Thriller
The October List
by Jeffery Deaver
Graphic Books
RASL
by Jeff Smith , illus. by Jeff Smith
Food & Wine
The Vegucation of Robin: How Real Food Saved My Life
by Robin Quivers
The Adventurous Vegetarian: Around the World in 30 Meals
by Jane Hughes
Biography & Memoir

Yokohama Threeway: and Other Small Shames
by Beth Lisick
Darling: A Spiritual Autobiography
by Richard Rodriguez
House & Home
The Yarn Whisperer: My Unexpected Life in Knitting
by Clara Parkes
Children's & Young Adult

Mr. Wuffles
by David Wiesner
When Lions Roar
by Robie H. Harris , illus. by Chris Raschka
Poetry
The Hotel Oneira
by August Kleinzahler
--- SPECIAL ADVERTORIAL OFFERINGS ---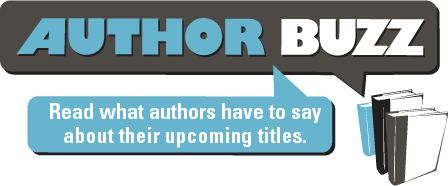 Dear Reader,

When I first set up a "demon graveyard," of sorts, for my Demonica/Lords of Deliverance series, I never imagined that the characters who populated it would become so central to the series. But here we are, following up the Grim Reaper's story with that of his right-hand man, Hades.

Dark, lethal, and a little playful, Hades will take a beautiful, brave fallen angel on a journey that will lead them both to danger and, possibly, love.

Please write to 1001DarkNights@gmail.com to win one of five copies.

http://www.1001darknights.com/authors/2015-books/larissa-ione-hades/




Publisher: Evil Eye Concepts, Inc

Pub Date: 5/26/15

ISBN: 978-1-940887-54-8

List Price: $2.99