Shelf Awareness for Readers for Tuesday, December 20, 2011
Book Candy
Shelving Your Books
"Painful task: getting rid of books (as I did yesterday). Like severing friendships. But shelf space is finite, and new friends arrive," tweeted author Alexander McCall Smith (@McCallSmith) last week as he asked for advice on arranging his shelves. The bestselling author spoke with the BBC about some of the responses he received and offered "his own tips on bookshelf management."
---

Plans for a "Gigantic Expedit-Bookcase" were featured on the IKEAHackers blog, along with this description: "We live in a 19th century Prussian residential house in the historic city center of Erfurt, a 1,270-year-old town in central Germany. Our apartment has a ceiling height of 3.5 meters (11.5 feet), and we decided that the library/home office would be perfect for a large bookcase. As big fans of IKEA, a solution based on their furniture was mandatory."
---

Though not, strictly speaking, a bookcase--and admittedly a very bad idea for organizing your library--Anouk Kruithof's "Installation of 4,000 Books," which was showcased on the Viking/Penguin Tumblr, is a stunning visual nonetheless.
The Writer's Life
A Little Advice from Harper Lee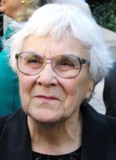 Letters of Note featured Harper Lee's thoughtful 2006 response to a young fan of To Kill a Mockingbird who had requested a signed photo, but received instead "this lovely piece of advice from the author that is far more precious."

Lee wrote: "As you grow up, always tell the truth, do no harm to others, and don't think you are the most important being on earth. Rich or poor, you then can look anyone in the eye and say, 'I'm probably no better than you, but I'm certainly your equal.' "
Book Brahmin: Jacqueline Carey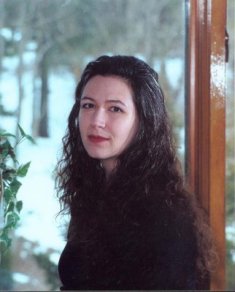 After receiving B.A. degrees in psychology and English literature from Lake Forest College, Jacqueline Carey took part in a work exchange program and spent six months working in a bookstore in London. When she returned, she began her writing career and is the author of the Kushiel's Legacy series of historical fantasy novels, The Sundering epic fantasy duology and the postmodern fables Santa Olivia and the new Saints Astray (Grand Central, November 22, 2011). Carey lives in western Michigan.
On your nightstand now:
Once Upon a River by fellow Michigander Bonnie Jo Campbell. Yes, we really do call ourselves Michiganders.
Favorite book when you were a child:
Watership Down. It was the last book my mother read aloud to my brothers and me when we were kids. It took weeks, and as soon as she finished, I snatched it from her hands so I could read it over for myself. I spent a lot of time trying in vain to communicate with wild rabbits that year.
Your top five authors:
I tend to have top books rather than authors, but to choose across a wide spectrum, Mary Renault and Robert Graves for historical fiction, John Steinbeck for modern literature, Guy Gavriel Kay for fantasy and Dennis Lehane for gritty contemporary novels.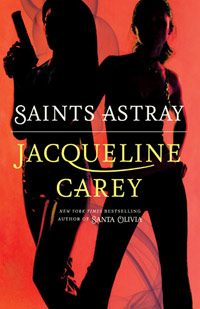 Book you've faked reading:
Everything by Jane Austen. It's embarrassing to admit it, but try as I might, I just don't enjoy her work.
Book you're an evangelist for:
One of my favorite books, The Horse of Selene by Irish gypsy author Juanita Casey. It's lyrical, mythopoetic, gorgeous, tragic and undeservedly obscure.
Book you've bought for the cover:
None! But if library books count, I checked out Uwem Akpan's Say You're One of Them for the cover. The image of a little girl in a white dress running pell-mell down a sunlit road could be charming in another context, but knowing that this is a collection of harrowing stories about children in war-torn regions of Africa imbues it with horror.
Book that changed your life:
It would have to be my debut novel, Kushiel's Dart. I'd been an unpublished struggling writer for 10 years and had written several "practice novels." In creative and professional terms, this was my breakthrough book, and it quite literally changed my life. I may have felt that way about, say, Zen and the Art of Motorcycle Maintenance at the time (I was a teenager, okay?), but this change is concrete and, I hope, lasting.
Favorite line from a book:
Since evangelizing was mentioned, here's one from The Horse of Selene describing the braying, crowing cacophony that greets the dawn on a fictional Irish island:
"Cockerels, waiting until the ass competition was ended, saluted the dawn, the island, their wives and particularly themselves, and like the rest of the inhabitants, went back to sleep again."
Book you most want to read again for the first time:
Little, Big by John Crowley. It's a multigenerational deconstructed fairy tale, and part of the pleasure is the gradual reveal of how the disparate pieces of the literary puzzle come together to form the story's gestalt.
Literary Lists
10 Legendary Literary Haunts; 50 Things About the Literary Life
"Books, booze, and beds: 10 legendary haunts of artists and writers" were showcased by Flavorwire to pay tribute to bookselling legend George Whitman, who died last week.
---
The Guardian's Robert McCrum listed "50 things I've learned about the literary life," including:
Book Review
Fiction
Perlmann's Silence
by Pascal Mercier , trans. by Shaun Whiteside
The Death of King Arthur: The Immortal Legend
by Peter Ackroyd
Mystery & Thriller

Forever Rumpole: Stories
by John Mortimer
El Gavilan
by Craig McDonald
All Yours
by Claudia Pineiro , trans. by Miranda France
Science Fiction & Fantasy
Count to a Trillion
by John C. Wright
Graphic Books
Mush! Sled Dogs with Issues
by Glenn Eichler , Joe Infurnari
Biography & Memoir
Brenda My Darling: The Love Letters of Fridtjof Nansen to Brenda Ueland
by Eric Utne, editor
History
Robertson's Book of Firsts: Who Did What for the First Time
by Patrick Robertson
An American Betrayal: Cherokee Patriots and the Trail of Tears
by Daniel Blake Smith
Children's & Young Adult
Zombie Tag
by Hannah Moskowitz
The Probability of Miracles
by Wendy Wunder
SOLITUDE CREEK
by Jeffery Deaver
ISBN-13 978-1455517152
Grand Central Publishing
5/12/2015
#4 in the Kathryn Dance Series


an exclusive interview with
NYT bestselling author Jeffery Deaver
SOLITUDE CREEK is the fourth in the Kathryn Dance series, following the amazing, XO. What's in store for Dance this time around?
Oh, mayhem, chaos, and terror, of course! In this novel, Kathryn gets busted down to "buck private" for making a serious mistake during an interrogation; she's relegated to civil work for the CBI, like checking health certificates and bottle deposit receipts. But you can't keep a strong woman down and she secretly runs an investigation on a villain obsessed with turning people's panic into a weapon.
THE BIG THRILL caught up with Deaver to talk about mayhem, chaos, and of course, SOLITUDE CREEK. Read about it here.

ALSO FEATURED ON THE
the big THRILL…
RUINS OF WAR by JOHN A. CONNELL: It took a decade, four defunct novels, and countless rejections before Connell landed a publishing deal. But the hard work and determination paid off. His novel, RUINS OF WAR—a unique, historical thriller set in postwar Germany—is already garnering national acclaim. And Connell, well, he's considered a debut-to-watch. Read about him in THE BIG THRILL.
THE TAPESTRY by NANCY BILYEAU: As a trained Journalist, whose editorial credentials include Rolling Stone and Entertainment Weekly, Nancy Bilyeau understands the value—and importance—of a well-researched novel. Particularly in the case of her Tudor-inspired thrillers. For THE TAPESTRY, the third book in her bestselling Joanna Stafford series, Bilyeau pits her protagonist against none other than King Henry VIII. Check it out in THE BIG THRILL.
THE SHADOW CARTEL by LAYTON GREEN: International man of action, Dominic Grey, has fought cults and criminals all over the globe. In his next escapade, he takes on THE SHADOW CARTEL. We recently sat down with Dominic's creator, Layton Green, and asked the world-traveler-turned-bestseller about his journey to the top of the bestseller list and where he plans to go from here. Catch the whole interview in THE BIG THRILL.
STONE COLD DEAD by JAMES ZISKIN: A taut tale of mystery and suspense that is at once a reminder of how a sleuth got the job done in the era before CSI and an antidote to nostalgia, James Ziskin's STONE COLD DEAD is just too cool to miss. Read all about it in THE BIG THRILL.
DYING BRAND by WENDY TYSON: In the third installment of Wendy Tyson's Allison Campbell mysteries, Campbell ends up investigating the brutal murder of her former boyfriend. As her hunt for truth reveals each secret, Campbell's past and present collide, in a mystery that is not just deadly, but the most personal yet. Get the full scoop on DYING BRAND in THE BIG THRILL.