Shelf Awareness for Readers for Tuesday, May 1, 2012
Book Candy
Ellen 'Reads' E.L. James; Dining Room-Libraries; Quizzes
"Do not eat the pancakes!" Ellen DeGeneres auditions for the job of audiobook reader for Fifty Shades of Grey by E.L. James.

---

"Dining rooms with beautiful bookshelves" were featured by theKitchn.com, which noted: "What if--I began to wonder--one was surrounded by shelves and shelves of books in the dining room?... Not only would it serve an aesthetic purpose, but a practical one, too. When the room (or area) wasn't being used for dining, it could function as a library of sorts."

---

"Who wrote that memoir?" For sports fans, Mental Floss offered a "coach speak" book titles quiz.

---

How well do you know Snow White? The Guardian offered two quizzes, one for kids under seven and another for everyone else.
Great Reads
Further Reading: Girls Reading
The most iconic Mother's Day gifts are flowers and brunch, but why not celebrate the mothers in your life this year with one of these books that celebrates books themselves and the girls who love to read them?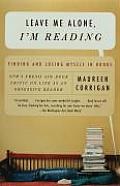 Maureen Corrigan, book critic on NPR's Fresh Air, hit the nail on the head with the title of her memoir: Leave Me Alone, I'm Reading: Finding and Losing Myself in Books. Corrigan explores the formative power of books in shaping her life, from her first recognition of people who don't understand the power of reading to her career as a professional book reviewer. She also details her love of books in three genres she "created" (female extreme adventure novels, hard-boiled detective stories and tales of Catholic saints and martyrs), leaving readers a history of a life dedicated to books and a powerful list of titles to add to the ever-growing to-be-read stack.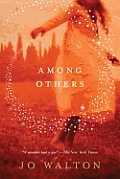 Jo Walton's Among Others takes a more fantastical approach to the subject of the formative power of reading, but is still, at heart, an ode to the power of books to mold us into the people we become. As a child, Morwenna and her twin sister played in the industrial ruins near their home in Wales, where they befriended the spirits who lived among the ruins. When an accident claims the life of her twin and Morwenna is sent away to boarding school, she turns to books of science fiction and fantasy to keep her company. Through these books, she reconnects with the world, with other readers and with herself. Walton's delicate combination of classic Welsh mythology with the science fiction and fantasy titles of the 1980s is a powerful one, and like Corrigan's memoirs, will leave readers with a long list of titles to explore.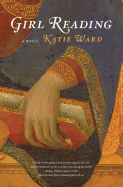 Katie Ward's debut novel, Girl, Reading, is in fact a series of self-contained, intertwined stories, each centering on the creation of a portrait of a girl, reading. The book begins in the 14th century and moves to the year 2060, with tales threaded together by the commonality of the creation of the portraits and persistent allusions to art and literature. The result is a novel that celebrates the intimate, delicate bond between women and their books--a subject no reading mother will want to miss. --Kerry McHugh, blogger at Entomology of a Bookworm
The Writer's Life
Rosamund Lupton: The Strength of Family Bonds
Following her debut novel, Sister, Rosamund Lupton returns with Afterwards (reviewed below), in which suburban mother Grace runs into a burning building to save her teenage daughter. Both women are badly burned and find themselves sharing an out-of-body experience at the hospital. Lupton, a former screenwriter who lives in London with her husband and two young sons, recently spoke with us on her novel about love, family, and what comes afterwards.
Afterwards centers on Grace's love for her husband and children. What inspired you to create the members of this close-knit family? How did you first get the idea for their story?
I am a wife and mother myself, so inevitably drew upon that experience. Although the characters themselves are totally imagined, the bonds between them are ones I know well. I was interested in the "mother tigress" instinct that seemed to me to arrive with a baby, and I explored that with the mother character, Grace. At the beginning of the novel she runs into a burning school to rescue her teenage daughter and from then on finds tremendous physical and mental courage, which is an instinctive rather than a rational response. I hope that the novel illuminates, in a dynamic way, the strength of family bonds.
Much of the book hinges on Grace's love for her daughter Jenny and their relationship. As the mother of two boys, did you have to stretch your imagination to create the mother-daughter bond? How do you see Grace's relationship with Jenny as different from her relationship with Adam?
I think personality--of both parent and child--influences the bond more than gender does. My two sons are not yet teenagers, so I couldn't steal anything from them to create the character of Jenny (which I'm sure they're grateful for!). That said, I remember vividly what it was like to be a teenager and my own close relationship with my mother, so I had that to draw on. Grace's relationship with Jenny is different from the one she has with Adam because Jenny is older and getting to be independent of Grace, rather than because she's a girl. When I first wrote Jenny and Grace, I had Jenny as a rather dislikeable, selfish teenager who I thought would mature through the book. I didn't enjoy writing her this way, and thought the reader wouldn't enjoy reading her, so I changed her into a character I liked from the beginning. As I wrote, it was Grace who had to mature through the book. Like many mothers, I feel that children make me grow up as much as the other way around.
How did you decide to use out-of-body experiences as a central plot device?
Before I had any plot or real story, I knew I wanted to write about a mother and daughter talking to each other, as spirits, throughout the novel. I thought it would be fascinating to have characters who could watch and comment on the action but not take part. I hoped to show a relationship evolving in a short space of time, and to really get to know these characters. At another level, I wanted the spirits idea to be a metaphor for the connection that exists between two people who love each other. Although I found it creatively inspiring, there were practical challenges. For example, it was confusing to have spirit voices mingling with "real" ones, and I had to rewrite the beginning so that Jenny and Grace's conversations are pretty separate from the "main" action. But gradually, as the reader hopefully gets on board with the whole idea, I stop separating their conversations from the action they're watching. I always knew that this was a difficult idea to pull off, and in the end I'd just have to hope readers would take that leap of faith with me.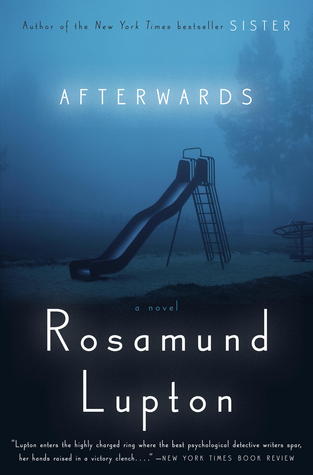 In both Afterwards and Sister, you chose to have the narrator address another central character rather than the reader. Why do you use this approach?
I worked for many years as a screenwriter so it's natural for me to write a novel as one half of a dialogue, addressing someone else. It is a more intimate way for me to write, and I hope that the reader feels pulled into the characters and the story.
Domestic violence affects a family in this story. Is domestic violence awareness a cause near to your heart?
The family as a sanctuary from violence and brutality is something I believe in very strongly, so I find it shocking and disturbing when, instead of refuge, there's viciousness and cruelty. In Afterwards, I tried to write about the complex effect of domestic violence as well as delineating the travesty of trust and love.
Afterwards is a moving story about family, but it's also a top-notch mystery. How do you balance the two?
I hope that the story and the mystery are woven tightly together. Grace's love for her daughter and son push her on as a detective--she has to find the culprit in order to safeguard her children. The tension ratchets up during the book for Grace, and therefore for the reader, too.
Do you plan to continue exploring family dynamics in your work?
I'm not sure that I'll choose family members again, but I think dynamics between people--whether family members or not--have been the stuff of stories from time immemorial.
What message do you hope readers of Afterwards take from the book?
I just hope that they enjoy reading it--if they take anything away from it, then I'm honored. --Jaclyn Fulwood, blogger, Infinite Reads
Inklings
The Joy of Knitting
Knitting is one of the great inventions. With two sticks and some sort of yarn you can make pretty much anything you want. People have been knitting since the first millennium. Even in the world of the quick result and extreme irritation if your Internet connection isn't instant, people are still prepared to sit down and patiently work away with the same materials the Egyptians used, to produce, slowly and painstakingly, the same basic fabric that they produced. You would have expected it to have died out by now, but giving someone a hand-knitted present shows that you are prepared to put the time in, which, given that time is such a precious commodity, makes it priceless.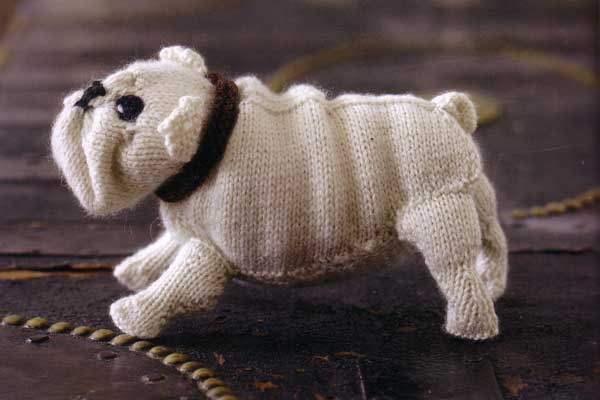 Perhaps one of the reasons that we still keep at it is that there is something inherently soothing in the rhythm of knitting. And then there are the results--from the practical to the bizarrely weird, there is a pattern for it somewhere, generally on the Internet. If you learn to knit, you enter a remarkably civilized and helpful online community, where people will take the greatest care to make supportive suggestions and offer advice; you become part of a giant worldwide knitting fraternity (or is that sorority?). One of the added benefits is that in that fraternity there are people making the most extraordinary things. As well as sweaters, bobble hats and scarves, on the Internet we have found a dissected lab rat, a zebra crossing, an anatomically correct full set of internal organs, even a full-sized Ferrari. We like to feel we have contributed in our small way to expanding the repertoire of knitting with Knit your Own Dog and Knit Your Own Cat. Knitting encompasses all our idiosyncrasies: it can be purely practical, but it can also be done for the sheer pleasure of making something lovely. --Sally Muir, co-author with Joanna Osborne (Muir and Osborne), of Knit Your Own Cat and Knit Your Own Dog (Black Dog & Leventhal)
Literary Lists
Buildings Made out of Books; Books to Fuel Wanderlust
Would you live in what you read? "10 gorgeous buildings made out of books" were showcased by Flavorwire.
---
If the changing season has you staring out your windows, "peering longingly at the world beyond, wishing for a little adventure and travel," then Flavorwire may offer a temporary cure with its list of "10 books to fuel your springtime wanderlust."

---

"Into the face of the young man who sat on the terrace of the Hotel Magnifique at Cannes there had crept a look of furtive shame, the shifty, hangdog look which announces that an Englishman is about to talk French." The Guardian featured its selections for the "10 best first lines in fiction."

---

After gathering a list of "19 fun facts about children's books spotted at the library," Mental Floss shared "photos of books with facts related to them."
Book Brahmin
Book Brahmin: Beth Gutcheon
Beth Gutcheon is the author of Still Missing, More Than You Know and Leeway Cottage, among other books. Her ninth novel, Gossip, was published by Morrow on March 12, 2012. Gutcheon lives in New York City with her husband and her attack poodle, Daisy Buchanan.
On your nightstand now:
To be clear, my nightstand is a sturdy side table in the living room where I read after everyone else is in bed. It's stacked pretty high, but the books in current rotation are Claire Tomalin's Dickens, for pleasure, and Simon Sebag Montefiore's Jerusalem, for research for a new novel and also for fun. I'm a fan of his novel Sashenka. Also, Rembrandt's Eyes by Simon Schama because we're going to Amsterdam next month. They're all pretty fat; someone should make a book derrick.
Favorite book when you were a child:
All the Oz books by L. Frank Baum. (I disdained the ones by Ruth Plumly Thompson, who carried on after he died, though I read them when I ran out of real ones.) The only one I didn't love was The Wizard of Oz, perhaps because it's so overexposed, but also it seems more programmatic than the rest. Anything with the Nome King in it gave particular joy.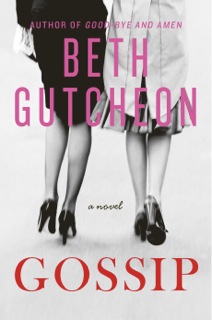 Your top five authors:
Austen, Dickens, Willa Cather, Scott Fitzgerald and Evelyn Waugh.
Book you've faked reading:
Gone with the Wind when I was 12 and my best friend was mad for it while I was still caught up with the Black Stallion books. Being unmasked in this fraud was so painful that I read GWTW immediately to recover my dignity, and then was of course in thrall to it for years myself.
Book you're an evangelist for:
The Book of Ebenezer LePage by G.B. Edwards. It was published posthumously in 1981, the author's only completed work; the story of an old man on Guernsey looking back on his life and, oh, the language! Every page is vivid and wry and chewy and makes you want to move to the Channel Islands. It goes in and out of print, but is currently in, as a New York Review of Books classic. Also, The Assault by Harry Mulisch, a story that begins with a disgusting act of moral cowardice in occupied Holland during World War II, with a circular structure in which each chapter reveals something new about what happened until by the end it brings you around to see that the initial event was entirely different from what it looked like. Brilliant.
Book you've bought for the cover:
Cookbooks and garden books always pose a danger. I bought Of Gardens by Paula Deitz for the most ethereally beautiful cover ever, but then I accidentally also read it. Lovely inside, too.
Book that changed your life:
Great Expectations. I'd been hooked on Dickens since reading David Copperfield in eighth grade, but GE was the thunderclap one. The ending is so stunning, the last thing you are expecting, and yet you can easily see that you'd been set up for it from the opening scene. It showed me what a miracle of craft that kind of devastatingly satisfying storytelling is, conceived as a whole from the ending forward, with the machinery in plain sight, yet unseen until the author wants you to see it.
Favorite line from a book:
To be honest, the first line of Pride and Prejudice: "It is a truth universally acknowledged," etc., but everyone must say that. Here's a random one from Dombey and Son, about witnesses signing the church registry after a wedding: "All the party sign--Cousin Feenix last, who puts his noble name into a wrong place and enrolls himself as having been born that morning." It always makes me laugh, yet it's such a throwaway, like thousands of such moments in Dickens.
Book you most want to read again for the first time:
If I have to choose one, I guess Brideshead. But wait--what about My Antonia, or The Great Gatsby, or any Jane Austen at all?
Books you are most looking forward to:
Anything from Elizabeth Strout. Olive Kittredge is a marvel, but I love her earlier two novels even more. Also, Hilary Mantel's sequel to Wolf Hall. Wolf Hall is such dazzling historical fiction, psychologically contemporary but not anachronistic. I love her describing an angry Ann Boleyn as looking as if someone had knitted her and pulled the stitches too tight.
Book Review
Fiction
More Like Her
by Liza Palmer
Dirt
by David Vann
Afterwards
by Rosamund Lupton
Jonah Man
by Christopher Narozny
Mystery & Thriller

Come Home
by Lisa Scottoline
Science Fiction & Fantasy
The Wind Through the Keyhole: A Dark Tower Novel
by Stephen King
Biography & Memoir

A Wedding in Haiti
by Julia Alvarez
A Difficult Woman: The Challenging Life and Times of Lillian Hellman
by Alice Kessler-Harris
Lots of Candles, Plenty of Cake
by Anna Quindlen
History

Midnight in Peking
by Paul French
Children's & Young Adult

The Duckling Gets a Cookie!?
by Mo Willems , illus. by Mo Willems
Double Dog Dare
by Lisa Graff
SOLITUDE CREEK
by Jeffery Deaver
ISBN-13 978-1455517152
Grand Central Publishing
5/12/2015
#4 in the Kathryn Dance Series


an exclusive interview with
NYT bestselling author Jeffery Deaver
SOLITUDE CREEK is the fourth in the Kathryn Dance series, following the amazing, XO. What's in store for Dance this time around?
Oh, mayhem, chaos, and terror, of course! In this novel, Kathryn gets busted down to "buck private" for making a serious mistake during an interrogation; she's relegated to civil work for the CBI, like checking health certificates and bottle deposit receipts. But you can't keep a strong woman down and she secretly runs an investigation on a villain obsessed with turning people's panic into a weapon.
THE BIG THRILL caught up with Deaver to talk about mayhem, chaos, and of course, SOLITUDE CREEK. Read about it here.

ALSO FEATURED ON THE
the big THRILL…
RUINS OF WAR by JOHN A. CONNELL: It took a decade, four defunct novels, and countless rejections before Connell landed a publishing deal. But the hard work and determination paid off. His novel, RUINS OF WAR—a unique, historical thriller set in postwar Germany—is already garnering national acclaim. And Connell, well, he's considered a debut-to-watch. Read about him in THE BIG THRILL.
THE TAPESTRY by NANCY BILYEAU: As a trained Journalist, whose editorial credentials include Rolling Stone and Entertainment Weekly, Nancy Bilyeau understands the value—and importance—of a well-researched novel. Particularly in the case of her Tudor-inspired thrillers. For THE TAPESTRY, the third book in her bestselling Joanna Stafford series, Bilyeau pits her protagonist against none other than King Henry VIII. Check it out in THE BIG THRILL.
THE SHADOW CARTEL by LAYTON GREEN: International man of action, Dominic Grey, has fought cults and criminals all over the globe. In his next escapade, he takes on THE SHADOW CARTEL. We recently sat down with Dominic's creator, Layton Green, and asked the world-traveler-turned-bestseller about his journey to the top of the bestseller list and where he plans to go from here. Catch the whole interview in THE BIG THRILL.
STONE COLD DEAD by JAMES ZISKIN: A taut tale of mystery and suspense that is at once a reminder of how a sleuth got the job done in the era before CSI and an antidote to nostalgia, James Ziskin's STONE COLD DEAD is just too cool to miss. Read all about it in THE BIG THRILL.
DYING BRAND by WENDY TYSON: In the third installment of Wendy Tyson's Allison Campbell mysteries, Campbell ends up investigating the brutal murder of her former boyfriend. As her hunt for truth reveals each secret, Campbell's past and present collide, in a mystery that is not just deadly, but the most personal yet. Get the full scoop on DYING BRAND in THE BIG THRILL.