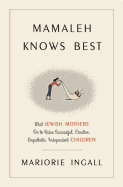 Most parenting literature seems to fall into one of two camps. The first is usually science-based, shockingly serious and earnest as it tries to convince you of the best ways to raise your child. The other is humorous, admitting from the get-go that childrearing is a chaotic, funny mess that is more lived-through than truly controlled. Marjorie Ingall's Mamaleh Knows Best falls into the latter category, a witty look into Jewish culture and parenting practices over the ages. It also serves as a journal for Ingall's own motherhood, which is where Mamaleh truly shines.

Ingall has been a freelance writer and columnist for publications such as Tablet, a magazine that focuses on Jewish life. Writing about experiences with her children and her Jewish identity are familiar territory for Ingall, which gives Mamaleh Knows Best a comfortable feeling, as if she is talking with readers over coffee instead of writing a guide for raising kids. She also writes for a range of readers, showing that different communities around the world have come to similar conclusions about the best way of living.

That "best way of living" isn't lip service. In addition to providing tips that might make a reader's child successful, Ingall also encourages her readers to teach their children to be kind, empathetic and justice driven. And she shows how she's tried, failed and succeeded in teaching the same to her own children. By demonstrating her flaws, Ingall makes it clear that there is no magic bullet to raising good kids, just persistence. --Noah Cruickshank, marketing and development manager, Open Books, Chicago, Ill.