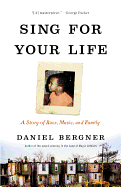 A six-foot-five, 300-pound African American man with size 17 shoes may be an unlikely sight on the stage of New York's Metropolitan Opera, but Ryan Speedo Green commands that position as though he was born to it. Sing for Your Life is Ryan Green's story, a tribute to opera and the power of the arts to pull a young man out of a violent broken home in southeastern Virginia and into Lincoln Center. Through extensive interviews with Green and his family, teachers, directors and voice coaches, journalist Daniel Bergner (In the Land of Magic Soldiers) pieces together this remarkable life with an impeccable knack for storytelling.

With an absent father and a mother plagued by violent men, menial jobs and ramshackle low-rent housing, Green grew up angry, poorly schooled and on his way to prison (like his brother) or death. After a teacher took him under wing and made him learn King's "I Have a Dream" speech, and after a football coach put him in the school chorus to get some easy credits, he discovered that his roughhewn bass-baritone voice might be his ticket out. As a black man in a very white world, Green also faced assumptions that his place on stage belonged in the role of Porgy in Porgy and Bess or as Joe singing "Ol' Man River."

Green's long journey out of poverty and juvenile therapy to professional success took tenacity, luck, dedicated teachers and an extraordinary vocal gift. Sing for Your Life may be a feel-good story in the end, but in the case of Ryan Speedo Green, its title quite literally says it all. --Bruce Jacobs, founding partner, Watermark Books & Cafe, Wichita, Kan.