New Amazon Low: Trying to Steal Customers Outside Indie Store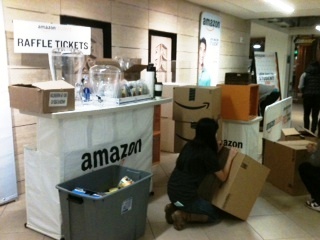 Yesterday during rush at the University of Washington, Seattle, Amazon.com showed some amazing nerve: in front of the University Bookstore's store in the Husky Union Building (HUB), Amazon employees set up a display urging students to sign up for Amazon Student, a free program for six months offering two-day shipping and special deals (and then segues to Amazon Prime).
HUB store manager Jonathan Day described the scene: "As the day progressed, I watched as very friendly college-age Amazon representatives approached student after student, inquiring whether they had already purchased their textbooks and informing them that they could save hundreds by shopping through Amazon Student. Peak activity was at 12:30, when they held a raffle, giving away several Kindle Fires. The crowd filled the hallway and stairwell, while the Amazon representatives called out winning numbers over a bullhorn."