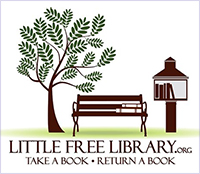 Little Free Library has installed its 50,000th book exchange, which is at the Illumination Foundation homeless shelter in Santa Ana, Calif. Founder Todd H. Bol said: "Little Free Library is more than cute boxes of books. Along with placing our 50,000th library, we've established a global network of stewards, built partnerships with publishers and literacy organizations, and developed programming that leverages the power of sharing books to bring communities together."
Marytza Rubio, founder of the Makara Center for the Arts, applied to the Little Free Library's Impact Fund for a library to be placed at the Illumination Foundation as the first step in an effort to place Little Free Libraries throughout Santa Ana. "Makara Center for the Arts seeks to increase access to arts and culture in our community, and libraries, including Little Free Libraries, are part of those efforts," said Rubio. "We're starting at the Illumination Foundation because in Orange County our homeless population is our most vulnerable and many of them are children. Shelter residents have little access to books and the Little Free Library can address that need."
Bol added: "We call it the Impact Fund because that's the goal--we want to substantially improve our world--and so does the Makara Center. We are thrilled that our 50,000th library will be at the Illumination Foundation and part of such a wonderful mission."