Despite significant challenges, booksellers in the U.K. had "a pretty good year," Tim Godfray, CEO of the Booksellers Association of the U.K. and Ireland, said at the association's annual general meeting, held late Tuesday afternoon at the London Book Fair. "I feel optimistic and hopeful about the future."
Godfray noted many encouraging signs, reflecting those in the U.S.: consumers "came back to print books," whose sales were up 6.7% in 2016, according to Nielsen; "publishers realized that bookshops are so important for the discovery of books" and are providing booksellers with "greater support"; the production quality of new books has improved; and consumers are more aware of "how a community would look like without bookshops."
Among the many programs and achievements of the association in the past year, Godfray mentioned the inaugural Booksellers Association/Publishers Association Parliamentary Book Awards, honoring works by parliamentarians and about politics and voted on by parliamentarians. The awards help the business stay "on the radar of Parliament," he noted.
Another new project that's worked well is the program under which publishing heads spend a day in a bookshop, witnessing book retailing issues first-hand and seeing how the public reacts to their titles. Godfray called this an "enormously successful" effort that is being expanded.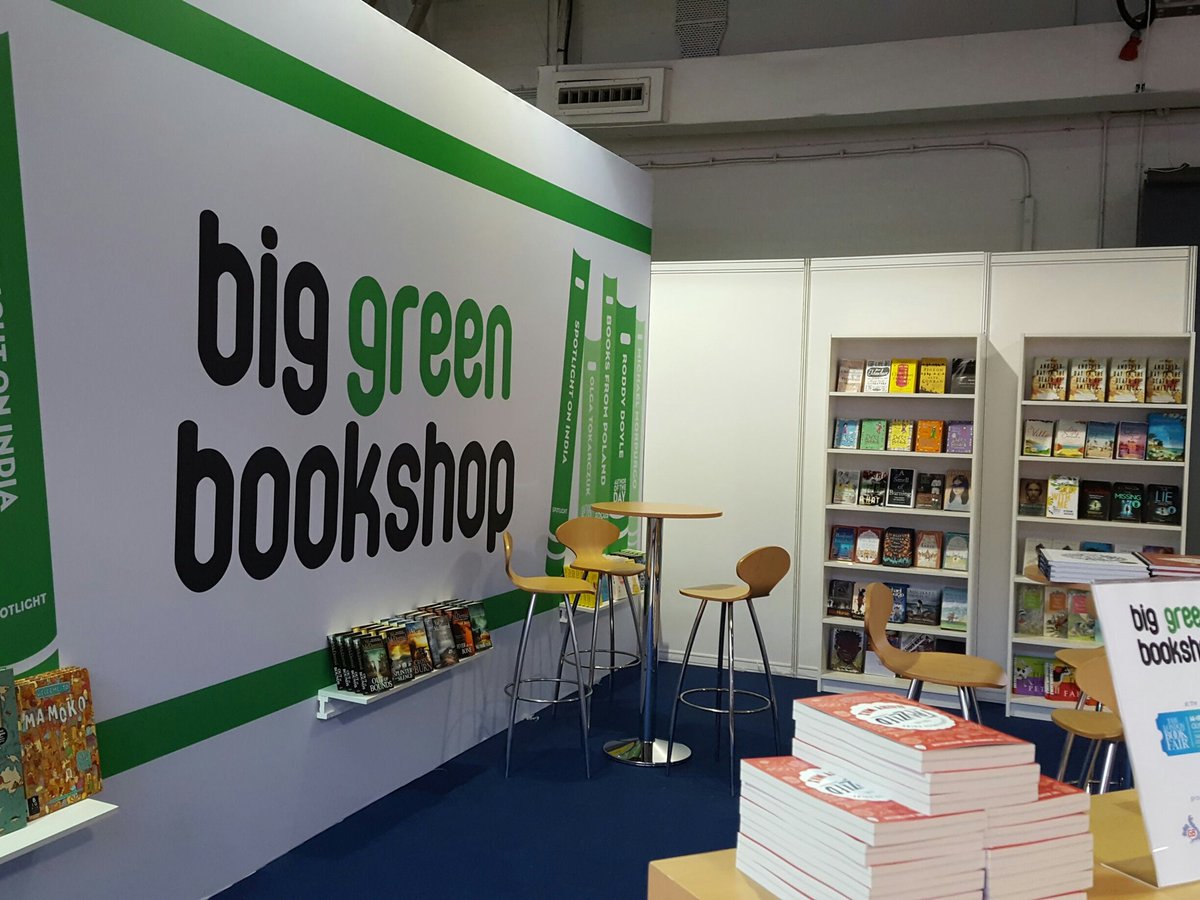 The Big Green Bookshop at LBF
Ongoing programs include Books Are My Bag (more than half of participating stores reported sales increases); Independent Bookshop Week (when sales again increased); the Costa Book Awards, which the BA administers; World Book Day, a "fantastic" promotion; Book Tokens, which continues to grow, helped by personalized images on the cards; and Caboodle, the online marketing program connected with Book Tokens that has attracted more than 500,000 "passionate book buyers." The association also late last year set up the Group for Young Booksellers.
The major challenges include Amazon, which continues to benefit from unfair advantages; e-book lending; and taxation issues. The association has lobbied hard with national and European regulatory agencies and politicians as well as with the public about Amazon, particularly its favorable e-books value-added tax rate derived from its corporate residence in Luxembourg; its most favored nation approach with e-book contracts; the company's "illegal state aid" from Luxembourg; and transfer pricing. (Regarding e-book VAT and most favored nation approach, recent rulings have removed or effectively ended those practices.)
The British business tax situation has improved somewhat for booksellers, particularly those with low rateable values. The BA was also able to persuade the Treasury not to impose VAT "on the vast majority" of coloring books. (Printed books are zero-rated for VAT in the U.K.)
The BA is also "particularly worried at the moment" about e-book lending policies that could make it so easy for readers to lend e-books that print book sales would suffer. The association has had conversations with libraries, authors and publishers about this, arguing for "frictions" such as limitations on how soon after the printed book pub date e-lending could begin and how long an e-book could be borrowed.
On many positive notes, the Booksellers Association annual general meeting adjourned, and members regrouped across the street at the Hand & Flower pub for a less formal gathering. --John Mutter