Ken Pruitt, an author, publisher's rep, minister, consultant and national educational speaker, is founding Words of Wisdom Bookstore, which will be located in Hermitage, Tenn., near Nashville, and open the first week of August.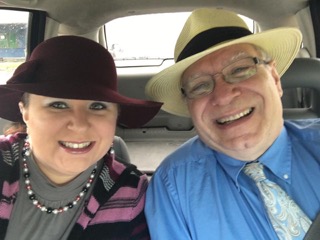 Rebekka Pruitt and Keith Pruitt
The approximately 1,400-square-foot store is in the brand-new Shoppes@Hermitage Hills, in space that is being built out over the next few months. The "boutique-type" store will carry 95% new books, "an eclectic mix of bestsellers, great literature, informational texts, children's books, greeting cards, and religious materials," Pruitt said. "We want to be that local store where folks can drop in and get the bestsellers, fall in love with new writers they may never have seen in bookstores, get the best in fiction and children's literature, fill their religious needs and get great greeting cards, journals, and other types of materials."
Words of Wisdom will also host book signings and other author sessions, teacher gatherings and children's events. "We are dedicated to making this a warm and comfortable place to come and relax and shop," Pruitt said.
Pruitt began his publishing career working for educational publisher Steck Vaughn and later was affiliated with Harcourt and then Houghton Mifflin Harcourt before founding Words of Wisdom Educational Consulting in 2008. He's also written 31 books; ministered since 1972, when he preached his first sermon at the age of 12; and been a teacher and school board member.
Words of Wisdom will be managed by Pruitt's daughter Rebekka Pruitt, who most recently worked at the now-defunct Family Christian Bookstore in Nashville. Her proud father says that "her organizational skills have flourished through the years as she has served as a buyers' assistant, worked in the moving industry, and has served in her capacity with Words of Wisdom since its opening in 2008. She loves books, just like her father, and will be a cheery asset to the bookstore."
Words of Wisdom Bookstore will be located at 3877 Lebanon Road, Hermitage, Tenn. 37076.