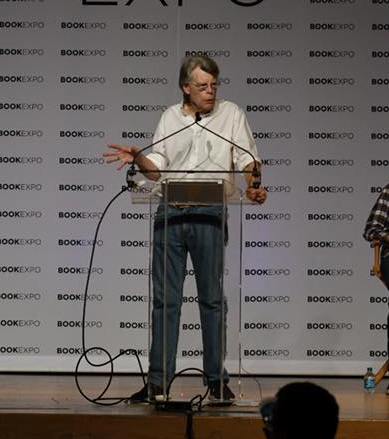 A rare Stephen King sighting at the Javits Center highlighted Thursday morning's Adult Book & Author Breakfast, which opened with a special "prologue" featuring the bestselling writer and his son Owen King, co-authors of the upcoming novel Sleeping Beauties (Scribner, September).
"It was a terrific experience to work with my son," King said. "And it turned out really well. We started as father and son. We became collaborators and finished as friends. So you can't do any better than that. And the book turned out to be a really good book. I can say that because I only wrote 50% of it."
Comedian and actress Whitney Cummings, author of I'm Fine... And Other Lies (Putnam, October), hosted the event, working the room to draw laughs from a sleepy breakfast audience: "Admittedly, this is a different vibe for me. As a comedian, I'm used to performing for drunk strangers at night. It's a little bit of a shift to perform for hungover strangers in the morning."
Claire Messud, author of The Burning Girl (Norton, August), spoke about the power of storytelling and imagination in the lives of adults, who think they know what is real: "As kids we're encouraged to make up stories, to use our imaginations. When we grow up, we believe that we don't invent what happens. That we see the truth clearly. It isn't really so. Just like children, we put together the pieces we think we know and we construct a story that makes sense enough."
After a short film was played highlighting the extraordinary career of Captain Scott Kelly, whose upcoming book is Endurance: My Year in Space, a Lifetime of Discovery (Knopf, October), he noted: "It's great to be here. Actually after being in space for a year, it's great to be anywhere with gravity."
Kelly shared the tale of his non-reading youth, which was changed forever by the discovery of a book while he was in college. Reading Tom Wolfe's The Right Stuff, he "recognized traits these guys had then that I felt like I had myself. And I decided right then and there that I was going to try to be like these guys from this book.... I was encouraged and I was motivated by something I read, and it was life-changing for me."
"So, I kind of miss this guy," Pete Souza, whose upcoming book is Obama: An Intimate Portrait: The Historic Presidency in Photographs (Little, Brown, November), observed before sharing a slide show of images reflecting his years as the official White House photographer. Citing the example of a now-famous shot of five-year-old Jacob Philadelphia touching the president's hair, Souza noted: "Probably the hardest part of my job is being ready when unexpected things happen."
Before discussing her new book, Sing, Unburied, Sing (Scribner, September), Jesmyn Ward offered a compelling tribute to the independent booksellers in her home state of Mississippi, saying that her experiences with Pass Christian Books in Pass Christian; Turnrow Book Co. in Greenwood; Lemuria Books in Jackson; and Square Books in Oxford "go well beyond that of merchants and producers.... They have all advocated for me in my work, have encouraged me through events and festivals, and been my cheerleaders and supporters as I try to write honestly about our very complicated state."
Ward added that Richard Howarth of Square Books and Pass Christian Books' Scott Naugle "have played significant roles in my life.... In a room full of booksellers, I thought it appropriate to acknowledge the important work that booksellers do... and in particular to acknowledge the impact that booksellers have had on me." --Robert Gray