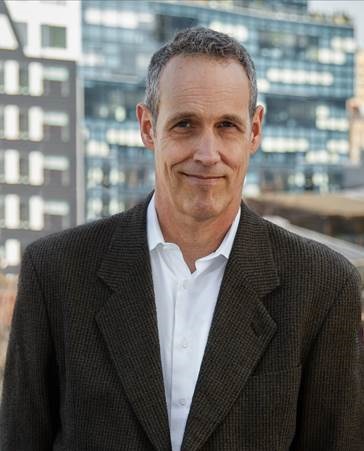 photo: Denise Bosco
Bruce Handy is a contributing editor at Vanity Fair, where he covers arts and culture, writing on topics including the Paris bookstore Shakespeare & Company, the original Playboy Clubs, the J.T. Leroy scandal, Star Wars and the comedy of Amy Schumer. Handy is a former writer and editor for Spy and Time magazines, and has contributed journalism, essays, criticism and humor to the New York Times Magazine, the New Yorker, Esquire and many other publications. He especially loves writing about kids' books for the New York Times Book Review; thus, his first book, Wild Things: The Joy of Reading Children's Literature as an Adult (Simon & Schuster, August 15, 2017).

On your nightstand now:

The books on my "nightstand" are actually several tall piles of books stacked against my bedroom wall. Among the titles balanced on the tops of those piles: Elvis Costello's Unfaithful Music & Disappearing Ink. He's one of my favorite musicians and songwriters, and his memoir is as smart and acerbic and wide-ranging as you'd hope. It's also not particularly linear, and thus great for dipping into.

Rick Perlstein's The Invisible Bridge: The Fall of Nixon and the Rise of Reagan. I've been reading this as research for my next book, a social and pop cultural history of the 1980s. Perlstein is great at weaving history and social criticism into a really compelling narrative--a model for what I'm hoping to do.

Ovid's Metamorphoses. I've never read Ovid, but got interested because my son was reading Metamorphoses for Latin class. He gave me a beautiful volume, in English, for my birthday, a really special gift.

Katie Kitamura's A Separation. Not long ago, I heard her read from this novel, her latest, and the writing was gripping and strange and beautiful. I can't wait to plunge in. I'm also looking forward to her husband Hari Kunzru's new novel, White Tears.

Favorite book when you were a child:

Impossible to say, but the two books I probably spent the most time with were Go, Dog. Go! by P.D. Eastman and Richard Scarry's Best Word Book Ever. I would stare at the dog party illustration at the end of the former for hours; same with every dense page of Scarry's book. I loved getting lost in the intricacies and wit of those drawings. I think both books were for me gateway drugs to Mad magazine.

Your top five authors:

Can I name five children's authors and five adult authors? For kids: Margaret Wise Brown, Beverly Cleary, Kevin Henkes, J.K. Rowling and E.B. White. For adults: Jane Austen, Honoré de Balzac, Charles Dickens, Henry James and Philip Roth.

Book you've faked reading:

In college, while taking a class on British women writers, I skipped Jane Eyre and read the CliffsNotes. I had struggled to get through Wuthering Heights and assumed that one Brontë sister's novel would be just as dreary (for me) as another's, which was obviously stupid and unfair. But I was facing a time crunch, too, with Middlemarch waiting in the wings.


Book you're an evangelist for:

Again, I want to offer two. For kids: The Dead Bird by Margaret Wise Brown. This is a small, simple story that talks to children about death and grief in an imaginative, sympathetic and slightly strange way, and it's so different from most kids' books on this subject, which are universally well-meaning but tend to wear their therapeutic intent on their sleeves. For adults: Lost Illusions by Balzac. It's about a young writer trying to make his way in the literary world of Paris in the 1820s, but change the place names and the particulars of media and the setting could be New York City today. This novel also has one of my favorite endings ever, too: without giving anything away, it seems headed toward the expectedly tragic, cautionary finish but then makes a breathtakingly cynical and ironic left turn.

Book you've bought for the cover:

The 40th anniversary edition of Mildred D. Taylor's Roll of Thunder, Hear My Cry, which has a gorgeous cover painting of the young heroine, Cassie Logan, by Kadir Nelson--a wonderful book made even better. Nelson is in his early 40s and I think he's already established himself as one of the all-time great illustrators, both for children and for adults. (Check out his New Yorker covers and We Are the Ship: The Story of the Negro Leagues, which he both wrote and illustrated.)

Book you hid from your parents:

I don't think I hid them, but I remember being embarrassed when I was reading Ian Fleming's James Bond novels at like age 13 or 14. It wasn't that they were grown-up or dirty, exactly (they're really neither), but more the fact that they so perfectly met every fantasy need I had as an adolescent. I think it made me self-conscious how much pleasure these books gave me.

Book that changed your life:

Is it cheating to say Mad magazine? I discovered Mad when I was nine and it was a lifeline. The jokes met my sense of humor right where it lived then, but the magazine also taught me healthy skepticism, especially when it came to cant, whether from advertisers, politicians or just adults in general. Like all great authors for kids, the creators of Mad didn't write down to their readers. I'd also say Where the Wild Things Are. Re-encountering Maurice Sendak's masterpiece as an adult, and seeing so much more in it than I did as a kid (when I didn't like it!), partly inspired me to write Wild Things--and also, of course, gave me my title.

Favorite line from a book:

"He never eats dumplings, he don't--he eats nothing but steaks, and he likes 'em rare." --the landlord at the Spouter-Inn, describing Queequeg's diet to Ishmael, in Moby-Dick.

Five books you'll never part with:

The copy of Portnoy's Complaint I read during my turns in the passenger seat while driving across the U.S. with a friend in 1980. The copy of Anna Karenina I read while traveling in Europe in 1986. The copy of Bonfire of the Vanities I read on another cross-country drive, this time with my future wife, in 1988. (We both read the novel, passing it back and forth between shifts at the wheel.) The copy of Green Eggs and Ham I read to my children 500 hundred times, maybe more. My first edition of A Day at the Beach, my favorite novel by my wife, Helen Schulman.

Book you most want to read again for the first time:

I wouldn't have given this answer before I answered the question above about hiding books from parents, but now that I'm thinking about it, if I'm honest, I'd have to say Casino Royale or Dr. No, assuming I could also read it with my 13-year-old brain.

Do you finish every book you start?

I used to. I think I felt it was a moral obligation of sorts, a holdover from school. But in my 20s, I gradually realized I didn't have to--like my friend's young daughter who didn't understand for the first few days of sleeping in a real bed, as opposed to her crib, that she could get out anytime she wanted. For me, this license has been a huge gift, since why read something I just don't like when there are so many great books in the world that I'll never have time to read anyway? That said, I do think it's important to stick with something challenging or not immediately to your taste, to not just chuck it at the first speed bump. The third or fourth? Okay.