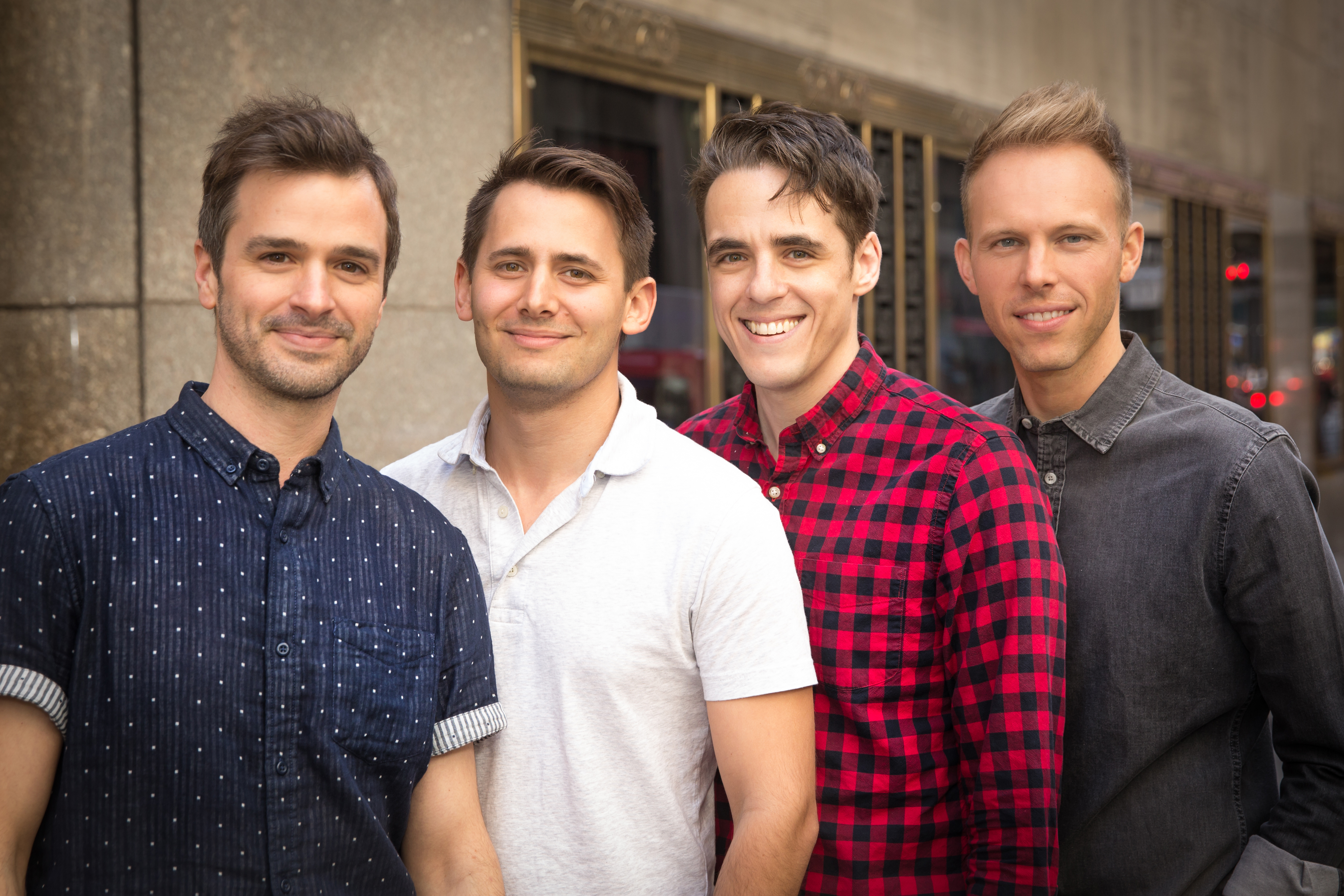 Val Emmich, Benj Pasek, Steve Levenson and Justin Paul (photo: Sasha Illingworth)
Steven Levenson is the Tony Award-winning book writer of Dear Evan Hansen. His other award-winning plays include If I Forget, The Unavoidable Disappearance of Tom Durnin, Core Values, The Language of Trees and Seven Minutes in Heaven. He worked for three seasons as a writer and producer on Showtime's Masters of Sex and is a founding member of Colt Coeur and an alumnus of MCC's Playwrights Coalition and Ars Nova's Play Group.
Benj Pasek and Justin Paul are the Tony, Oscar and Golden Globe-winning songwriting team behind the award-winning Broadway musicals Dear Evan Hansen and A Christmas Story: The Musical. Their other musicals include Dogfight, James and the Giant Peach and Edges. Their film projects include La La Land, Trolls, The Greatest Showman, Snow White, Medusa and Aladdin. TV credits include Smash, Sesame Street, The Flash and Johnny and the Sprites and A Christmas Story Live! musical.
Val Emmich is a writer, singer-songwriter and actor who was dubbed a "Renaissance man" by the New York Post. He has had recurring roles on Vinyl and Ugly Betty as well as a memorable guest role as Liz Lemon's coffee-boy fling, Jamie, on 30 Rock. His debut novel, The Reminders, was a Barnes & Noble Discover selection that Library Journal called "quirky, touching & addictive" and Popsugar deemed "beautiful and beguiling."
What did you find the most challenging about translating the show into a novel? Conversely, what did you find the most rewarding about translating the show into a novel?
Emmich: There were many challenges. I think the hardest part was trying to get key dramatic scenes from the show to have the same impact in the book--Steven, Benj and Justin really wanted to match the emotional intensity achieved on stage. Of course, as a show, Dear Evan Hansen uses music, actors and lights to create these moments, whereas I had to find a way to do it with only words on a page. But the most challenging part was also the most rewarding. It was maddening at times trying to meet the ideal of the show (and a few times, I worried that it just wasn't possible), but when I finally got it right, it felt pretty great. I'm also proud of the things I was given the privilege to add that weren't from the show, particularly the fleshing out of Connor's character.
Levenson: The most rewarding thing was getting to go back into this world and revisit these characters. With Val, we were able to unearth parts of the story that got lost along the way, to discover depths and dimensions of the story that we didn't know were there.
The book includes material that needs a deft touch. How did you achieve the appropriate level of sensitivity toward the subject of suicide while writing this novel?
Emmich: I give full credit to Justin, Benj and Steven. They had already spent many years navigating these tricky ethical waters and anytime I steered off course, they gently nudged me back to safety. Our editor, Farrin Jacobs, was also helpful. It was a process of trial and error, constantly adjusting as we went, making sure we were striking the right tone.
Do you think the "show to book" conversion is akin to the "book to movie" conversion? How do you think Dear Evan Hansen the book stands with/next to Dear Evan Hansen the show?
Levenson: In some ways, it's sort of the exact opposite. When you're adapting a book to film, you're likely to compress and economize. But with a "show to book" conversion, you're taking something that's 2.5 hours and trying to turn it into a more capacious, in-depth story. It's a privilege to have the freedom to explore the characters and open up the world more, instead of closing it down.
How do you feel about the final product?
Pasek: It was wonderful to see how Val took the emotional high points and wrote them in prose. We're so impressed with how he was able to make these characters as rich and as emotionally complex as they are in the show, without music providing the undercurrent of emotion.
Paul: We are really proud of what was created and surprised by it, too. While we were writing the musical, we never dreamed something we came up with for the stage could go back onto the page in novel form. We're always thinking about the backstory of these characters even if we can't put it on the stage but with Val leading the charge, we were able to explore these characters in ways we'd not been able to before. Getting to work on a novel was a fun and surprising process because we could really dig down into characters' backstories and fine tune what led them to where they are in the musical. The novel and musical complement each other in a beautiful way.