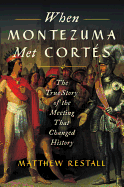 In When Montezuma Met Cortés, Mesoamerican scholar and historian Mathew Restall dismantles the 500-year traditional story of the "Conquest of Mexico." It is one "in which civilization, faith, reason, reality and a progressive future are victorious over barbarism, idolatry, superstition, irrationality, and retrogressive past." In short, this historic event stands as a symbol of the whole history of European colonization of the Americas--the United States included.

Restall debunks what he calls "mythistory." A Penn State professor of colonial Latin American history and a prolific author, Restall (The Conquistadors) knows his Mexican history and is sufficiently fluent in a half-dozen languages to do his own translating of primary sources. When Montezuma Met Cortés digs deep into the details of 16th-century exploration and imperialism, but it also rolls along easily with Restall's colloquial asides and skeptical common sense. For example, while Cortés and his Spanish apologists paint him as a loyal heroic soldier with a gift for strategy and diplomacy, Restall uncovers evidence that he was a middling sailor, mediocre leader and voracious womanizer. Similarly, Montezuma was not the submissive sycophant portrayed in the first meeting with Cortés, but rather a shrewd leader checking out his adversaries. As Restall suggests: "Montezuma was not afraid of the Spaniards; he was hunting them." But regardless of the real nature of that historic meeting, the result was a barbaric war with massive casualties on both sides.

Restall acknowledges that the historical details are ambiguous, but "those blurred lines are not just an issue that historians must tackle; they are History." --Bruce Jacobs, founding partner, Watermark Books & Cafe, Wichita, Kan.