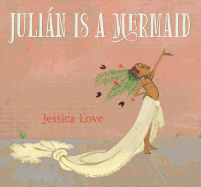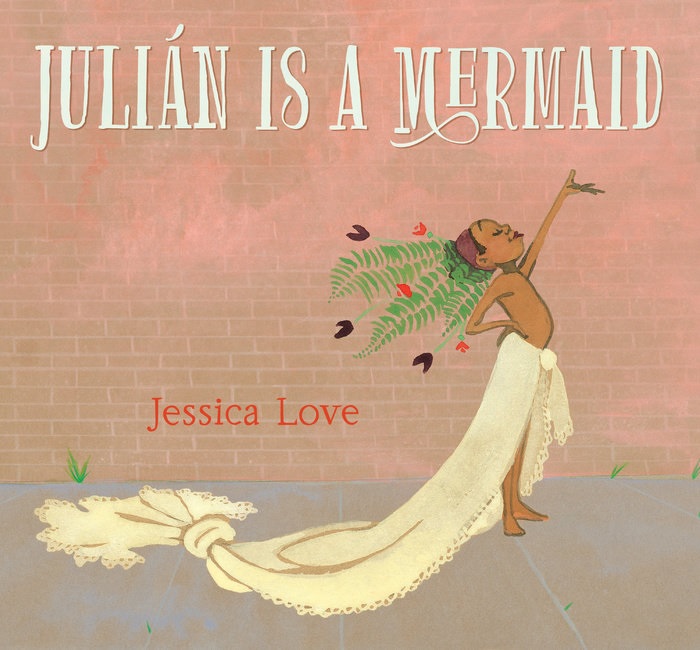 Riding the subway after a visit to the pool with his grandmother, young Julián notices three glamorous fellow passengers he's convinced are mermaids. And, of course, "Julián LOVES mermaids." Inspired by the company, the rest of Julián's train ride morphs into a dazzling underwater daydream in which he becomes a wild-haired, pink-and-gold-tailed mermaid, swept along with extraordinary sea creatures. Arriving at their subway stop returns Julián to land, but as he leaves the train, Julián turns to wave goodbye shyly to the fabulous creatures. On the stroll home, he asks, "Abuela, did you see the mermaids?" Walking in sync, she replies, "I saw them, mijo." That confirmation is all Julián needs to reveal, "Abuela, I am also a mermaid."

At home, Abuela announces she's off to take a bath--with a gentle warning: "You be good." Left alone, Julián "has a good idea" and gets down to the business of self-expression. Stripping his outer layers, he crowns himself with ferns and flowers, drapes himself in sunshine yellow to create a curtain-tail and strikes a perfect pose. But when his towel-wrapped Abuela re-emerges, her unexpected look of disapproval makes his fronds droop: "Uh-oh."

Her silent exit makes Julián self-consciously reexamine himself in the nearest mirror, until Abuela returns to surprise him with the crowning accessory: pink pearls. "For me, Abuela?" the delighted child asks. "For you, Julián." With the promise of "You'll see," Abuela takes his hand, and leads him outside. Their short stroll culminates in a beachside Carnival-like celebration, where wide-eyed Julián whispers with incredulous joy: "Mermaids." While he shyly peeks around a corner, Abuela confirms, "Like you, mijo," as she beckons him forward with an outstretched hand: " 'Let's join them.' And they did."

The words here (not even a hundred!) are succinctly sparse; the art is spectacular, proof positive that a picture is worth a thousand words. What Abuela and Julián don't tell one another with their voices, debut author/illustrator Jessica Love (not to be confused with the YA author of In Real Life who shares the same name) inventively shows on the page. Love's Broadway performance background is clearly at play throughout, with many of her characters swishingly, flowingly, enviably swathed.

Across her watercolor, gouache and ink spreads, Love captures the transformative power of being seen: Julián's subway daydream--a gorgeous, colorful odyssey of an aquatic rebirth--begins to become reality as soon as Abuela confirms his vision with "I saw them." Abuela's immediate acknowledgment morphs into a promise to Julián of "You'll see," and by book's end, Julián and Abuela are surrounded by mermaids--and other fantastic creatures--gloriously celebrating the welcoming sunshine, shimmering water, cerulean skies... and everyday life. Love's affecting combination of the literary and the visual results in a powerful affirmation of individuality, creative expression and unconditional acceptance. --Terry Hong, Smithsonian BookDragon

Shelf Talker: With his grandmother's unconditional affirmation, Julían's daydreams become spectacular reality in Broadway actor Jessica Love's triumphant author/illustrator debut.