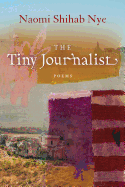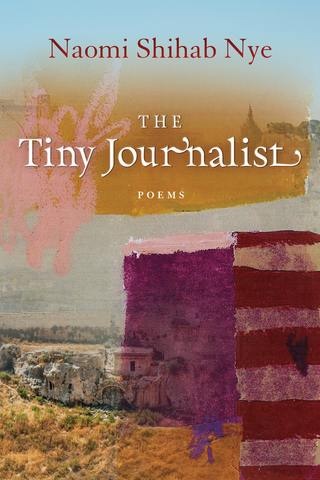 In 2013, Janna Jihad--then just seven years old--began filming and posting videos that captured snippets of her daily life as a Palestinian living under Israeli occupation. Her videos caught the attention of thousands around the world, including Palestinian American poet Naomi Shihab Nye (19 Varieties of Gazelle; Voices in the Air). Her collection The Tiny Journalist takes its title from Janna, and its poems--some of which are written to the girl--address the ongoing maltreatment of Palestinians by Israel and its allies, including the United States.
"How lonely the word PEACE is becoming./ Missing her small house under the olive trees," Shihab Nye writes in "For Palestine." A sense of weariness pervades some of the collection: fittingly, there is a poem called "How Long?" and one called "Patience Conversations." Even the poems that are ostensibly about daily life are tied to the conflict: "Studying English" begins with a musing on how the word courage "has age/ in it/ but I say/ age is not required." "Mediterranean Blue" jumps straight from the sea's color to a meditation on refugees, and ends with a pointed statement: "And if we can reach out a hand, we better." And "38 Billion" takes a huge number (the amount pledged by the U.S. Senate in 2018 for Israeli military aid) and imagines what else it could buy: "Eggs. Pencils. Undershirts of very soft cotton./ Ribbons. Radios. Shining flashlights."
Shihab Nye often invokes the voice of her father, a Palestinian journalist who spent much of his life in the U.S. She connects his experience to Janna's ("The Old Journalist Talks to Janna") and brings up other family members she has loved and lost. She writes several times about Ahmad Dawabsha, a young Palestinian boy badly burned in a 2015 firebombing attack that killed his family. (Readers who do not follow the headlines from Gaza may find themselves confused at times. That is part of Shihab Nye's--and Janna's--point: these stories, both of horrifying injustice and the common details of humanity, deserve a wider audience.)
On every page, Shihab Nye's insistent call is the same: people, all people, deserve to live safe and healthy lives, free from fear and violence. She mourns, rages, takes politicians to task, but always lands on the side of compassion: "The saddest part?/ We all could have had/ twice as many friends." Her poems are a clarion call to readers to see the violence in Palestine and elsewhere, and to do what they can to work for peace. --Katie Noah Gibson, blogger at Cakes, Tea and Dreams
Shelf Talker: Naomi Shihab Nye's latest poetry collection addresses the ongoing violence in Palestine and makes a powerful call for peace.