U.K. Authors Condemn Fake Amazon Reviews
Only a week after the New York Times wrote at length about companies that sold positive book reviews to be posted on Amazon, 49 British authors wrote a letter to the Daily Telegraph condemning the abuse of Amazon reviews by established authors under fake names, which many are calling "sock puppeting."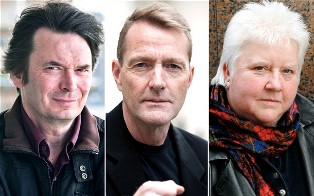 "These days more and more books are bought, sold, and recommended online, and the health of this exciting new ecosystem depends entirely on free and honest conversation among readers," the authors, who included Ian Rankin, Lee Child, Val McDermid (pictured at left), Susan Hill and Helen FitzGerald, wrote. "But some writers are misusing these new channels in ways that are fraudulent and damaging to publishing at large.... We unreservedly condemn this behaviour, and commit never to use such tactics." They added that "the only lasting solution is for readers to take possession of the process.... Your honest and heartfelt reviews, good or bad, enthusiastic or disapproving, can drown out the phoney voices, and the underhanded tactics will be marginalised to the point of irrelevance."

The spark for the letter was a report that crime novelist Roger Jon Ellory, who uses the pen name R.J. Ellory and whose 10 books have sold more than a million copies, admitted that "he had used fake identities to write about his own work on the Amazon book site, giving himself five star ratings," the Daily Telegraph wrote. "He gave his rivals bad reviews and low ratings using the same pseudonyms.... In his fake posts, many of which appeared to have been deleted, he used the names 'Nicodemus Jones' and 'Jelly Bean' to heap praise on his works."

Ellory called A Quiet Belief in Angels, his award-winning 2008 book, a "modern masterpiece" and "chilling." Giving it five stars, he added, "Ignore all the dissenters and naysayers, this book is not trying to be anything other than a great story, brilliantly told. Whatever else it might do, it will touch your soul."

By contrast, last month Ellory gave Dark Blood by Stuart MacBride one star, writing: "Unfortunately this is another in the seemingly endless parade of same-old-same-old Police procedurals that seem to abound in the UK."

The Daily Telegraph noted that another thriller writer, Stephen Leather, has admitted promoting his work using aliases.