Booksellers, we want to help you keep in touch with your customers!
Keep your bookstore on the top of their minds every week with a free customized version of Shelf Awareness.
Promote presales with a monthly customized Pre-Order e-blast.
Members of MPIBA, CALIBA, PNBA and NEIBA regional associations can get special seasonal mailings sent right to your customers. Past programs have included Holiday e-mail catalogs and Summer Reading e-blasts.

To find out more about any of these programs and to get your bookstore signed up to participate, please contact bookstores@shelf-awareness.com.
Participating Stores
Shelf Awareness is received by more than 647,000 readers, including the customers of 211 partner stores across the country. The Pre-Order e-blast is received by 921,000 readers, including customers at 213 partner stores.
Click here to see a list of stores we partner with.
(Current partners, keep your mailing lists up to date! Load in your most recent list here. We will make sure the list is filtered so that nobody is duplicated and only new addresses are added.)

The bookstore edition has all of the content from Shelf Awareness that you know and love, plus some great additional features:
Prominent placement of your bookstore's logo
Links to your website
Links to your social media accounts (Facebook, Twitter, Instagram & Pinterest)
Replies to your email address
Buy buttons for every reviewed book link to your e-commerce page for that specific title
Events listings (if you have an RSS, XML or ICS feed)
Customizable lead editorial at the top of your mailing and your full issue
Staff Recommendations section for you to select store favorites, upcoming event titles, local authors and more
The option to delay the sending of your mailing so that it goes out anywhere from half an hour to two and a half days after the Friday morning schedule
Your own data dashboard to track your open and click through rates and see what your customers are interested in

Set up is easy! We just need a few items from you and then we take care of building the customized mailing and full issue. Submit your materials here or contact bookstores@shelf-awareness.com with questions
The response we've had from our bookstore partners has been fantastic! Stores have reported an uptick in e-commerce sales and that their customers have been asking for (and buying!) books they saw in THEIR newsletter.
We'll make sure to let you know ahead of time which titles will be reviewed in each issue, so that you can decide if you want to bring extra copies in to your store. Some stores have set up displays to highlight the titles featured in that week's mailing.
Here are some examples of what the bookstore versions look like:
Village Books - Bellingham, WA
Raven Book Store - Lawrence, KS
Books & Books - Coral Gables, FL
Blue Willow Bookshop - Houston, TX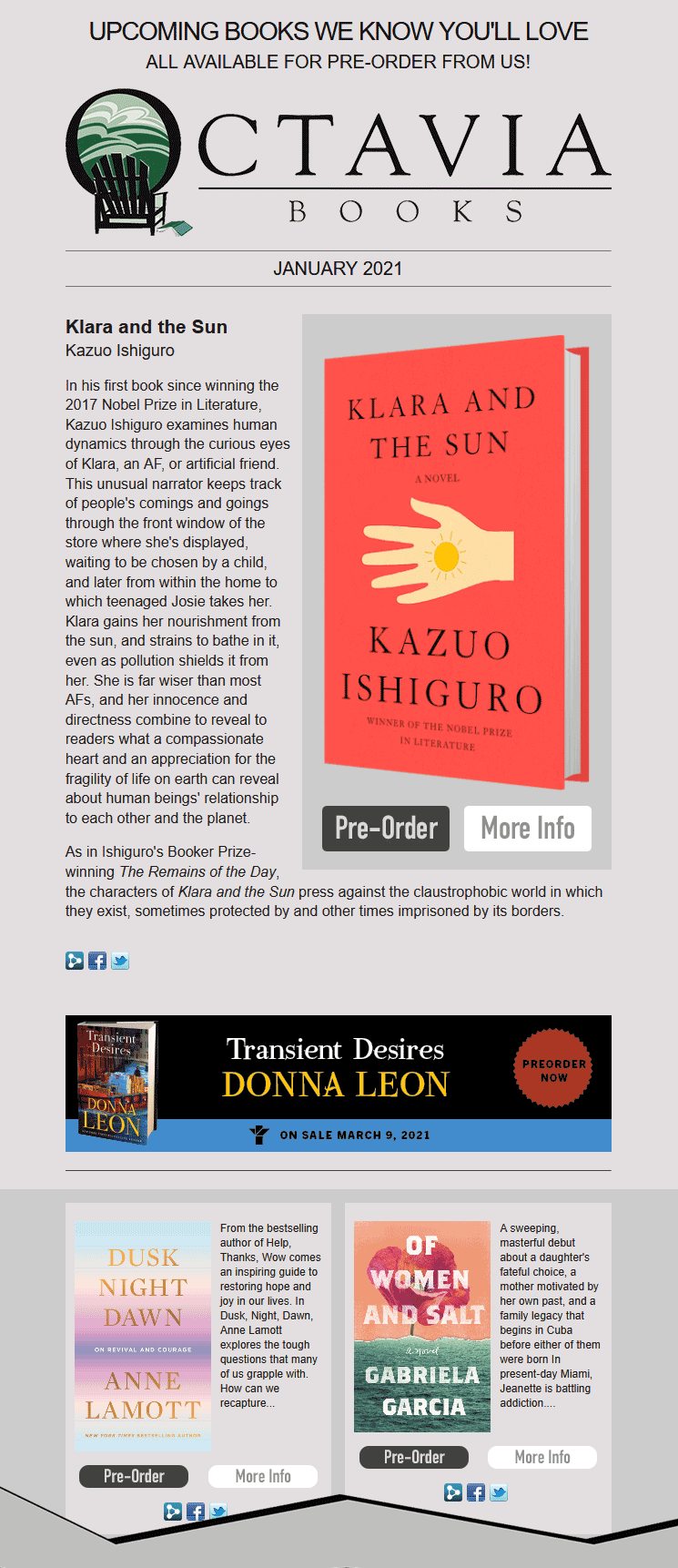 Like the Shelf Awareness Bookstore Edition, the monthly Pre-Order e-blast is branded for your bookstore, includes your social media links, replies to your email address and features buy buttons that link to your e-commerce site.
This e-blast sends to your customers on the last Wednesday of the month and highlights eight upcoming titles, plus three featured titles that are available for pre-order. You can use the eight titles we've picked each month or replace them entirely with your own selections. You'll be able to switch title location, replace titles, change cover image, change the URL the title will link to.
It's easy to sign up. Visit the registration page here or write bookstores@shelf-awareness.com with questions.
Here are a few examples of some of our Partner Stores' Pre-Order newsletters:
Fountain Bookstore - Richmond, VA
Elliott Bay Book Co. - Seattle, WA
4 Kids Books & Toys - Zionsville, IN
We're able to offer these newsletters and services for free to bookstores and subscribers because of the support of advertising from publishing houses. Our promise to you is that these ads will NEVER link directly to a competitor's retail site.
To find out more about the program or to get your bookstore signed up to participate, please contact bookstores@shelf-awareness.com.