Booksellers, we want to help you keep in touch with your customers!
Keep your bookstore on the top of their minds every week with a free customized version of Shelf Awareness for Readers.
Promote presales with a monthly customized Pre-Order e-blast.
Members of MPIBA, CALIBA and PNBA regional associations can get your holiday catalogs sent right to your customers using the Holiday e-mail newsletter or opt-in for the Summer Reading e-blast.

To find out more about any of these programs and to get your bookstore signed up to participate, please contact bookstores@shelf-awareness.com.
Click here to see a list of stores we partner with.
Current partners, keep your mailing lists up to date! Load in your most recent list here. We will make sure the list is filtered so that nobody is duplicated and only new addresses are added.

The bookstore edition has all of the content from Shelf Awareness for Readers that you know and love, plus some great additional features:
Prominent placement of your bookstore's logo
Links to your website
Links to your social media accounts (Facebook, Twitter, Instagram & Pinterest)
Replies to your email address
Buy buttons for every reviewed book link directly to your e-commerce page for that specific title
Events listings (if you have an RSS, XML or ICS feed)
Customizable lead editorial at the top of the newsletter
Ad space to announce sales, events, etc.

Set up is easy! We just need a few items from you and then we take care of building the customized version. Submit your materials here or contact bookstores@shelf-awareness.com with questions
The response we've had from our bookstore partners has been fantastic! Stores have reported an uptick in e-commerce sales and that their customers have been asking for (and buying!) books they saw in THEIR newsletter. We'll make sure to let you know ahead of time which titles will be reviewed in each issue, so that you can decide if you want to bring extra copies in to your store. Some stores have set up displays to highlight the titles featured in that week's newsletters.
Here are some examples of what the bookstore versions look like:
Village Books - Bellingham, WA
Tattered Cover - Denver, CO
Elliott Bay Books - Seattle, WA
Blue Willow Bookshop - Houston, TX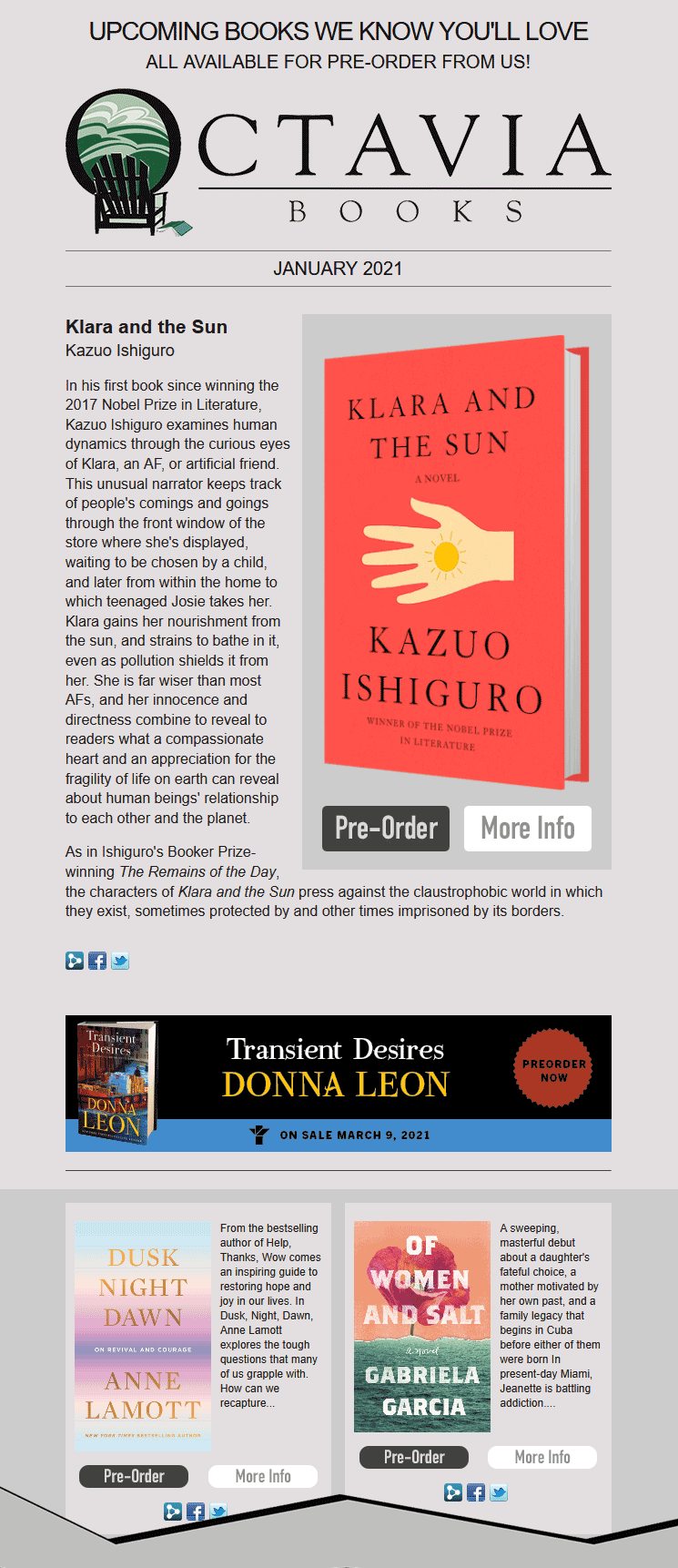 Like the Shelf Awareness for Readers BookstoreEdition, the monthly Pre-Order e-blast is branded for your bookstore, includes your social media links, replies to your email address and features buy buttons that link to your e-commerce site.
This e-blast sends to your customers on the last Wednesday of the month and highlights eight upcoming titles, plus three featured titles that are available for pre-order. You can use the eight titles we've picked each month or replace them entirely with your own selections. You'll be able to switch title location, replace titles, change cover image, change the URL the title will link to.
It's easy to sign up. Visit the registration page here or write bookstores@shelf-awareness.com with questions.
Here are a few examples of some of our Partner Stores' Pre-Order newsletters:
Fountain Bookstore - Richmond, VA
Books & Books - Florida
We're able to offer thes newsletters and services for free to bookstores and subscribers because of the support of advertising from publishing houses. Our promise to you is that these ads will NEVER link directly to a competitor's retail site.
To find out more about the program or to get your bookstore signed up to participate, please contact bookstores@shelf-awareness.com.
In-Store Displays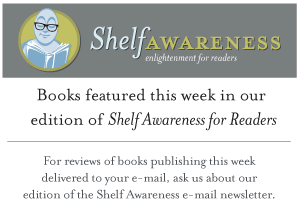 Want a place to direct customers looking for titles they read about in your edition of Shelf Awareness for Readers this week? These handy printable signs will help you create a display. Just pick a size and click to download the PDF file, then either print it from your office or take it to a local printer.

Do you have a display in your store? Tell us about it!

Participating Stores
Shelf Awareness for Readers is received by more than 633,000 readers, including the customers of 201 partner stores across the country. The Pre-Order e-blast is received by 896,000 readers, including customers at 187 partner stores.
Alabama
Ernest & Hadley Booksellers – Tuscaloosa, AL
Page & Palette – Fairhope, AL
The Haunted Book Shop – Mobile, AL
The Snail on the Wall – Huntsville, AL

Alaska
Fireside Books – Palmer, AK
Arizona
Brightside Bookshop – Flagstaff, AZ

California
A Seat at the Table – Elk Grove, CA
Barn Owl Books – Quincy, CA
Bel Canto – Long Beach, CA
Bookshop West Portal – San Francisco, CA
BookSmart – Morgan Hill & Newark, CA
Books on B – Hayward, CA
Capital Books – Sacramento, CA
Creating Conversations – Redondo Beach, CA
Diesel – DelMar and Santa Monica, CA
Face In a Book – El Dorado Hills, CA
Flintridge Bookstore – La Cañada Flintridge, CA
Galley Bookshop – Mendocino, CA
Green Apple Books – San Francisco, CA
Ink Spell Books – Half Moon Bay, CA
La Playa Books – San Diego, CA
Laguna Beach Books – Laguna Beach, CA
Napa Bookmine – Napa, CA
{pages}: a bookstore – Manhattan Beach, CA
Poet's Corner – Duncan Mills, CA
Rakestraw – Danville, CA
Run for Cover – San Diego, CA
Sausalito Books by the Bay – Sausalito, CA
Warwick's – La Jolla, CA

Colorado
BookBar – Denver, CO
Boulder Bookstore – Boulder, CO
Explore Booksellers – Aspen, CO
HearthFire Books & Treats – Evergreen, CO
Maria's Bookshop – Durango, CO
Narrow Gauge Book Co-op – Alamosa, CO
Next Page Books and Nosh – Frisco, CO
Old Firehouse Books – Fort Collins, CO
The Read Queen Bookstore and Cafe – Lafayette, CO
Second Star to the Right – Denver,CO
Tattered Cover Book Store – Denver, CO
Words of Windsor – Windsor, CO
Connecticut
Bank Square Books – Mystic, CT
Byrd's Books – Bethel, CT
Elm Street Books – New Canaan, CT
Hickory Stick Bookshop – Washington Depot, CT

Delaware
Browseabout Books – Rehoboth Beach, DE

Florida
Bookends TLH – Tallahassee, FL
Books & Books – Miami, FL
Copperfish Books – Punta Gorda, FL
The Family Book Shop – Deland, FL
MacIntosh Books – Sanibel Island, FL
Midtown Reader - Tallahassee, FL
Poetic Justice Books & Art – Port St. Lucie, FL
Story & Song Bookstore Bistro – Fernadina Beach, FL
Tombolo Books – St. Petersburg, FL
Vero Beach Book Center – Vero Beach, FL
Writer's Block Bookstore – Winter Park, FL

Georgia
Book Worm Bookstore – Powder Springs, GA
E. Shaver, Booksellers – Savannah, GA
Gottwals Books – Warner Robins, GA
Horton's Books – Carrolton, GA
Little Shop of Stories – Decatur, GA
Read it Again – Suwanee, GA
Story on the Square – McDonough, GA
Hawaii
Kona Stories – Kailua-Kona, HI

Idaho
Book People of Moscow – Moscow, ID
The Barn Owl Books & Gifts – McCall, ID
Well-Read Moose – Coueur d'Alene, ID
Illinois
Bobzbay – Bloomington, IL
Bookie's – Chicago, IL
City Lit – Chicago, IL
King City Books – Mount Vernon, IL
Page 1 Books – Evanston, IL
Read Between The Lynes – Woodstock, IL
The Sly Fox – Virden, IL

Indiana
4 Kids Books & Toys – Zionville, IN
Brain Lair Bookstore – South Bend, IN
Fables Books – Goshen, IN
Main Street Books – Lafayette, IN
Naughty Dog Books – Nashville, IN
Second Flight Books – Lafayette, IN
Three Sisters – Shelbyville, IN
Village Lights Bookstore – Madison, IN
Iowa
Pageturners – Indianola, IA
Prairie Lights Bookstore – Iowa City, IA

Kansas
Crow & Co. – Hutchinson, KS
Rainy Day Books – Fairway, KS
Raven Book Store – Lawrence, KS
Rivendell Bookstore – Abilene, KS

Louisiana
Beausoleil Books – Lafayette, LA
Blue Cypress Books – New Orleans, LA
Garden District Bookstore – New Orleans, LA
Octavia Books – New Orleans, LA
Maine
Bogan Books – Fort Kent, ME
The Briar Patch – Bangor, ME

Maryland
A Likely Story Bookstore – Sykesville, MD
Books With a Past – Glenwood & Savage, MD
Caprichos Books – Bel Air, MD
Curmudgeon Books – Glen Burnie, MD
Paper Garden Books – Millersville, MD

Massachusetts
Andover Bookstore – Andover, MA
Belmont Books – Belmont, MA
Booklover's Gourmet – Webster, MA
Book Moon – Easthampton, MA
Bunch of Grapes Bookstore – Vineyard Haven, MA
Buttonwood Books & Toys – Cohasset, MA
Copper Dog Books – Beverly, MA
East End Books PTown – Provincetown, MA
Mitchell's Book Corner – Nantucket, MA
Nantucket Bookworks – Nantucket, MA
Odyssey Bookshop – South Hadley, MA
Rozzie Bound – Roslindale, MA
Trident Booksellers – Boston, MA
Whitelam Books – Reading, MA

Michigan
The Book Nook & Java Shop – Montague, MI
Detroit Book City – Detroit, MI
Epilogue Books – Rockford, MI
Fenton's Open Book – Fenton, MI
Horizon Books – Traverse City, MI
Horizon Books, Cadillac – Cadillac, MI
Pages Bookshop – Detroit, MI
Saturn Booksellers – Gaylord, MI
Serendipity Books – Chelsea, MI

Minnesota
Excelsior Bay Books – Excelsior, MN
Fair Trade Books – Red Wing, MN
Scout & Morgan Books – Cambridge, MN
Travelin' Storyseller – Wadena, MN
Valley Booksellers – Stillwater, MN
Mississippi
Pass Books – Pass Christian, MS
Southern Bound Bookshop – Biloxi, MS
Missouri
Neighborhood Reads – Washington, MO
The Novel Neighbor – St. Lous, MO
Stonecrest Book and Toy – Osage Beach, MO
Subterranean Books – St. Louis, MO

Montana
Chapter One Book Store – Hamilton, MT
Fact & Fiction – Missoula, MT
Montana Book Co. – Helena, MT
Reading Leaves – Townsend, MT

Nebraska
The Bookworm – Omaha, NE
Chapters Books & Gifts – Seward, NE
Francie & Finch Bookstore – Lincoln, NE
New Hampshire
Bayswater Books – Center Harbor, NH
Innisfree Bookshop – Meredith, NH
Morgan Hill Bookstore – New London, NH
MainStreet Bookends – Warner, NH
Toadstool Bookshops – Peterborough, NH
Water Street Bookstore – Exeter, NH
New Jersey
Black Dog Books – Newton, NJ
Books & Greetings – Northvale, NJ
Watchung Booksellers – Montclair, NJ
[words] Bookstore – Maplewood, NJ

New Mexico
Collected Works Bookstore & Coffeehouse – Sante Fe, NM
Page 1 Books – Albuquerque, NM
New York
Berry & Co. – Sag Harbor, NY
Boogie Down Books – Bronx, NY
Book Club (Bar) – New York, NY
Briars and Brambles Books – Windham, NY
The Book House of Stuyvesant Plaza – Albany, NY
Buffalo Street Books – Ithaca, NY
Colgate Bookstore – Hamilton, NY
Lift Bridge Book Shop – Brookport, NY
The Little Book House – Albany, NY
Market Block Books – Troy, NY
Shakespeare & Co. – New York, NY
North Carolina
Angel Wings – Stern, NC
Buxton Village Books – Buxton, NC
City Lights Bookstore – Sylva, NC
The Country Bookshop – Southern Pines, NC
Duck's Cottage Coffee & Books – Duck, NC
Duck's Downtown Books – Manteo, NC
Foggy Pine Books – Boone, NC
Island Bookstore – Kitty Hawk, NC
Malaprop's Bookstore/Café – Asheville, NC
McIntyre's Fine Books – Pittsboro, NC
Page After Page – Elizabeth City, NC
Page 158 Books – Wake Forest, NC
Park Road Books – Charlotte, NC
Red Rice & Beans Diaspora Bookstore – Charlotte, NC
Read With Me Bookshop – Raleigh, NC
Quail Ridge Books – Raleigh, NC
Quarter Moon Books & Gifts – Topsail Beach, NC
Sassafras on Sutton – Black Mountain, NC
Scuppernong Books – Greensboro, NC
Sunrise Books – High Point, NC
North Dakota
Ferguson Books & More – Grand Forks & Bismark, ND
Main Street Books – Minot, ND

Ohio
Beanbag Books – Delaware, OH
Blue Manatee Literacy Project – Cincinnati, OH
The Book Loft of German Village – Columbus, OH
The Bookshelf – Cincinnati, OH
The Fine Print – Lakeside, OH
Kenyon College Bookstore – Gambier, OH
Mind Fair Books – Oberlin, OH
Oregon
Annie Bloom's Books – Portland, OR
Beach Books – Seaside, OR
Bob's Beach Books – Lincoln City, OR
The Book Nook – Canby, OR
Broadway Books – Portland, OR
Dudley's Bookshop Café – Bend, OR
Grass Roots Books & Music – Corvallis, OR
Maggie Mae's Kids Bookshop – Gresham, OR
Paulina Springs – Sisters, OR
Klindt's Booksellers – The Dalles, OR
The Book Nook – Canby, OR
Third Street Books – McMinnville, OR

Pennsylvania
Aaron's Books – Lititz, PA
From My Shelf Books & Gifts – Wellsboro, PA
Head House Books – Philadelphia, PA
Main Point Books – Wayne, PA
Penguin Bookshop – Sewickley, PA
Riverstone Books – Pittsburgh, PA

Rhode Island
Inkfish Books – Warren, RI
Island Books – Middletown, RI
Island Bound Bookstore – Block Is. RI
Savoy Books & Cafe – Westerly, RI
South Carolina
Books on Broad – Camden, SC
Fiction Addiction – Greenville, SC
Hub City Bookshop – Spartanburg, SC

South Dakota
Ravin Book Depot – Yankton, SD

Tennessee
Reading Rock Books – Dickson, TN
Union Ave Books – Knoxville, TN
Texas
Bibliobus – Garland, TX
Blue Willow Bookshop – Houston, TX
The Book Haus – New Braunfels, TX
The Book Nook – Brenham, TX
BookPeople – Austin, TX
Buy the Book – Spring, TX
Front Street Books – Alpine, TX
Nowhere Bookshop – San Antonio, TX
Storybook Garden – Weslaco, TX
The Twig Book Shop – San Antonio, TX
Utah
The Book Bungalow – Saint George, UT
The King's English – Salt Lake City, UT
Weller Book Works – Salt Lake City, UT

Vermont
Bear Pond Books – Montpelier, VT
Flying Pig – Shelburne, VT
Star Cat Books – Bradford, VT
The Bookstore – Brandon, VT
The Vermont Book Shop – Middlebury, VT
Virginia
Birch Tree Bookstore – Loudoun, VA
The Book Dragon Shop – Staunton, VA
Book No Further – Roanoke, VA
Book People, Richmond – Richmond, VA
The Fountain Bookstore – Richmond, VA
Prince Books – Norfolk, VA
Sundial Books – Chincoteague Island, VA
Winchester Book Gallery – Winchester, VA

Washington
Ballast Book Co. – Bremerton, WA
Darvill's Bookstore – Eastsound, WA
Eagle Harbor Books – Bainbridge Island, WA
The Elliott Bay Book Company – Seattle, WA
Inklings Bookstore – Yakima, WA
Lemolo Books – Bremerton, WA
Liberty Bay Books – Poulsbo, WA
Page 2 Books – Burien, WA
Pegasus Book Exchange – Seattle, WA
Port Book and News – Port Angeles, WA
Queen Anne Book Co. – Seattle, WA
Riverwalk Books – Lake Chelan, WA
University Book Store – Seattle, WA
Village Books – Bellingham, WA
Vintage Books – Vancouver, WA
Wishing Tree Books – Spokane, WA
Ye Olde Bookstore – Wenatchee, WA

Wisconsin
Arcadia Books – Spring Green, WI
BayShore Books – Oconto, WI
Blue House Books – Kenosha, WI
The Book Store – Appleton, WI
Chapter 2 Books – Hudson, WI
Honest Dog Books – Bayfield, WI
Kismet Bookshop – Verona, WI
Lion's Mouth Bookstore – Green Bay, WI
Redbery Books – Cable, WI
Wyoming
Wind City – Caspar, WY

Bermuda
Bermuda Book Store