Booksellers: You can get a FREE customized version of Shelf Awareness for Readers for your customers!
The bookstore edition has all of the content from Shelf Awareness for Readers that you know and love, plus some great additional features:
Prominent placement of your bookstore's logo
Links to your website
Links to your social media accounts (Facebook, Twitter, Instagram & Pinterest)
Replies to your email address
Buy buttons for every reviewed book link directly to your e-commerce page for that specific title
Events listings (if you have an RSS, XML or ICS feed)
Customizable lead editorial at the top of the newsletter
Ad space to announce sales, events, etc.
Set up is easy! We just need a few items from you and then we take care of building the customized version.
The response we've had from our bookstore partners has been fantastic! Stores have reported an uptick in e-commerce sales and that their customers have been asking for (and buying!) books they saw in THEIR newsletter. We'll make sure to let you know ahead of time which titles will be reviewed in each issue, so that you can decide if you want to bring extra copies in to your store. Some stores have set up displays to highlight the titles featured in that week's newsletters.
Here are some examples of what the bookstore version looks like:
Village Books, Bellingham, WA
Tattered Cover, Denver, CO
Elliott Bay Books, Seattle, WA
University Book Store, Seattle, WA
Blue Willow Bookshop - Houston, TX
Click here to see a list of stores already delivering the newsletter.
We're able to offer this service for free to bookstores and subscribers because of the support of advertising from publishing houses. Our promise to you is that these ads will NEVER link directly to a competitor's retail site.
To find out more about the program or to get your bookstore signed up to participate, please contact bookstores@shelf-awareness.com.
In-Store Displays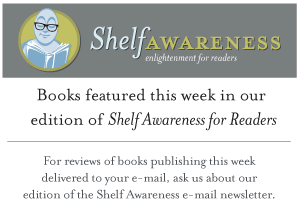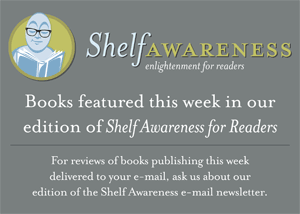 Want a place to direct customers looking for titles they read about in your edition of Shelf Awareness for Readers this week? These handy printable signs will help you create a display. Just pick a size and click to download the PDF file, then either print it from your office or take it to a local printer.
Do you have a display in your store? Tell us about it!
Participating Stores
Shelf Awareness for Readers is received by more than 484,000 readers, including the customers of 166 partner stores across the country.
Alabama
Ernest & Hadley Booksellers – Tuscaloosa, AL
Page & Palette – Fairhope, AL
Alaska
Fireside Books – Palmer, AK
California
Barn Owl Books – Quincy, CA
BookSmart – Morgan Hill & Newark, CA
Branches Books & Gifts – Oakhurst, CA
Flintridge Bookstore – La Cañada Flintridge, CA
Gift Lit – Saratoga, CA
Ink Spell Books – Half Moon Bay, CA
La Playa Books – San Diego, CA
Laguna Beach Books – Laguna Beach, CA
Napa Bookmine – Napa, CA
Rakestraw – Danville, CA
Colorado
BookBar – Denver, CO
Boulder Bookstore – Boulder, CO
Explore Booksellers – Aspen, CO
HearthFire Books & Treats – Evergreen, CO
Maria's Bookshop – Durango, CO
Narrow Gauge Book Co-op – Alamosa, CO
Next Page Books and Nosh – Frisco, CO
Old Firehouse Books – Fort Collins, CO
Tattered Cover Book Store – Denver, CO
Connecticut
Bank Square Books – Mystic, CT
Elm Street Books – New Canaan, CT
Florida
The Bayou Book Company – Niceville, FL
Books & Books – Miami, FL
The Book Cellar – Lake Worth, FL
The Family Book Shop – Deland, FL
MacIntosh Books – Sanibel Island, FL
Midtown Reader - Tallahassee, FL
Poetic Justice Books & Art – Port St. Lucie, FL
Vero Beach Book Center – Vero Beach, FL

Georgia
Book Worm Bookstore – Powder Springs, GA
E. Shaver, Booksellers – Savannah, GA
Read it Again – Suwanee, GA
Story on the Square – McDonough, GA
Hawaii
Kona Stories – Kailua-Kona, HI

Idaho
Book People of Moscow – Moscow, ID
Well-Read Moose – Coueur d'Alene, ID
Illinois
Bookie's – Chicago, IL
King City Books – Mount Vernon, IL
Page 1 Books – Evanston, IL
Read Between The Lynes – Woodstock, IL
Indiana
Brain Lair Books – South Bend, IN
Main Street Books – Lafayette, IN
Second Flight Books – Lafayette, IN
Three Sisters – Shelbyville, IN
Village Lights Bookstore – Madison, IN
Iowa
M & M Books – Cedar Rapids, IA
Pageturners – Indianola, IA
Kansas
Bluebird Books – Hutchinson, KS
Ellen Plumb's City Bookstore – Emporia, KS
Rainy Day Books – Fairway, KS
Rivendell Bookstore – Abilene, KS

Kentucky
Coffee Tree Books – Morehead, KY
Louisiana
Blue Cypress Books – New Orleans, LA
Garden District Bookstore – New Orleans, LA
Octavia Books – New Orleans, LA
Maine
The Briar Patch – Bangor, ME

Maryland
Books With a Past – Glenwood & Savage, MD
Caprichos Books – Bel Air, MD

Massachusetts
Andover Bookstore – Andover, MA
Booklover's Gourmet – Webster, MA
Bunch of Grapes Bookstore – Vineyard Haven, MA
Buttonwood Books & Toys – Cohasset, MA
Copper Dog Books – Beverly, MA
East End Books PTown – Provincetown, MA
Mitchell's Book Corner – Nantucket, MA
Nantucket Bookworks – Nantucket, MA
Odyssey Bookshop – South Hadley, MA
Trident Booksellers – Boston, MA
Whitelam Books – Reading, MA

Michigan
The Book Nook & Java Shop – Montague, MI
Epilogue Books – Rockford, MI
Horizon Books – Traverse City, MI
Horizon Books, Cadillac – Cadillac, MI
Pages Bookshop – Detroit, MI
Saturn Booksellers – Gaylord, MI
Minnesota
Excelsior Bay Books – Excelsior, MN
Travelin' Storyseller – Wadena, MN
Valley Booksellers – Stillwater, MN
Mississippi
Square Books – Oxford, MS
Missouri
Neighborhood Reads – Washington, MO
Stonecrest Book and Toy – Osage Beach, MO

Montana
Country Bookshelf – Bozeman, MT
Fact & Fiction – Missoula, MT
Montana Book Co. – Helena, MT

Nebraska
The Bookworm – Omaha, NE
Chapters Books & Gifts – Seward, NE
Francie & Finch Bookstore – Lincoln, NE
New Hampshire
Bayswater Books – Center Harbor, NH
Innisfree Bookshop – Meredith, NH
Morgan Hill Bookstore – New London, NH
MainStreet Bookends – Warner, NH
Water Street Bookstore – Exeter, NH
New Jersey
Black Dog Books – Newton, NJ

New Mexico
Bookworks – Albuquerque, NM
Collected Works Bookstore & Coffeehouse – Sante Fe, NM
New York
Berry & Co. – Sag Harbor, NY
The Book House of Stuyvesant Plaza – Albany, NY
Lift Bridge Book Shop – Brookport, NY
The Little Book House – Albany, NY
Market Block Books – Troy, NY
Merritt Books – Millbrook, NY
North Carolina
Buxton Village Books – Buxton, NC
City Lights Bookstore – Sylva, NC
The Country Bookshop – Southern Pines, NC
Duck's Cottage Coffee & Books – Duck, NC
Duck's Downtown Books – Manteo, NC
Foggy Pine Books – Boone, NC
Island Bookstore – Kitty Hawk, NC
Malaprop's Bookstore/Café – Asheville, NC
McIntyre's Fine Books – Pittsboro, NC
Page After Page – Elizabeth City, NC
Page 158 Books – Wake Forest, NC
Park Road Books – Charlotte, NC
Quarter Moon Books & Gifts – Topsail Beach, NC
Sassafras on Sutton – Black Mountain, NC
Scuppernong Books – Greensboro, NC
Sunrise Books – High Point, NC
North Dakota
Ferguson Books & More – Grand Forks & Bismark, ND
Ohio
The Book Loft of German Village – Columbus, OH
The Fine Print – Lakeside, OH
Kenyon College Bookstore – Gambier, OH
Mind Fair Books – Oberlin, OH
Oregon
Annie Bloom's Books – Portland, OR
Beach Books – Seaside, OR
Bob's Beach Books – Lincoln City, OR
Dudley's Bookshop Café – Bend, OR
Maggie Mae's Kids Bookshop – Gresham, OR
Klindt's Booksellers – The Dalles, OR
Third Street Books – McMinnville, OR
Pennsylvania
From My Shelf Books & Gifts – Wellsboro, PA
Penguin Bookshop – Sewickley, PA
Riverstone Books – Pittsburgh, PA

Rhode Island
Inkfish Books – Warren, RI
Island Books – Middletown, RI
Island Bound Bookstore – Block Is. RI
Savoy Books & Cafe – Westerly, RI
South Carolina
Books on Broad – Camden, SC
Fiction Addiction – Greenville, SC
Hub City Bookshop – Spartanburg, SC

Tennessee
Reading Rock Books – Dickson, TN
Star Line Books – Chattanooga, TN
Union Ave Books – Knoxville, TN
Texas
Bibliobus – Garland, TX
Blue Willow Bookshop – Houston, TX
The Book Haus – New Braunfels, TX
Storybook Garden – Weslaco, TX
The Twig Book Shop – San Antonio, TX
Utah
Weller Book Works – Salt Lake City, UT

Vermont
Star Cat Books – Bradford, VT
The Vermont Book Shop – Middlebury, VT
Virginia
Book No Further – Roanoke, VA
The Fountain Bookstore – Richmond, VA
Over the Moon Books – Crozet, VA
Sundial Books – Chincoteague Island, VA
Washington
Eagle Harbor Books – Bainbridge Island, WA
The Elliott Bay Book Company – Seattle, WA
Inklings Bookstore – Yakima, WA
Liberty Bay Books – Poulsbo, WA
Page 2 Books – Burien, WA
Port Book and News – Port Angeles, WA
Queen Anne Book Co. – Seattle, WA
Riverwalk Books – Lake Chelan, WA
University Book Store – Seattle, WA
Village Books – Bellingham, WA
Vintage Books – Vancouver, WA
Wisconsin
Arcadia Books – Spring Green, WI
BayShore Books – Oconto, WI
The Book Store – Appleton, WI
Chapter 2 Books – Hudson, WI
Redbery Books – Cable, WI