In the early days of Penguin Books--founded in 1935--a 21-year-old employee named Edward Young created the first iteration of its iconic logo based on drawings he had made at the London Zoo. Young also used his amateur art talents on Penguin's first paperbacks, the distinctive orange-white-orange style used for works by Virginia Woolf, Ernest Hemingway and Agatha Christie, among others. The Penguin Orange Collection celebrates this design legacy with new covers for 12 American classics:
Ceremony by Leslie Marmon Silko
East of Eden by John Steinbeck
On the Road by Jack Kerouac
One Flew over the Cuckoo's Nest by Ken Kesey
The Broom of the System (30th Anniversary Edition) by David Foster Wallace
The Call of Cthulhu and Other Weird Stories by H.P. Lovecraft
The Crucible by Arthur Miller
The Joy Luck Club by Amy Tan
The Snow Leopard by Peter Matthiessen
Twelve Years a Slave by Soloman Northup
We Have Always Lived in the Castle by Shirley Jackson
White Noise by Don DeLillo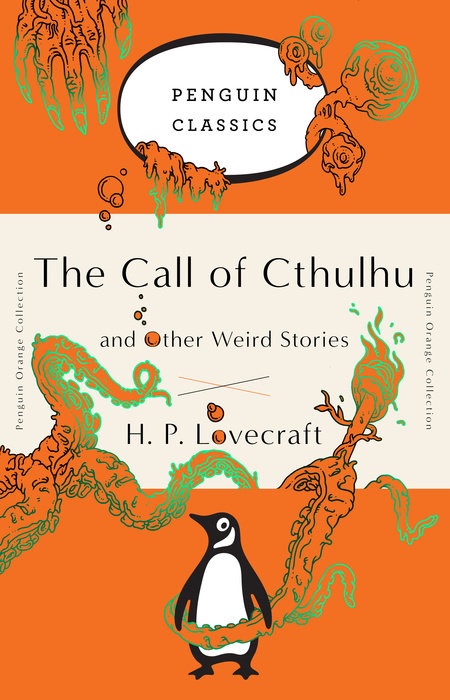 These covers by Eric Nyquist combine his psychedelia line art style with symbols from each book, like sprawling tentacles for Call of Cthulhu and a dripping mop for One Flew over the Cuckoo's Nest.
There's also playfulness in these covers. "It was fun to deconstruct the penguin," said Paul Buckley. "On each cover, the penguin is always in peril. We have the penguin in a boiling cauldron on one cover and a rattlesnake around him on another." The Penguin Orange Collection goes on sale October 18.