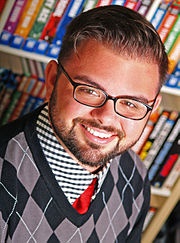 Eric Wight
Creator of the Frankie Pickle series and the comic book adaptation of The Amazing Adventures of Kavalier and Clay, among many other works, Eric Wight is creative and editorial director of children's media at Rodale. Here the author, illustrator and animator discusses the creative direction of Rodale Kids.

Having grown up a few towns over from their offices in Emmaus, Pa., I'd known that Rodale was a pioneering health and wellness content company since I was a kid. My grandfather (who lived to 100!) read their books on nutrition from cover to cover, and always had copies of Prevention magazine on hand. Like they did for my grandfather, Rodale has improved the lives for millions of adults around the world. What always surprised me was that they didn't publish books for children. After all, the Rodale mission of health and happiness is exactly what I want for my kids.
As it turns out, publishing children's books was a lifelong dream of chairman and CEO Maria Rodale. It just hadn't happened yet, so I joined the Rodale team to help change that. With the same entrepreneurial spirit that has shaped the long history of the Rodale company, a handful of ideas and doodles has now become a fully functional children's imprint with more than 50 titles in the works.
Prior to coming to Rodale, I spent my days working from home in my pajamas writing and illustrating children's books, such as the Frankie Pickle series (S&S BFYR), the Magic Shop series (Feiwel & Friends), and Everyone Loves Bacon and its sequel, Everyone Loves Cupcake (FSG). One of my favorite parts about being an author is getting to meet your readers. While on book tours, I've visited hundreds of schools across the United States, from castle-sized private academies to Title I schools protected by metal detectors. What I discovered was that regardless of where kids lived, or what they had or didn't have, they all had three things in common:
Kids loved to laugh.
Kids loved to learn.
Kids loved to dream.
Whether it's fun food facts with Mrs. Peanuckle's Vegetable Alphabet, or exploring the digestive system with The Fantastic Body, we strive for our titles to connect with kids about topics that matter to them, and be filled with humor and encouragement to help them achieve their dreams.
Being a part of the author community has also connected me with some extraordinarily talented creators. One such person is Laurel Snyder, the author of The King of Too Many Things. Since the moment we met, we'd been plotting to make a book together. So when I started acquiring titles for Rodale Kids, she was the first person I reached out to. Inspired by her son's request for a book about dragons, robots, superheroes and kittens, Laurel delivered a clever story that balances big laughs with a great message about appreciation. Combined with Aurore Damant's hilarious illustrations, what you see on the page is a genuine reflection of the fun we all had making this book.
Throughout my career, I've also worked as a creative consultant for a diverse variety of clients, some of whom we're now partnering with to create books for Rodale Kids. That's how our graphic novel series Team Taekwondo came to be. ATA International (formerly the American Taekwondo Association) hired me a few years back to overhaul the branding of their preschool program, ATA Tigers, which teaches children important life skills such as confidence and determination. Our shared objective of motivating kids to make positive choices made for an ideal collaboration to create a series of action-packed graphic novels that also encouraged good behavior.
For every title we consider for Rodale Kids, we ask ourselves: How does this help a child? Being a mission-driven company, it's vital for our books to offer a clear benefit to our readers. Whether it's encouraging thoughtfulness with I Am Kind, inspiring young chefs with Taste Test Challenge or calming anxious minds with Breathe Like a Bear, our catalog is filled with laughter, learning and plenty of surprises that will help kids grow a bright future for themselves and the world around them.