Chronicle Books, the publisher whose titles are so distinctive and lively that many fans say, "I knew it was Chronicle Books the minute I picked it up," is celebrating its 50th anniversary in style. It's holding a range of events and offering limited-edition anniversary items, including tote bags, sticky notes and eyeglass-cleaning cloths (expanding on Chronicle's spectacles logo).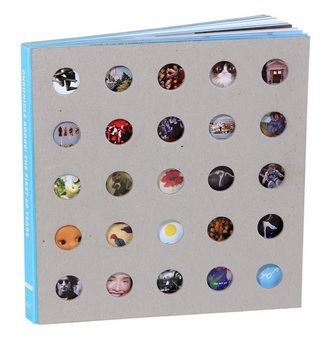 Appropriately for a publisher, Chronicle Books is also issuing Chronicle Books: The First 50 Years, a book that will be distributed to select fans and friends. The hardcover, full-color tome tells the history of the company and features hundreds of photos, reminiscences from current and former staff, images of rare treasures and sketches from the archives.
The San Francisco Center for the Book is hosting an exhibit of 50 Chronicle books (one for each year) as well as 30 children's titles and 25 gift products, ranging from Griffin & Sabine (1991) and The Beatles Anthology (2000) to Tartine (2006) and Mama, Do You Love Me? (1991). Unusually, visitors will be encouraged to pick up and leaf through the books. The Chronicle Books: Born in the Summer of Love exhibit opens with a reception this Friday, June 23, and runs through September 24. Copies of Chronicle Books: The First 50 Years will be available for a $20 donation to the Center.
Next week, on Thursday, June 29, Chronicle Books employees and authors will take part in "Chronicle Books Read Aloud Day" at all 28 San Francisco Public Library branches. The events will feature picture book storytimes that also include librarians and local heroes.
The celebration also has a culinary aspect: Humphry Slocombe has developed a Chronicle Books-inspired ice cream flavor called McEvoy's Chronicles that it's selling at special events, and, in a similar vein, in its five cafés in the Bay Area, Ritual Coffee is selling a Chronicle Books-inspired espresso called Acid Trip ("tastes like grapefruit, blood orange, rose hips and freedom").
And last but not least, to express gratitude for the support Chronicle Books has received throughout its history, the company is creating a "bicycle bookmobile" to bring the spirit of Chronicle Books to people across the Bay Area.