Appropriately, the children's program at Chronicle Books is "a bit younger" than the overall company, as children's publishing director Ginee Seo puts it. In the very early years, Chronicle Books published at least one kids' book, The Cable Car and the Dragon by legendary Chronicle newspaper columnist Herb Caen, a title that is still in print. But the children's effort didn't start in earnest until 1988, when Victoria Rock, an experienced children's book editor, was hired. (Rock is still with the company, working as editor-at-large and acquiring titles.) The first lists began with titles originally published in Europe, an approach that remains an important part of the list, adding to its international flavor and helping to "shape our aesthetic," Seo says.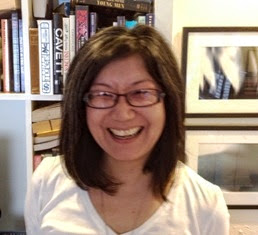 Ginee Seo
Part of the impetus to publish children's books came from realizing that Chronicle's emphasis on well-designed, innovative, fun titles would fit well to children's books. In addition, Christine Carswell recalls, as more of the Chronicle staff became parents, "we appreciated the value of kids books and reading to kids and realized there was an opportunity for the company." The staff thought it could "offer more in terms of a visual vernacular, a different way of looking at things--and saw that there was a place in the kids' market for that kind of publishing. Readers and parents or loved ones didn't have a children's version of what Chronicle Books could do in the adult sphere."
The heart of the list has always been picture books, Seo says, "deceptively simple concept books" such as Little Pea by Amy Krouse Rosenthal, illustrated by Jen Corace; Duck! Rabbit! by Amy Krouse Rosenthal, illustrated by Tom Lichtenheld; and Peek-a Who by Nina Laden.
Nowadays, of course, Chronicle originates most of the children's list, and the company has grown the children's list with books that have longer stories and are character-driven, expanding "on the younger and older ends," Seo says, particularly with toddler and baby titles, novelty and early readers, chapter books and middle grade titles. This process of expansion began 10 years ago, and is reflected on both Chronicle's current and upcoming lists.
One outstanding sign of the list's power: Chronicle Books recently celebrated some major awards. Earlier this year, the publisher had its second Caldecott honor award--They All Saw a Cat by Brendan Wenzel; Lowriders to the Center of the Earth, illustrated by Raúl Gonzalez, written by Cathy Camper won the Pura Belpré Illustrator Award; and Over the Ocean by Taro Gomi was a Batchelder Award honor book.
As in adult publishing, the children's department aims, Seo says, "to stay true to our roots of creativity and offering different points of view and to try to make each title fresh and original every time. We always ask ourselves, 'Is this distinctive? Is it Chronicle?' " Humor is also an important component of the list.
"We know the power of books for inform and open people's minds to new perspectives, to encourage empathy, to improve motor skills," Carswell adds. "As long as kids are read too, books will continue to matter physically, emotionally and intellectually."