Shelf Awareness for Monday, September 12, 2011

News
Image of the Day: Remembering 9/11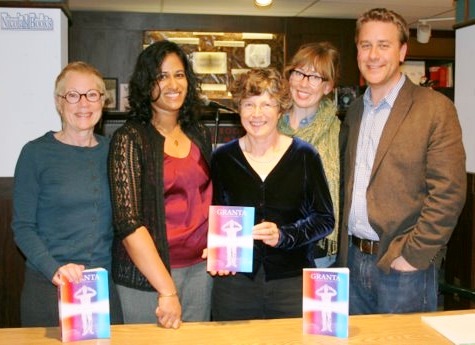 Last Wednesday, some 80 people came to Nicola's Books, Ann Arbor, Mich., for one of the events at bookstores around the country sponsored by
Granta
magazine, whose current issue focuses on 9/11. (For more on the tour,
click here
.) Authors Jeremiah Chamberlin, V.V. Ganeshananthan and poets Linda Gregerson and Megan Levad read from their own work as well as from sections of
Granta
. In the audience was author Donovan Hohn (
Moby Duck
), who also spoke. The conversation ranged from the potential exploitation of grief by the media, how some writers feel an urgency in their writing that they did not have before the attacks, how 9/11 might be remembered 50 years from now and in relation to other terrorist attacks. Afterward, many in the crowd split into smaller groups and continued to hold conversations. From l.: Gregerson, Ganeshananthan, Nicola's owner Nicola Rooney, Levad and Chamberlin.
Photo: Lynn Pellerito Riehl


AAP June Sales: E-Books Sales Up 167.1%; Print Slumps
Net book sales in June dropped 14.6%, to $945 million, compared to the same period last year, as reported by 79 publishers to the Association of American Publishers. For the first six months of the year, net sales fell 7.5%, to $3.9 billion.


Trends of the last year continued: sales of printed books were down in almost all categories, while sales of e-books climbed at triple-digit rates (up 167.1% for the month and 161.3% for the first half of the year) and downloaded audio had a healthy gain of 24.9%. Among traditional books, adult paperback had the biggest drop by far (63.8%). E-books represented 8.5% of total net books sales and about 20.1% of trade book sales, which were roughly $399.5 million.


| | | |
| --- | --- | --- |
| CATEGORY | SALES | % CHANGE |
| E-books | $80.2 million | 167.1% |
| Downloaded audio | $7.4 million | 24.9% |
| Religious books | $45.2 million | 18.4% |
| Univ. press hardcover | $3.5 million | 8.7% |
| Univ. press paperback | $3.4 million | 0.5% |
| | | |
| Professional | $52.4 million | −10.1% |
| Higher education | $474.2 million | −11.3% |
| Children's/YA paper | $44.5 million | −13.6% |
| Adult mass market | $47.4 million | −21.6% |
| Adult hardcover | $84.9 million | −24.4% |
| Audiobooks | $8.9 million | −24.6% |
| Children's/YA hardcover | $42 million | −30.8% |
| Adult paperback | $48.4 million | −63.8% |


Notes: California-Amazon Tax Compromise; McGraw, Hill Split Up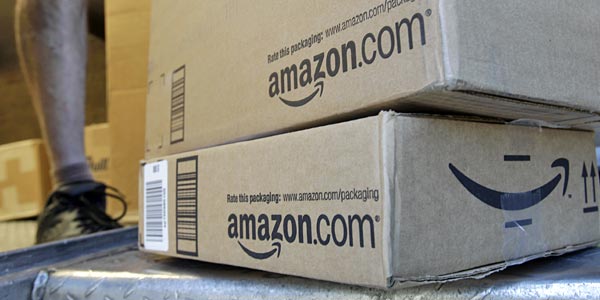 On Friday, their last day in session this year, the California Senate and Assembly overwhelmingly passed a compromise bill that will delay for one year a requirement that Amazon.com and many other online retailers begin collecting sales tax, the AP reported. Amazon has agreed to drop its effort to conduct a referendum against California's June law requiring Amazon to collect sales tax and will work again with affiliates in the state. If a federal law on Internet sales tax is passed before next July 31, that law will supersede this California law.

The bill has gone to Governor Jerry Brown, who has not yet indicated whether he will sign it or not.

Assemblywoman Nancy Skinner (D.-Berkeley), a co-sponsor of the bill, said: "We finally will give certainty to our California businesses ... that the unfair tax advantage that has been enjoyed by out-of-state online retailers will finally end. While it will not end this instant, it will end."

"It does save a very, very expensive and very divisive referendum campaign, pitting Amazon versus Wal-Mart, pitting brick and mortar versus online," Assemblyman Chris Norby (R.-Fullerton) said. "They'd be trashing each other."
---
Amazon.com is "talking with book publishers about launching a Netflix-like service for digital books," the Wall Street Journal reported, citing "people familiar with the matter."
Customers of the service would pay an annual fee to access the e-books. Amazon has said it is considering launching an e-book library for older titles, presumably in the public domain, that would be available to its Amazon Prime customers. Amazon would pay participating publishers "a substantial fee" and limit the amount of books Amazon Prime customers could read for free each month.
Publishers who spoke with the paper said they aren't enthusiastic about the idea "because they believe it could lower the value of books and because it could strain their relationships with other retailers that sell their books."
---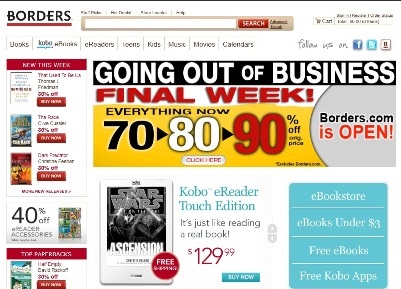 Next Jump, which has managed Borders Rewards for the past four years, has countersued Borders Group, disputing many of the charges brought against it by Borders, Reuters reported. In a suit filed August 31, Borders had said that Next Jump was illegally sending Borders customers to its website and was devaluing the worth of its intellectual property, which is currently up for auction (Shelf Awareness, September 7, 2011).
Next Jump has said it will stop sending customers to its website but said in the countersuit that Borders had agreed to the move in order to stop the loss of customers from Borders Rewards and protested later only to "pass the blame to Next Jump, insulate themselves from liability, and lay the groundwork for a meritless lawsuit designed to extract money." Next Jump also said it was "duped" by Daniel Angus, Borders's v-p, customer loyalty, who it said authorized the transfer.
Borders called the countersuit an attempt to "deflect attention from Next Jump's improper actions."
---

Glen Tomaszewski, one of the last executives still working for Borders Group, left the company effective September 2, the Detroit News reported. Tomaszewski had been serving as v-p, chief accounting officer, controller and treasurer.

---
McGraw-Hill is splitting into two companies. McGraw-Hill Education will focus on textbook and digital publishing and other education services. McGraw-Hill Markets will include Standard & Poor and J.D. Power and Associates and focus on markets. Major shareholders and activists had pushed for the breakup to improve the company's stock price.
McGraw-Hill Education is expected to have sales of about $2.4 billion this year. Robert Bahash, who has been president of McGraw-Hill's educational division, will be president until a CEO for McGraw-Hill Education is found.
---
Article in Wall Street Journal says more and more companies consciously drop articles before product names. Besides Apple, Facebook and Nintendo, examples include Kindle and Nook. Amazon.com CEO Jeff Bezos on Charlie Rose Show last year omitted all articles in references to Kindle. Reportedly B&N creative director Glenn Kaplan advises colleagues who use articles with Nook to cease. One marketer explains that when article is dropped, brand takes on iconic feel. But, of course, people who care about language protest.

Personal opinion: omitting articles can lead to confusion but makes for easy imitation of person speaking Russian.
---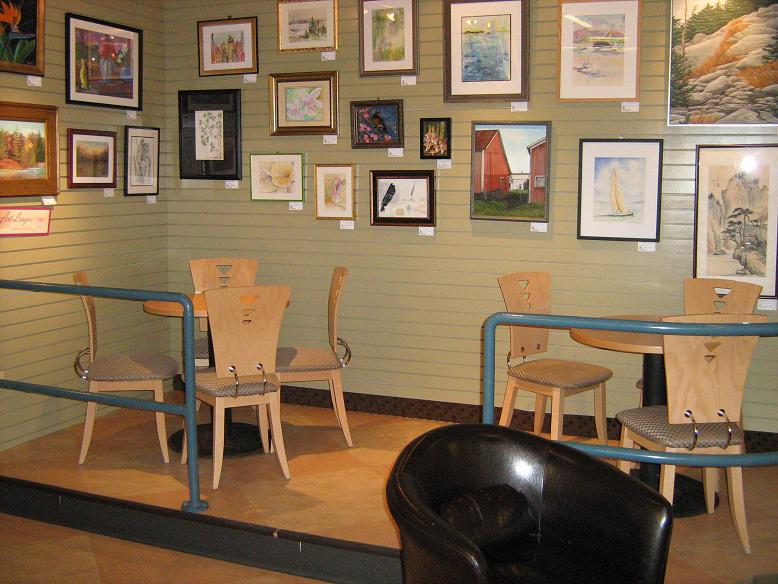 Phoenix Books and Café, Essex, Vt., has added the Gallery at Phoenix Books, which will exhibit works by Vermont painters, photographers and craftspeople. The Gallery has joined the Vermont Crafts Council and is participating in the inaugural Foliage Open Studio Weekend on October 1 and 2. The store has exhibited work by the Essex Art League since it opened in 2007.

"Having a bookstore, with a cafe offering beer and wine and displaying beautiful works of art--it stimulates all of our senses," owner Mike DeSanto said. "This is about making a commitment to artists to expand their reach into a new community. Phoenix Books stands behind this effort by featuring these local artists in our newsletter, within the store and as part of our overall marketing effort."
---
Cool idea of the day: this past weekend, Carmichael's, Louisville, Ky., celebrated its 33 1/3 anniversary with special T-shirts and deals that included a 33% discount on purchases of at least three items. Louisville.com offered an appreciative history of the two stores with their "wide variety of hand-picked titles that reflect both the tastes of the owners and the personalities of the neighborhoods they serve. Carmichael's is a family business in the truest sense."
----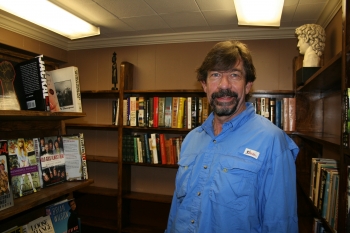 Tom Gombar, owner of Dharma Bum Books, Hopewell, N.J., "is still in love with the '60s, with the beatniks, with Woodstock, the hippies, and the counterculture of his youth. So in love that, entering his own seventh decade, he decided the thing to do was to start a bookstore where the dream of the counterculture could be kept alive and brought to a new generation," MercerSpace.com reported.

Gombar's vision for his bookshop, which he hopes to model after two of his favorites--City Lights bookstore in San Francisco and Shakespeare and Company in Paris--is to create a place for people to discuss ideas. "I'd love to have people just coming in here and spending time," he said. "I've got a fairly eclectic group of friends, and I want to create a place they can feel comfortable sitting and exchanging ideas or book recommendations or arguing politics or anything short of fisticuffs."

---
Book trailer of the day: Pretty by Jillian Lauren (Plume).
---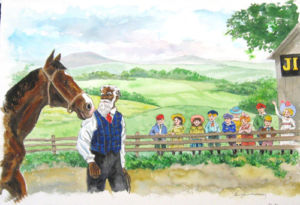 The American Booksellers Foundation for Free Expression has begun an online auction of work by artists in the children's book industry, including Peter Brown, Susan Jeffers, Wendell Minor, Adam Rex and Paul O. Zelinsky. More than 70 pieces will be auctioned on eBay over three weeks, with new offerings every Friday. Proceeds from the auction, which previously benefited the Association of Booksellers for Children, will be used in the foundation's fight against censorship. Visit the Banned Books Week Auction eBay page at myworld.ebay.com/abffe.


Hard Case Crime: Dressing Up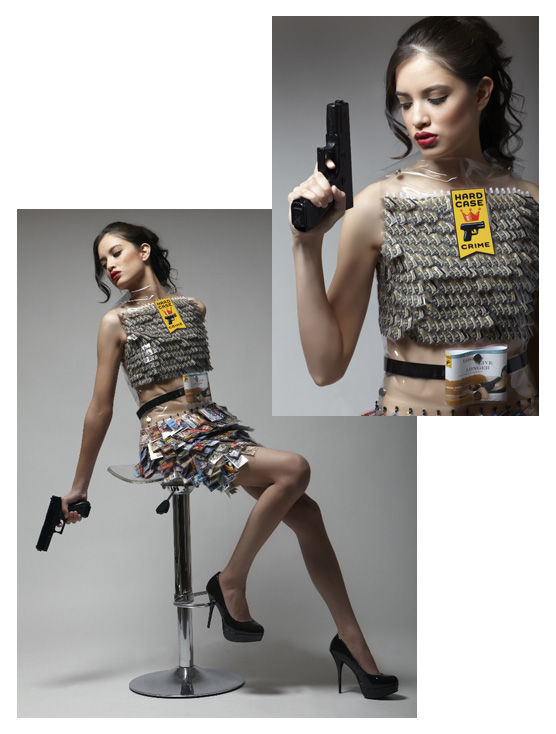 The connections between book publishing and New York City's semiannual Fashion Week are usually tangential, but designer Hally McGehean's "Pop Up Pop Art" collection will bring the two worlds a little closer together for one evening. McGehean creates clothes and accessories using laminated images connected with plastic cable ties and metal rings, and for tonight's events--a runway show on the High Line followed by a gallery exhibition in SoHo--she's made a dress called "Covered," inspired by the backlist of paperback pulp specialists Hard Case Crime.
"Hally and I have known each other for years," said Hard Case publisher Charles Ardai, "and have long thought it would be fun to do something together. When this idea came up, we jumped at it." The skirt includes covers from every title Hard Case has published from its launch in late 2004 through the summer of 2010, when the imprint went on hiatus after its former distributor, Dorchester Publishing, decided to focus on e-books. Interleaved copies of Robert McGinnis's cover for the John Farris novel Lady Moll form a backless top, and it's all tied off with a belt based on McGinnis's horizontal "widescreen" cover for Russell Atwood's Losers Live Longer. "Covered will share the runway with a kilt made of handguns and bullet boots to match," McGehean added. "So it fits pretty well into the collection."
"It would be hard not to be inspired by the Hard Case Crime covers," she continued. "I am devoted to the Moderns, and these illustrations are bang-on mid-century chic." She compared the painted covers with images from 1960s Playboy magazines--the source for her very first wearable imagery--and her plans for the show describe an intersection of the two worlds, as models in heavy eye makeup and waved hair strut the runway to an exotica/go-go soundtrack. "Pop art emerged during this same Modern time that we are hoping to evoke," she explained. "Working with an image from popular culture--an image that defines a culture--until it becomes something genuinely new, something you engage with outside of its native context, is what I enjoy trying to do."
The timing couldn't be better for Hard Case either: its much-anticipated relaunch with new distributor Titan Books begins next week with two novels: Lawrence Block's Getting Off and Max Allan Collin's Quarry's Ex. --Ron Hogan
Photos: Chip Miller


For Fun
Top 10 List of Borders HQ Memorabilia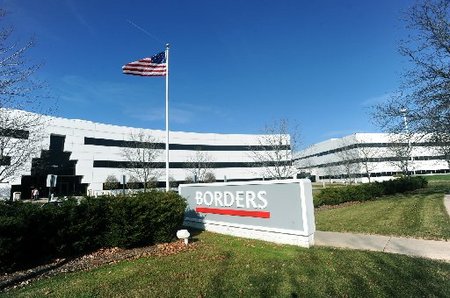 The last Borders Group stores are closing their doors this month, and the company is selling its intellectual property. We haven't heard about the disposition of the contents of company headquarters. Assuming there is an auction or sale, we at Shelf Awareness hereby put dibs on our top 10 most-wanted items from the Ann Arbor offices:


Merchandising manuals from Jewel-Osco and Hickory Farms.
Photograph of Borders CEO Greg Josefowicz and Amazon CEO Jeff Bezos shaking hands at ceremony marking Amazon's takeover of Borders online business.
Copies of Bookselling for Dummies.
Unopened containers of black ink.
The 10-lb. "Manual of Category Management" (with accompanying cases of Advil).
Prototype of the cigarette kiosk for Borders stores in former chairman Bennett LeBow's office.
Gold-plated fixtures and marble from special bathroom built exclusively for Bill Ackman's use during his visits to headquarters.
Cheat sheet for executives taking the Borders prospective employee book knowledge test.
TRS-80 computers with network cables.
Taxi company cards for visitors to call to get a ride to far end of parking lot.


Media and Movies
Media Heat: Jacqueline Kennedy, The Book and Tapes
This morning on the Today Show: Jackie Collins, author of Goddess of Vengeance (St. Martin's Press, $26.99, 9780312567460).

---

Today on NPR's Diane Rehm Show: Linda Carroll and David Rosner, authors of The Concussion Crisis: Anatomy of a Silent Epidemic (Simon & Schuster, $26, 9781451627220).

---

Today on Fox's Your World with Neil Cavuto: Dick Cheney, author of In My Time: A Personal and Political Memoir (Threshold Editions, $35, 9781439176191). The former Vice President is also on the View tomorrow.

---

Today on MSNBC Live: Jennifer Gardner Trulson, author of Where You Left Me (Gallery, $25, 9781451621426).

---

Tonight on CNN's Piers Morgan Tonight: Common, co-author of One Day It'll All Make Sense (Atria, $25, 9781451625875).

---

Tonight on the Colbert Report: Diane Sawyer discusses her Prime Time special tomorrow night on Jacqueline Kennedy: Historic Conversations on Life with John F. Kennedy by Caroline Kennedy (Hyperion, $60, 9781401324254). Sawyer also talks about the book tomorrow morning on Live with Regis and Kelly.

---

Tomorrow morning on Good Morning America: Joe Darger, author of Love Times Three: Our True Story of a Polygamous Marriage (HarperOne, $26.99, 9780062074041).

---

Tomorrow morning on Fox & Friends: Betsy Myers, author of Take the Lead: Motivate, Inspire, and Bring Out the Best in Yourself and Everyone Around You (Atria, $25, 9781439160671).

---

Tomorrow on NPR's the Takeaway: Common, co-author of One Day It'll All Make Sense (Atria, $25, 9781451625875). He will also appear on the Wendy Williams Show.

---

Tomorrow on NPR's On Point: Nigel Cliff, author of Holy War: How Vasco da Gama's Epic Voyages Turned the Tide in a Centuries-Old Clash of Civilizations (Harper, $29.99, 9780061735127).

---

Tomorrow night on ABC's Nightline: Jermaine Jackson, author of You Are Not Alone: Michael, Through a Brother's Eyes (Touchstone, $26, 9781451651560). He will also appear on Good Morning America tomorrow morning.

---

Tomorrow night on a special edition of Prime Time with Diane Sawyer: Caroline Kennedy, co-author of Jacqueline Kennedy: Historic Conversations on Life with John F. Kennedy (Hyperion, $60, 9781401324254).

---

Tomorrow night on the Daily Show: Jim Lehrer, author of Tension City: Inside the Presidential Debates, from Kennedy-Nixon to Obama-McCain (Random House, $26, 9781400069170). He will also appear tomorrow on NPR's Diane Rehm Show.




Breaking Dawn: New Teaser Trailer and Posters
Entertainment Tonight featured a pair of new posters for Twilight: Breaking Dawn, and offered a "tantalizing 15-second first look at the trailer for the film," the full version of which will be released this week. The movie hits theaters November 18.



Television: Scent of the Missing; One Fifth Avenue
TNT has given a pilot order for a drama based on the book Scent of the Missing: Love and Partnership with a Search-and-Rescue Dog by Susannah Charleson. Deadline.com reported the CBS TV Studios project will be co-written and executive produced by Carol Mendelsohn (executive producer/showrunner of CSI: Crime Scene Investigation), who wrote the script with CSI writers/co-executive producers Melissa Byer and Treena Hancock.

---

ABC will adapt Candace Bushnell's novel One Fifth Avenue, with Gossip Girl executive producer Josh Safran attached to write the script and Mark Gordon (Grey's Anatomy) co-producing with Bushnell. The Hollywood Reporter wrote that the project, titled One Fifth, "is being described as Sex and the City meets The Good Wife."



TIFF '11: Films for the 'Literary-Minded'
At the Toronto International Film Festival this month, "you're not going to get close to Brad Pitt"--whose latest, Moneyball, premiered over the weekend--but Qullblog did showcase "15 other book-to-screen adaptations or literary-minded films to keep in mind."

Highlights include film adaptations of George Moore's 19th-century short story "The Singular Life of Albert Nobbs," Joseph Conrad's debut novel Almayer's Folly, Marjane Satrapi's graphic novel Chicken with Plums, Patrick White's The Eye of the Storm and Trishna, an Indian version of Thomas Hardy's Tess of the d'Urbervilles.



Book Review
Review: Prospero Regained
Prospero Regained by L Jagi Lamplighter (Tor, $26.99 hardcover, 9780765319319, September 13, 2011)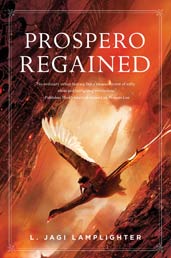 When Prospero Lost came out in 2009, L. Jagi Lamplighter's modern version of the characters from Shakespeare's The Tempest seemed to draw inspiration from Neil Gaiman, especially the Sandman comic book. It wasn't just that Prospero's daughter Miranda--now the head of a multinational corporation that keeps supernatural powers in check so they don't wreak havoc upon the earth--had a full contingent of equally immortal brothers (and a sister), each with their own magical weapon. A more profound similarity lay in Lamplighter's efforts to create a totalizing worldview, one in which all mythologies and folklores are equally valid and capable of commingling.
Lamplighter built that premise up slowly in the first book and its sequel, Prospero in Hell, as Miranda struggled to reunite her estranged siblings after discovering that her father was being held captive by demons. Their rescue mission was disrupted on the very last pages of that second novel, and Prospero Regained picks up the story almost exactly where it left off, as the family slowly reassembles itself once more and then heads to the tower where their father is being held captive.
Along the way, Lamplighter resolves several issues that have been kicking around throughout the trilogy. Is Miranda's devotion to Prospero simply a matter of familial affection, or could it be sorcerous compulsion? Why does her brother Erasmus hate her with such intensity? And where does Caliban fit into all this, exactly?
Prospero Regained also pushes the trilogy's theology in a new direction. From the beginning, Miranda has maintained that her devotion to the unicorn goddess Eurynome is not incompatible with her professed Protestant faith. During this final novel's long treks across Hell, there is much occasion for religious debate--since one of her brothers was once a pope, such debate is perhaps inevitable--and Lamplighter eventually puts forward a scenario that strives to reconcile pagan pantheons with Christian views on salvation. (Sometimes the argument gets especially wordy, and when the demons chime in, there's at least one monologue that lays out its agenda so baldly it's as if we've temporarily wandered into an Ayn Rand novel.)
Unfortunately, this isn't a story you can jump into mid-stream: although Lamplighter recaps as much of the previous two novels as she can without dragging everything to a complete halt, there's only so much internal monologues and "let's go over what we've learned so far" conversations can cover. To fully appreciate the magnitude of Miranda's dramatic transformation over the course of Prospero Regained, readers need the earlier books--but for contemporary fantasy fans who enjoy a healthy dose of the epic, that won't be much of a burden. --Ron Hogan
Shelf Talker: After a slow buildup, Lamplighter brings her Prospero fantasy trilogy to an epic close.


The Bestsellers
Top-Selling Titles in St. Louis
The following were the bestselling books at independent bookstores in and around St. Louis, Mo. During the week ended Sunday, September 4:

Adult

1. The Help by Kathryn Stockett
2. Little Black Dress by Susan McBride
3. Room by Emma Donoghue
4. Go the F**k to Sleep by Adam Mansbach
5. The Light Bringer by Chris DiGiuseppe and Mike Force
6. The False Friend by Myla Goldberg
7. Noir at the Bar edited by Scott Phillips and Jedediah Ayers
8. God Upgrade: Finding Your 21st-Century Spirituality in Judaism's 5,000-Year-Old Tradition by Jamie Korngold
9. Just My Type by Simon Garfield
10. The Eighty Dollar Champion by Elizabeth Letts

Children's/YA

1. The Power of Six by Pittacus Lore
2. The Hunger Games by Suzanne Collins
3. Big Nate on a Roll by Lincoln Peirce
4. The Giving Tree by Shel Silverstein
5. Miss Peregrine's Home for Peculiar Children by Ransom Riggs
6. The Book Thief by Marcus Zusak
7. Pinkalicious and the Pink Drink by Victoria Kann
8. Big Nate in a Class by Himself by Lincoln Peirce
9. Mockingjay by Suzanne Collins
10. What Was I Scared Of by Dr. Seuss

Reporting bookstores, all of which are members of the St. Louis Independent Bookstore Alliance: Left Bank Books, Main Street Books, Pudd'nhead Books, Subterranean Books, Sue's News.

[Many thanks to the booksellers!]