Shelf Awareness for Monday, October 31, 2011

Editors' Note
The Widget for Readers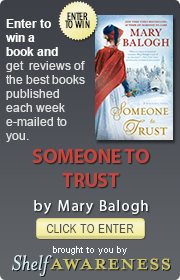 Many thanks to all the booksellers and bloggers who've embedded our spiffy book-giveaway button. This week our signed, first edition giveaway is
Steve Jobs
by Walter Isaacson.
If you'd like to put this on your website or blog,
go here
.
If you already have the button, it will automatically update!
And if you have friends who are not signed up for
Shelf Awareness for Readers
who you think would like it, they can sign up and be entered for a chance to win a copy of
Steve Jobs
here
.


News
AAP August Sales: E-Books Up 116.5%
Net sales of books in August rose 1%, to $1.64 billion, according to Association of American Publishers figures gathered from 80 publishers. For the first eight months of the year, net sales of books fell 4.1%, to $7.06 billion. The figures were an improvement over July, when net book sales fell 5.2%.

Once again, e-book and downloadable audiobook sales had the fastest gains, rising 116.5% and 30.1%, respectively. The rise in e-book sales was slightly higher than July's 105.3%, but still smaller than it has been in earlier in the year.

Adult mass market paperbacks and children's/YA hardcovers and paperbacks had the biggest losses in sales in the month, down 36.4%, 24.6% and 21.2%, respectively.


| | | |
| --- | --- | --- |
| CATEGORY | SALES | % CHANGE |
| E-books | $86.8 million | 116.5% |
| Downloadable audiobooks | $8.5 million | 30.1% |
| Univ. press hardcover | $6.5 million | 9.1% |
| Higher education | $1.02 billion | 4.3% |
| Univ. press paperback | $9.9 million | 1.6% |
| | | |
| Religious books | $66 million | -1.9% |
| Audiobooks | $8.2 million | -2.9% |
| Adult paperback | $118.2 million | -5.7% |
| Professional | $95.6 million | -6.9% |
| Adult hardcovers | $91.2 million | -11.2% |
| Children's/YA paperback | $46.1 million | -21.2% |
| Children's/YA hardcover | $58.7 million | -24.6% |
| Adult mass market | $34.9 million | -36.4% |


B&N Doubling Size of 40 Nook Boutiques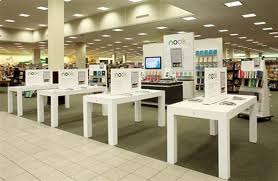 Barnes & Noble is doubling the size of its Nook boutiques in 40 of its most productive stores, the Wall Street Journal reported. The boutiques usually take up 1,000 square feet in B&N's more than 700 stores; in the 40 stores, the boutiques will increase to 2,000 square feet. The company said it will not reduce book stock in the stores, but will reduce space for music and DVDs. The expansion comes just when B&N is expected to introduce a new tablet version of the Nook.


NCIBA Booksellers Challenge Moore to Occupy Amazon
After "getting distracted" a couple of blocks away while making an appearance in support of the thousands of protestors gathered at Occupy Oakland, Michael Moore was late for his appearance at a "special event" at this year's Northern California Independent Booksellers Association trade show last Friday evening. But no one seemed to mind.


After speaking nonstop and entertainingly for more than an hour to a group of booksellers who could be described as members of his "choir," things got interesting when he opened up the floor for questions.

First Praveen Madan, co-owner of the Booksmith in San Francisco, asked Moore how to educate the public that unequal discounts offered to big retailers like Amazon put indie retailers at a huge disadvantage. Then Brad Jones, co-owner of Booksmart in Morgan Hill, made a direct challenge.

Trying "not to sound disrespectful," Jones asked if NCIBA members sold his new book, Here Comes Trouble (Grand Central), at their cost (bringing the consumer price closer to the discount Amazon can offer), would the celebrity pro-indie author not sell his books on Amazon?

"Jimmy just walked out of the room," Moore joked, pointing to where Hachette's Jimmy Franco had been standing by the door. Then he said, "I'm actually thinking about it. This is so freaking cool. You can't put ideas like that in my head."

For the next 10 minutes, Moore debated his wish to help the independent booksellers he supports and his obligations to be a good author for a publisher he described as being very good to him. He noted that Hachette originally had planned to print Here Comes Trouble in India, but in a last-minute midnight call, he was told the company arranged for the books to be printed in Vermont.

Moore added that he had heard that Lady Gaga--whose forthcoming book from Hachette has an announced print run of 750,000--had stipulated in her contract that her books had to be printed in the U.S. at a union shop.

"How old is this woman?" he asked the crowd of about 150. He went on to say of the 24-year-old pop star: "And she was smarter than me? I have so much hope with these kids that we raised."

Moore made no commitment and left mulling over what might happen if a few major authors chose such a model. Then he thanked the booksellers for the challenge.

At Saturday's breakfast, David Guterson put aside his prepared remarks after witnessing the exchange between Moore and NCIBA members the night before. The Other, Guterson's novel directly preceding his new book, Ed King (Knopf), dealt with the "inherent hypocrisy we all face on a daily basis," he said. While he couldn't offer a quick answer on how to overcome this hypocrisy, he said that asking questions when people are taking to the streets to protest economic inequality is very important. Ultimately, he said, it is what he addresses in Ed King, a novel that retells the Oedipus story, which at its core is about a king's arrogance and blindness to himself. "What if an entire nation was being deluded about itself?" asked Guterson.

"That was worth getting up for," commented Michael Barnard, the morning's emcee, NCIBA president and owner of Rakestraw Books in Danville, Calif.

The booksellers' challenge to Michael Moore dominated the trade show's conversations, and many considered the issues of possible anti-trust and price collusion.

"I think one of the things that Michael Moore discovered is that Amazon is our Wall Street," NCIBA executive director Hut Landon said.

Oren Teicher, CEO of the American Booksellers Association, said he already reached out to Moore to continue the discussion of how to change the book business model to even the playing field for retailers. "The good news is that a lot of people are thinking about how the business needs to change," said Teicher. "David Guterson is thinking about this too, and that is helpful. Having the authors help us reinvent the model is indispensible."

Teicher has pointed out on visits to NCIBA that many interesting and meaningful ideas have emerged from this group of booksellers, who historically have been pioneers on issues important to the book business, such as the effort to require online retailers to collect sales taxes.

Will this NCIBA lead to an Occupy Amazon movement? As Moore pointed out, with thousands of protestors all over the country, "This is a new day in America."

Check in tomorrow for coverage of the other buzz from NCIBA. --Bridget Kinsella




Obituary Notes: Florence Parry Heide, Larry Haun
Florence Parry Heide, author of many children's books, died early last week. She was 92.

Her best-known book was The Shrinking of Treehorn. Other titles included Treehorn's Treasure, Treehorn's Wish, Princess Hyacinth: The Surprising Tale of the Girl Who Floated, Some Things Are Scary and Oh, Grow Up!

"The most influential and popular vein of her work," the New York Times wrote, "involved storytelling that both encouraged and reflected the curiosity of the very young, often pitting sensible, vexed children against the uncomprehending and incomprehensible adults in their lives."

---

Larry Haun, author of many home-building books, died October 24 of lymphoma. He was 80.

His most recent title, A Carpenter's Life as Told by Houses (Taunton), had been released in September. He was also the author of Habitat for Humanity How to Build a House, wrote many features for Fine Homebuilding magazine, had a blog and produced many home building DVDs.

Just before his death, Haun was interviewed for the New York Times--the article, an overview of Haun's life, appeared three days after he died.




Remembering William Sleator, 1945-2011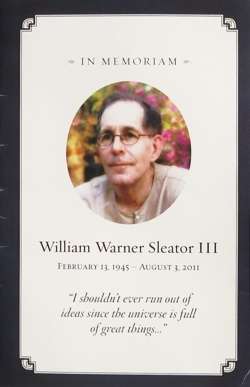 Friends and family of William Sleator held a memorial service at New York City's Rubin Museum of Art last Friday afternoon for the author, who died earlier this year at the age of 66 in the Thai village he had adopted as a second home. His first editor, Ann Durell (r.), recalled that he began writing YA novels in the early 1970s with Blackbriar, while Egmont publisher Elizabeth Law (l.), who became Sleator's friend while working at Penguin in the '80s and '90s, shared stories of visiting with him and his partner in Asia and of his willingness to accept editorial feedback. (Durrell also noted that it took five drafts before he wrote the card game into Interstellar Pig, which became one of his most successful novels.) Susan Van Metre, who was his editor at Dutton after Durrell's retirement and continued to publish him when she moved to Amulet Books, read one of his favorite poems, Hillaire Belloc's "Jim."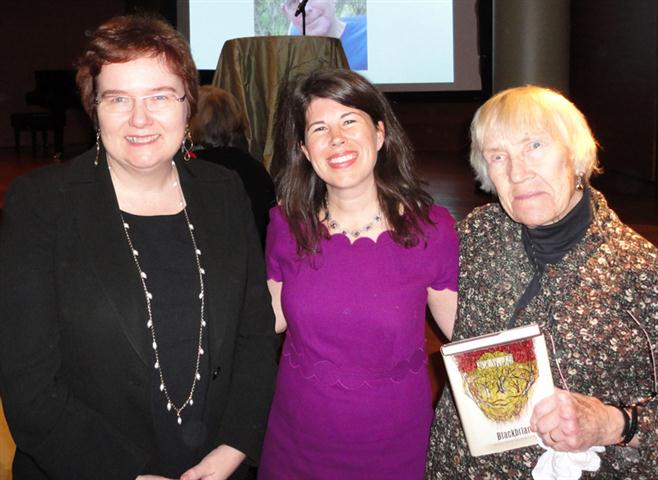 After a slideshow accompanied by pieces by Ravel and Debussy which Sleator (himself an accomplished pianist) especially enjoyed, librarian Stephen Weiner and Sleator's younger brothers, Tycho and Danny, shared their own personal reminiscences, as well as scenes from two books which drew upon the siblings' relationship, The Green Futures of Tycho and Oddballs--although Tycho was careful to point out after reading a passage from Oddballs that described Danny as a particularly unattractive baby, "he embellished a lot, and I think he made some of this stuff up." Sleator's other novels included House of Stairs, Strange Attractors and Singularity; his last book, The Phantom Limb, was published earlier this month by Amulet.


Notes
Breast Cancer: Vroman's Raises Awareness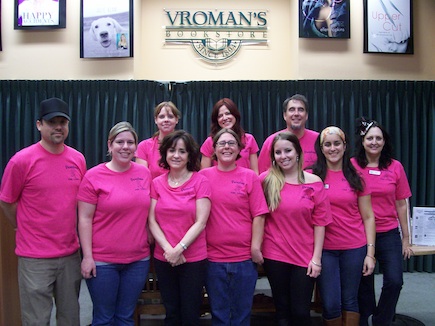 In honor of Breast Cancer Awareness Month, Vroman's, Pasadena, Calif., joined with the Pasadena Fire Department to sport pink T-shirts in the store during the past week. Here, helping raise awareness, are: (top row, l.-r.) Alison Keyes, Allison Hill, Robert Popoff, (bottom row, l. to r.) Tim Malczynski, Catie Prestler, Connie Kalter, Erin Prestler, Robyn Swanson, Dolores De La Torre, Helen Harasmisz.


Paper Peddler Prospers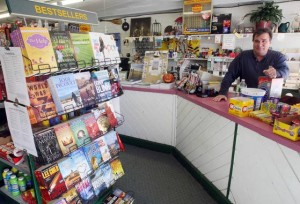 The Press of Atlantic City profiled the Paper Peddler, Avalon, N.J., which has been owned by the Cunningham family since its founding 43 years ago. The 14,000-sq.-ft. store sells books, magazines, newspapers, greeting cards and sundries.
Managed by Craig Cunningham, the Paper Peddler's "bibliophile" for the last 19 years has been Deborah Martinelli, a retired teacher. "I'm the nuts and bolts guy," Cunningham told the paper. "Deb is my book buyer, and she's always got four books she's reading at one time. People who know us come in and they'll ask what we like. Deb has a pretty big following of people who take her advice."


Back-Seat Book Club Makes Debut, November Pick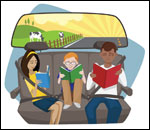 Geared to kids aged 9-14, All Things Considered's Back-Seat Book Club (Shelf Awareness, October 21, 2011) made its debut on Friday with an appearance by Neil Gaiman, who, among other things, answered questions from a range of listener-fans. The club also selected its November book: The Phantom Tollbooth by Norton Juster, who later in the month will make an appearance. His classic book was originally published 50 years ago.


Book Trailer of the Day: The CHICKtionary
The CHICKtionary: From A-line to Z-snap, the Words Every Woman Should Know by Anna Lefler (Adams Media), which appears November 18.


Media and Movies
Media Heat: Joseph Heller Remembered on Diane Rehm
Today on the Talk: Paula Deen, author of Paula Deen's Southern Cooking Bible: The New Classic Guide to Delicious Dishes with More Than 300 Recipes (Simon & Schuster, $29.99, 9781416564072).

---

Today on NPR's Diane Rehm Show: Erica Heller, author of Yossarian Slept Here: When Joseph Heller Was Dad, the Apthorp Was Home, and Life Was a Catch-22 (Simon & Schuster, $25, 9781439197684).

Also on Diane Rehm: Tracy Daugherty, author of Just One Catch: A Biography of Joseph Heller (St. Martin, $35, 9780312596859).

---

Today on MSNBC's Last Word with Lawrence O'Donnell: Chris Matthews, author of Jack Kennedy: Elusive Hero (Simon & Schuster, $27.50, 9781451635089). Tomorrow he will be on the Gayle King Show, MSNBC's Martin Bashir and NBC's Access Hollywood.

---

Tonight on Nightline: Condoleezza Rice, author of No Higher Honor: A Memoir of My Years in Washington (Crown, $35, 9780307587862). She is also on the Daily Show tomorrow night.

---

Tonight on the Colbert Report: Neil MacGregor, author of A History of the World in 100 Objects (Viking, $45, 9780670022700).

---

Tonight on the Late Late Show with Craig Ferguson, a Halloween treat: Neil Gaiman.

---

Tomorrow morning on Good Morning America: Daniel Holzman, co-author of The Meatball Shop Cookbook (Ballantine, $28, 9780440423164).

---

Tomorrow morning on the Today Show:

Carrie Fisher, author of Shockaholic (Simon & Schuster, $22, 9780743264822). She will also appear tomorrow on the View.
Bill Cosby, author of I Didn't Ask to Be Born: (But I'm Glad I Was) (Center Street, $21.99, 9780892969203).
Adam Gopnik, author of The Table Comes First: Family, France, and the Meaning of Food (Knopf, $25.95, 9780307593450).

---

Tomorrow on the View: Tom Brokaw, author of The Time of Our Lives (Random House, $26, 9781400064588).

---

Tomorrow on the Tavis Smiley Show: Ariel Dorfman, author of Feeding on Dreams: Confessions of an Unrepentant Exile (Houghton Mifflin, $27, 9780547549460).




TV: Unreal Estate
Unreal Estate: Money, Ambition, and the Lust for Land in Los Angeles by Michael Gross (740 Park, Rogue's Gallery) will be released tomorrow by Broadway, but it is "already receiving Tinseltown love," according to Word & Film, which noted that HBO has optioned the new book "for a TV series and is in talks with Joel Silver of The Matrix fame to executive produce."

The book features a legendary cast of characters, including Douglas Fairbanks, Marilyn Monroe, Tony Curtis, Jayne Mansfield, Cher, Sylvester Stallone, Suge Knight, Ted Field, Marvin Davis, Howard Hughes, Conrad Hilton and Ron Burkle. "With a roster like that, we can't wait to see the roles HBO develops!" Word & Film wrote.



The Hunger Games: New Promo Posters
Entertainment Weekly featured "the entire promo art set spotlighting Katniss, Peeta, Gale, and other major characters in the movie based on Suzanne Collins's novel."



Books & Authors
Awards: Hilary Weston Writers' Trust
Charles Foran's
Mordecai: The Life & Times
, a biography of the iconic Canadian author Mordecai Richler, won the inaugural $60,000
Hilary Weston Writers' Trust Prize for nonfiction
, Quillblog reported. Foran's book had taken the $25,000 Charles Taylor Prize for Literary Nonfiction earlier this year. The jury praised the biography as "an epic work of scholarship and energy" that portrays Richler's nature "with a disarming equilibrium."
Foran expressed regret that Richler's novels, which "were taught in high schools across the country 25 years ago, are no longer nearly as popular in the curriculum," Quillblog noted. "I would like him to be taught again," said Foran. "I still think [Richler's] voice, that sort of outsider voice--satiric, abrasive, not sweet, not about nature, not about memory... this large, slightly intimidating voice is important. To have him back on the curriculum would be to remind young Canadians that we have a lot of different voices in this country."


Book Review
Review: Shockaholic
Shockaholic by Carrie Fisher (Simon & Schuster, $22 hardcover, 9780743264822, November 1, 2011)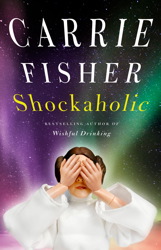 Princess Leia Amidala Skywalker Solo strikes again--this time it's all about shock therapy, which Carrie Fisher rather likes. She's made a cottage industry of her addictions--think Wishful Drinking--and has no inhibitions about sharing. After rehabs and the death of a good friend--in her bed while she was in it, but he was gay so there was nothing going on--she was having troubles again and submitted to Electroconvulsive Shock Therapy. Fisher's only complaint about it is that it zaps the memory, although that isn't apparent from this memoir.
The one-liners keep coming and the temptation is to conclude that all this Gemütlichkeit is distancing behavior, but leave that to her army of shrinks and Dr. Feelgoods and just enjoy the ride. The underlying theme of the book is "celebrity." Fisher grew up around stars, with lots of fuss surrounding her parents and, of course, the juicy scandal of papa Eddie Fisher deserting Debbie Reynolds for Elizabeth Taylor, Reynolds's best friend. Taylor's late husband, Mike Todd, had been Eddie Fisher's best friend, so it was a cozy swap. Not so much for Fisher, who longed for a relationship with her father, which she finally achieves when he is dying, drug-addicted, addled and asking her to bring him a prostitute. This is not a pretty picture and the author spares us nothing.
She chronicles her friendship with Michael Jackson, who asks her for pictures of her little girl, which she doesn't find alarming, despite accusations and lawsuits regarding pedophilia. She can forgive him anything because he was always a "celebrity," performing when he was six, pushed by a cruel father. She is less forgiving of Teddy Kennedy, with whom she has dinner when she is on a date with another senator, Chris Dodd. Kennedy asks her personal questions starting with: "Will you be having sex with Chris tonight?" She parries and thrusts, which apparently no one ever did with Kennedy and is applauded years later by the other couple at the table, neighbors of Ethel Kennedy.
Included in her reminiscences is a really funny encounter with Liz Taylor, which started with Fisher insulting her at an AIDS benefit and ending with Taylor inviting Fisher to a party at her home and pushing her in the pool. That somehow pulls down the wall between them; Fisher's resentment of Taylor for "stealing" her all-too-willing father dissipates. Eddie Fisher, as portrayed by his daughter, is a charming, handsome rake and had his own take on life: "The world was his shower and he used women for soap."
F. Scott Fitzgerald once wrote: "The rich are different from you and me," to which Ernest Hemingway famously commented: "Yes, they have more money." According to Carrie, that's not all. --Valerie Ryan
Shelf Talker: Carrie Fisher visits, once again, her addictions, shock therapy, friendships with celebrities and good moments with her father.