Shelf Awareness for Monday, December 5, 2011

News
Survey Confirms One Lousy 'Showroom' Dynamic
Some
24% of people who bought books online said they had looked at the book in a bookstore first
and 39% of people who bought books from Amazon said they had looked at the book in a bookstore first, according to a survey conducted by Codex Group and quoted by the
New York Times
. The October survey focused on buying decisions made by consumers in the previous month.
The findings, of course, confirm the suspicions of many bricks-and-mortar booksellers who see customers browsing, using smart phones and then leaving without buying anything.
Valerie Koehler, owner of Blue Willow Bookshop, Houston, Tex., told the
Times
that she has seen such behavior but that the store's small size discourages offenders.
Codex president Peter Hildick-Smith said that with the growth in sales of e-readers, the use of bookstores as showrooms with sales following online at a competitor is "going to put even more pressure on bookstore sales in the new year, unless publishers can do more to support the book retailer just as movie studios have historically done to support the movie theater."


Bronx's Books in the Hood Closing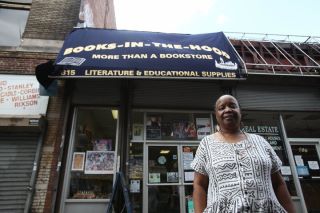 Books in the Hood, which the New York Daily News calls "the Bronx's last independent bookstore and the only bookstore in the South Bronx," is closing this month because of financial problems. The store was founded in 2007 by former schoolteacher LaVerne Harris to "show kids that reading is more than a subject in school--it can be fun," she told the paper.

Harris and her son Jared Divine made Books in the Hood "a hub for Bronx authors, poets and booklovers," the paper wrote. "She hosted story time for local children and he emceed slam poetry jams."

"I enjoyed the atmosphere more than actually selling books," Harris said. "That old-fashioned barbershop feeling is what I wanted--people coming here and feeling comfortable."

Unfortunately, Harris had trouble paying the store's $2,500-a-month rent. She intends to keep selling online and will organize book fairs.




Dressing Up Print Books for E-Competition
It's a transatlantic trend: both the New York Times and the Guardian investigate the efforts by many publishers, in the age of e-books and e-readers, to improve production values of printed books, making them more elegant and even adding illustrations to fiction. As the Times summed up: "Many new releases have design elements usually reserved for special occasions--deckle edges, colored endpapers, high-quality paper and exquisite jackets that push the creative boundaries of bookmaking. If e-books are about ease and expedience, the publishers reason, then print books need to be about physical beauty and the pleasures of owning, not just reading."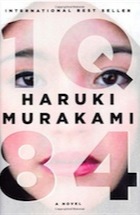 One example cited in both articles: 1Q84 by Haruki Murakami. The Guardian noted that for the novel, Knopf designer Chip Kidd constructed "a kind of double-layered architecture. To literalise the book's main theme, which concerns the play between two adjacent realities, Kidd made a semi-transparent wrapper that slightly distorts the image of the main character, which is printed directly on to the cloth cover beneath. The result is an unsettling sense that there are two people, similar but different, staring out at you."

Talking about some of his house's design embellishments, Evan Schnittman, managing director for group sales and marketing for Bloomsbury, commented to the Times: "If we believe that convenience reading is moving at light speed over to e, then we need to think about what the physical qualities of a book might be that makes someone stop and say, 'well there's convenience reading, and then there's book owning and reading.' We realized what we wanted to create was a value package that would last."

David Hayden, publishing director of the Folio Society in the U.K. is, according to the Guardian, "an unabashed fan of new technology [and] reckons the result of the seismic shifts in publishing will mean 'fewer and better-produced books.' In particular he believes in the model of the 'retroactive purchase,' which goes something like this. You buy an e-reader and, at a stroke, have access to thousands of out-of-print classics via Project Gutenberg. One evening, at a loose end, you download The Mill on the Floss, having always wondered vaguely what it was about. You find yourself transfixed. You love this book, you really do, and want to suggest it to your book group. So you buy the Penguin Classic edition, because it's easy to scribble on and pass around. And then, when your Mum's birthday comes around--she loves George Eliot and has been on at you for ages to take the plunge--you give her a handsome presentation copy of the book, bound in buckram and silk, the sort of thing that the Folio Society does surpassingly well."




Accent on Books' Accent on Thanks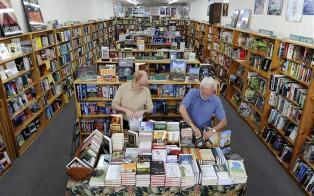 Accent on Books, Asheville, N.C., hosted its 24th annual open house yesterday, having all more reason to say thanks to customers. According to the Asheville Citizen-Times, only six months ago owners Lewis Sorrells and Patrick Covington didn't know if they could keep the store open. But after they sent a letter to customers in June discussing their concerns, they received "an outpouring of support." Then, in the fall, Books-A-Million closed a nearby store.

Still, there are challenges, and Sorrells told the paper, "We might still be in the same boat come January."
photo: Bill Sanders/wsanders@citizen-times.com




Notes
Image of the Day: Hail to the Author!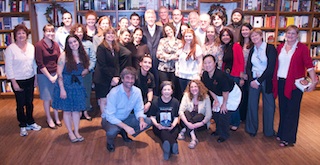 Last Thursday, Books & Books in Coral Gables, Fla., hosted an event for Bill Clinton for his new book, Back to Work: Why We Need Smart Government for a Strong Economy (Knopf). Here the former president posed with Books & Books staff, including (front row, left) owner Mitchell Kaplan.


Cool Idea of the Day: 'Unlawful Assemblers' Discount'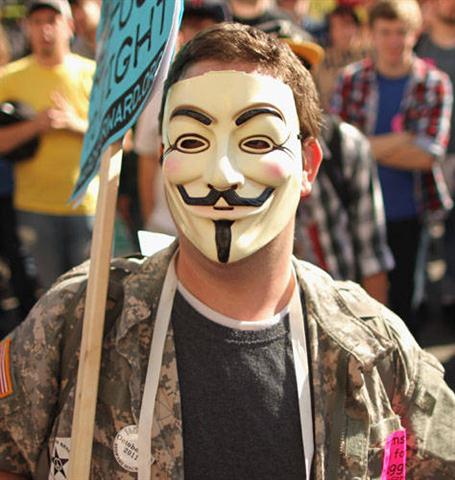 An announcement from Skylight Books, Los Angeles, Calif., on its Facebook page:

"Following this week's events at OccupyLA, Skylight would like to introduce an 'Unlawful Assemblers' Discount': Did you stand up for your right to publicly assemble, and to challenge economic inequality through the Occupy movement? The police may not give you a break, but we'd like to. For the next month, bring in a booking slip or proof of your 409.PC charge from the night of the eviction and get 15% off your entire purchase."




NaNoWriMo Results: We Have a Winner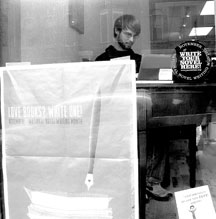 National Novel Writing Month concluded last Wednesday, as did Aaron Larson's stint as a "living display" in the front window of Dragonfly Books, Decorah, Iowa. The local high school senior spent his free time during the month working on his novel in public view, DecorahNewspapers.com reported.

"In October, I was browsing NaNoWriMo's website and discovered that they had a program of sorts called 'Come Write In: Independent Bookstores,' which independent bookstores could sign up for as a way to invite NaNoWriMo writers to their stores so the writers could work on their novels in that bookstore environment during November," Larson recalled. "I love Dragonfly Books and drop by there pretty often, so I mentioned the program to Kate [Rattenborg] and she decided to sign up for it. It was actually her idea to set up the desk in the window; I thought writing in the window would be a lot of fun and hopefully get people curious about NaNoWriMo."

Larson expressed his gratitude to Kate "for letting me come in to write every day--it was very generous to give me a whole window all to myself. I encourage anyone who loves books and reading to come check out Dragonfly Books; it's one of my favorite places to go and I practically consider it a second home."



Book Trailer of the Day: Beyond Religion
Beyond Religion: Ethics for a Whole World by the Dalai Lama (Houghton Mifflin Harcourt), which features material from the audiobook, narrated by Martin Sheen.


Media and Movies
Media Heat: Donald Trump Gets Tough
This morning on the
Today Show
:
Donald Trump
, author of
Time to Get Tough: Making America #1 Again
(Regnery, $27.95, 9781596987739). He will also appear today on
Sean Hannity
and tomorrow on
Fox & Friends
,
Fox's On the Record with Greta Van Susteren
and Laura Ingraham's radio show.
---
Today on
Live with Kelly
:
Paula Deen
, author of
Paula Deen's Southern Cooking Bible: The New Classic Guide to Delicious Dishes with More Than 300 Recipes
(Simon & Schuster, $29.99, 9781416564072).
---
Today on NPR's
Talk of the Nation
:
John Lithgow
, author of
Drama: An Actor's Education
(Harper, $26.99, 9780061734977).
---
Today on the
View
:
Jane Fonda
, author of
Prime Time
(Random House, $27, 9781400066971).
---
Today on Sirius Satellite Radio's
WOWOWOW with Lesley Stahl
:
Chris Matthews
, author of
Jack Kennedy: Elusive Hero
(Simon & Schuster, $27.50, 9781451635089). He's also on OWN's
Rosie Show
tomorrow.
---
Tonight on the
Daily Show
:
Benjamin Lowy
, author of
Iraq: Perspectives
(Duke University Press, $39.95, 9780822351665).
---
Tomorrow on an NBC
Michael Bublé Christmas Special
:
Michael Bublé
, author of
Onstage, Offstage
(Gallery, $27, 9781451674712).
---
Tomorrow on the
View
:
Condoleezza Rice
, author of
No Higher Honor: A Memoir of My Years in Washington
(Crown, $35, 9780307587862).
Also on the
View
:
Patricia Cornwell
, author of
Red Mist
(Putnam, $27.95, 9780399158025).


Girl with the Dragon Tattoo: Soundtrack; Mega-Trailer; Interview
On the band's website, Nine Inch Nails leader Trent Reznor discussed working with Atticus Ross on the soundtrack for director David Fincher's The Girl with the Dragon Tattoo. The album will be released December 9 and the film December 21.

"We laughed, we cried, we lost our minds and in the process made some of the most beautiful and disturbing music of our careers," Reznor recalled. "The result is a sprawling three-hour opus... RIGHT NOW you can download a six-track, 35 minute sampler with no purchase necessary.... Atticus and I are very proud of the film and our work, we hope you enjoy."

The Wrap featured a new "mega-trailer," with exclusive music from Reznor and Ross.

In Wired magazine, contributing editor Brian Raftery interviewed Fincher, the "famously press-shy" and "enigmatic" filmmaker about his adaptation of Dragon Tattoo.

"I try to choose things that aren't a rehash of places I've been," he said. "But I liked the idea of these two people navigating this odd world thousands of miles away. That was more interesting to me than the notion of 'Oh look, more depravity.' "



Books & Authors
Awards: Cervantes Prize
Chilean poet Nicanor Parra has won the €125,000 (US$167,358) Cervantes Prize, BBC News reported. He will be presented the award April 23, on the anniversary of the death of Cervantes in 1616.



Reviewer's Choice: Top Ten of 2011
Each December, our reviewers choose their top books; today's list is by Shelf Awareness book review editor Marilyn Dahl.
A Dog's Purpose: A Novel for Humans by W. Bruce Cameron (Forge Books)
Looking through the eyes of a dog in four incarnations--Toby, Bailey, Ellie and Buddy--Cameron takes on life's big questions: Who am I? Where am I going? Why am I here? He nimbly avoids sappiness; instead, he imbues this amazing book with gentle wit, dignity, sadness and love, and we feel the magic of the dog-human bond.
The Affair by Lee Child (Delacorte Press)
Often prequels to a series are disappointing; not so with the latest in Lee Child's Reacher series. We see Reacher in the army, find out why he left, and why he travels with only a folding toothbrush... and we'll never watch a train go by in the same way again.
The Art of Fielding by Chad Harbach
It took me months to read this book because I did not want it to end. The story of a baseball prodigy who begins to lose his gift when scouts start paying attention, and his friends at college is the story of big dreams, dreams dashed and lives rethought. It reminds me of Brothers K, high praise indeed.

The Last Werewolf by Glen Duncan (Knopf)
Jacob Marlowe, the last werewolf, has a definite, imminent rendezvous with death. He welcomes death, having been in the world too long, too hunted, too bored. Duncan has broken the mold with this novel. It's a thriller, filled with steamy and seamy sex (Jake's an animal, after all), but the erudite Duncan has more than that to offer--sardonic wit, wordplay and literary allusions, to name just a few of the delights of this tour de force.
Sookie Stackhouse 8-volume boxed set by Charlaine Harris (Ace)
I admit with embarrassment that I had long ignored the Sookie books--when I tried reading the first one, I wasn't in the mood, and decided it wasn't worth the effort. But earlier this year I was laid up for a while and a friend sent me this set, saying it was just what I needed. Was he ever right! Romance! Sex! Vampires! Werewolves! Fae! Thrills and chills and humor!
Sweetness: The Enigmatic Life of Walter Payton by Jeff Pearlman (Gotham)
A biography that transcends the genre, a thoughtful, profound, respectful story of a larger-than-life man. It's a story of segregation, integration and strong family, with a cast of memorable people. Even more, it's a cautionary tale of what football can do to a player, especially a player who would rather take a hit than run out of bounds. Payton's painkiller addiction? The more surprising story would be no need for drugs.
Those Across the River by Christopher Buehlman (Ace)
Christopher Buehlman's masterful debut novel is a spellbinding tale of terror. With impeccable pacing, he traces an arc from the happiness of a new beginning for Frank and Dora, through hints of lurking strangeness in their new town, to full-blown horror as evil is unleashed when the town's careful balance is upset. The prose is moody and lush, the story creepy yet beautiful.
Tolstoy and the Purple Chair: My Year of Magical Reading by Nina Sankovitch (Harper)
When Nina Sankovitch's older sister died suddenly at age 46, Nina was bereft; three years later, she decided to read a book a day for a year in honor of her sister and their shared love of books. Her eclectic reading list and unalloyed delight in reading are catnip for booklovers. The books are interwoven with stories about her family as she pens a testament to the value and the joy of reading, and the fun of discovery.
What It Is Like to Go to War by Karl Marlantes (Atlantic Monthly)
Late-adolescent males make ideal warriors, but what happens when the war is over? Marlantes, author of the magnificent Vietnam novel Matterhorn, describes the psychological, emotional and spiritual effects of combat and killing and what can and must be done for these warriors (including women) to bring meaning to the chaos and hell they experience. A deep and compassionate addendum to his novel.
Wicked Autumn by G.M. Malliet (Minotaur Books)
A wickedly witty mystery with all the right elements of a traditional British cozy: an idyllic English village, a dishy vicar (who has untraditionally fled his past as an MI5 agent) and a Women's Institute Harvest Fayre, run in a roughshod manner by a highly unpopular woman. What makes this book stand out is the humor--wry and clever.


Book Review
Review: The Rook
Rook by Daniel O'Malley (Little, Brown, $25.99 hardcover, 9780316098793, January 11, 2012)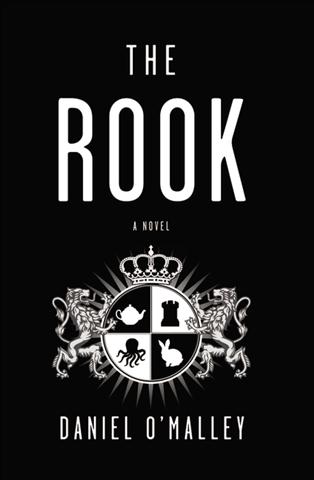 "Dear You," begins the letter the amnesiac protagonist of The Rook finds in her jacket pocket. "The body you are wearing used to be mine." As the note's author, Myfanwy Thomas, explains, she knew her life was in danger, and in particular that her memory might be stolen, so she's prepared an elaborate set of instructions to help bring herself back up to speed, and help her cope when the people who tried to kill her come back for a second attempt. Oh, and there's one other thing her new self should know: she's one of the highest-ranking officers in the Checquy, the secret British agency that deals with supernatural threats to the nation, and her enemy is almost certainly one of her fellow administrators.
Daniel O'Malley's contribution to the growing field of high-octane paranormal spy thrillers is filled with smart flourishes. The Checquy is a centuries-old institution, with a command structure modeled after chess pieces, and clever bits of its history occasionally pop up in the background. (There's a reference to at least one British horror classic; a more astute reader might be able to find others.) As Myfanwy regains her footing, she realizes that her previous self was shy and unassertive, but she decides to take a much more aggressive approach as she resumes the hunt for the traitor (or traitors) within the organization. Good thing, too: on her first day back at the office, she supervises an interrogation that reveals the return of the Grafters, a secret society of Belgian genetic engineers who first tried to invade England back in 1677.
O'Malley keeps a humorous edge --including the timely arrival of a sassy American colleague--to Myfanwy's uncertainty without diminishing the threat level. He also uses the pre-amnesia Myfanwy's letters and notebooks to parcel out the exposition at a helpful pace; some of this falls into the category of infodump, but even then O'Malley inevitably finds a way to work an entertaining angle. Very few of the plot developments are obvious, and the ones that are don't undermine the suspense. (You'll have guessed, for example, which of Myfanwy's bosses is a vampire long before you get to the dossier that reveals his entire backstory.) There's some wiggle room for a sequel, but The Rook stands on its own as an entertaining integration of paranormal flash with watertight espionage narrative. --Ron Hogan
Shelf Talker: Fans of Chris Farnsworth's The President's Vampire or Charles Stross's The Atrocity Archives will enjoy O'Malley's fast-paced action and snappy dialogue.


The Bestsellers
Top Book Club Books in November
The following are the most popular book club books during November based on votes from readers and leaders of more than 32,000 book clubs registered at Bookmovement.com:

1. Room: A Novel by Emma Donoghue
2. Unbroken: A World War II Story of Survival, Resilience and Redemption by Laura Hillenbrand
3. The Hunger Games by Suzanne Collins
4. Hotel on the Corner of Bitter and Sweet: A Novel by Jamie Ford
5. The Paris Wife: A Novel by Paula McLain
6. Sarah's Key by Tatiana de Rosnay
7. The Immortal Life of Henrietta Lacks by Rebecca Skloot
8. The Kitchen House: A Novel by Kathleen Grissom
9. The Help by Kathryn Stockett
10. Cutting for Stone by Abraham Verghese

Rising Stars:

The Christmas Wedding by James Patterson (#15)
A Dog's Purpose by W. Bruce Cameron (#20)

[Many thanks to Bookmovement.com!]