Shelf Awareness for Friday, March 23, 2012

News
Occupy Wall Street Library Rebuilt, then Removed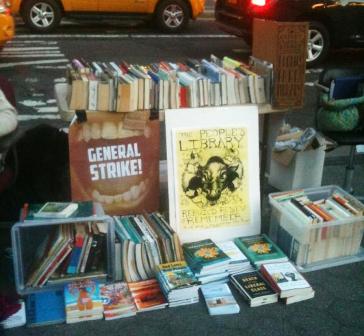 Earlier this week, the Occupy Wall Street Library was reassembled in New York City's Union Square Park, but its presence there was shortlived. By 10 p.m. Tuesday, police had cleared out most of the library, leaving books behind. GalleyCat posted photos, as well as "a chronological collection of tweets from activists showing what happened to the library." The OWS librarians later tweeted: "People got sold out, Books got thrown out!"



Google Play E-Books for France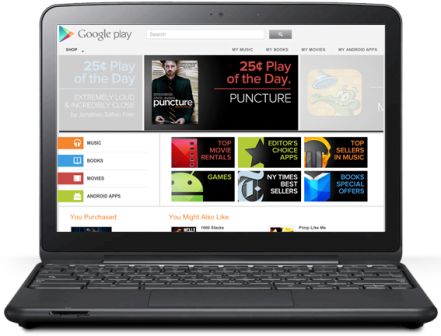 Google will launch e-books on its Google Play portal in France, according to the Bookseller, which cited a Livres Hebdo report of an e-mail sent to publisher partners of Google Livres book search. The Bookseller also noted that although "no major French publisher has signed up for the French version of Google Book Search, independent houses such as L'Harmattan, Le Petit Futé and Michelin have made several thousand titles available."



Romance Translates
Romance author Barbara Freethy has returned her OP titles to print as self-published e-books (1.6 million copies sold) to draw attention to her new titles from Simon & Schuster and is now self-publishing foreign-language editions of those e-books, paidContent reported.


"I've translated three titles into foreign languages," she said. "Don't Say A Word has a German edition (Sag kein Wort), Daniel's Gift has a Spanish edition (El Regalo de Daniel) and Just The Way You Are has a French edition (Exactement Comme Tu Es)."

Freethy hired her own translator and proofreader, and in "some instances I used a second proofer as well to make sure the translation was as accurate as it could possibly be.... It's a complicated process, but I do believe the global market is going to grow and I would love to make my stories available around the world in as many languages as possible."

She is also selling foreign rights for certain titles: "I recently sold seven titles to a Brazilian publisher, Novo Conceito Editora, for translation into Portuguese and print/e-book publication in Brazil."



No Gray Area in Bestseller Snapshot: 50 Shades of Hunger Games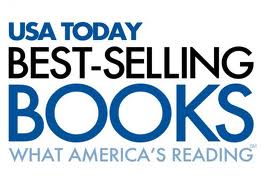 Call it a momentary snapshot of the American reader. This week's USA Today bestseller list includes, as would be expected, the Hunger Games trilogy occupying the first three spots, with the boxed edition nestled snugly at #5. In three of the other top 10 spots are E.L. James's phenomenon Fifty Shades of Grey and its sequels. And somehow, in the midst of all this movie madness and "mommy porn," Ree Drummond's The Pioneer Woman Cooks: Food from My Frontier has landed at #8.



Notes
Image of the Day: Local Boy Makes Good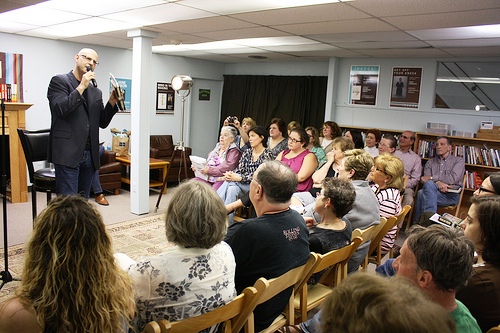 New Jersey native Harlan Coben entertained an SRO crowd yesterday at Words, in Maplewood, N.J. Clearly comfortable at the microphone, Coben's stand-up routine covered the questions he gets most frequently, ranging from "how tall am I?" (6'4") to "boxers or briefs?" (bikini mesh!) to "where do I get my story ideas?" ("there's a little shop in the village...") Actually, he explained, "My ideas come from everyday life, and that's why I set my books in the suburbs." He talked about finding the little details that bring a story to life and used as an example a Korean War memorial he noticed sandwiched between two casinos in Atlantic City, the setting of his new book, Stay Close (Dutton).

photo: Words


Mississippi Indie Booksellers Talk Shop
Amazon doesn't want "just a piece of the pie or even a big piece of the pie. They want the whole damn pie, and the cake to go with it," said Richard Howorth, owner of Square Books, Oxford, Miss., during a recent panel discussion about "holding on in the age of Kindle," the Daily Journal reported.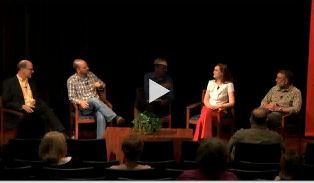 The event, which can be seen in this video, was held Tuesday at the University of Mississippi's Overby Center and also featured Jamie Kornegay of TurnRow Book Co., Greenwood; Emily Gatlin of Reed's Gum Tree Bookstore, Tupelo; and John Evans of Lemuria, Jackson.

Evans observed that competing against larger companies requires "understanding our local culture and market. We understand what we want our bookstores to be."

"Reading has become cool again, and more people are interested. The challenge is getting them into your store to buy an actual book," Gatlin said.

"As this panel demonstrates, excellent independent bookstores can still be found in Mississippi," noted moderator Bill Rose in his introduction. "And not only do they remain, but they are thriving."



Too Cool Idea of the Day: Book Clubbing
A radio station in Cologne, Germany, sponsors a weekly late-night show called Klubbing, which Deutsche Welle described as "part book-reading, part electro music club-night." On Friday nights, "scores of young people head into what appears to be a deserted office block" owned by EinsLive, a radio broadcaster "aimed at listeners under 30 years of age."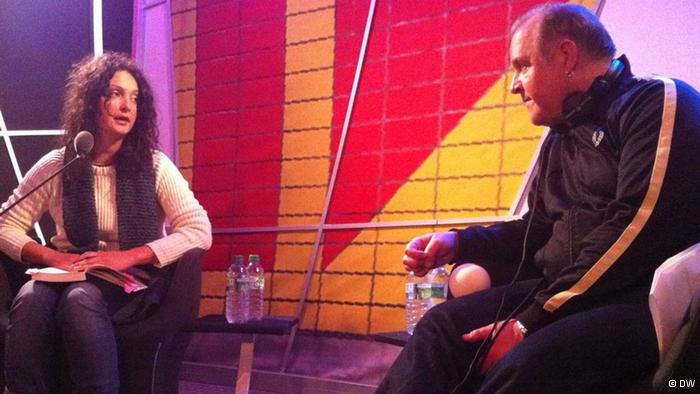 At 11 p.m., "the audience put down their drinks, the music fades away and host Mike Litt, on stage, welcomes the crowd listening on the radio and live in front of him" to an author interview. About 300,000 people listen to Klubbing each week, and those attending "have won their way into the crowd, calling in to the station at specific times during the week. They are the lucky ones--the demand for tickets is always pretty high," Deutsche Welle wrote.

"I like the whole concept," said author Jasmin Ramadan, a recent guest. "It's like a book reading in essence, but it allows me to reach a lot more people obviously. And the music they pick always fits pretty well too."

Producer Claudia Cosmo observed: "We were convinced that this was a gap in the market that young people needed, to be able to experience books up close.... You don't always have to do serious literature, with hour-long readings. You can add to the experience with a chat or with music and present it in a club-like atmosphere. That way it becomes an experience, which includes getting to know the author. And it stays accessible. It isn't 'oh, literature, how boring.' "



Reading Is Fundamental: An "Electric Rebrand"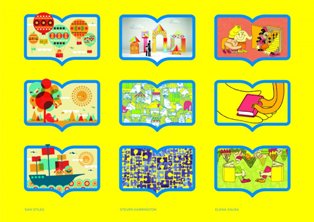 Fast Company explored Mother New York's "electric" redesign for the 45-year-old Reading Is Fundamental children's literacy organization that "added some much-needed wattage to its staid and conventional branding.... More than a logo redesign, Mother created an entirely new visual language for RIF that is charged with color, art, and energy, an excellent companion to a brand that aims to spark ambition and a lifelong love of reading."

Krystle Loyland, Mother's head of new business, said, "Reading Is Fundamental is less about teaching kids how to read but fostering a love and hunger for reading. A love of reading can really spark ambition in a kid's life to help them continue to learn for a lifetime. So we determined that the target audience was really parents with young kids in the house, because whether you could afford books for your kids or not, you understand the power of reading and what it does."

Art director Christian Cervantes added that they "wanted this brand identity to capture that enthusiasm and optimism and power and love of reading. We wanted people to have an emotional connection to the brand, so in creating the identity we wanted it to appeal to their inner child. We wanted to develop a brand that people would be proud to wear or be a part of as opposed to feel obligated to give money too."



Book Trailer of the Day: A Temptation of Angels
A Temptation of Angels by Michelle Zink (Dial).


Media and Movies
Media Heat: Chris Pavone on Weekend All Things Considered
Tomorrow on American Public Media's Marketplace: Peter H. Diamandis and Steven Kotler, authors of Abundance: The Future Is Better Than You Think (Free Press, $26.99, 9781451614213).

---

Tomorrow on NPR's Weekend All Things Considered: Chris Pavone, author of The Expats (Crown, $26, 9780307956354).

---

Sunday on CBS's Sunday Morning: Jon Gertner, author of The Idea Factory: Bell Labs and the Great Age of American Innovation (Penguin, $29.95, 9781594203282).




TV: Inside the Quest to Adapt Game of Thrones
In a Game of Thrones feature headlined "How David Benioff and D.B. Weiss Brought Westeros to Life," the Wrap spoke with the creators of HBO's hit series based on the novels of George R.R. Martin. The second season begins April 1.

When asked "Do you still come across things in the books that you don't understand?" Benioff replied: "We have the luxury of calling [George] and saying, 'What the hell is this?' Having read them so many freakin' times, we get most of it. But there are definitely times when I'll think, where is this city again?"

Added Weiss: "Where is this all going? It's kind of like being able to ask God: What the hell's up with that?"



Movie Trailers: Cosmopolis; The Host
A teaser trailer (with French subtitles) has been released for the film version of Don DeLillo's novel Cosmopolis. David Cronenberg wrote and directed the project, which stars Robert Pattinson "and is a sure bet to be headed for Cannes in May," Deadline.com reported. The movie opens in France May 23. The cast includes Jay Baruchel, Samantha Morton, Juliette Binoche, Paul Giamatti, Mathieu Amalric and Sarah Gadon.

---

Open Road Films released the first trailer for a film adaptation of Stephenie Meyer's The Host, which will open in March next year. The movie, directed by Andrew Niccol (Gattaca, In Time), stars Saoirse Ronan.



Books & Authors
Awards: Atlantic Book
Shortlists in nine categories were announced for the 2012 Atlantic Book Awards, which honor literary works being produced in Atlantic Canada. Winners will be named May 17 during the Atlantic Book Awards and Festival in St. John's, Newfoundland.



Book Brahmin: Beth Gutcheon
Beth Gutcheon is the author of Still Missing, More Than You Know and Leeway Cottage, among other books. Her ninth novel, Gossip, was published by Morrow on March 12, 2012. Gutcheon lives in New York City with her husband and her attack poodle, Daisy Buchanan.
On your nightstand now:
To be clear, my nightstand is a sturdy side table in the living room where I read after everyone else is in bed. It's stacked pretty high, but the books in current rotation are Claire Tomalin's Dickens, for pleasure, and Simon Sebag Montefiore's Jerusalem, for research for a new novel and also for fun. I'm a fan of his novel Sashenka. Also, Rembrandt's Eyes by Simon Schama because we're going to Amsterdam next month. They're all pretty fat; someone should make a book derrick.
Favorite book when you were a child:
All the Oz books by L. Frank Baum. (I disdained the ones by Ruth Plumly Thompson, who carried on after he died, though I read them when I ran out of real ones.) The only one I didn't love was The Wizard of Oz, perhaps because it's so overexposed, but also it seems more programmatic than the rest. Anything with the Nome King in it gave particular joy.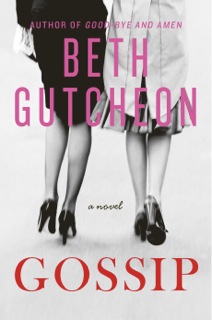 Your top five authors:
Austen, Dickens, Willa Cather, Scott Fitzgerald and Evelyn Waugh.
Book you've faked reading:
Gone with the Wind when I was 12 and my best friend was mad for it while I was still caught up with the Black Stallion books. Being unmasked in this fraud was so painful that I read GWTW immediately to recover my dignity, and then was of course in thrall to it for years myself.
Book you're an evangelist for:
The Book of Ebenezer LePage by G.B. Edwards. It was published posthumously in 1981, the author's only completed work; the story of an old man on Guernsey looking back on his life and, oh, the language! Every page is vivid and wry and chewy and makes you want to move to the Channel Islands. It goes in and out of print, but is currently in, as a New York Review of Books classic. Also, The Assault by Harry Mulisch, a story that begins with a disgusting act of moral cowardice in occupied Holland during World War II, with a circular structure in which each chapter reveals something new about what happened until by the end it brings you around to see that the initial event was entirely different from what it looked like. Brilliant.
Book you've bought for the cover:
Cookbooks and garden books always pose a danger. I bought Of Gardens by Paula Deitz for the most ethereally beautiful cover ever, but then I accidentally also read it. Lovely inside, too.
Book that changed your life:
Great Expectations. I'd been hooked on Dickens since reading David Copperfield in eighth grade, but GE was the thunderclap one. The ending is so stunning, the last thing you are expecting, and yet you can easily see that you'd been set up for it from the opening scene. It showed me what a miracle of craft that kind of devastatingly satisfying storytelling is, conceived as a whole from the ending forward, with the machinery in plain sight, yet unseen until the author wants you to see it.
Favorite line from a book:
To be honest, the first line of Pride and Prejudice: "It is a truth universally acknowledged," etc., but everyone must say that. Here's a random one from Dombey and Son, about witnesses signing the church registry after a wedding: "All the party sign--Cousin Feenix last, who puts his noble name into a wrong place and enrolls himself as having been born that morning." It always makes me laugh, yet it's such a throwaway, like thousands of such moments in Dickens.
Book you most want to read again for the first time:
If I have to choose one, I guess Brideshead. But wait--what about My Antonia, or The Great Gatsby, or any Jane Austen at all?
Books you are most looking forward to:
Anything from Elizabeth Strout. Olive Kittredge is a marvel, but I love her earlier two novels even more. Also, Hilary Mantel's sequel to Wolf Hall. Wolf Hall is such dazzling historical fiction, psychologically contemporary but not anachronistic. I love her describing an angry Ann Boleyn as looking as if someone had knitted her and pulled the stitches too tight.


Book Review
Review: Miss Fuller
Miss Fuller by April Bernard (Steerforth, $14.99 paperback, 9781586421953, April 3, 2012)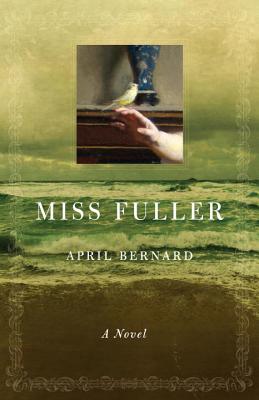 When Margaret Fuller perished in a shipwreck off the coast of Fire Island in 1850 along with her husband and son, the world was quick to forget the Transcendentalist author. Male counterparts in the movement--including Emerson, Thoreau and Hawthorne--dismissed her foundational feminist essay, Woman in the Nineteenth Century, as insignificant, even scandalous. In Miss Fuller, April Bernard takes a speculative scalpel to the life of Margaret Fuller, offering a narrative of her experiences that shines a harsh and unbecoming light on the male Transcendentalists. The novel also explores the implications of the misogyny implicit in their actions--not only for the 19th century, but for the present day as well.
Fuller didn't have to die, we learn from Emerson, who was both her guru and taskmaster. Lack of funds, largely due to Emerson's pressure on her editor, caused Fuller to set sail on an inexpensive, and ultimately dangerous, merchant vessel. Emerson objected to her working in Europe, and moreover objected to her marriage--only as a virgin, he postulated, could she truly embody the New Woman of the 19th century. When she became a wife, she must inevitably belong to her husband.
An equally dark portrait of Hawthorne emerges: obsessed with Fuller's alleged improprieties, he portrays her as a sex goddess of destruction in one of his novels. Through disturbing revelations such as these, Bernard illustrates how misogyny was a pervasive force even among some of America's most admired freethinkers.
It is Anne Thoreau, Henry Thoreau's sister, who bears silent witness to these events and is subtly shaped by them. Anne is very much a woman of her time: she finds Margaret's vehemence irritating, and upon the news of Margaret's death, Anne can't help but feel that it was somehow deserved. Margaret overstepped the boundaries of acceptable behavior, and was punished for her transgressions.
Yet as the years fly by, Anne has time to contemplate Margaret's written exhortations to women to live a "complete" life... and then she reads Margaret's story. Here, a life that is too short, yet strangely complete, is laid out as an example of the lengths to which one woman can extend herself. Through Margaret's confessions, Anne at last comes to some quiet, uncomfortable realizations about herself and her life. --Ilana Teitelbaum
Shelf Talker: A novel about a 19th-century American woman's struggles against the dark side of Transcendentalism reveal the world feminism arose to challenge.


Deeper Understanding
Robert Gray: Will 'Booksing' Lead to the Bibliocalypse?
"In our new digital lives, we're deluged by text but evermore removed from proper reading. The textures and objects that once filled our lives have been replaced by the bald touch screen, though for every physical thing left behind, the Internet generates a billion virtual simulations. One result is booksing: a palliative appreciation of books as things, which muddles up the nostalgia for a more tactile world with our anxiety about just not reading enough."

I came upon Raghu Karnad's article late last week in Mint, an Indian business daily that has a content partnership with the Wall Street Journal. Provocative writing haunts readers long after their eyes leave the page, and this piece certainly did so for me. Even the headline is a challenge, if not an outright scold: "Fake bibliophilia: Our irritating new tendency to fetishize the physical book is actually an excuse not to read."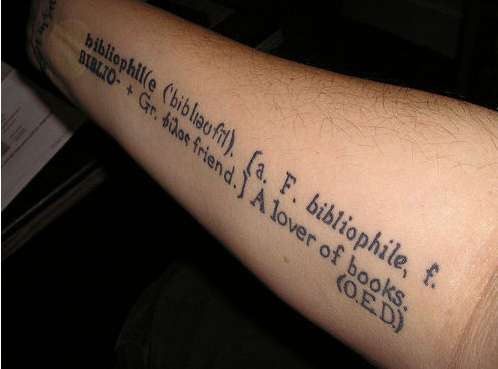 What intrigues me about Karnad's damnation of fake bibliophilia is his assumption that the roles of reader and "bookser" are mutually exclusive; that booksing is an inevitable sign of the bibliocalypse. As an old reader and bookser, I must disagree.

A booksing high is best when shared. As Karnad notes, "If you use Facebook or Twitter, you may have noticed the recent popularity of 'booksing,' which is very different from reading. Booksing tends to show up as a gushy, shared celebration of the idea of books, rather than of the experience of reading any given one."

I do use Facebook and Twitter, but I've also noticed that the same people getting a little "gushy" about "the idea of books" are just as often evangelizing for works and authors they have read and loved. I'm blessed by the fact that a majority of the people I know are readers. (This was not the case for much of my early life, so I appreciate my bookish clan.) And here's a little secret: Most of them are, as far as I can tell, fully addicted "booksers" as well. Hmm... I wonder if surrounding yourself with people who love books and reading as much as you do is just another deadly strain of booksing.

Karnad contends that booksing "often celebrates books through their most cosmetic aspects." He criticizes, among many things, "the over-scrutiny of cover design, the fetishization of typefaces, the reading of writing about reading and writing." He warns of "an epidemic of Tumblr pages that you can broadly call 'Hemingway, Typewriter,' in which famous authors are seen doing things." He scolds us for the "veneration of the collection, the shelf, the bargain bin, the discount haul, and other forms of textual abundance (or, as we know too well, unread accumulation)."

Well, I'm part of that problem, too. Every day I scout the Web wilderness for items that might be included in our Book Candy section of Shelf Awareness for Readers. As unofficial Booksing Editor, I find stuff like amazing book spaces, unusual book products, even surgically carved book sculptures. And if booksing is really a bad drug for a terminal malady, then beware the recent escalation of Pinterest, which is essentially a booksing doctor writing prescriptions on demand.

Karnad seems particularly miffed about The Fantastic Flying Books of Mr. Morris Lessmore, which recently won an Oscar in the best animated short category. He observed that you can leave it "feeling that both the film and the Academy's tribute are hollow and, all the more for their loveliness, self-defeating. I'd call them 'booksy.' " The Joy of Books video, which currently has three million views on YouTube, is also cited as symptomatic of the decline and fall.

"The joy of reading is harder to access than The Joy of Reading video," Karnad wrote. "I'm as vulnerable to this as anybody. Yet when booksiness gets a big plug from the Academy Awards, it leaves me feeling suspicious and sad and mad, because it looks like a worthless welfare check from a healthy creative form to one that's thought to be moribund. If reading is indeed about to die, then booksing is a good sign of its dropping pulse. If we stopped booksing instead, we'd have one less distraction."

Stop booksing? Never! In fact, I just saw a photo of this amazing "library loft" I want to share with you. And now I'll go back to reading my new favorite book--Geoff Dyer's Zona, an intriguing exploration of Andrei Tarkovsky's film Stalker, which ends with a striking shot of a girl reading in a room filled with books. Wait a second. Is that too booksy as well?--Robert Gray, contributing editor (column archives available at Fresh Eyes Now)