Shelf Awareness for Tuesday, March 27, 2012

News
Harry Potter and the E-Book Launch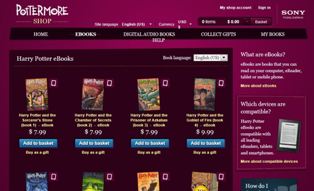 As of today, all seven Harry Potter books can be purchased as e-books, slightly earlier than the most recent postponed launch date, and are available only on Pottermore.com. U.S. prices are $7.99 for each of the first three titles and $9.99 for each of the last four; the Jim Dale audiobooks range from $29.99 to $44.99.

Pottermore CEO Charlie Redmayne told the Bookseller that Pottermore is planning enhanced editions of the e-books and will operate "an affiliates scheme for retailers." The e-books are listed on Amazon and B&N.com, directing buyers to Pottermore. The e-books are also available to libraries through OverDrive but not yet available via Apple's iBookstore, Kobo, W.H. Smith, Waterstones (or apparently IndieBound).

"This is the first time Amazon and B&N have driven customers off their platform to another site, and then given the ability to push that content back to their device," Redmayne said.




Le Book Nook Opens in Vegas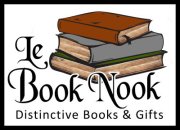 Calling it a "sign of economic spring," the Las Vegas Review-Journal profiled Le Book Nook on Durango Drive, where owner Tina Boag was "placing the finishing touches on her sparkling little store," which opened over the weekend.

Asked what prompted her to open an indie bookstore, Boag said, "I always, always wanted to own a bookstore. I started thinking, 'If not now, when?' "

The Review-Journal expressed seasonally apt approval: "In a difficult economy, opening a new business is optimism personified and a sure sign of spring."



Viking Bookstore Opens in New Digs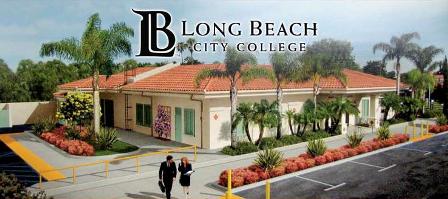 The Viking Bookstore on the Liberal Arts Campus of Long Beach City College, Long Beach, Calif., is celebrating its opening in new quarters today, the Long Beach Post reported. The new store has 8,000 square feet in the fully renovated and expanded former Long Beach City College Foundation building. Congratulations!


Galapagos Books: Foreign Language and More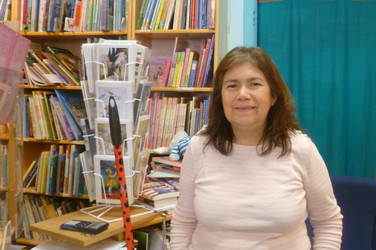 The Daily Dobbs Ferry offers a quick profile of Galapagos Books, Hastings-on-Hudson, N.Y., which was founded in 1987 as a foreign-language bookstore and has since expanded to include children's, bestsellers, mysteries and works by local authors.

Amada Abad has owned the store for 15 years. She began working at Galapagos when it was founded by Susan Lindsey and her family--who sponsored Abad when she came from Ecuador to learn English.

Abad said that the foreign language books draw people wanting to learn other languages as well as visitors or immigrants who want to find books in their native tongues. "They are so happy to see there is a place that carries these languages," Abad said.


Publishing in the Digital Age
During a keynote address at last week's Publishing Business Conference & Expo, held in New York City, Marcus Leaver, the outgoing president of Sterling Publishing, offered what he described as some "common-sense prescriptions" for book publishers. "We must offer consumers an amazing value for their dollars," Leaver said, arguing for a shift in emphasis on quality over quantity. "The world does not need another book," he added. "We're still publishing far too many."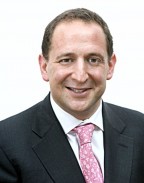 Leaver went on to predict the rise of niche publishers who would confront the problem of discoverability by marketing their books to readers, not to the publishing and bookselling industries, and who would recruit authors to take an even greater part in that marketing process. "Our biggest challenge will not be e-books," he predicted, "but in proving that publishers will continue to be necessary." He proposed that bundling print and digital editions as a joint purchase would become a necessary option, one that would offer consumers greater choice in how they want to read.

In a later session, Simba Information senior analyst Michael Norris traced the collapse of Borders last year back to 2001, when the bookstore chain made the mistake of partnering with Amazon.com to handle its online business. For the duration of that collaboration, Norris pointed out, Borders was unable to tap into the growing digital market; when the two companies finally split, Borders had to build up its online customer base from scratch, but the six-year gap proved impossible to overcome. Looking at the current market, Norris said Barnes & Noble was "doing a good job, but I think they're blowing an opportunity to distinguish themselves." If, he suggested, readers are still buying four to five times as many print books as e-books, B&N was in a position to create a marketing campaign that, as he put it, "gave people permission to love books" rather than pushing so hard on the Nook as a counterpart to the Kindle. He also discussed a problem he'd previously raised at last summer's BookExpo America, observing that the number of Americans who aren't buying any books at all is growing each year.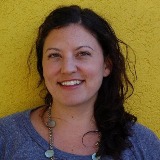 At other panels during the two-day conference, publishers discussed their efforts to sell books directly to consumers through their websites, and to reach out to readers using social media. On the latter topic, Morgan Baden, social media director at Scholastic, described her company's work in promoting The Hunger Games on Facebook. The first fan page for the series, she noted, came from the publisher's British division, but when they realized how many of the participants were coming from North America, the U.S. division launched its own, more extensive effort. They now update that page with roughly three new posts each week. "The community talks to itself so often," Baden explained, that fans don't need more spurs to take part in the conversation. (Baden also noted that the fan page really is focused on the books; fans who want to talk about the movie generally gravitate to other fan pages maintained by Lionsgate to promote the film.)
As the Publishing Business Conference wound down, the event's organizers, NAPCO, remained at the Marquis to stage another conference, All About eMail Live! This one-day event was geared toward a number of industries, with sessions tackled topics like including video in emails or sending follow-up messages to customers if they've put items in an online shopping cart but then left the website without completing the purchase. There were also frequent reminders about the importance of creating email messages that were mobile-friendly--an adaptation to shifting patterns of computer usage--and a general sense of agreement with the assertion from LiveIntent's David Katz that reaching out to mobile users via email would give retailers access to the most affluent consumer segments. Above all, attendees were reminded, keep the messages short and simple; people spend an average of 28.3 seconds with the typical marketing email, so it's important not to ask too much of them all at once. It's a guideline for publishers and independent booksellers to keep in mind as they work to expand their online markets.--Ron Hogan


Obituary Note: Bert Sugar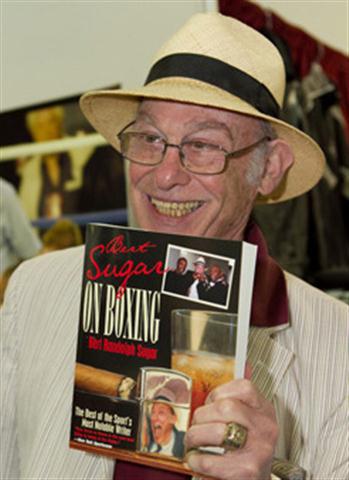 Bert Sugar, who wrote or edited dozens of books and was "boxing's human encyclopedia, a prolific writer and editor and a flamboyant and ubiquitous presence in the world of the ring," died last Sunday, the New York Times reported. He was 74.




Notes
Image of the Day: UP Sendoff for Ron Watson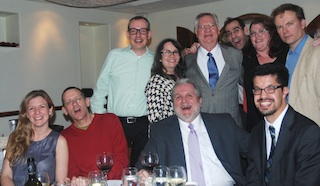 Last week, people from nine university presses in the Northeast held a retirement party in New York City for Ron Watson, Ingram's lead buyer in the university press group. Before joining Ingram 20 years ago, Watson owned R.M. Mills Bookstores, Nashville, Tenn. Celebrating: (sitting) Mary Beth Jarrad, NYU Press; Jay Cosgrove, Yale University Press; Jeff Corvin; Alex Beguin, Cambridge University Press; (standing) Fred Nachbaur, Fordham University Press; Brianna Ross, Harvard University Press; Ron Watson; Paul Harrington, Oxford University Press; Melissanne Scheld, Cambridge University Press; and Tom Willshire, Cambridge University Press.
Photo: Liza Murphy


Making Books: Three Videos
Filmmaker Glen Milner visited Smith Settle bookbinders, "where the owners, Don Walters and Tracey Thorne, allowed him to film the making of the 17th Slightly Foxed book, Suzanne St. Albans's memoir Mango and Mimosa, from start to finish," the Telegraph reported.

---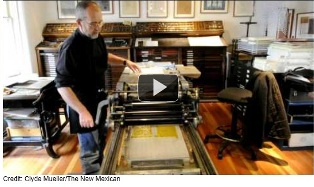 Tom Leech, curator of the Palace of the Governors Print Shop in Santa Fe, N.Mex., prints a sheet on a Vandercook Proof letterpress for the Palace Press edition of a book about Georgia O'Keeffe by Margaret Wood, a cook and companion for the legendary artist.

A trade edition of Remembering Miss O'Keeffe will be released this June by the Museum of New Mexico Press and sell for $19.95, but in May "O'Keeffe aficionados will be able to purchase one of 110 hand-bound editions with fine-art-charcoal paper and 1920s typography, titled O'Keeffe Stories, for $225," the Sante Fe New Mexican reported.

---

Watch the Paris Review's 200th issue cover being printed by a Heidelberg Press.




Libraries in 'Non-Library Buildings'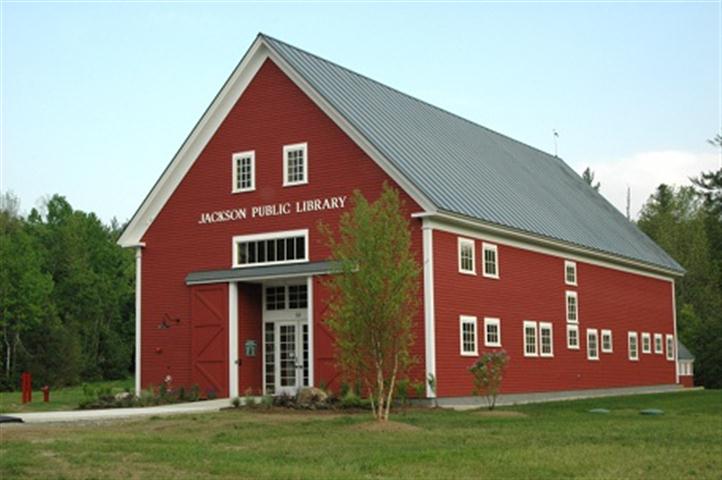 Jackson, N.H.'s "new" library"--located in a reconstructed 19th-century barn--was showcased by Boing Boing, which noted that Jackson Public Library "is one of several recent libraries to adapt existing non-library buildings (including a factory, a roller rink, and a department store) as new homes. In addition to generally costing less than a new building, and the potential historic value, the practice helps rejuvenate neighborhoods. See the library in a roller rink (and more) at Reused Libraries Rejuvenate Communities."



Nicely Done: Librarian Joins Bookstore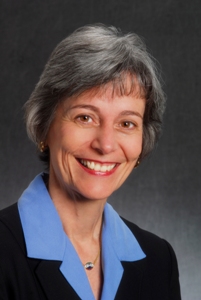 Donna Nicely, who retired last November as director of the Nashville Public Library after 16 years, has joined the staff of Parnassus Books, the new bookstore owned by Ann Patchett and Karen Hayes, according to the Tennessean.

Nicely will work at the store on Tuesdays and host a new debate series featuring "notable Nashvillians" called "Let's Talk Books." She told the paper that in taking the job, she is "going back to my roots" as a branch librarian.




Book Trailer of the Day: My Father's Name
My Father's Name: A Black Virginia Family after the Civil War by Lawrence Jackson (University of Chicago Press).


Media and Movies
Media Heat: Ahmed Rashid on the Daily Show
Tomorrow morning on the Today Show: Kim McCosker and Rachael Bermingham, authors of 4 Ingredients Gluten-Free: More Than 400 New and Exciting Recipes All Made with 4 or Fewer Ingredients and All Gluten-Free (Atria, $15, 9781451635713).

---

Tomorrow on CNN's Starting Point with Soledad O'Brien: T.D. Jakes, author of Let It Go: Forgive So You Can Be Forgiven (Atria, $25, 9781416547297). He will also appear on Fox's America's News Headquarters.

---
Tomorrow on NPR's Diane Rehm Show: Cheryl Strayed, author of Wild: From Lost to Found on the Pacific Crest Trail (Knopf, $25.95, 9780307592736).
---
Tomorrow on Fox Radio's Alan Colmes Show: former Senator Byron Dorgan, co-author of Blowout (Forge Books, $25.99, 9780765327376).

---

Tomorrow night on the Daily Show: Ahmed Rashid, author of Pakistan on the Brink: The Future of America, Pakistan, and Afghanistan (Viking, $26.95, 9780670023462).




Visuals: Breaking Dawn Part 2; On the Road
"Now that The Hunger Games has set the bar at the box office, it's time for Twilight to respond," Deadline.com noted in featuring Breaking Dawn Part 2's latest teaser trailer, which appeared before Hunger Games showings over the weekend.

---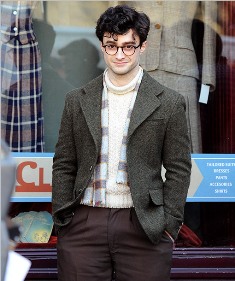 The latest poster for Walter Salles's adapation of Jack Kerouac's On the Road showcases Tom Sturridge as Carlo Marx, the character based on Allen Ginsberg. Indiewire noted that with "Daniel Radcliffe also playing the legendary beat poet in the upcoming Kill Your Darlings, it looks like we're due for a resurgence of interest in the writer and counter culture figure. Either that, or those chunky glasses frames favored by hipster artistes are going to be even more popular."
photo: Asadorian-Mejia/Splash


Books & Authors
Awards: PEN/Faulkner; Arthur C. Clarke; RITA
The Buddha in the Attic by Julie Otsuka has won the 2012 PEN/Faulkner Award for Fiction. The judges called the book "a precise, poetic novel that tells the story of Japanese picture brides brought to California from Japan in the early twentieth century."

The four finalists were:
Russell Banks for Lost Memory of Skin
Don DeLillo for The Angel Esmeralda: Nine Stories
Anita Desai for The Artist of Disappearance
Steven Millhauser for We Others: New and Selected Stories
The winner and finalists will be celebrated during the 32nd Annual PEN/ Faulkner Award for Fiction Ceremony on May 5 at the Folger Shakespeare Library in Washington, D.C.
---
Finalists have been named for the £2,012 (US$3,209) Arthur C. Clarke Award for science fiction literature. A winner will be named May 2 at a ceremony held in partnership with the SCI-FI-LONDON Film Festival. This year's shortlisted books are:

Hull Zero Three by Greg Bear
The End Specialist by Drew Magary
Embassytown by China Miéville
The Testament of Jessie Lamb by Jane Rogers
Rule 34 by Charles Stross
The Waters Rising by Sheri S. Tepper
---
The finalists for the 2012 RITA Awards, sponsored by the Romance Writers of America and recognizing "excellence in published romance novels and novellas," may be viewed here. Winners will be announced on July 28 during the RWA annual conference.


Attainment: New Titles Out Next Week
Selected new titles appearing on Tuesday, April 3:
Driving Mr. Yogi: Yogi Berra, Ron Guidry, and Baseball's Greatest Gift
by Harvey Araton (Houghton Mifflin Harcourt, $26, 9780547746722) chronicles how the younger Yankee legend takes care of and shares the company of the older Yankee legend during spring training.
The Lost Years
by Mary Higgins Clark (Simon & Schuster, $26.99, 9781451668865) follows the daughter of a researcher murdered after finding a letter written by Jesus.
The Beginner's Goodbye
by Anne Tyler (Knopf, $24.95, 9780307957276) is about a grieving husband whose deceased wife makes regular reappearances from the afterlife.
The Shoemaker's Wife
by Adriana Trigiani (Harper, $26.99, 9780061257094) takes place in early 20th century New York, where two Italian immigrants lead regularly converging lives.
The Fame Game
by Lauren Conrad (HarperCollins, $18.99, 9780062073280) shines the spotlight on a secondary character from the L.A. Candy books.
Mrs. Kennedy and Me: An Intimate Memoir
by Lisa McCubbin and Clint Hill (Gallery, $26, 9781451648447) chronicles the career of Jackie Kennedy's personal Secret Service agent.
The Woman Who Wasn't There: The True Story of an Incredible Deception
by Robin Gaby Fisher and Angelo J. Guglielmo (Touchstone, $26, 9781451652086) explores one woman's elaborate lies about surviving 9/11.
In the Water They Can't See You Cry
by Amanda Beard and Rebecca Paley (Touchstone, $24.99, 9781451644371) is the memoir of a troubled Olympics swimmer.
celebraTORI: Unleashing Your Inner Party Planner to Entertain Friends and Family
by Tori Spelling (Gallery, $25.99, 9781451627909) gives low budget party planning advice.
Now in paperback:
Rawhide Down: The Near Assassination of Ronald Reagan
by Del Quentin Wilber (Picador, $16, 9781250002549).


Book Review
Review: Sacre Bleu: A Comedy D'Art
Sacre Bleu: A Comedy D'Art by Christopher Moore (Morrow, $26.99 hardcover, 9780061779749, April 3, 2012)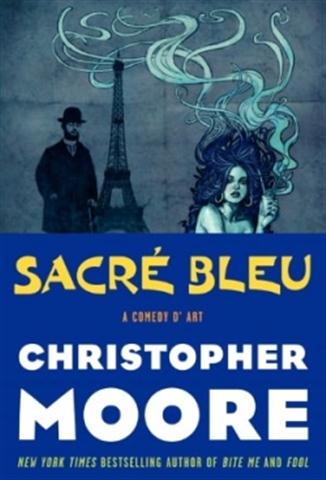 From the beginning, with novels like Practical Demonkeeping and Coyote Blue, Christopher Moore has had a knack for hitting a zany spot right between Tom Robbins and the comic fantasies of British novelist Tom Holt. Sacre Bleu continues in that vein, injecting a pair of bizarre immortal spirits into an enthusiastic, but not too reverential, tribute to the late 19th-century Paris art scene.
Actually, the novel opens outside the city, in the village where Vincent van Gogh was murdered. (That's right, murdered: you don't really think he would have shot himself in the middle of an empty field and then walked a mile to his friend's house for help, after all.) The killer is a squat, mysterious figure known as the Colorman, who's sold his particularly potent shade of blue to just about every painter of note. Now, he and his partner, Juliette, have set their sights on Lucien Lessard, a second-generation Montmartre baker who, like his father before him, would really rather be an artist. But Juliette has broken Lucien's heart before--and his best friend, Henri Toulouse-Lautrec, is determined to see that it doesn't happen again.
Moore uses the Colorman and Juliette (who is not the young Parisienne she appears to be) to forge a clever occult connection between the leading Impressionists and the painters who came before and after them. Nearly everyone you would expect to see puts in at least a cameo appearance, and though some of the jokes are obvious--"Whistler, how's your mother?"--they serve to make these iconic figures more down-to-earth, although Toulouse-Lautrec, depicted to the debauched hilt, still comes off a bit larger than life. These largely realistic characterizations, leavened with the occasional burst of wackiness, are also an effective counterbalance to the more fully absurd antics of the Colorman; when the two worlds intersect, its feels natural--even when Toulouse-Lautrec ends up on a pair of coal-powered stilts.
Black-and-white reproductions of select paintings and prints provide additional context; it's a helpful touch, but Moore's rollicking narrative actually doesn't need a roadmap. The way he uses Henri to guide readers into the story, you could know next to nothing about 19th-century art and still find your way through Sacre Bleu--and most of its jokes--with no trouble at all. If you are familiar with the scene, though, you've got that many more laughs coming your way. --Ron Hogan, founder of Beatrice.com
Shelf Talker: Moore knows his art history, and it shows--but he's still first and foremost an absurdist.