Shelf Awareness for Thursday, June 7, 2012

News
BEA: Rock Star Authors Rock BEA
Hearing Patti Smith interview Neil Young was like being allowed to sit in while the two relaxed on a deck in the evening, drinking--or smoking--and talking about life, music, writing and the joys and challenges of creativity. She was well prepared and kept the conversation focused; he sometimes circled around as he answered, then came out with some wonderful lines befitting a songwriter.

In a few quick remarks before they began, Steve Rosato, show manager of BEA, summed it up when he said that this was "not only one of the highlights of BEA, but a highlight of what's going on in New York City."

In his introduction, Penguin Group CEO David Shanks referred to the Department of Justice lawsuit, saying, "It's great to talk about books. With all the lawyers, I feel like I'm on work release." He quickly added that that statement "was vetted by lawyers," along with what socks he was wearing, what side he parts his hair on, and more.

Shanks called it "the thrill of a lifetime to share the stage" with Smith and Young, although it was "not exactly how I pictured it in my daydreams. They'll be happy I didn't bring my guitar."

When Smith and Young appeared, a scrum of photographers and many attendees nearly charged the stage to take pictures. As hundreds of cameras flashed, Smith said, "I feel like Sophia Loren at the Milan airport!"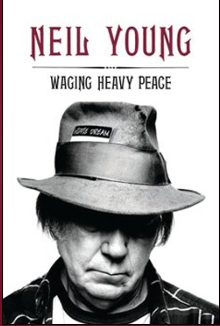 Smith said she had read a lot of Young's upcoming book, Waging Heavy Peace (which Young called "more a diary than a memoir"), and was struck that there is "no barrier between you and the reader. It's intimate.... It's like talking with a friend." She also praised the book for being "not chronological, because memory isn't. Our way of talking about life isn't linear because we don't remember things in chronological order."

Young responded by saying, in one of his many hilarious comments, "My memory not only doesn't work chronologically, but sometimes it doesn't work." When writing the book, Young "didn't keep it in order," he said. "Some people said it was all over the planet."

Young recalled his father--Scott Young was a longtime sportswriter, journalist and author of some 45 books who wrote on "a big old" typewriter on the family house's third floor. As a child, Young said, "the first thing I heard in the morning was chatter chatter, tap tap. The rule was we couldn't go upstairs when he was writing, so I'd go right up." His father, he continued, liked to say that when you sat down and starting writing, "all kinds of thing will happen."

Asked by Smith about his reading habits, Young said he is "not a voracious reader. Right now I'm reading you--Just Kids. I love it and am having a blast." He called Smith's memoir of her early years in New York "soulful" and said, "I feel like I'm with you and Robert [Mapplethorpe] in that room, building things."

Smith suggested that their two memoirs have in common "the humanity inherent in them. They were not written vindictively or to settle scores." Young said the titles take "similar paths but in different geographic places."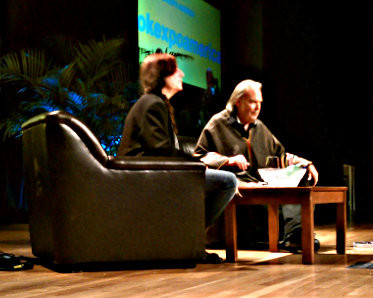 Smith brought up several of Young's songs and adaptations, praising "Jesus Chariot," better known as "She'll Be Coming 'Round the Mountain." She noted that as children, "we learned and sang [it] by rote with no sense of the lyrics."
The song has "a lot in it," Young said. "It's a crazy, religious, cultish, weird song." As for the title, he said, "I renamed it. The folk process allows you to change anything."

Smith asked about the inspiration for Young's classic "Ohio," and he told a story about being with David Crosby and two of the Crosby, Nash, Stills and Young crew at a peaceful cabin in the redwoods, smoking weed, when someone threw down on a table a copy of Time or Newsweek whose cover was the famous picture of a woman grieving over the body of one of the students killed at Kent State. "It's an unbelievable picture," he said. "It still gives me the chills."

In reaction, "I picked up my guitar, and it took about a minute to write the song." In a "kind of social networking of the time," as Young put it, the song was paired with a song from Stephen Stills, "Find the Cost of Freedom," and was sent around on acetate pressing to radio stations--and became an instant phenomenon. "We were all together," he continued. "It was the beginning of something, a great moment, and radio was so important."

Smith noted that "for some of us who didn't see the picture, you translated it for us, made us so much more aware of what was going on in the world." She added that she had learned much about the Vietnam War from Young, Bob Dylan and Phil Ochs.

In that period, "radio was great," Young recalled. "There were no programmers, and deejays were wonderful personalities." He and Smith both lamented the formulaic approach of radio now, as well as other changes in how music is made.

"The stage used to be our laboratory," Smith said. "But it's been hijacked."

Young noted that he used to play new songs in concerts. "It was an honest thing. It worked. I could gauge what was happening." Sometimes he tried different things and changed verses as he worked on songs. Often he made songs from live performances into his album songs. "I'm much better live than in the studio," he stressed.

These days, however, such a process wouldn't work. Now, Young said, the different versions of his new songs would be posted immediately on Youtube and people might say "he can't even remember his own new song right!"

Young also lamented that so many people listen to music on low-quality machines such as MP3 players on computers. "We always worked on the music in depth," he said. Playing music in such a way is "like reducing Picasso to wallpaper, like painting it over."

Smith and Young agreed that, as Smith put it, "in some ways, improvisation is dying." Young suggested "a correlation in the lack of quality" in music with the push to make what we do "in the studio more organized and perfect." He added that the trend is "very very very stifling and incredibly neglectful of the muse." Still, he is hopeful and sees, he said, "a rebirth of recording and artistry and not treating music like background."

Smith remembered first meeting Young many decades ago and feeling a bond immediately. "There's kin," she remembered feeling. "There's someone I can understand. I related right away to your songs and voice."

Smith and Young agreed on the creative process with song writing, which Young described this way: "When I try to write, I write my worst shit" because the best writing "is nothing. It's feeling." He doesn't "wait for songs" to come to him, he said. "I let them come to me." Ideas, he continued, "are free to come and free to go.... If it happens, it happens. If it doesn't, it doesn't matter."

Smith described singing Young's songs as "like singing something that's always existed. They're so effortless, like they came out of the wind."

Both Smith and Young sang the praises of their instruments and others' instruments. "If you want to write a song, go ask a guitar," Young said. "Pick up someone else's guitar and the next day a song will come." He added that "music lives in guitars, sounds live in them," and compared old guitars with old cars. "When you sit in an old car, you can feel all that happened in it right there. It's why I like to go to junkyards." --John Mutter
photo: Grace Lichtenstein


BEA Children's Breakfast: Story Trumps Everything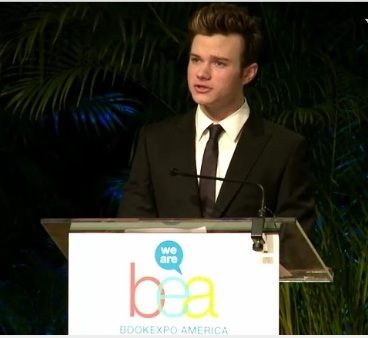 Chris Colfer, host of the BEA Children's Book and Author Breakfast, said he was "absolutely honored to be sharing the stage with these literary legends," adding, "and I'm sure they're excited that the guy from Glee is here as well." Colfer said that he's been working on his forthcoming book, The Land of Stories (Little, Brown, July 17), since he was 10. His grandmother was his editor.
Colfer introduced John Green (The Fault in Our Stars, Penguin, Jan.) as "the Justin Beiber of the literary world." Green told the crowd that he'd searched Tumblr for Colfer's tag, thinking he'd find a funny note that one of his readers wrote about Colfer and then he could read it aloud in front of everyone and embarrass Colfer, as Colfer did Green. "What I found instead was a fan fiction about us." Reading takes concentration and focus; he added, it's an activity you can't do while you do other things.
"There's a lot of talk about enhanced e-books," Green said. "What we do best does not need or benefit from what we call enhancement. We are good at giving people rich and immersive experiences. I believe story trumps everything." After a round of applause, he continued, "To be fair, it's like being in a room full of elephants, talking to elephants about how great elephants are." Colfer admitted that he had written the fan fiction and titled it "50 Shades of Green."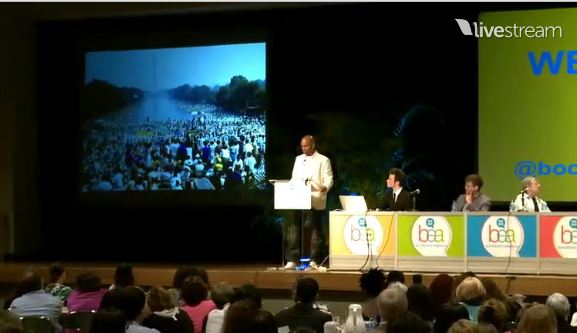 In preparation for the artwork in his picture book I Have a Dream (Schwartz & Wade/Random House, Oct.), Kadir Nelson put himself in the shoes of the onlookers, where they would have protested on that day, where Dr. King would have stood on that day. He studied photos and video footage from that day. He wanted to get the setting and mood of the day just right while setting the stage for the images from the speech.
Lois Lowry (Son, Houghton Mifflin Harcourt) reflected on her first BEA breakfast 25 years ago, of others who attended with her--Arthur Ash, Tip O'Neill, Kurt Vonnegut. She spoke of her son leaving for Saudi Arabia and returning in a coffin. "Young people believe that they can fix this world," said. "Jonas believed it in The Giver when he fled with the baby named Gabe on his bike. Kira believed it in Gathering Blue when she planted a flower that had never grown in that place. It's the belief of the boy in front of the tank at Tiananmen Square, and the young Buddhist monks that set themselves on fire last week. It's the belief of [my] son going off to fight in Iraq, then returning home in a casket draped with an American flag. "I think a lot of you believe in it," said Lowry, "or you wouldn't be here today." --Jennifer M. Brown


BEA: Pictures from an Exhibition, Part 3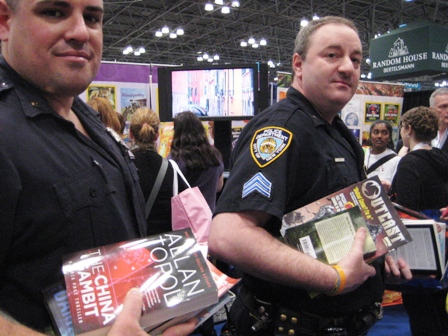 Everyone loves BEA: we spotted two of New York's Finest happily gathering books on the show floor--just like the rest of us.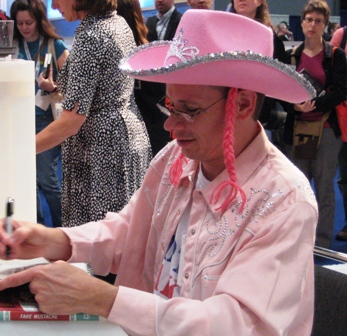 Pretty in Pink: Colorfully garbed author Tom Angleberger signed copies of Fake Mustache (Amulet) for his many fans. In it, seventh grader Caspar acquires a mustache that allows him to rob banks, amass a vast fortune, run for president--and perhaps take over the world.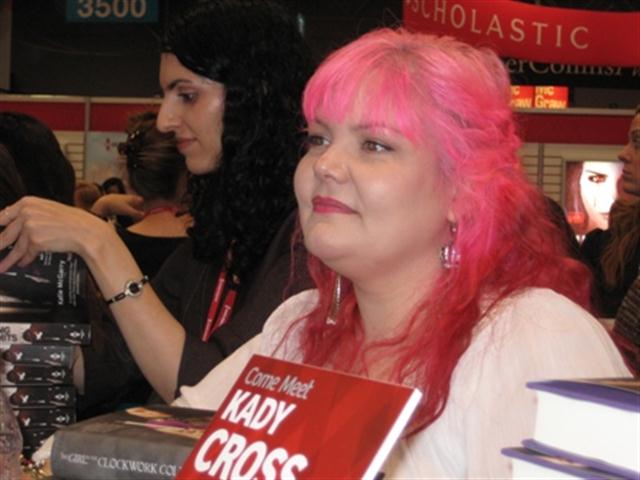 Pretty in Pink, Too: Kady Cross drew a crowd for The Girl in the Clockwork Collar (Harlequin), the second book in her Steampunk Chronicles series, the adventures of a "straynge band of mysfits" in 1897 New York.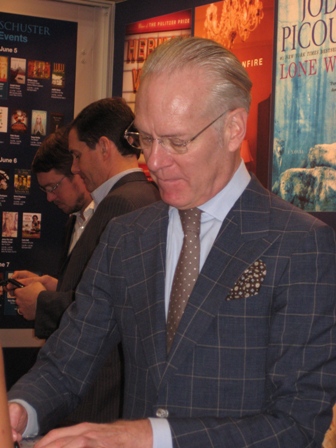 We followed a long line of patient fans and found Tim Gunn, who was signing copies of his September title, Tim Gunn's Fashion Bible: The Fascinating History of Everything in Your Closet (Gallery). We admired his suit, and he kindly avoided comment on our outfits.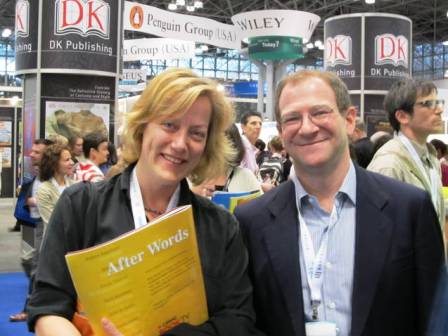 Mary Allen, events and publicity director at the Northshire Bookstore, Manchester Center, Vt., in conversation with author Will Schwalbe, whose next book is The End of Your Life Book Club (Knopf, Oct 2).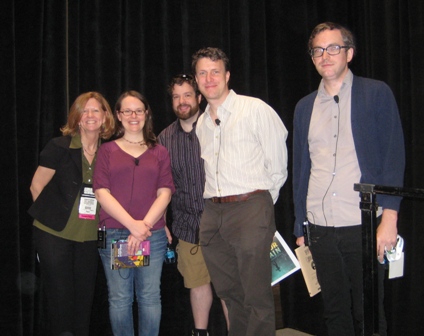 "Meet 2012 Graphic Novel Artists" featured four creators on the Uptown Stage yesterday: Raina Telgemeier, author of Drama (Scholastic); Zack Giallongo, author of Broxo (First Second); Mark Siegel, author of Sailor Twain (First Second) and Noah Van Sciver, debut author of The Hypo: The Melancholic Young Lincoln. The panel was moderated by Shelf Awareness's Jenny Brown (l.).
Elin Hilderbrand was all sunny smiles at the signing for her next book, Summerland (Reagan Arthur, June 26)


BEA Panels: Briefs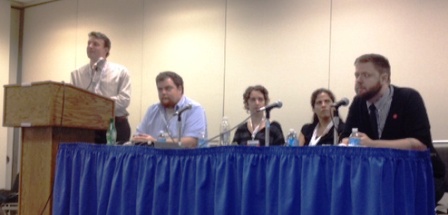 Great Graphic Novels
Panelists at the "Hosting Great Graphic Novels" panel all agreed that a bookseller's passion for the genre is what drives both successful events and a section in any store. Pictured (from l.) are moderator Mark Siegel, editorial director, First Second/Macmillan; Christopher Butcher, manager, The Beguiling, Toronto; Jenn Northington, events coordinator, WORD, Brooklyn, N.Y.; Marisela Santiago, who recently joined Watchung Booksellers, Montclair, N.J.; and Thor Parker, marketing and events coordinator, Midtown Comics, New York. One of the tips Butcher offered was to look for "comics moles" (i.e., people who want very much to promote graphic novels whenever they can) in the media (including local bloggers) and your schools. At Watchung Booksellers, Santiago said she was delighted to discover how school librarians helped make an event "interdisciplinary" by including art teachers. Especially for young children, Northington said, WORD tries to make graphic novel events into "workshops," where authors come with ready-to-go art projects to do with attendees. This helps bond authors with their readers and brings the kids back again and again, Northington pointed out. But even if you do not have an author at an event, Parker said, fans are so eager to talk about the books they love in the genre that if you give them a regular format to do that, then they will come. --Bridget Kinsella
---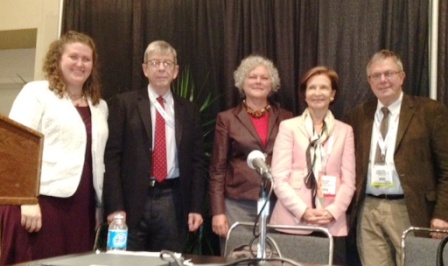 It Takes a (Publishing) Village
Nora Rawlinson said she started EarlyWord.com precisely because she wanted to bring news about books percolating in the industry to the attention of librarians, so she was aptly suited to moderate a panel called "The Journey of a Book: From Writer to Reader." The book in focus: Heading Out to Wonderful, the forthcoming second novel by Robert Goolrick, author of the bestselling debut A Reliable Wife and memoir The End of the World As We Know It (all published by Algonquin). Panelists discussed how it does take a (publishing) village to make a book. Pictured (from l.): Kelly Bowen, publicity director of Algonquin; Goolrick; Rawlinson; Lynn Nesbitt, Goolrick's agent; and Chuck Adams, who edited all three of Goolrick's books. During the lively hourlong discussion, Goolrick credited Nesbitt with giving him a writing career even after 47 publishers (Algonquin included) rejected A Reliable Wife, which he described as "unclassifiable" (a term publishers hate). But Adams always liked he book and agreed to take another look at it once Goolrick reworked it. Adams said Goolrick was a writer in the way Meryl Streep is an actress: "He's written three books--and they are all wonderful--but he has a different voice every time." As for publicity on the new novel, Bowen said, it was important to not rely too much on the success of his debut. So Algonquin began outreach to the media and trade a full eight months before pub date. Also, because Goolrick comes from an advertising background, Bowen noted that he is particularly good at interviews and events--a trait that will certainly help as he goes out on a 30-city tour to bring Heading Out to Wonderful to as many readers as possible. --Bridget Kinsella
---
International Book Markets
During Tuesday morning's BEA session on the state of the e-book market, Bowker v-p Kelly Gallagher elaborated on the growing international audience for e-books, identifying India and Brazil as the two largest markets after the United States. In some ways, population size is crucial: although 89.8% of Australia is online and 19% of the population has bought an e-book, that's 19% of a little more than 20 million people, or roughly four million people. By way of contrast, the 2% of India's population that has bought an e-book is a larger market than all of Australia.
These are also enthusiastic markets. While 59% of Americans surveyed said they have no interest in e-books, only 11% of Indians surveyed (and only 16% of Brazilians) say the same. And where the American e-book market is mostly dominated by fiction, roughly three-fourths of all e-book buyers in both India and Brazil have bought books in the professional business category. Perhaps more important, e-book readers in those countries aren't waiting for dedicated devices--about 75% in both countries are reading e-books on PCs or laptops, and they aren't buying those e-books from Amazon as frequently as Americans do, instead making many of their purchases directly from publishers or from large bookstore chains. --Ron Hogan
---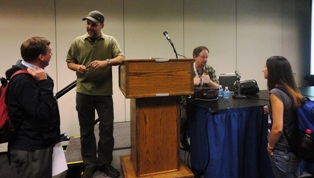 "How to Ban a Book"
Unshelved creators Gene Ambaum and Bill Barnes chatted with audience members after delivering a humorous presentation on "How to Ban a Book." As Barnes pointed out, thanks to interlibrary loans, even if you do get a book removed from your local library, "you haven't stopped dirty books circulating. You've just outsourced your dirty book storage." If you really want to make the effort, though, Ambaum advised you should present yourself as sane and reasonable and "make sure you don't blame the library for your own bad parenting and the fact that your children swear." More seriously, he encouraged people who had complaints about the "bad" books at the public library to put together lists of "good" books they would prefer to see there, and help the librarians by providing detailed information, from the title and the author to the ISBN. "The 13-digit ISBN," he specified. "Not 10, because 10 makes you look like an idiot."
Or you could just make sure nobody else can find the bad books. "A book that's not on the shelf where it's supposed to be might as well be lost," Ambaum noted. "A book that's in the wrong place may not be discovered for months or years." If all else fails, Barnes added, "It's a crime to intentionally damage a library book, but it's hard to prove intent unless you're caught red-handed with a pair of scissors." --Ron Hogan


New U.S. Poet Laureate: Natasha Trethewey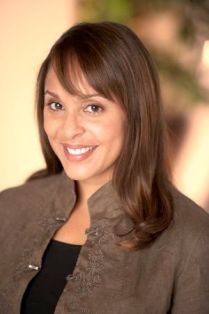 Natasha Trethewey is the new poet laureate of the United States. The New York Times reported that the Library of Congress will officially announce the appointment today of "the first Southerner to hold the post since Robert Penn Warren, the original laureate, and the first African-American since Rita Dove in 1993." Philip Levine was the most recent poet laureate.

Her books include Domestic Work (Graywolf), Bellocq's Ophelia (Graywolf), the Pulitzer Prize-winning Native Guard (Mariner) and a fourth collection, Thrall, coming from Houghton Mifflin Harcourt in September. She also wrote the nonfiction book Beyond Katrina: A Meditation on the Mississippi Gulf Coast (University of Georgia Press). The Times noted that she "has devoted much of her career to resurrecting or recreating the histories of people who don't often make it into poetry books."

"I'm still a little in disbelief," said Trethewey.

Dana Gioia, a former chairman of the National Endowment for the Arts, called the appointment "a very welcome event. She writes out of the complicated history of the region, and even from her own complicated history."

"We're not necessarily on some kick to find a younger poet," said James Billington, the librarian of Congress. "The more I read of it, American poetry seems extremely rich in diversity, talent and freedom of expression, and she has a voice that is already original and accomplished. I have an affinity for American individuals who are absolutely unique, and I think that this is one."

After first encountering her work when she read at the National Book Festival in 2004, Billington said, "I admired the way she had a certain classical sound but also moved easily from traditional forms to free verse. And then when I began reading her poems for myself, that impression was just confirmed. It seemed very natural, all of a piece.... I go to a fair number of poetry readings, and I'm not always motivated to go back and read the poems. But in her case I was."



Obituary Note: Ray Bradbury
Ray Bradbury, the internationally--perhaps even universally--acknowledged master of science fiction "whose imaginative and lyrical evocations of the future reflected both the optimism and the anxieties of his own postwar America," as the New York Times put it, died on Tuesday after a long illness. He was 91.

His best-known works included Fahrenheit 451, The Martian Chronicles, The Illustrated Man, Dandelion Wine and Something Wicked. He received the 2000 National Book Foundation Medal for Distinguished Contribution to American Letters, the 2004 National Medal of Arts and the 2007 Pulitzer Prize Special Citation.
"By many estimations Mr. Bradbury was the writer most responsible for bringing modern science fiction into the literary mainstream," the Times observed, noting that more than eight million copies of his books have been sold in 36 languages.
In July, Morrow is publishing Shadow Show: All New Stories in Celebration of Ray Bradbury edited by Sam Weller and Mort Castle consisting of short stories by 26 authors, including Ramsey Campbell, Harlan Ellison, Margaret Atwood, Neil Gaiman, Audrey Niffenegger, Dave Eggers and Jacquelyn Mitchard.




Notes
Book Trailer of the Day: We Learn Nothing
We Learn Nothing by Tim Kreider (Free Press).


Media and Movies
Media Heat: London Mayor Boris Johnson on Today
This morning on the Today Show: London Mayor Boris Johnson, author of Johnson's Life of London: The People Who Made the City that Made the World (Riverhead, $27.95, 9781594487477).

---

This morning on MSNBC's Morning Joe: Joan Rivers, author of I Hate Everyone...Starting with Me (Berkley, $25.95, 9780425248300).
---

Tomorrow on CBS's the Talk: Tia Mowry, author of Oh, Baby!: Pregnancy Tales and Advice from One Hot Mama to Another (Avery, $26, 9781583334829).

---

Tomorrow on Tavis Smiley: Jonah Lehrer, author of Imagine: How Creativity Works (Houghton Mifflin Harcourt, $26, 9780547386072).

---

Tomorrow on 20/20: Dominique Moceanu, author of Off Balance: A Memoir (Touchstone, $24.99, 9781451608656).

---

Tomorrow on a repeat of the Late Late Show with Craig Ferguson: Anne Rice, author of The Wolf Gift (Knopf, $25.95, 9780307595119).




This Weekend on Book TV: Chicago Tribune Printers Row Lit Fest
Book TV airs on C-Span 2 this week from 8 a.m. Saturday to 8 a.m. Monday and focuses on political and historical books as well as the book industry. The following are highlights for this coming weekend. For more information, go to Book TV's website.

Saturday, June 9

9 a.m. Retired four-star general and former Secretary of State Colin Powell discusses his book It Worked For Me: In Life and Leadership (Harper, $27.99, 9780062135124). (Re-airs Sunday at 10 p.m.)

11 a.m.: Book TV will have live coverage of the Chicago Tribune Printers Row Lit Fest. Featured authors Gary Krist, Joe Allen, David Scheffer, Julia Lieblich, Rich Cohen, Adlai E. Stevenson III, Wenguang Huang, Carlin Romano and Reginald Dwayne Betts. (Re-airs Sunday at 12 a.m.)

7:45 p.m. David Talbot talks about his book Season of the Witch: Enchantment, Terror and Deliverance in the City of Love (Free Press, $28, 9781439108215).

8:45 p.m. Arthur Brooks discusses his book The Road to Freedom: How to Win the Fight for Free Enterprise (Basic Books, $25.99, 9780465029402). (Re-airs Sunday at 4 p.m.)

10 p.m. After Words. Ann Blackman interviews former Secretary of State and U.S. Ambassador to the United Nations Madeleine Albright, author of Prague Winter: A Personal Story of Remembrance and War, 1937-1948 (Harper, $29.99, 9780062030313). (Re-airs Sunday at 9 p.m. and Monday at 12 a.m.)

11 p.m. John Hughes presents his biography Slade Gorton: A Half Century in Politics (Washington State Heritage Center Legacy Project, $35, 9781889320243)

Sunday, June 10

11 a.m. Live coverage of the Chicago Tribune Printers Row Lit Fest continues. Featured authors include Gillum Ferguson, Gail Collins, Lindsey Hilsum, Thomas Mallon, John Conroy and Rob Warden. (Re-airs Monday at 1 a.m.)

7:15 p.m. Richard Sandor talks about his book Good Derivatives: A Story of Financial and Environmental Innovation (Wiley, $45, 9780470949733).



TV: Cedar Cove
Andie MacDowell will star in Hallmark Channel's two-hour pilot Cedar Cove, based on the bestselling book series by Debbie Macomber. Deadline.com reported that the project, directed by Michael Scott from a script by Bruce Graham, will begin production in mid-June for a TV film premiere in late 2012. Hallmark Channel has also committed to a series order to Cedar Cove for an early 2013 debut.



Books & Authors
Awards: The Audies; Ben Franklins
The Audio Publishers Association announced this year's Audie Award winners Tuesday night. Tina Fey's memoir Bossypants was a double winner, earning Audio Book of the Year honors as well as a win in the biography/memoir category. Check out the complete list of Audie winners and finalists here.
---
The winners in the many categories of the Benjamin Franklin Awards, sponsored by the Independent Book Publishers Association and recognizing excellence in independent publishing, can be found at ibpa-online.org.

Next year, IBPA is launching the inaugural 2013 Benjamin Franklin Digital Awards for electronic book publishing and excellence in innovation. Categories will include best book as app, best enhanced e-book, most creative use of the mobipockets/kindle and/or epub 2.0 (or lower) formats, best adaptation of a complex print design, best e-format "original," best new product and best new technology. An award for innovation will also go to a person, product or organization whose contribution to the field of e-book publishing has been fundamental to the advancement and acceptance of the e-book form.





Book Review
Review: The Fan Who Knew Too Much
The Fan Who Knew Too Much: Aretha Franklin, the Rise of the Soap Opera, Children of the Gospel Church, and Other Meditations by Anthony Heilbut (Knopf, $30 hardcover, 9780375400803, June 20, 2012)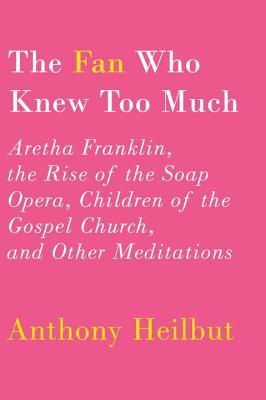 Anthony Heilbut is a Grammy-winning record producer famous for his work with gospel artists like Mahalia Jackson and Marion Williams; he's also the author of a definitive book on the subject (The Gospel Sound) as well as a biography of Thomas Mann held in equally high regard. The eight essays collected in The Fan Who Knew Too Much further reveal Heilbut's polymath talents, as he meditates in surprising ways on a wide range of topics.
The leadoff essay, "The Children and Their Secret Closet," takes up nearly one-third of the book, but it's a fascinating, revelatory history of the significant role of gays in the gospel church, who have been for years referred to as the "children"--the "church's proudest and most prodigal sons." To Heilbut, they are the "unacknowledged arbiters of the culture," from early key figures such as Little Ax and Norsalus McKissick, then on to Mahalia Jackson (who preferred the company of gay men because the other kind only brought her "grief"), James Cleveland, the "king of gospel music" who would ultimately die of AIDS, and James Baldwin, the "greatest writer to come out of the gospel church." The essay concludes with a brief history of the many homophobic evangelical preachers who were in fact gay.
Heilbut follows with an insightful, penetrating profile of the life and work of Aretha Franklin, successfully arguing that the history of black America "could be divided into pre- and post Aretha." Another essay updates the role of emigrés from Hitler's Germany to America (the subject of Heilbut's 1983 book, Exiles in Paradise) while "The Emperor of Ambivalence" praises the writings of Joseph Roth, especially The Radetzky March. From there, Heilbut moves on to an entirely different world, the "fascinating phenomenon" of the soap opera, especially its most significant and controversial figure--Irna Phillips, an unwed mother who "helped domesticate Freud for the masses" as the creator of As the World Turns and The Guiding Light.
With an essay on male sopranos, who make "distinctions of gender and culture, biology and physiology, problematic in the extreme," another essay on the blues and finally the essay that gives the collection its title, Heilbut completes his breathtaking trip through American culture. --Tom Lavoie
Shelf Talker: A wise and learned essayist moves seamlessly (and stylishly) from music to literature and other historical reflections on popular culture.