Shelf Awareness for Friday, June 29, 2012

Editors' Note
Now We Are Seven
A little over seven years ago, John Mutter and I sat on my deck in the Seattle sunshine and laid out our plans for Shelf Awareness. We came back to one question again and again: "How can we help booksellers and publishers sell more books?"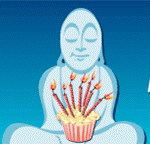 At the time, when we first posed this question, we had no idea how much the industry was going to change. And it has been massive change: Borders collapsed, Amazon began publishing, newspaper book review sections dwindled, e-books grew, bookstores became referred to as "showrooms." Here at the Shelf, we often joke that one of the smartest things we did--unknowingly--was to choose a buddha as our mascot. During such turbulent times, what could feel better than to be assured by our buddha, Vik, that you will have all you need to know to go forth and be wise? (He has changed over time... to see him in our very first issue, click here.)

Shelf Awareness Pro, as it's now known, went out for the first time seven years ago today to about 500 friends, family and colleagues. Today's issue will go to more than 30,000. We owe this success to you, our dear readers. Because you did for us what we all do in this industry every day, which is to say simply: "You've got to read this."

This simple phrase, "You've got to read this" has become increasingly one of the most important phrases in our industry. Throughout all the change, one constant has remained: Booksellers are the igniters of our industry. They are our secret weapon and can never be replaced by an algorithm. Knowing this, we looked for more and more ways to help booksellers and publishers sell more books. Our new goal became: How can we help with discoverability?

With that in mind, about a year ago, we launched our consumer newsletter, Shelf Awareness for Readers. It presents the 25 best books that have been published that week, all chosen by our league of 70-plus reviewers, all of whom have "street cred": they are booksellers, librarians, book bloggers, former publishers. We review the books we like. Let someone else do the snark and snobbery. We just want to get to the good ones.

The day we launched, I got a call from Chuck Robinson of Village Books in Bellingham, Wash., who, in his friendly and pointed way, asked, "Why can't I have SA for Readers to send out to our customers?" While this had always been in the plans, we simply couldn't stand the idea of letting one of our favorite people down. So we built it, knowing that whatever we put together for Chuck would have to be done in a scalable way so that everyone could have it.

Here's what it is: Shelf Awareness for Readers, co-branded with a store's logo, with the store's events calendar, and a buy button for each review that sends the reader directly to that store's website. You can see an example here. We give this to booksellers for free, and it is supported by our advertisers.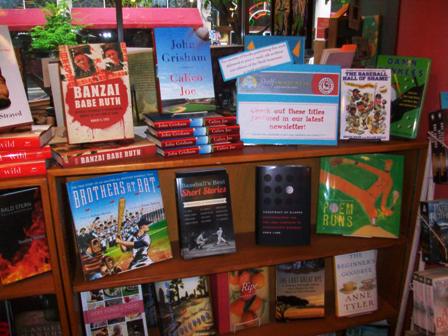 Along the way, we have honed and refined our program. We now send stores a list of the upcoming featured titles advance, so they can stock up. Many savvy stores have started doing displays of the titles. (Check out this terrific one from Malaprop's in Asheville, N.C.) We recently addressed a problem for some, which is that some ads in Shelf Awareness for Readers link to a publisher's title page, where there may be buy buttons for other retailers. We've just changed things so that ads can link to each individual store's info page for that title. We encourage our advertisers to take advantage of this, and so far, they are listening.

We have 38 stores now, with a total circulation for Shelf Awareness for Readers of more than 180,000. We believe these readers to be the best customers out there. They're in a different league from those who buy a few books a year on a website. Reading is a regular part of their lives, and they are the ones who are eager to hear about new books and who then say to their friends, "You've got to read this."

As the industry changes and we all try to do so much more with less, Shelf Awareness for Readers is our commitment to help stores and publishers improve discoverability. We know from many of our bookstore partners that the custom newsletter sells books for them. That's wonderful, but beyond that, our pie-in-sky, double secret hope is to change behavior: we want to help stores and publishers put the best books in front of the best readers and remind readers how important it is to buy those books from the place where they learned about the books. Our wish is that even in the wee small hours, when booksellers are getting much-deserved sleep, readers will be able to discover books and--even forgoing free shipping on paper towels elsewhere--then buy those books from an actual bookseller because they've recognized the importance of the people who say, "You have got to read this."

Every year in our anniversary issue, we praise our staff for their consistently herculean efforts. Once again, we thank them, but this year, we want to extend a special thank you to our bookstore partners. We are so honored that they've entrusted us with their customers and their good names. They are: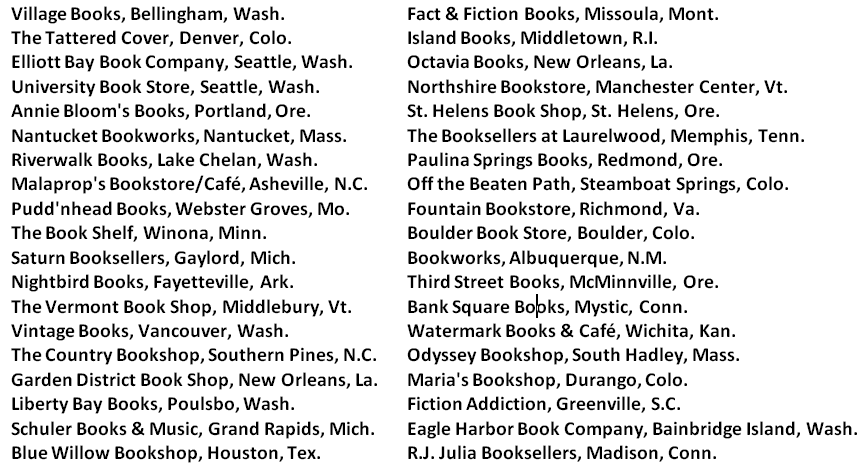 To learn more about Shelf Awareness for Readers, click here. Please send birthday comments here.

John and I and the entire staff of the Shelf Awareness thank you all. Here's to many more years of having the pleasure of saying, "You've got to read this." --Jenn Risko





News
B&N's International Plan: Nook Stores, Distribution Partnerships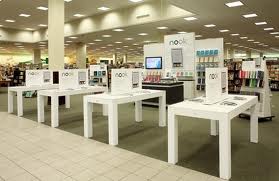 Barnes & Noble plans to launch Nook digital bookstores in 10 countries within 12 months, the Bookseller reported, noting that a 10-K form filed by the company with the Securities and Exchange Commission "said the international expansion plans were part of its partnership with Microsoft, announced earlier this year."

According to the document, B&N is also "exploring opportunities to give consumers outside of the U.S." access to its Nook products "through potential distribution partnerships yet to be announced. While there can be no assurances, the company intends to have one or more distribution agreements in place to sell Nook devices in certain countries outside the U.S. prior to the 2012 holiday season."



Dorchester on the Auction Block... Sort Of
Dorchester Publishing, which struggled with financial issues, "has finally succumbed, a victim of the digital revolution to which the mass market paperback publisher could not adapt," Digital Book World reported. Amazon Publishing is the most likely top bidder in an upcoming sale of the press that built a loyal following for its genre fiction list. The auction is scheduled for August 28.

According to a recently filed Notice of Public Disposition, the "Secured Party will foreclose its security interest in and sell at public auction as a single unit through Garfunkel Wild, P.C., to Amazon Publishing, or such other higher and/or better bidder as may prevail at auction...."

DBW also noted: "In practice Amazon, or any firm that outbids Amazon in an auction to be conducted in August, will tender amendments to authors and agents transferring rights to the new entity, in exchange for which back royalties will be paid in full.... The acquiring firm will then convert the books to e-books (a number of them have been converted already) and release them in e-book format."



U.K. Booksellers Association Survey: Diversification Pays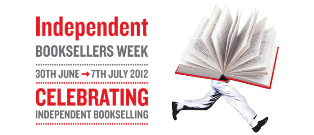 In anticipation of Independent Booksellers Week, which begins tomorrow in the U.K., the Booksellers Association released data supporting the concept of diversification. Of the 40 booksellers surveyed, those with cafes saw 3% growth in turnover during 2011, compared to a 5.2% decline for those without. The study also found that bookshops with cafes had a 2% increase in book turnover, compared to a 4% drop across all shops.

The BA touted the results as illustrating "a pattern of successful diversification, where booksellers are going to extraordinary lengths to retain their presence on the high street." Book sales accounted for nearly three quarters of total annual turnover, with non-book sales accounting for 26%.

IBW, which is part of the BA's Keep Books on Your High Street campaign, "is all about encouraging people to go into their local bookshop and engage with the great activity going on there," said Meryl Halls, the BA's head of membership services. "We want customers to celebrate their local bookshop and vote with their feet and use their local bookshop or risk losing it. Bookshops are social and cultural hubs and provide far more to communities than books and as such deserve and require strong action to preserve their unique role in British life."



Amazon Carves New Sponsorship Turn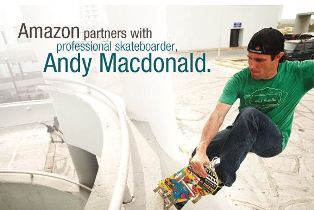 Amazon will provide financial backing for professional skateboarder and multiple X Games champion Andy Macdonald. The deal marks another new direction for the online retailer, which has launched a section called Action Sports. Under the agreement, Macdonald will recommend products and offer skating tips on the site.

The Wall Street Journal pointed out an interesting and book trade-related aspect of the deal, noting that Sony already sponsors Macdonald and "both Sony and Amazon make competing e-book reading devices."



Notes
Image of the Day: 'A Radical New Voice'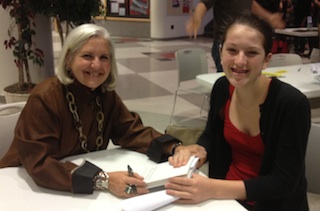 Last weekend, the Chuckanut Writers Conference, sponsored by Village Books and Whatcom Community College in Bellingham, Wash., began with a reading by Terry Tempest Williams for her When Women Were Birds: Fifty-Four Variations on Voice. As an opener for Williams, Amelia Mundell, one of several eighth grade students at Fairhaven Middle School who participated in National Novel Writing Month with the encouragement of her language arts teacher, Joel Gillman, read from her novel, Equal in the East. The book "describes a future in which war has overtaken the civilized world and the heroine of the story uses the spoken word to change the world for the better," and the audience was riveted. Then Williams quoted a line that Amelia had read, praised her reading and said, "You've just heard a radical new voice." Then she praised Joel Gillman and teachers like him who inspire students. Here Williams (l.) with Mundell.


Creekside Convergence: Books and Coffee Merge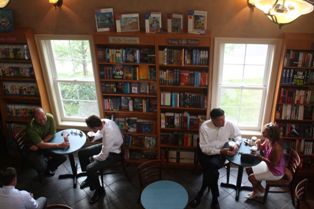 After seven years of being side by side, Creekside Books and Creekside Coffee, Skaneateles, N.Y., have united in the coffeehouse space, becoming Creekside Books & Coffee, an event being celebrated tomorrow with an open house from 1-4 p.m.

Owner and founder Erika Davis commented: "We at Creekside embrace change. Creekside is a successful business and we believe uniting our product selection and café will further enhance the special sense of place for our community and visitors. We have signed a new eight-year lease, for the coffeehouse space, with the landlords at 35 Fennell Street, and we plan to be here for many years to come.

Creekside Books & Coffee sells bestsellers, children's, middle reader, YA and a selection of nonfiction titles and bargain books. The store continues to carry cards and stationery, some local products, and the café offers light breakfasts and lunch selections, appetizers, baked goods, specialty coffee drinks, wine and beer. Creekside will also continue to host Wednesday Trivia Nights, Thursday Open Mic Nights, weekend musical performances, author events, book clubs, writing workshops and the VagabondGals Travel Club.


GBO Picks Brenner and God
The German Book Office has chosen Brenner and God by Wolf Haas, translated by Annie Janusch (Melville House, $14.95, 9781612191133) as its June Pick of the Month.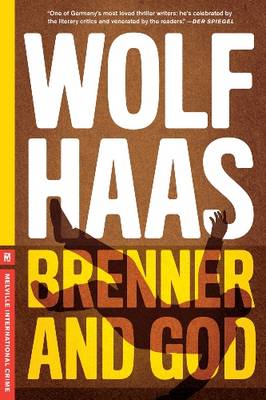 This is the first Detective Brenner title available in English. The seven Detective Brenner titles have each sold more than 300,000 copies and three of them have been made into films.

The GBO described Brenner and God this way: "Wanting out of high-stress detective work, Simon Brenner takes a calming job as a chauffeur, shuttling a two-year-old girl back and forth in a soothing ride along the Autobahn between her father, a construction tycoon in Munich, and her mother, an abortion doctor in Vienna. Except then one day he stops at a gas station to buy the little girl a chocolate bar and comes back to find she's been kidnapped … and suddenly he's out of a job, thoroughly stressed out, and a detective again. With no shortage of leads--both the father's latest development and the mother's clinic are under siege by protestors--Brenner makes his way through a powerful cast of characters and a growing pile of bodies to solve the crime in the only way he knows how: By being in precisely the right place at the worst possible time."

Haas has won the German thriller prize and the 2004 Literature Prize from the City of Vienna. Janusch is the translator of the Art of the Novella edition of Heinrich von Kleist's The Duel.




Book Trailer of the Day: Rasputin's Bastards
Rasputin's Bastards by David Nickle (ChiZine Publications).


Media and Movies
Media Heat: Jeff Kinney on the Back Seat Book Club
Today on All Things Considered: Jeff Kinney will be interviewed for the Back Seat Book Club, which selected Diary of a Wimpy Kid (Amulet/Abrams, $13.95, 9780810993136) as its June pick.

---

Tomorrow on CBS's Early Show: Laura Moriarty, author of The Chaperone (Riverhead, $26.95, 9781594487019).

---

Tomorrow on NPR's Weekend Edition: Chris Cleave, author of Gold (Simon & Schuster, $27, 9781451672725).

---

Tomorrow on Fox's Huckabee: Squire Rushnell, author of Divine Alignment (Howard, $19.99, 9781451648560).

---

Sunday on MSNBC's Up with Chris Hayes: Glenn Greenwald, author of With Liberty and Justice for Some: How the Law Is Used to Destroy Equality and Protect the Powerful (Picador, $16, 9781250013835).




Books & Authors
Award: Desmond Elliott Prize
Grace McCleen won the £10,000 (US$15,586) Desmond Elliott Prize for her novel The Land of Decoration, which the judges called "unlike anything you have ever read," BBC News reported. McCleen's book topped poet Patrick McGuinness's The Last Hundred Days and "bookmakers' favorite" Rachel Joyce's The Unlikely Pilgrimage of Harold Fry.


Book Brahmin: Maggie Shipstead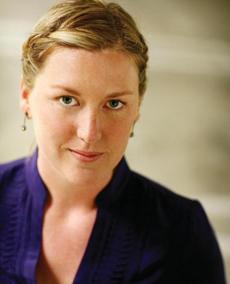 Maggie Shipstead grew up in Orange County, Calif. She is a graduate of the Iowa Writers' Workshop, a former Wallace Stegner Fellow at Stanford and a recent resident at the Cité Internationale des Arts in Paris. Her short fiction has appeared in many publications, including Tin House, VQR, American Short Fiction and The Best American Short Stories, and her story "La Moretta" was a 2012 National Magazine Award finalist. She doesn't really know where she lives but is open to suggestions. Her first novel, Seating Arrangements, was published by Knopf on June 12, 2012.
On your nightstand now:
Wild by Cheryl Strayed, Then Again by Diane Keaton, Billy Lynn's Long Halftime Walk by Ben Fountain, Uncommon Carriers by John McPhee, The Man of Property by John Galsworthy and Arcadia by Lauren Groff. I like to have a smorgasbord going. My nightstand situation gets precarious.
Favorite books when you were a child:
The Black Stallion series by Walter Farley (Walter Farley was the answer to a pub trivia bonus question that recently won me a free drink, by the way), Madeleine L'Engle's novels, and The Twenty-One Balloons by William Pène du Bois. Oh, and I can't--absolutely must not--leave out Harriet the Spy by Louise Fitzhugh.
Your top five authors:
A random sampling from my top dozen: Jane Austen, John le Carré, John Updike and Jeffrey Eugenides. Apparently I like writers whose first names start with the letter J.
Book you've faked reading:
I've faked it so many times with Middlemarch that we should probably just break up.
Book you're an evangelist for:
Loving by Henry Green. This is a book that expects the reader to run to keep up but is worth the effort. The roving point of view (among the servants in an Irish country house during World War II) is seamless and cinematic, like a movie filmed in a single shot. Green is a dialogue virtuoso and wrings all kinds of rhythmic and emotional payoffs out of mundane, naturalistic conversations.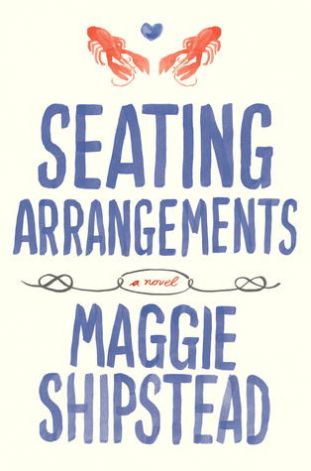 Book you've bought for the cover:
The Atlas of Remote Islands by Judith Schalansky. The inside lives up to the cover, though; so many islands, so much remoteness.
Book that changed your life:
Terra Incognita by Sara Wheeler. It's about the natural and human history of Antarctica and also about her year as part of a National Science Foundation program that brings artists and writers to the continent, equips houses and supports them. I was in high school when I read the book, with no interest in becoming a writer, but it planted a seed of awareness in me that writing can give you the freedom to mold your life around your interests and, if you're lucky, might be a ticket to new places. (Hey, National Science Foundation! Call me!)
Favorite line from a book:
This isn't a particularly unique choice, but the last line of "The Dead" in Dubliners by James Joyce: "His soul swooned slowly as he heard the snow falling faintly through the universe and faintly falling, like the descent of their last end, upon all the living and the dead."
I love the sensation of being punched in the gut by a closing line, and that one is a classic knockout. It has movement, musicality, surprise, sadness and beauty. Perfection.
Book you most want to read again for the first time:
Wonder Boys by Michael Chabon. I love all his books, but Wonder Boys is my favorite. I read it in one blissful, devoted day and have re-read it many times since.
Books you most want to be real:
Um, I would like to attend Hogwarts, please. I genuinely and whole-heartedly love the Harry Potter books (by J.K. Rowling, for any recently arrived Martians). Not only have I read all the hardbacks more than once, but when I was in grad school and drove between Iowa and California 10 times in two years (that's a total of 18,000 miles--I have a dog who needs to be included in all family holidays), the audiobooks absolutely sustained me. My air conditioning failed when I was driving across Nevada on a 105-degree summer afternoon and, faced with the choice of rolling down the windows and getting some breeze or being able to hear my Harry Potter, I chose to swelter and keep listening.


Book Review
Review: Shadow of Night
Shadow of Night by Deborah Harkness (Viking, $28.95 hardcover, 9780670023486, July 10, 2012)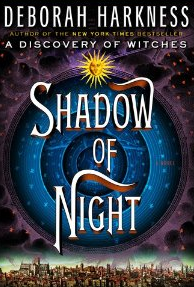 When A Discovery of Witches debuted in 2011, Shelf Awareness noted that Deborah Harkness's debut novel injected a conventional vampire-witch romance with enough propulsive plot to keep readers hanging on for more--right up until its frustrating non-ending. Well, Shadow of Night picks up exactly where we left off, as Diana Bishop and Matthew Clairmont take a lengthy detour from their present-day troubles into late 16th-century Europe.
The couple (now married) are on a quest: since the alchemical manuscript that promises to unlock the mysteries of their supernatural existence is hidden by magic in the present, they've decided to look for it in the past. It's the second time around Elizabethan England for Matthew, of course, so he can call upon friends like Sir Walter Raleigh and the Earl of Northumberland (with grudging help from Christopher Marlowe, who clearly resents Diana's presence). Meanwhile, Diana is also trying to come to terms with her untapped powers, and searches for local assistance--not an easy task when anti-witch hysteria is on the rise. There's also an essential visit to Matthew's family castle in France, where his father, the overwhelming Philippe de Clermont, forces a reappraisal of their relationship.
Harkness packs the story with all-star figures, up to and including Elizabeth I and Holy Roman Emperor Rudolf II, and tantalizing historical tidbits such as the Voynich Manuscript and the legend of Prague's golem. At times, the research gets a bit show-offy: it's not enough that Matthew is closely linked to the Elizabethan School of Night; he also has to be the true author of an anonymous verse commonly attributed to Raleigh. For most readers, though, these virtuoso flourishes won't be distracting, just more local color.
The core of the story is still the intimate bond between Diana and Matthew, two headstrong characters whose parallel journeys of self-discovery are an ongoing dramatic cycle of argument and reconciliation. Each makes a powerful breakthrough in Shadow of Night--emotional climaxes that are doubly important because, in true "middle volume of a trilogy" tradition, the outward plot mechanics are basically holding everything in place until the couple can return to the present and confront their enemies. This time, Harkness brings the story to a relatively solid conclusion. --Ron Hogan, founder of Beatrice.com
Shelf Talker: The follow-up to Harkness's bestselling debut sidesteps into Elizabethan England, where a modern-day witch and vampire make important discoveries about themselves and their love.


Deeper Understanding
Robert Gray: Hearing the Voices of Imaginary Friends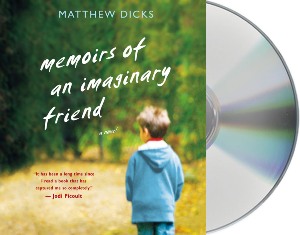 I hear fictional voices. The final days of Audiobook Month seem an appropriate time to explore this issue.

Memoirs of an Imaginary Friend by Matthew Dicks (St. Martin's Press) will be published in August, with Macmillan Audio releasing an audiobook version read by Matthew Brown. I've been listening to the recording, intrigued by the transition from author's voice on the page to reader's voice on the audiobook, and both filtered through the compelling fictional voice of a narrator who is at once not quite human and all too human (here's a sample).

Let me explain. Budo, the imaginary friend of eight-year-old Max--who may have Asperger's Syndrome--is the book's narrator. He has been with Max for five years, a relatively long lifespan ("I am lucky as imaginary friends go."). Of course, he does exist for any rational fiction reader versed in the dark arts of "willing suspension of disbelief."

Since I wanted to know more about how this storytelling magic happens, how we accept without reservation Budo's voice and existence, I went to the best source I could think of--"the two Matthews."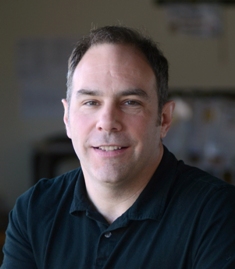 Matthew Dicks (whose previous novels include Something Missing and Unexpectedly, Milo), credits his 14 years as an elementary school teacher and working with special needs students like Max for serving him well when he wrote Memoirs of an Imaginary Friend: "In particular, I think I am keenly aware of the kinds of things that children worry about on a daily basis, and I was able to exploit this awareness when writing about Max and his peers. I've probably developed a well-tuned ear for children's dialogue as well, though if this is the case, it was achieved through osmosis rather than purposeful effort."

When it was time to relinquish some control of Budo's distinctive voice for the audiobook edition, Dicks wasn't concerned: "As a teacher, I read aloud to my students almost every day, so I am keenly aware of how the narrator can bring life to a story, even if his or her interpretation is not entirely aligned with the author's original conception. And the same happens when someone reads from the actual text. Readers interpret the text in their mind in the same way an audio narrator would, so nothing is lost in an audio translation that is not also lost in the traditional text translation. As a result, I tend not to worry too much about this issue, though it is admittedly odd to hear a narrator give voice to a character whose 'real voice' is so entrenched in my mind. That said, Matthew Brown did a fine job creating a voice for Budo, and it is surprisingly not unlike the voice I hear in my mind."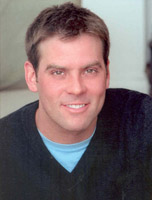 As Brown prepared to record Memoirs of an Imaginary Friend, he found Max's voice the more challenging one initially, describing him as "a very unique character and a very special one. I have never done a character like him. He has so many intense emotions and a very strong will. Yet, he is very fragile. He has a hard time communicating with others. So when I saw all these intense forces acting and counteracting with each other. I felt that they might come out in a slightly flat or distant way. But the intensity is always behind it. Add the fact he's young, maybe a little younger sounding than boys his age, and that was the intent I had behind his voice. Many things get tried at the beginning of the recording process but it becomes pretty obvious and organic as you go."

On the other hand, Brown "felt pretty comfortable finding Budo's voice. As a character he is fun-loving, sweet, sincere, honest and a little sensitive. He is a mix of being young and just old enough to be perceptive to the potential dangers in his world. I tried to deliver a youthful sounding version of my voice with those ideas behind it."

Authors often listen closely to those voices, too. As Dicks heard the audiobook version of his novel, he noticed "the innocence and naivety of Budo. Though I understood these qualities on a conscious level, I was also in many ways operating as Budo while writing the book. Driving him, so to speak. So portraying him as innocent but truly understanding his innocence were two entirely different things for me. In a way, Matthew Brown took over the controls of Budo while narrating the book, and this allowed me to separate myself from Budo and see his fear and fragility in an entirely new light. It made me feel sad for Budo in a way I had never felt before."

Hearing the voices of imaginary friends can have that effect.--Robert Gray, contributing editor (column archives available at Fresh Eyes Now)

Photo of Matthew Dicks by Holly M. Williams