Shelf Awareness for Thursday, January 17, 2013

News
Queen Anne Books Reopening in February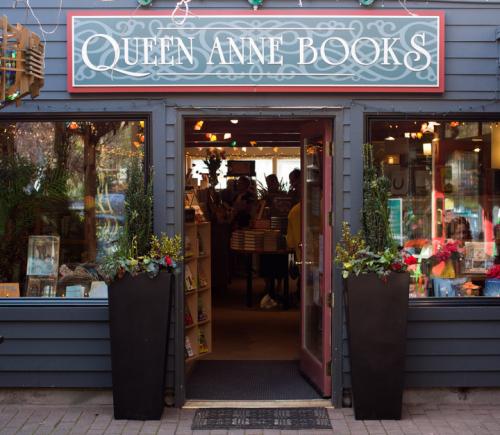 Good news in Seattle! Queen Anne Books, which abruptly closed at the end of October, is reopening in late February in its old space with new owners, some of the old staff, new inventory and a slightly new name: Queen Anne Book Company.

The new owners are Judy and Krijn de Jonge and Janis Segress. Krijn de Jonge is a longtime Boeing executive and will be a silent partner. Judy de Jonge will work in the store. The de Jonges have lived in Seattle's Queen Anne neighborhood for many years and are, they said, "personally vested in maintaining a vital literary culture for their community."

Janis Segress will be the store's manager and until December 31 was head buyer at Eagle Harbor Book Company on Bainbridge Island for the past seven years. Among returning Queen Anne Books staff are Anne Wyckoff, Mara Fitch, Tegan Tigani and Wendee Wieking.

Queen Anne Book Company intends "to continue the book business both in its traditional and changing forms: the selling of paper and ink books plus e-readers and e-books." The store will offer monthly book groups, new book release parties, a frequent buyer award program, personalized book buying assistance and local and national author events. As the owners put it: "All the wonderful facets of the old Queen Anne Books will carry over. The new Queen Anne Book Company will combine these facets with new ideas to result in a successful and long-term bookstore for its Queen Anne community."

Founded in 1988, Queen Anne Books was sold last spring by longtime owner Patti McCall (Cindy Mitchell was her co-owner for a while) to Katharine Hershey, an attorney and former King County Superior Court commissioner. At the time, Hershey said the purchase fulfilled "a lifelong dream" of owning a bookstore. Apparently the dream became a nightmare: in the fall, she put the store up for sale, then closed it on October 31, saying she still hoped to find a buyer. The closing was widely lamented in the Queen Anne community.

Queen Anne Books won the WNBA's Pannell Award in the general bookstore category in 2011.


DBW: Apps and E-Reading
During a Digital Book World panel on building strong platforms for children's digital entertainment apps Wednesday afternoon, an audience member asked RRKidz CEO Asra Rasheed when her company's app, a spinoff from the popular Reading Rainbow series, would be available for Android devices.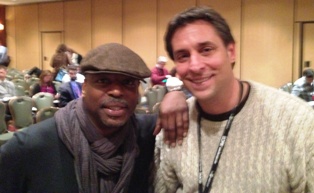 Rasheed deferred the question to Levar Burton, who got up from his front row seat and confided that he gets asked that question every day, and as "a nerd, a geek of the highest order," he knows where fans on coming from on this issue. And so, he promised, an Android-compatible version of RRKidz would be available "very soon," following a version for the Kindle Fire 2 that's in development.
RRKidz, Rasheed had explained earlier, was a "robust recommendation engine" for children's books, but it's not just about reading--a design principle that echoed remarks by Nosy Crow managing director Kate Wilson earlier in the afternoon: "We don't want reading to be the most boring thing children can do on a phone or a tablet." Rasheed also conceded that her company had an easier time establishing itself than other digital publishing start-ups, as the Reading Rainbow brand already had decades of recognition and trust behind it. Other speakers emphasized that platforms required a foundation of strong content to truly succeed; Mindshapes co-founder Christian Dorffer encouraged would-be digital publishers to "plant an anchor" with a single app, cultivate a loyal audience, and expand offerings from there. (In an earlier presentation, PlayScience's Alison Bryant offered another reason publishers might want to focus on compelling content: 64% of the parents she surveyed said the most important factor in their e-book buying decisions was that their children wanted a specific title.)
The Wednesday morning sessions, as they have done since DBW launched in 2010, offered a "big picture" perspective on digital publishing. Analyst James McQuivey reported that 85% of the publishing executives in Forrester's annual survey on the state of the industry were optimistic about the digital transition--a figure that's remained "roughly consistent," he said, over the survey's history--and yet many of the same executives had become more doubtful in recent years that their own companies were adequately prepared to succeed.
Sixty percent of those surveyed believe that tablets will emerge as the ideal e-reading device; 45% already believe dedicated e-readers will soon be irrelevant. The ramifications of those two tendencies became apparent in the subsequent "CEO panel," as Houghton Mifflin Harcourt president Gary Gentel observed that "tablets force us to be better at what we do," because they enable readers to be just one click away from anything else besides an e-book. "We have to make sure whatever we put in that tablet will hold people's attention," he said. Later in that session, when the topic turned to the state of bookselling, Candlewick publisher Karen Lutz stressed the importance of bookstore discoverability to illustrated children's books, but Quarto Group CEO Marcus Leaver revealed that his company was already preparing a "post-bookstore-world strategy," where he expected that only 15% of Quarto's sales might be in traditional bookstores. Pressed on where the other 85% would come from, he remained vague, saying, "Anywhere we can sell a book."
Two early sessions brought practical insights into the e-book market. Dan Lubart of IoByte Solutions offered an array of data suggesting that the most popular price range for e-books was trending toward the $3-$7.99 range, while Carnegie Mellon IT/marketing professor Michael D. Smith argued that, contrary to popular belief, piracy does have a measurable impact on sales--and that it is in fact possible to make free pirated editions a less compelling choice to consumers. When ABC began putting its programs on Hulu, for example, electronic piracy of those shows dropped by more than a third. Smith emphasized that consumers often choose the format first, then acquire the content that works in that format. If publishers don't make the content available, he added, they increase the likelihood the consumer will seek out a pirated version--and once a consumer learns how to pirate, he becomes less likely to go back to buying authorized editions. That made a good case for not holding back an e-book edition when releasing a hardcover book... as did the data suggesting that doing so wouldn't generate any meaningful increase in print sales. --Ron Hogan


Kobo: 12 Million-Plus Registered Users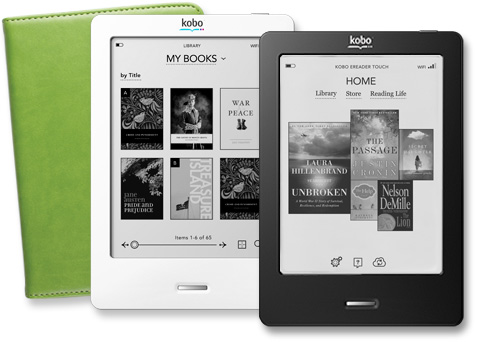 Now three years old, Kobo doubled device sales last year and gained more than four million new customers within the last six months, to bring its total to more than 12 million registered users, the company said. Citing a recent DigiTimes report that Kobo has 20% of the global e-reader market, the company also noted that its E Ink e-reader sales were up nearly 150% in December, with Kobo users reading more than 22 million pages on Christmas Day.

"Millions of new users registered with Kobo in December alone, annual device sales soared with millions of Kobo e-readers bought, and e-book sales nearly doubled from the previous year," CEO Michael Serbinis said. "2012 was truly outstanding for our company and our network of booksellers and retailers around the world." That included a deal with the American Booksellers Association, replacing Google as many indies' e-book and e-reader provider. For 2013, Kobo plans to continue its global expansion through booksellers and retailers, becoming active in additional countries, including Russia, India and China.

Other highlights from Kobo's end-of-year report:
The average Kobo customer bought 20% more e-books in 2012 than in 2011.
English was the most common language read, followed by French and Japanese.
People in Canada read the most on Christmas Day--with an average of 200 pages each--while Americans read 160 pages and the British read 93 pages.
The most popular genre at Kobo is romance.


An Evening of Awesome at Carnegie Hall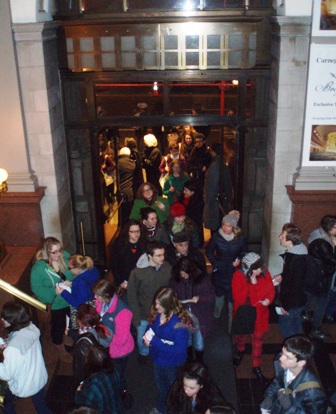 It felt like a Beatles concert.
A line of teens looped around Carnegie Hall Tuesday night. The Evening of Awesome sold out just 10 days after it was announced. When brothers Hank and John Green come onstage, the crowd of 2,800 screams.
"We are so excited to be here," John says. Hank interrupts with a song: "Because the sounds are a little bit louder and my parents are a little bit prouder and the crowds are a little bit... crowder, 'cause we're doing it at Carnegie Hall." John: "I didn't know we were going to open with a musical number."
There's no wait for the VlogBrothers to post a video. We get to see them converse, live. The audience is eager to participate. "Yeah, and I'm gonna say, 'Carnegie Hall,' and everybody's gonna stomp their feet," says Hank, then sings: "Cause when the people stomp their feet, it makes me feel complete... because these feet are at Carnegie Hall." The Hall vibrates like a subway train is rumbling underneath.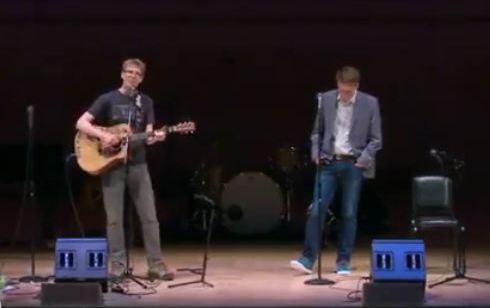 The air is electric. The show feels both spontaneous and seamlessly choreographed. It's the one-year anniversary of John Green's The Fault in Our Stars, and the six-year anniversary for Nerdfighters--the fans who made the book a bestseller, six months before its release. Now, a YA novelist and his brother fill Carnegie Hall with teens who scream for Ashley Clements and Daniel Gordh, stars of the Lizzie Bennet Diaries, an online presentation of Jane Austen's Pride and Prejudice--brainchild of Hank Green. "It's great to see so many people cheering for Jane Austen," says John.
Clements and Gordh read the passage from The Fault in Our Stars in which Hazel and Gus tour Anne Frank's house in Amsterdam and recite poetry by Wallace Stevens and kiss.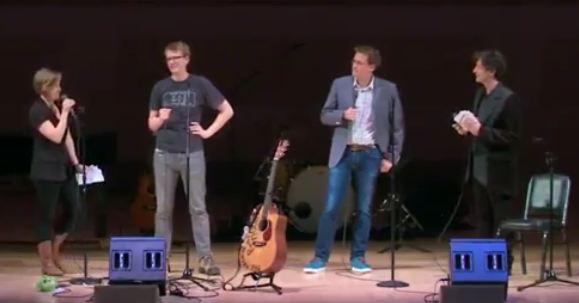 The crowd screams again when Neil Gaiman walks onstage, having eschewed his usual black leather jacket for a dashing tailored, quilted tuxedo coat, black of course, not worn since the party celebrating his engagement to Amanda Palmer, he tells us. In a q&a section, Gaiman asks questions (submitted in advance by Nerdfighters) of John; then Hannah Hart, host of the video series "My Drunk Kitchen," asks them of Hank. Gaiman asks John for his advice to aspiring writers: "Read a lot. Tell stories to your friends and pay attention to when they get bored," John answers. Gaiman adds: "And finish things. You will learn more from a glorious failure than you ever will from something that you never finished." Questions ranged from the sublime to the ridiculous. Hannah Hart to Hank: "What would your petronus be?" Hank: "A corn dog."
Special guest John Darnielle of the Mountain Goats sings a previously unrecorded song that brings the house down: "People were mean to you, but I always thought you were cool, clicking down the concrete hallways, in your spiked heels back in high school." Kimya Dawson sings "I Like Giants," and Carnegie Hall is converted into her living room.
Digital Book World was happening right down the street, while every publisher's dream was realized on the stage at Carnegie Hall: two artistic, creative brothers using technology to unite a worldwide community.
Move over, John, Paul, George and Ringo. It's John, Hank and the Nerdfighters now. --Jennifer M. Brown
You can watch the entire performance here.


Notes
Image of the Day: 'Show Us Your Decoder Rings'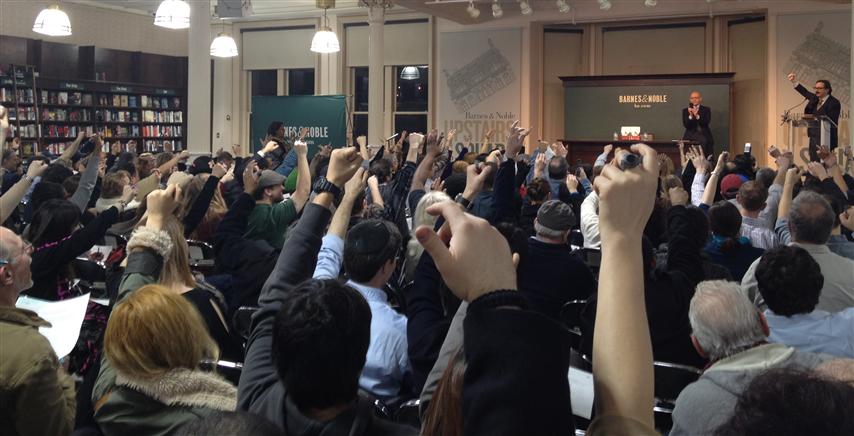 On Tuesday night, some 250 fans came to the Barnes & Noble in Union Square in New York City for an event featuring Brad Meltzer, whose new book is The Fifth Assassin (Grand Central). John Hodgman was on hand to lead an attempt to break the Guinness World Record for "most people using secret decoder rings in one place." Here Hodgman (r.) and the crowd show their rings.


'From Cover to Cover': San Antonio Bookstores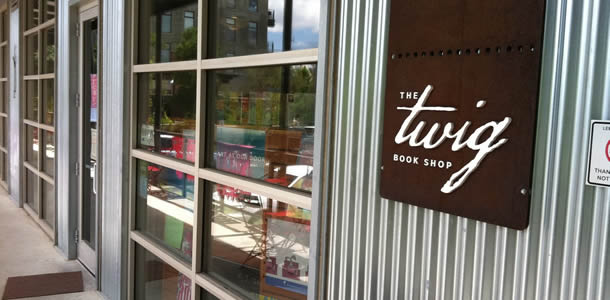 This week, Texas Public Radio examined the state of independent bookstores in San Antonio for a series called "From Cover to Cover," highlighting one indie daily: "Each store was selected to provide a wide range of industry perspectives, and each provides a deeper look at all the things working for the book industry in 2012."

The series began Tuesday with a look at the Twig Bookshop ("a great example of how independent stores can embrace new technology to adapt age-old practices and run their stores more efficiently"), followed by Collectors Authority ("a beacon for comic book collectors") yesterday, Cheever Books today and concluding with Nine Lives Books on Friday.


Road Trip 'For the Love of Books'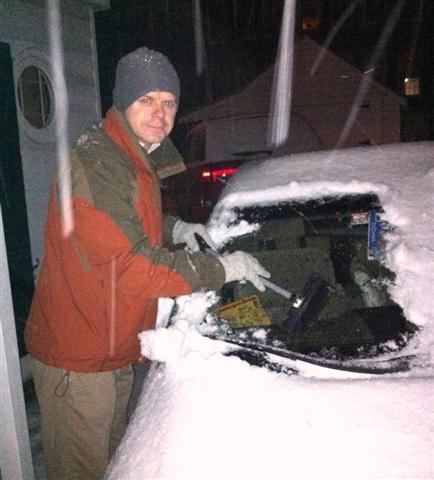 Torgerson in Connecticut: Off to a good start.
Early yesterday morning, author Bill Torgerson (Love on the Big Screen; Horseshoe) hit the road from his home in Connecticut for a 1,477-mile marathon drive to Jefferson, Tex., where he will appear at the legendary Pulpwood Queen Girlfriend Weekend. The 13th anniversary edition of the event hosted annually by Kathy Patrick, owner of Beauty & the Book and founder of the Pulpwood Queens Book Club, begins today.

Torgerson documented his trip to last year's festivities in an entertaining film, For the Love of Books, a preview of which will be showcased during what Patrick described as "our first ever Pulpwood Queen Film Festival, featuring authors and their films.... He's driving 22 hours to come to do my weekend; the man is a saint for promoting literacy."

Torgerson recalled that "a year ago, I was headed for Girlfriend Weekend, having just bought a camera and not knowing anyone who would be at the event. Since then, I've seen Kathy twice. Once when the Pulpwood Queens came to BEA and then when I went down for the [Phenom] film festival in Shreveport. The film won the Audience Choice Award because of Pulpwood Queen attendance and support.

"Because I spent so much time going over the footage, I feel like I know the community very well. I've kept in touch with lots of writers and book club members and so in just a year, I feel excited to head back and visit with my fellow lovers of books. I should add I hope to eat as much BBQ as possible." He even sent out a few dispatches while on his trail to Texas via Twitter (@BillTorg).


Cool Idea of the Day: The Free Book Incident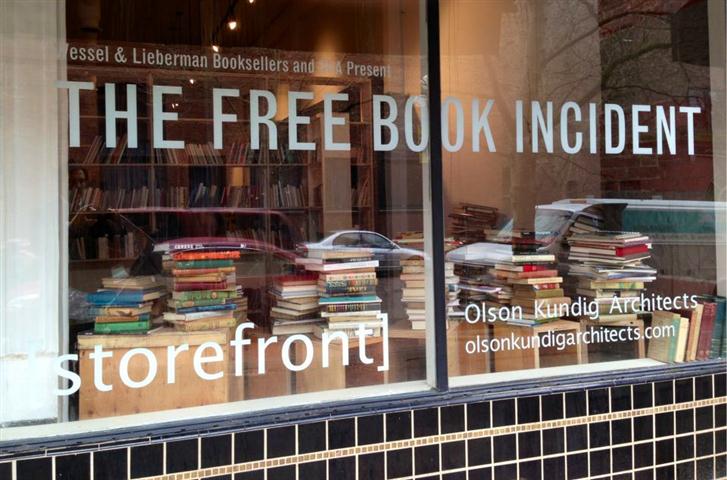 From January 10 to mid-February, Wessel & Lieberman Booksellers and Olson Kundig Architects are partnering for The Free Book Incident, "a month-long experiment and celebration of books and community" in Seattle, as the bookstore's co-owner Michael Lieberman described the project in his blog at the Post-Intelligencer. W&L is donating the books and Olson Kundig providing the space, "which will include a three-way kinetic bookshelf with pivoting sections that will activate a multitude of spaces--nooks, stages, long tables, etc."

"Our goal was to create an engaging environment that promotes access to books and allows visitors to interact with them in surprising ways," said intern architect and installation co-curator Adam Monkaba.

Lieberman noted that for W&L, "the books became 'unwanted' due to the tectonic shift in the book trade since the advent of online bookselling. Books that used to retail for $15-40 are no longer fit for the marketplace.... We reached our tipping point. There is more value in releasing the books into our community then there is in offering them for sale."

"It didn't pay anymore for us to pursue to sell them; it didn't pay for us to keep them," he told Real Change. "This was just the most creative way we could find to distribute them."


Book Trailer of the Day: Flimsy Little Plastic Miracles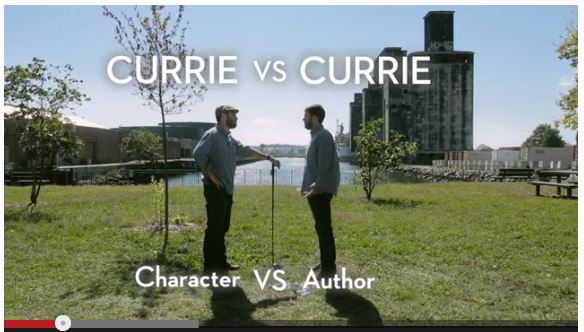 Flimsy Little Plastic Miracles by Ron Currie Jr. (Viking). The hilarious trailer, in which the author meets the protagonist of his new novel, was written by Currie, stars Benjamin Katz and includes cameos by Viking staff.


Media and Movies
Media Heat: An Extra 50 Cent
Tomorrow on the View: Bill O'Reilly, author of Killing Kennedy: The End of Camelot (Holt, $15.39, 9780805096668).

---

Tomorrow on NBC's Extra: 50 Cent, co-author of Formula 50: A 6-Week Workout and Nutrition Plan That Will Transform Your Life (Avery, $30, 9781583335024).

---

Tomorrow on Wendy Williams: Hoda Kotb, author of Ten Years Later: Six People Who Faced Adversity and Transformed Their Lives (Simon & Schuster, $25, 9781451656039).


Movies: Where'd You Go, Bernadette; The Odyssey--in Space
Annapurna Pictures and Hunger Games producer Color Force, run by Nina Jacobson and Brad Simpson, have acquired the rights to Where'd You Go, Bernadette by Maria Semple, the Hollywood Reporter wrote. Scott Neustadter and Michael H. Weber, who teamed for (500) Days of Summer, will write the screenplay.

"It is so rare to find a book that is as original as it is moving and whose storytelling is as innovative as its characters are rich," Jacobson said. "I'm very grateful to be collaborating with Megan Ellison to bring Maria's extraordinary book to the screen."

Semple added: "If any screenwriters can figure out the Gordian knot that is the adaptation of Where'd You Go, Bernadette, it's Scott Neustadter and Michael Weber."

---

Warner Bros. will adapt Homer's The Odyssey by "dropping the togas and setting it in space" and is looking at the project as a potential franchise, Deadline.com reported. James DiLapo, who will write "the futuristic re-imagining" of the Greek epic, graduated from New York University last summer, so "it's conceivable that The Odyssey is fresh in his head, from term papers," Deadline.com added, noting that the project began "with the pitch by DiLapo."


This Weekend on Book TV: Martin's Dream
Book TV airs on C-Span 2 this week from 8 a.m. Saturday to 8 a.m. Tuesday and focuses on political and historical books as well as the book industry. The following are highlights for this coming weekend. For more information, go to Book TV's website.

Saturday, January 19
12 p.m. Book TV offers coverage of several panels at the Key West Literary Seminar in Key West, Fla. (Re-airs Sunday at 1:25 a.m.)

3 p.m. Paul Dickson discusses his book Words from the White House: Words and Phrases Coined or Popularized by America's Presidents (Walker, $18, 9780802743800). (Re-airs Monday at 10:15 a.m. and 10:15 p.m.)

4:45 p.m. For an event hosted by Busboys and Poets, Washington, D.C., Ricardo Cortés talks about his book A Secret History of Coffee, Coca & Cola (Akashic Books , $17.95, 9781617751349). (Re-airs Sunday at 7:15 p.m.)

7 p.m. At an event hosted by the Harvard Book Store, Cambridge, Mass., Wenonah Hauter discusses his book Foodopoly: The Battle Over the Future of Food and Farming in America (New Press, $26.95, 9781595587909). (Re-airs Sunday at 3 p.m.)

8 p.m. David Frisk presents his book If Not Us, Who?: William Rusher, National Review, and the Conservative Movement (Intercollegiate Studies Institute, $34.95, 9781935191452). (Re-airs Sunday at 2 p.m. and 11 p.m.)

9 p.m. Bruce Levine discusses his book The Fall of the House of Dixie: The Civil War and the Social Revolution That Transformed the South (Random House, $30, 9781400067039). (Re-airs Sunday at 10 a.m. and Tuesday at 5:45 a.m.)

10 p.m. After Words. Janet Langhart Cohen interviews Clayborne Carson, author of Martin's Dream: My Journey and the Legacy of Martin Luther King, Jr. (Palgrave Macmillan, $27, 9780230621695). (Re-airs Sunday at 9 p.m. and Monday at 12 a.m. and 3 a.m.)

11 p.m. At an event hosted by Politics and Prose Bookstore, Washington, D.C., Charles Wheelan speaks about his book Naked Statistics: Stripping the Dread from the Data (Norton, $26.95, 9780393071955). (Re-airs Sunday at 4 p.m.)

Sunday, January 20
10 p.m. Jonathan Katz discusses his book The Big Truck That Went By: How the World Came to Save Haiti and Left Behind a Disaster (Palgrave Macmillan, $26, 9780230341876).


Books & Authors
Awards: Edgar Nominees
The Mystery Writers of America has chosen its nominees for the 2013 Edgar Allan Poe Awards, honoring the best in mystery fiction, nonfiction, TV and film published or produced in 2012. View the full list of Edgar finalists here. The Edgar Awards will be presented to the winners May 2 at MWA's 67th banquet in New York City.


Attainment: New Titles Out Next Week
Selected new titles appearing next Tuesday, January 22:

Saturday Night Widows: The Adventures of Six Friends Remaking Their Lives by Becky Aikman (Crown, $26, 9780307590435) chronicles a widow support group.

Calling Dr. Laura: A Graphic Memoir by Nicole J. Georges (Mariner, $16.95, 9780547615592) focuses on a family full of secrets.

Ever After by Kim Harrison (Harper Voyager, $27.99, 9780061957918) is the 11th book in the supernatural series Hollows.

The Atlantic Ocean: Reports from Britain and America by Andrew O'Hagan (Mariner, $15.95, 9780151013784) is a collection of essays.


Book Review
Review: P.G. Wodehouse: A Life in Letters
P.G. Wodehouse: A Life in Letters by Sophie Ratcliffe, editor (W.W. Norton, $35 hardcover, 9780393088991, February 4, 2013)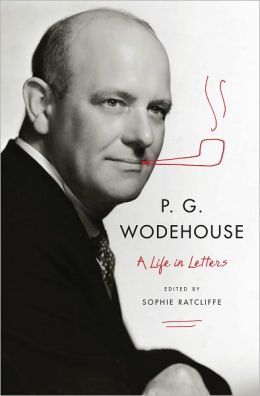 If you haven't read Robert McCrum's masterful 2004 biography of the British comic novelist P.G. Wodehouse, Sophie Ratcliffe's selection from Wodehouse's correspondence will serve quite well until you can get your hands on a copy. While quoting generously from Wodehouse's letters, Ratcliffe also provides interstitial chapters that flesh out his life story--not just contextualizing the letters but helping readers to understand her subject's tragic emotional arc.
Though he's best remembered for his comedy--even people who've never read a word of Wodehouse recognize "Jeeves" as shorthand for a clever butler--in his own lifetime, the author faced severe disapproval for his actions during World War II. Trapped in France when the Nazis invaded, Wodehouse recorded a series of radio monologues in 1941 making light of his imprisonment behind enemy lines. He'd meant to reassure American fans that he was all right, but he soon realized his misstep. "I can now, of course, see that this was an insane thing to do," he assured the British Foreign Office a year later, "and I regret it sincerely." After the war, he struggled with how (or whether) he should address the subject in his writing: "It seems to me that anything would be better than groveling," he writes of one ultimately shelved attempt. "I would much rather be thought a Benedict Arnold than a Uriah Heep."
Thankfully, Ratcliffe has no shortage of much happier correspondence on which to draw. Wodehouse always had a keen mind for the business of writing; as early as 1914, he was raising the issue of whether a motion picture based on one of his stories would invoke the theatrical adaptation clause in his contract. He also knew exactly what he was up to artistically: "Of course my stuff has been out of date since 1914," he jokes to a friend about a frequent criticism of his work. "If only these blighters would realized that I started writing about Bertie Wooster and comic Earls because I was in America... and the only English characters the American public would read about were exaggerated dudes. It's as simple as that."
P.G. Wodehouse: A Life in Letters is a sure treat for anyone who's laughed their way through Uncle Fred in the Springtime or Joy in the Morning and wanted to know more about the man behind them. The rest of you lot are strongly encouraged to join us. --Ron Hogan
Shelf Talker: From fan letters to Agatha Christie to intimate correspondence with his beloved stepdaughter "Snorky," a personal portrait of one of the 20th century's funniest authors.


The Bestsellers
Top-Selling Self-Published Titles
The bestselling self-published books last week as compiled by IndieReader.com.

1. Hopeless by Colleen Hoover
2. Someone to Love by Addison Moore
3. Fallen Too Far by Abbi Glines
4. Bad Rep by A. Meredith Walters
5. Down to You by M. Leighton
6. Rule by Jay Crownover
7. Up to Me by M. Leighton
8. Beautifully Damaged by L.A. Fiore
9. The Unwanted Wife by Natasha Anders
10. The Good Lawyer: A Novel by Thomas Benigno

[Many thanks to IndieReader.com!]