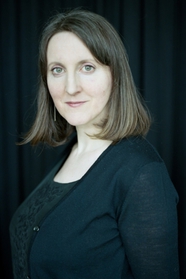 photo: Swordfish Photography
Beatrice Colin is a novelist based in Glasgow, and is the author of, among others, The Glimmer Palace and The Songwriter. The Glimmer Palace, set in Berlin in the early 20th century, was translated into eight languages, was a Richard and Judy pick, and was shortlisted for several major awards. Colin also writes radio plays and adaptations for BBC Radio 4 and is a Lecturer in Creative Writing at Strathclyde University in Glasgow. Her latest novel, To Capture What We Cannot Keep, will be published by Flatiron Books on November 29, 2016.
In an interview in The Scotsman, you said, "As a writer I just love going back to places where I think I know the history, and discovering a completely different past to the one I expected." What drew you to your latest story, set around the construction of the Eiffel Tower?
I know Paris well--I had an elderly great aunt who lived there until she died and I used to be a fashion editor for a newspaper and would cover the shows. I love the city and together with my husband would head over for the weekend once or twice a year. The Eiffel Tower was something we'd always avoid--too many tourists--but on one trip, where the flat we had rented looked towards the tower--I wondered who had built it and why; it is so different from the other buildings in Paris. I came home, looked it up and found a fascinating story.
To research The Songwriter, set in 1916 New York, you used a 1914 Baedeker guide. What did you do for Belle Époque Paris? What did you discover that was unexpected?
I used a Baedecker for Paris, too! The guides are very useful in terms of getting the names and prices right. I also read a lot of books, went to see a lot of paintings in art galleries and spent many hours in the city in the Bois de Bolougne, the Parc de Monceau, the grand houses such as one that used to belong to the Camondo family (now a museum) on the Boulevard de Courcelles and, of course, in the cafes and bars. I bought a print of an etching of an ice rink in the Bois de Boulogne, where one scene is set, that now hangs above my desk. One of the best sources, however, was photography. Eiffel documented the construction and there are many stills of the process of building the tower as well as the workers and engineers.
What did surprise me was the fact that people who built the iconic Eiffel Tower, the Forth Rail Bridge and London Bridge, for example, are virtually forgotten. William Arrol was a Glaswegian engineer who built dozens of structures, including the Forth Rail Bridge, but nobody has ever heard of him.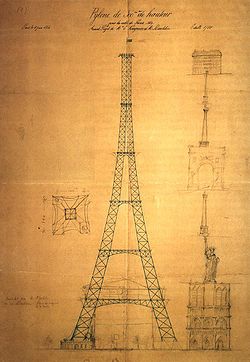 The first sketch of the 300-meter metallic pylon, made by Maurice Koechlin, June 1884.
In your story, Émile Nouguier, the engineer (with Maurice Koechlin) of the Eiffel Tower, remarks, "The tower wouldn't stand for long: twenty years." Did he actually say that?
I can't guarantee that he actually said it, but know that this was the intention. The tower was a temporary structure built as part of the World Fair which took place in 1889. It was only meant to stand for 20 years, although it was, at that point, the tallest structure in the world. In 1910 or thereabouts the French started erecting radio transmitters from its highest point and the decision was made to keep it.
I was struck by Nouguier telling Eiffel, "as long as each rivet hole is accurate to one-tenth of a millimeter then all will be well." There were 2.5 million rivets. What an amazing feat.
It was! In the course of my research I discovered just how amazing. Iron was quite a new building material and Eiffel was a bridge builder. He used bridge-building technology for the tower--it was fashioned at the workshop and then riveted together on site. This was not only quicker, it was far safer. What is incredible too is that they had no calculators, computers or CAD. Although at the time many people were skeptical that it would stay upright, it has stood for over 100 years.
Caitriona Wallace has a difficult job as a chaperone: her charges, Alice and Jamie, are willful, arrogant and parochial. They are also innocents in an urbane city.
Being very rich can be as damaging to a child or young person as being very poor and I wanted to explore that. Also I wanted to show how vulnerable they were. Paris, like any big city, draws you in and if you're not careful it can ruin you in more ways than one. They also act as foils to Cait--they have everything going for them and she has nothing--and yet they don't realise it.
Cait longs to escape her constricted life in Scotland ("Behind her were eight years of rain"), and is the least likely of the characters to break rules. But the era seems made for that--the Impressionists, Eiffel's tower (a building without walls), opium use....
It was a time of huge change and great optimism. Although there were still many throwbacks to the past, such as duels and a rigid class system, new materials and new industries were transforming the way the city and the countryside looked and how people lived. The art world reflected changing attitudes in Europe to lots of things such as sex, the human body, entertainment, and Paris and the tower were at the epicenter of this.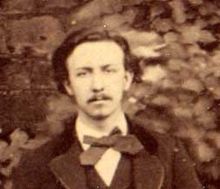 Émile Nouguier
How do you balance fiction and reality when writing about a historical character?
Cait and the Arrol siblings are fictional but Émile was based on a real person. There is, however, very little written about him. A single photograph captures a rather beautiful man with collar-length hair and a slightly wistful expression. He looks like an artist, or a man who has had his heart broken. The photograph, more than anything, informed my writing of the character. Like Cait, I wanted him to be something of a misfit, too "modern" in attitude to fit into the rigid frame of his social position. I have no idea, in reality, about what kind of man he was. I just liked his face. All my characters, however, are based on the people I know, have seen, have read about. I hope I've done him justice in what, in essence, is a tribute to an incredible achievement. --Marilyn Dahl